Artists
Alexey Brodovitch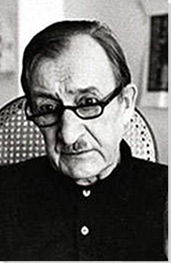 Born: May 1, 1889 - Ogolichi, Russian Empire (now Belarus)
Died: April15, 1971 - Le Thor, France

Summary of Alexey Brodovitch
The Russian Alexey Brodovitch began his career in the 1920s in Paris as a designer before going on to revolutionize fashion photography and magazine publications in America. In a parallel career, he taught and mentored a number of leading fashion photographers. Beginning his American life as a teacher at the Philadelphia College of Art in 1930, he taught his "Design Laboratory" workshops into the 1950s. Conceived of as "an experimental laboratory," the workshop emphasized innovative learning from "accidents" and "mistakes" as a way of working through practical design problems. Posing questions such as, "Could this line be better? Could it be like, for example, Cocteau?," Brodovitch encouraged in his students a real-life, interactive approach to design that explored divergent, and often contradictory, processes. His courses formed the foundation for future design education and, as such, his legacy has been passed down through future generations of designers and photographers.

Over the same period of time, Brodovitch emerged as a bona-fide design icon through his role of art director at Harper's Bazaar, a post he held between 1934 and 1958. Indeed, Brodovitch's modernist sense of design revolutionized the fashion magazine format and introduced techniques that would become the blueprint for subsequent publications. As Irving Penn put it, "All designers, all photographers, all art directors, whether they know it or not, are students of Alexey Brodovitch." Pioneering the use of text and image in dual page layouts; the use of color photography; cropped and off center images; and the extensive use of white space, his radical approach came to be adopted as the industry standard. Indeed, as art director at Harper's, Brodovitch was directly responsible for importing European modernism into mainstream American publications, giving fashion assignments to prominent avant-gardists including Man Ray, Jean Cocteau, Raoul Dufy, Marc Chagall and A.M. Cassandre.

Brodovitch is also credited with liberating the fashion model from the studio and his decision to shoot outdoors, and to shoot models engaged in ordinary activities, informed a number of photographic trends including the "American" look of the 1930s to the "action shots" of the 1950s. Through his work in the magazine industry, he discovered and mentored a number of photographers who would go on to shape the direction of photographic history, including Robert Frank, Richard Avedon, and Lisette Model. Outside of fashion photography, meanwhile, his grainy, high-contrast, action photographs of ballet performances were early forerunners of the snapshot aesthetic that came to dominate professional photography in the second half of the 20th century.
Key Ideas
Having honed his trade as a graphic and theatrical designer for
Sergei Diaghilev's
ground breaking Ballet Russe in the 1920s, Brodovitch transferred the audacity and spontaneity associated with that famous ensemble of performers, composers, and artists to the conservative (by comparison) American fashion magazine format.
Dedicated to exploring the aesthetic relationship between text and image, Brodovitch revolutionized the world of typographic design and tonal composition through his "white space" technique; whereby the printed word takes on an aesthetic character to match that of the photographic image.
Brodovitch saw the "duel-page-spread" as being analogous to the fluidity of a musical composition. Refusing to stick to any tried and tested formula, Brodovitch experimented with techniques that would see photographic and typographic design become one (much like dance partners indeed).
Brodovitch is credited with freeing
fashion photography
from the confines of the studio. Taking his lead from
photojournalism
, he promoted the so-called "action shot" that used real locations and positioned modern American women within their lived environments. Mentees such as Richard Avedon and Robert Frank took their cameras onto the streets and encouraged their models to engage spontaneously with their natural habitat.
Alexey Brodovitch Artist Overview Page: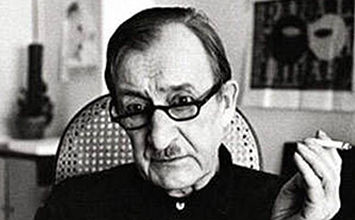 This is a mini-page that we designed for artists that are harder (or maybe impossible) to find detailed information on. If you would like us to put in a significant effort to build more information into this page, please comment. Thank you
Of Further Interest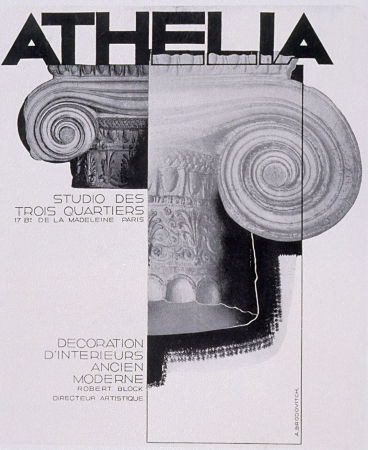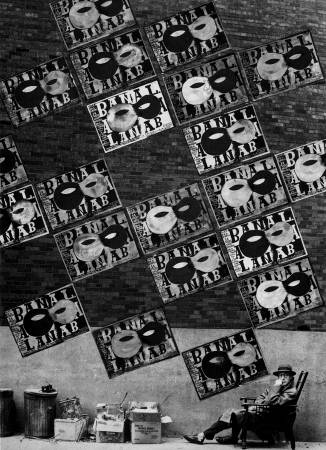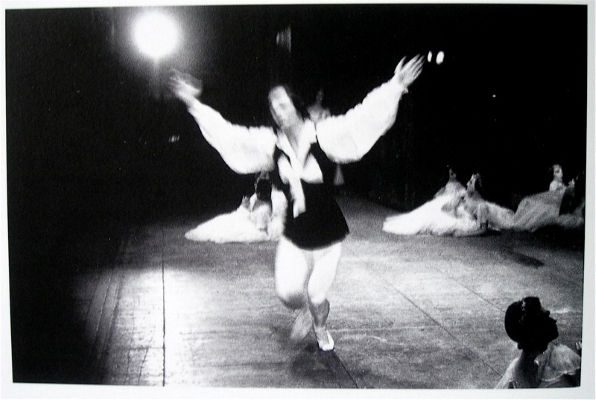 Important Art by Alexey Brodovitch

The below artworks are the most important by Alexey Brodovitch - that both overview the major creative periods, and highlight the greatest achievements by the artist.


Artwork Images

Untitled from "Ballet" series (1933-1935)

Artwork description & Analysis: This semi-abstract photograph dramatically emphasizes a dancer on the left of the frame, his or her shadowy body in freefall against a washed-out backdrop. The space on the right is a blurred whirl of movement; the thick black background lit by three curved diagonals of light that extend beyond the lower edge of the picture frame. The atmospheric image is full of balletic movement and the spectator becomes caught up in the free abandon of dance.

While working as art director at Harper's Bazaar, Brodovitch often worked on other projects. This image revisited his early experience (in the 1920s) working for the Ballet Russe in Paris. His interest in ballet followed him to New York where he continued to photograph ballet companies into the mid-1930s. Here he photographed the touring Ballet Russe using a 35 mm camera, and shooting with a slow shutter speed, and using only available light. Once in the darkroom, Brodovitch exaggerated contrast and grain by bleaching and enlarging small sections of the negative. As critic Edwin Denby noted, "These pictures totally violated the accepted conventions of good photographic technique, which demanded a sharp rendition of the subject and a wide, smooth tonal scale. Far from trying to mitigate these shortcomings, Brodovitch deliberately exaggerated them [...] familiar strategies in the 1950s and 60s, but not in the 1940s."

Employing an equally innovative layout, he published the images in his book Ballet (1945). Broken up into eleven sections, each representing a particular ballet, the images were arranged like a continuous strip of celluloid with one image bleeding into the next, much like a movie reel. As a result, the book had, as photographic historians Parr and Badger pointed out, "a vibrancy and a fluidity that perfectly captures the motion of the dance." Indeed, they suggested that Ballet was "one of the most successful attempts at suggesting motion in photography, and certainly one of the most cinematic and dynamic photobooks ever published." Brodovitch gave the book, published in an edition of five hundred copies, to various friends and art world colleagues, and as critic Vincent Aletti wrote, "Ballet had enormous impact among the design and photo cognoscenti."

Gelatin silver print, printed c. 1945 - National Gallery of Art, Washington, D.C.


Artwork Images

The Consensus of Opinion (1936)

Artwork description & Analysis: This dual page layout for Harper's Bazaar combines Brodovitch's innovative graphic design with Man Ray's photography. A leading Surrealist, Man Ray's fashion photographs produced strikingly enigmatic images. Here, a kind of solar swirl curves through the background as if the model, who cups her left breast in her hand, has inhabited an erotic dream; the mystery of her desire only heightened by her black-laced fan that flares out like an attending wing. Surrounded by white space, meanwhile, the block of text on the right takes on a Z-shape, mirroring the diagonals of the black skirt. The "The Consensus of Opinion" title tallies horizontally with the model's shoulders and the outstretched fan giving the text and image a sort of geometric symbiosis.

Brodovitch pioneered the use of text and image, designing every page in an issue, and employing his "white space" technique for maximum visual impact and dynamism. Frances MacFadden, a Harper's Bazaar editor, described how, "his speed was dazzling. A quick splash or two on the cutting board, a minute's juggling of the Photostats, a slather of art gum, and the sixteen pages were complete.' She added, however, that his page layouts "were the despair of copywriters whose cherished tone poems on girdles or minks had to be sacrificed to his sacred white space."


Artwork Images

Untitled (1938)

Artwork description & Analysis: In this image, a surrealistic effect is created as two models (photographed by George Hoyningen-Huene) step forward through large openings torn in the newspaper. The paper's ragged edges contrast with the stylish and elegant cut of the models' flowing dresses. While both women's bodies are turned towards the viewer, their heads are turned toward one another, as they acknowledge their impact and surprise of the printed page they have just burst into.

Imploring his students and staff to "astonish me," Brodovitch called boredom "the disease of our age," insisting that the only way to combat this was "by invention - by surprise." Accordingly, he experimented with every design element in the juxtaposition between typography, white space, and image. As Carmel Snow, who hired him as Harper's art director, said, "I saw a fresh, new conception of layout technique that struck me like a revelation: pages that bled beautifully, cropped photographs, typography and design that were bold and arresting. Within ten minutes I had asked Brodovitch to have cocktails with me, and that evening I signed him to a provisional contract as art director."

- Harper's Bazaar
More Alexey Brodovitch Artwork and Analysis:
If you see an error or typo, please:
tell us
Cite this page

Content compiled and written by Rebecca Seiferle
Edited and published by The Art Story Contributors
" Artist Overview and Analysis". [Internet]. . TheArtStory.org
Content compiled and written by Rebecca Seiferle
Edited and published by The Art Story Contributors
Available from:
First published on 29 Apr 2019. Updated and modified regularly.


[Accessed ]