Movements, Styles, and Tendencies
Fashion Photography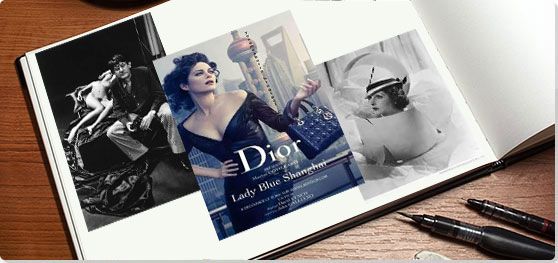 Fashion Photography
Started: 1850
Ended: Present

"Many photographers feel their client is the subject. My client is a woman in Kansas who reads Vogue. I'm trying to intrigue, stimulate, feed her. My responsibility is to the reader. The severe portrait that is not the greatest joy in the world to the subject may be enormously interesting to the reader."

Summary of Fashion Photography
Not a movement as such, fashion photography is perhaps best described as a branch of fine art photography that focuses exclusively on the promotion of haute couture. Fashion photographs accentuate the fashion designer's brand - or their "look" - which is typically expressed as an attitude or concept (and may not feature the clothes or accessories at all). Since it is informed by high art, popular culture and societal views of gender, self-image, and sexuality, Fashion Photography is seen as, in the words of art historian Eugenie Shinkle, "a most fantastic barometer of the time."

Historically, Fashion Photography was regarded as ephemeral and commercial, with gallery and museum exhibition space only granted to those special fashion photographers who also happened to be established artists. By the 21st century, however, art historians, scholars, and leading art institutions have come around to the idea that Fashion Photography deserves to rank as a branch of fine art photography. Indeed, Shinkle observed that apart from "a handful of exceptions, there was a real reluctance amongst scholars to engage with [Fashion Photography] in a serious way. Unapologetically commercial, it had been reduced to 'only advertising.' And, until recently - that is until it started appearing in galleries - it was considered to be ephemeral."
Key Ideas
More than any other photographic genre, Fashion Photography blurs the line between art and commerce. Rather than an impediment to creativity, however, the conflict of interests brings a dynamic tension that gives Fashion Photography its unique place within the canons of
Modern Photography
.
Closely aligned to celebrity culture, Fashion Photography has the capacity to bring the styles and methods usually reserved for high culture - or haute couture - to the widest audience. It operates thus on a close reciprocal relationship with the magazine, music, film, and television industries.
Mirroring developments in modern photography, Fashion Photography became liberated from the studio in the late-fifties/early-sixties as photographers and their models took to the urban streets. Contemporary Fashion Photography occupies thus a space that accommodates, sometimes even at once, urban street style and haute couture.
Like all progressive artforms, Fashion Photography has kept pace with the avant-garde. Yet no other artform is so inextricably tied to the ideas of vanity and narcissism. As a celebration of beauty - though what that might be exactly changes with the times - modern Fashion Photography has given birth to the phenomenon of the supermodel.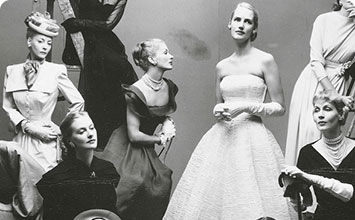 Iconic Fashion Photographer Deborah Turbeville despised the fashion world. "It's seeing all those people who you've seen for years, who've spent fifty years of their lives just looking at clothes," she said. But this didn't stop her producing some of the most groundbreaking works Fashion Photography had to offer.
Important Art and Artists of Fashion Photography

The below artworks are the most important in Fashion Photography - that both overview the major ideas of the movement, and highlight the greatest achievements by each artist in Fashion Photography. Don't forget to visit the artist overview pages of the artists that interest you.


Artwork Images

Gloria Swanson (1924)

Artist: Edward Steichen

Artwork description & Analysis: Considered the father of modern Fashion Photography, Steichen's portrait of silent movie star Gloria Swanson remains one of his most celebrated commercial works. Produced while he was house photographer at both Vanity Fair and Vogue, Steichen's image merges the worlds of fine art portraiture and Fashion Photography to spellbinding effect and provides an early example of how the worlds or art, entertainment, and fashion would interrelate. The image was published in the February 1928 issue of Vanity Fair to help publicize Swanson's latest film Sadie Thompson (a topical story of a free-spirited, jazz-age woman who, following a scandal, relocates to a tropical island where she seeks redemption). Steichen's great skill (or one of his great skills) was his ability to work with his models and to draw the very best out of them. It was a knack that all the great Fashion Photographers would need to master.

Journalist, critic and editor of Vanity Fair Frank Crowinshield had referred to Steichen as the "world's greatest living portrait photographer" and in this portrait one can appreciate his point. The most striking element of the picture are Swanson's hypnotic eyes that look directly into ours. Given that they had no voice, it was the norm for silent film stars to convey their screen presence through their eyes. Indeed, Swanson was widely recognized for her wide-eyed look and by emphasising them in this image, Steichen had drawn out her intelligence and her skill as a performer. In this way, the portrait celebrates both her qualities as an artist/model and her essence as an individual.

Steichen wrote about their working relationship in his autobiography: "At the end of the session, I took a piece of black lace veil and hung it in front of her face. She recognized the idea at once. Her eyes dilated, and her look was that of a leopardess lurking behind leafy shrubbery, watching her prey. You don't have to explain things to a dynamic and intelligent personality like Miss Swanson. Her mind works swiftly and intuitively." In this description, Steichen acknowledged that if one was to produce the very best fashion portraiture, then there must first be a true affiliation between photographer and model.

Gelatin silver print - Metropolitan Museum of Art, New York

Noire et Blanche (Black and White) (1926)

Artist: Man Ray

Artwork description & Analysis: Man Ray's iconic photograph shows the French nightclub singer, actress and painter, Alice Prin; better known in the cultured Parisian circles in which she moved as Kiki de Montparnasse. With her eyes closed, her head reclines on a table beside an ebony African mask which she holds upright in her left hand. Published in a 1926 issue of Vogue, the work appeared with a caption, "Mother of Pearl Face and Ebony Mask," and, as art critic Daisy Woodward noted, "It is a majestic study in tone and texture: the patches of light on the dark, lustrous mask are echoed by those punctuating Montparnasse's shiny black hair, while, in contrast, her soft, porcelain-hued face and shoulder boast delicate patches of shadow."

Noire et Blanche was published alongside Man Ray's reverse negative of the same image, thus inverting the play of black and white. With their oval shape, serene expressions, and reflective smooth surfaces, the two faces mirror each another, evoking cultural and racial overtones, but harmonized in their aesthetic balance. As art critic Woody Hochswender observed, Man Ray's "work came out of an era when photographers painted with light. There is a stillness about his fashion photography [...] His women never look into the camera. They seem to be in no particular space or place. They look chipped out of marble."

The avant-gardist Man Ray enthralled the fashion world in the early twentieth century. In addition to his work for Vogue, Vanity Fair featuring his rayographs while the designer Paul Poiret commissioned him to photograph his fashion line. His existing oeuvre also informed the fashion world. For instance, his famous painting Observatory Time The Lovers (1936) was also used as a backdrop for a Harper's Bazaar fashion editorial.

Due in part to Man Ray's (and Steichen's) involvement in the industry, Fashion Photography, now in tune with the avant-garde sensibilities of haute couture, earned its status as fine art. Man Ray's surrealistic photography inspired the next generation of photographers, including Cecil Beaton and Horst P. Horst, as well as more contemporary figures including Guy Bourdin, Paolo Roversi, and Jean-Baptiste Mondino's. Indeed, Noire et Blanche was referenced explicitly by Mondino in his 1999 monochrome advertisement for Jean Paul Gaultier where the African mask is replaced by a bottle of Classique perfume.

Gelatin Silver print - Museum of Modern Art, New York


Artwork Images

The Hat Box (White panama hat) (1934)

Artist: Cecil Beaton

Artwork description & Analysis: In this signature work, the head of the famous model-turned-designer, Elsa Schiaparelli, is seen emerging from a hatbox. She is wearing a panama wearing hat (by Suzy) that is crucial to the composition; its horizontal and diagonal lines are both emphasized and framed by the conical shape of the box as its lid (which helps frame Schiaparelli's profile). The cropping is slightly askew, playfully emphasizing the unorthodox point of view, while the soft white background, with its fluffy bedding and billowing curtains, lends itself perfectly to Beaton's tongue-in-cheek tone.

In the 1930s Beaton worked with George Hoyningen-Huene and Horst P. Horst. All three explored surrealistic techniques and effects, though each photographer developed their own style accordingly. Irving Penn dubbed Beaton's images of Hollywood stars and fashion models (including Elsa Schiaparelli) as "The Beaton Woman". It was a reference to the way Beaton approached Fashion Photography with a distinctive, often witty, sense of unpredictability.

Here, Schiaparelli's facial expression evokes a touch of disconcerting anxiety and sadness, this despite the playful nature of the composition. Indeed, in 2009, the famous British fashion photographer Rankin chose this image as one of seven that had had a transformative effect on Fashion Photography. Rankin argued that Beaton "set the template for fashion photography. Packaging a world of decadent beauty and above all selling a dream" and that in this particular photograph Beaton had demonstrated "his typical wit and elegance" in the way what Schiaparelli's apparel became "secondary to the beauty of the image."

Gelatin silver print - Metropolitan Museum of Art, New York
More Fashion Photography Artwork and Analysis:
If you see an error or typo, please:
tell us
Cite this page

Content compiled and written by Rebecca Seiferle
Edited and published by The Art Story Contributors
" Movement Overview and Analysis". [Internet]. . TheArtStory.org
Content compiled and written by Rebecca Seiferle
Edited and published by The Art Story Contributors
Available from:
First published on 05 Apr 2019. Updated and modified regularly.


[Accessed ]