"It's the moment that counts. It's the only thing we've got in life really, and nothing captures it the way a stills camera does."
"I never liked what happened to clothes in the '60s. I liked what Yves Saint Laurent was doing in Paris. I definitely did not like Carnaby Street. I thought it was all a bit silly. Remember, the '60s really ended in '65. When you had Sammy Davis come to London, you knew the '60s was over. It became a theme-park. It wasn't real. It was all about money and manufacturing, and selling the American flag and the Union Jack as pop art symbols. There was no substance, really."
"I made more money out of commercials than I ever made from photography. And I won an Emmy! For an advert! I couldn't believe it. I said, 'Are you going to give one to the manicurist as well?'"
"Life's tragic really. You have a great life and then you get old. Most people get diseased. I've got so many mates who have walking sticks now. This is how it ends. Life's sad. It's tragic."
"It takes a lot of imagination to be a good photographer. You need less imagination to be a painter, because you can invent things."
"There's a difference between nude and naked, and I prefer naked."
"You start seeing things more when you photograph them."
"In an instant I know there were no rules and that's the lesson I learned from Picasso."
Summary of David Bailey
An iconic photographer as well as a filmmaker, David Bailey revolutionized fashion photography and portraiture by introducing a new informality to his work, focusing on capturing the personality of the model or sitter. His use of stark white backgrounds, movement, and a direct, cropped perspective bring a sense of spontaneity to his portraits and he captured many celebrities at the height of their careers, often conveying ideas of energy, youth, and sexuality. Although he has documented London over many decades, Bailey's engaging 1960s fashion and street photographs are the best known and he helped to define the international image of the city during this period. Bailey's documentary work is no less dynamic, with his provocative film, Warhol by Bailey (1973) causing a backlash in some quarters for its references to sex, nudity and its implications of homosexuality.
Accomplishments
One of the key figures in creating the appearance of London in the 1960s. Bailey documented a period of rapid social change, highlighting the growing street cultures of the city through his fashion photography. In doing so, Bailey helped to place London on the map as a global center of fashion and culture during the decade.
Bailey is best known for his compelling portraits of celebrities and he has captured images of a host of rich and famous people over the course of his long career including: The Beatles, Mick Jagger, Princess Diana, and Kate Moss. His simple monochrome images with white backgrounds have become a style of portraiture in their own right.
Initially getting the opportunity to work abroad with Vogue, Bailey introduced new locations to audiences through images which combined landscape, fashion, and portrait photography in a novel and informal way to create arresting insights into other cultures.
Bailey co-founded the celebrity and fashion magazine, Ritz Newspaper. The publication was responsible for introducing the paparazzi style photograph to the UK, capturing and publishing candid or off-duty images of celebrities in shops, restaurants or on the street and printing them alongside society gossip columns and shots of parties and events. The Ritz provided the blueprint for many glossy magazines today including Ok!, Heat, and Closer.
Important Art by David Bailey
Progression of Art
Biography of David Bailey
Childhood
David Bailey was born to Herbert Bailey, a tailor's cutter, and Gladys, a machinist. When he was three years old, his family moved from Leytonstone to East Ham, both East End districts of London. They were poor, and shared a two-up two-down house with another family. Bailey recalls, "My father was never there. My mother's brother, Artie, was gay and I shared a room with him, and my father was really uptight about it. I mean, he was ignorant. He was just an East End guy. Women and drink. Whole life devoted to it."
When it was cold, Bailey's mother would take him and his sister to the cinema five or six times a week, as it was cheaper than staying at home and paying for gas to keep the house warm. A side effect of these cost-saving outings was that Bailey became very familiar with the world of film, learning about all the Hollywood actors and directors.
Bailey remembers living through the Blitz of 1940 and 1941, during which, to his dismay, the local cinema was destroyed. He recalls that "We weren't evacuated. In the East End, nobody was. Spent most of it down the coal cellar." The most poignant memory he has from the period is the sound of broken glass, as he says everywhere he and his friends went, there was broken glass underfoot. This experience also made him profoundly aware of death from a young age.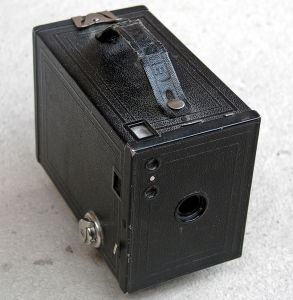 After struggling in state education, Bailey attended a private school, Clark's College in Ilford, but his difficulties continued due to undiagnosed dyslexia and dyspraxia. He claims that in one school year he only attended for thirty-three days. From an early age Bailey was fascinated by natural history and birds, and he planned to become an ornithologist like his idol James Fisher (whom Bailey describes as "the David Attenborough of the Forties"). He got his start in photography by "messing around" with his mother's Box Brownie camera, learning to develop his own photos by the time he was twelve. He explains that his initial interest in photography was more about the "magic" of working with chemicals, rather than the images themselves.
Education and Early Training
On his fifteenth birthday, Bailey left school, and began working as a copy boy at the Fleet Street offices of the Yorkshire Post. Over the next three years he worked a series of menial jobs before being drafted for National Service in 1956. He remembers, "I tried to get out of it by making out I was gay. But I think everybody tried that. They say, 'What's your favourite sport?' And you say, 'Ping-pong.' But it didn't work because every fucker tried it. I feel sorry for the ones that were gay, because nobody believed anybody."
He joined the Royal Air Force, noting that, "I knew I wouldn't be flying anywhere as I wasn't trained up so I spent day after day reading books or magazines down in a little hut I had on the airstrip. Magazines like Time and photography journals were where I first started seeing the work of other photographers. I never really thought of it as being artistic - to me, Picasso or Braque were artistic. But the spark must have been triggered somehow. As a kid I used to draw or paint and I continued in the Air Force. I used to spend hours drawing the Disney characters over and over again. My mates must have thought I was a bit mental."
In 1957, he served in Singapore. While there, he developed his interest in photography, "Singapore was a tax-free port so they virtually gave you a camera every time you bought a packet of cigarettes! I remember getting a cheap copy of a Rolleiflex and then after a bit taking it to the local Chinese pawn shop and trading it up for something better." When he was demobilized in August 1958, he set his sights on a career as a professional photographer.
Bailey hoped to enter the London College of Printing, but was turned down due to his poor school record. Instead, he sent letters to various photographers seeking apprenticeship opportunities. He was taken on as second assistant by David Olins, a photographer who contributed regularly to the women's fashion magazine Queen. During his six months with Olins, Bailey worked mainly as a messenger boy, earning just over £3 per week.
In 1959, he received a phone call inviting him to interview with photographer John French, who also employed Bailey as a second assistant. He notes that, as with Olins, he learned "very little" with French, yet the experience was beneficial as French was "shooting for Vogue and Harper's and some fairly prestigious magazines with clients and models, gay people, straight people, working class, posh." Bailey says that French's studio "was an environment that taught me more about how to interact with people than about what sort of photograph I wanted to take."
Mature Period
In 1960, Bailey left French's studio and worked for various newspapers and magazines including The Daily Express and Women's Own. In February 1960, the same month as he married he first wife Rosemary Bramble (the marriage lasted just 11 months), Vogue offered him a contract, but Bailey turned them down. He says, "I had no real idea what Vogue meant in those days, all I knew is the money they offered me was less than what I was already earning. So I told them to sod off."
Yet Vogue persisted with their offer, and in July, art director John Parsons convinced Bailey to sign the contract. Bailey explains, "If someone offers you the chance to take pictures of pretty girls in frocks all day there are only so many times you can say no. But I always knew what I was there for at Vogue and those fashion magazines - it was to sell frocks. And I never wanted to be a fashion photographer. I was always more interested in people." Nevertheless, within a matter of months, Bailey was shooting cover images for Vogue, and in one year alone, he shot 800 pages of Vogue editorial.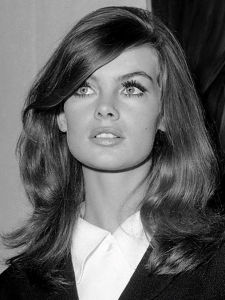 During this period, Bailey developed a close relationship with model Jean Shrimpton. The two were romantically involved for a number of years and worked together on photo shoots for several decades. As Bailey remembers, "My first glimpse of Jean Shrimpton was when I poked my head round the door of my mate Brian Duffy's photographic studio...I just fell in love with her eyes - the first thing I noticed - and said 'who's that girl?' Duffy said: 'Forget it, Bailey, she's too posh for you.' I think we fell in love with each other straight away, although I was an odd choice for Jean. She'd been used to people who drove MGs and were called Ponsonby or something, and suddenly she'd met this East End bloke with a Morgan who couldn't even spell Ponsonby."
The pair helped launch each other's careers and a 1962 photoshoot in New York for Vogue brought them both to wider attention. Shrimpton was an important participant in Bailey's shoots, as he notes, "She was an exceptional model. It's something you can't put your finger on. I suppose it's a kind of visual intelligence. I didn't explain anything to her; she had instinct, she knew how to move."
As his fame grew, the attractive and energetic young Bailey began to socialize with A-list actors, musicians, and even members of the royal family. During this time, Bailey, along with fellow photographers Terence Donovan, and Brian Duffy, photographed their celebrity friends, creating now iconic images. While Bailey's social circle was extensive, some of his closest friends included artist Andy Warhol, actor Jack Nicholson (who is the godfather of one of Bailey's sons), and Nicholson's then-girlfriend, actress Angelica Houston.
In 1965 Bailey married French actress Catherine Deneuve and around this time he began directing and producing television commercials. He also photographed album art for musicians such as The Rolling Stones, Cat Stevens, Alice Cooper, and Marianne Faithfull. In 1976, he married a third time, to American fashion model and writer, Marie Helvin.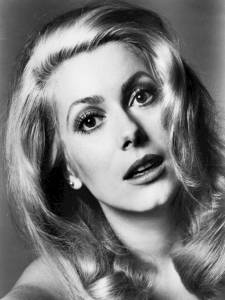 Between 1968 to 1973, Bailey directed and produced documentaries about celebrities, including Beaton by Bailey, Warhol by Bailey, and Bailey on Visconti, which aired on national television. Bailey did not go into the shoots with a predetermined plan of what he was going to capture or what he was going to ask during interviews with the subjects. Even before it aired, Warhol by Bailey generated a great deal of media attention and controversy due to its sexually suggestive content.
From 1970, Bailey began to be sent abroad more regularly, predominantly to take fashion photographs in far-flung locations in the hope that these would engage magazine readers in new ways. The images he created on his travels to places such as Turkey and Peru fused fashion photography with documentary styles to create narrative-focused travel images with a high-fashion component. He also used these trips to photograph local people and sights, later compiling these photographs for books and exhibitions.
By 1976, Bailey was burnt out with his work for Vogue, finding the commercial side of it to be unstimulating and repetitive. At the same time, photographers Guy Bourdin and Helmut Newton were creating a new aesthetic in the field of fashion photography and eclipsing Bailey. Bailey left the magazine, and he and illustrator David Litchfield founded Ritz Newspaper which focused on gossip, fashion, and celebrity, marking the start of paparazzi photography in Britain. Throughout this period, he also shot celebrity portraits for Harper's Bazaar and The London Times and continued his documentary assignments.
In 1985, Bailey photographed celebrities at the Live Aid concert at Wembley Stadium. He recalls, "The atmosphere on the day was great. At one point I got a tap on my shoulder and spun round. Suddenly there was a big tongue down my throat! It was Freddie Mercury."
Late Period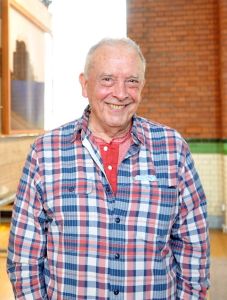 During the 1990s, Bailey continued to direct for television, including the BBC drama Who Dealt? (1992), and the South Bank Film, The Lady is a Tramp (1995), which starred his fourth and current wife Catherine Bailey (nee Dyer, whom he had married in 1986). He also directed the feature film The Intruder in 1999.
Bailey was awarded the title Commander of the Order of the British Empire (CBE) in 2019. He currently works out of London and has a second home near Plymouth, on England's south coast. In addition to his photography and filmmaking work, he enjoys oil painting, which he finds to be a relaxing pastime. In September 2020, he exhibited fifty of his oil paintings in Flannels, a clothing store on Oxford Street, London.
Bailey has three children with Catherine, Paloma (named for Picasso's daughter), Fenton, and Sascha. Determined not to have his youngest son go through the same traumatic school experience as himself, Bailey sent Sascha (who is also dyslexic) to a school with a specialty in the area. Sascha is now an art curator, and Fenton and Paloma also have arts-related careers, with Bailey noting that, "It's natural for them".
The Legacy of David Bailey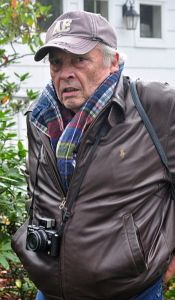 Now in his 80s, Bailey is still active and over the course of his long career he has published more than forty books and created over 500 commercials and films. He set the standard for fashion photography in magazines such as Vogue and Harper's Bazaar, creating the aesthetic of the 1960s (along with photographers Terence Donovan and Brian Duffy) as one that was gritty, urban, and linked with music subcultures such as punk and rock. Bailey never felt restricted by existing photography styles and tropes and instead continued to experiment throughout his career, pushing boundaries to create iconic images of people and clothing that defined an era.
Bailey introduced a new informality into portrait photography, capturing his subjects relaxed and often in movement. He did this by focusing on putting subjects at ease and building a rapport before and during a photo shoot. In this manner, Bailey created unusual and charismatic images of a whole host of celebrities, creating and cementing their image in the public eye. These techniques were adopted by photographers such as Guy Bourdin, Helmut Newton, and Bruce Weber, influencing the appearance of their work.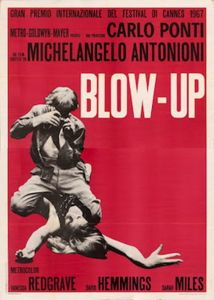 Vogue historian Robin Muir describes Bailey as "a sweet-talking, eye-lash fluttering boy who swept in from the East End and charmed the pants off every man and woman he met." Bailey's charisma and energy was so well known that he is said to have inspired the main character, a fashion photographer, in Michelangelo Antonioni's cult movie Blow-Up, which premiered in 1966.
Influences and Connections
Influences on Artist

Influenced by Artist
Artists
John French

John Barry Pierpoint Cole

George Brassaï
Friends & Personal Connections
Terence Donovan

Brian Duffy
Movements & Ideas
Portrait photography
Artists
Guy Bourdin

Bruce Weber
Friends & Personal Connections
Terence Donovan

Brian Duffy
Movements & Ideas
Portrait photography
Useful Resources on David Bailey
Books
The books and articles below constitute a bibliography of the sources used in the writing of this page. These also suggest some accessible resources for further research, especially ones that can be found and purchased via the internet.
written by artist
artworks