"When I have found a landscape which I want to photograph, I wait for the right season, the right weather, and the right time of day or night, to get the picture which I know to be there."
"Photography is not a sport. It has no rules. Everything must be dared and tried."
"In my portraits I try to avoid the fleeting expression and vivacity of a snapshot."
"No amount of toying with shades of print or with printing papers will transform a commonplace photograph into anything other than a commonplace photograph."
"I consider it essential that the photographer should do his own printing and enlarging. The final effect of the finished print depends so much on these operations."
"Only the photographer himself knows the effect he wants. He should know by instinct, grounded in experience, what subjects are enhanced by hard or soft, light or dark treatment."
"I did not always know just what it was I wanted to photograph. I believe it is important for a photographer to discover this, for unless he finds what it is that excites him, what it is that calls forth at once an emotional response, he is unlikely to achieve his best work."
"A good nude photograph can be erotic, but certainly not sentimental or pornographic."
"It is essential for the photographer to know the effect of his lenses. The lens is his eye, and it makes or ruins his pictures."
"A feeling for composition is a great asset. I think it is very much a matter of instinct. It can perhaps be developed, but I doubt if it can be learned."
"To achieve his best work, the young photographer must discover what really excites him visually. He must discover his own world."
"The good photographer will produce a competent picture every time whatever his subject. But only when his subject makes an immediate and direct appeal to his own interests will he produce work of distinction."
Summary of Bill Brandt
For many professionals and historians, Brandt ranks as Britain's greatest all-round photographer. Ranging from photojournalism, and urban night photography, through Surrealism and semi-abstraction, his oeuvre, at once visionary and versatile, demonstrates his restlessness and his spirit of adventure. Indeed, taken as a whole, his achievements underlined the scope and potential for photography as an art form fit for the twentieth century. He excelled in many genres, from trenchant reportage for photo-essay features, to his famous "London blackout" photographs that brought him the reputation as a great English war chronicler. Leaving social themes behind him, Brandt returned to his fine art roots, producing atmospheric landscapes, and "sculptural" semi-abstract nudes, rendered through his signature distorted wide-angle lens technique. Brandt is also well known for his portraits which feature a daunting list of luminaries from within the field of twentieth century modernism.
Accomplishments
Brandt's shift into photojournalism (having trained the field of fine arts) was an astute move and provided the building blocks for his whole career. It saw him produce works that would become some of the most iconic in his entire oeuvre. Amongst the most poignant of these photographs was a series featuring working-class communities struggling under the bleak economic effects of colliery and mill closures in Northern England during the 1930s.
Inspired by his friend Brassaï's famous book, Paris de Nuit (1936), Brandt turned his lens on London's nocturnal world with his book A Night in London (1938). For this collection he moved effortlessly between different social settings, from impoverished lodging houses to the West End theater. However, Brandt challenged the rules of documentary photography by using family members and friends to act out specified social roles. These works had proved so arresting they would lead to a commission from the Ministry of Information to record life in London during the "blackout" brought on by the German bombing blitz.
In the immediate post-war years Brandt showed his willingness to evolve by turning to more creative works. By now Brandt was experimenting with an extremely wide-angle lens (originally designed for industry) which lent his landscapes, most evident in his iconic image of the prehistoric Stonehenge monument, a vast impression of space and depth. His experimentations with the same lens on close shots of the human body, meanwhile, brought his nudes a uniquely distorted, or abstract, quality.
Brandt's abstract and semi-abstract nudes reveal his close affinity with modernist sculpture. Indeed, many of these photographs were reminiscent of the "reclining nudes" of his good friend Henry Moore. Moore was in fact just one of the cultural icons - including the likes of Salvador Dalí, Cecil Beaton, Francis Bacon, and Joan Miró - happy to sit for one of his series of "unposed" character portraits that recalled Brandt's earlier photojournalistic style.
The Life of Bill Brandt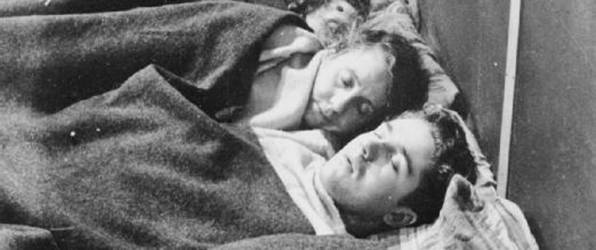 Revered as a photographer who broached several genres, Brandt worked under one guiding principle: "See the subject first. Do not try to force it to be a picture of this, that or the other thing. Stand apart from it. Then something will happen. The subject will reveal itself".
Important Art by Bill Brandt
Progression of Art
1932
Losing at the Horse Races, Auteuil, Paris
Brandt's work of the 1930s focused on the everyday lives and particularly the leisure activities of different social classes. He regularly photographed spectators at various outdoor events in England, including horse races, coach parties, children's parties, and cricket competitions, but this image was taken in Paris. We see two young men in bowler hats (the iconic hats might suggest they are from the English middle or upper classes on a visit to the Paris races) each with his left hand on his waist and his right hand covering his mouth. They look off to the left, visibly concerned (as the title also indicates) about the outcome of a horse race on which they have no doubt placed wagers.

In an interview conducted shortly before his death, Brandt referenced this image when discussing how his camera had allowed him to capture people's emotions and attitudes. The two men were not aware they were being photographed (the fact that the background is out of focus indicates that he used a telephoto lens) and thus were naturally posed. As he said, "A photographer must be prepared to catch and hold on to those elements which give distinction to the subject or lend it atmosphere. They are often momentary, chance-sent things [...] Sometimes they are a matter of luck; the photographer could not expect or hope for them. Sometimes they are a matter of patience, waiting for an effect to be repeated that he has seen and lost or for one that he anticipates".
Gelatin silver print - Museum of Modern Art, New York, New York
1937
Coal-searcher Going Home to Jarrow
Brandt, who emerged as the outstanding chronicler in pictures of the English working classes in the inter wars years, made his first visit to northern England in the summer of 1937 where he encountered first-hand the financial hardship of communities crippled by 80 percent unemployment following the closure of local mills and collieries. In one of his most famous, and most poignant, photographs of the series, Coal-searcher Going Home to Jarrow, Brandt documented the act of "coal-searching" whereby his subject, pictured by Brandt pushing his heavily laden bicycle up a steep path, had foraged on local slag heaps for small lumps of coal with which he might use to heat his home. Images such as this, which is rendered in a sharp wintry high contrast of light and dark tones, were complemented with more claustrophobic scenes of cramped interior living conditions. This image was not published, however, until 1947 when Picture Post presented it as a visual contrast to the age of austerity and rationing that had followed in Britain in the immediate war years.
Gelatin silver print - LACMA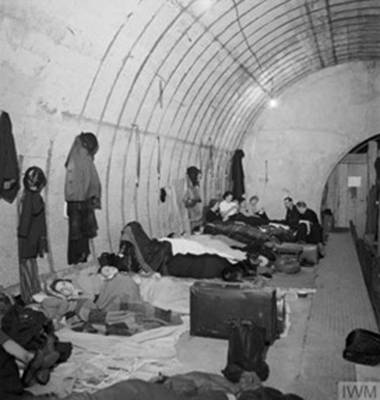 1940
Elephant and Castle Underground Station Shelter
This image shows people crowded together and attempting to sleep on the platform of the Elephant and Castle tube (subway) station in South London. Like other London tube stations, Elephant and Castle was used as a shelter from German "Blitz" bombing raids. A line of men, women, and children lay under blankets (one woman acknowledging the presence of Brandt's camera), and a group of adults sit in a circle at the far end of the platform. Clothing and other belongings hang on the station walls. Brandt later commented that, when photographing this scene, he was most struck by the fact there were "a lot of children", and decades later he could still vividly recall "the long alley of intermingled bodies, with the hot, smelly air and continual murmur of snores".

Although they did not meet (and become lifelong friends) until 1942, Brandt and sculptor Henry Moore had both been commissioned by the Ministry to Information to photograph and sketch (respectively) "Shelter Pictures". Curator Martina Droth observed that both had been drawn to the sight of "intermingling of bodies in the Liverpool Street Underground Extension - which Moore later described as 'hundreds of Henry Moore reclining figures' - and both sought out among them individuals caught in moments of solitary isolation". She adds however that "while Brandt photographs were shot in the shelters (as, of course, they had to be), Moore was 'ashamed to intrude on private suffering' and made his sketches from memory".

Brandt's Shelter Pictures resonated with such emotional power that they took on a second life after the war. As Droth points out, after the war Brandt's work "transitioned" from photojournalism to art photography and that he (and Moore) revisited his "Shelter Pictures" which he prepared for exhibition (rather than magazine articles). She writes, "this move was marked by changes in the scale and printing styles he adopted: for example, his widely distributed Elephant and Castle photograph from 1940 was reprinted in the high-contrast style for larger formats and diverse media".
Photograph - Imperial War Museum, London, England
1945
Hampstead, London
After the war, Brandt turned his attention away from documentary and photojournalism. He focused rather on landscapes, portraits, and perhaps most notably, interior nudes. This image presents a young and slender blonde curly-haired model, posed sideways on a chair at the center of the frame. She is photographed in her own bedroom, against the backdrop of her bed, the floral-papered walls, and a window through which a tree and an adjacent residence are visible. Some have likened images such as Hampstead, London to the portraits of controversial Polish/French painter Balthus who gained notoriety in the 1930s for his erotically charged interior portraits of pubescent girls. Balthus's work drew condemnation for its paedophilic undertones, which is not a charged that can be levelled at Brandt's nudes. However, like Balthus, Brandt's interior settings, and the languorous posture of his models, catch something of the same dreamy, Surrealist, quality that are hallmarks of Balthus's paintings.

For his part, Brandt stated, "A good nude photograph can be erotic, but certainly not sentimental or pornographic". He used a wide-angle lens to capture more of the small space, and usually took no more than twenty-four exposures. Brandt placed his nudes of this period amongst his best works, even though to begin with "nobody wanted [to publish] them". Eventually, however, his nudes came to be admired for their simple beauty. As he explained, "[I was] not very interested in extraordinary angles. They can be effective on certain occasions, but I do not feel the necessity for them in my own work. Indeed, I feel the simplest approach can often be most effective. A subject placed squarely in the centre of the frame, if attention is not distracted from it by fussy surroundings, has a simple dignity which makes it all the more impressive".
Gelatin silver print - Museum of Modern Art, New York, New York
1947
Stonehenge under Snow
One of Brandt's most famous images, Stonehenge under Snow captures the megalithic prehistoric monument during the "big freeze" of 1947 (Britain's worst winter in over a century). The image put down Brandt's marker in the proud and long timeline of great English landscapists. The image itself uses high contrast, rendering the monument nearly black, and appearing almost to float above the white, snowy field in the foreground. The sky above is equally dramatic, with the sunlight bullying its way through the clouds. Arts writer Dorothy Feaver notes that "Stonehenge, thought to be a place of sacrifice to the sun, has particular potency in the hands of a photographer who worships light and dark. In Brandt's photograph, [...] the high contrast makes the image appear almost like a negative. He turns a hugely familiar landmark into something strange".

This photograph was commissioned by Picture Post to serve as their cover image in April 1947. It sat under the sub-title "Where Stands Britain?". It addressed what was one of the most newsworthy events of the moment, the "big freeze", which temporarily crippled the nation, as stockpiles froze, coal mining was slowed down, road and railway traffic was blocked, power stations closed, and food rationing became tighter. When the spring thaw started, flooding followed doing harm to crop and cattle farming.

Art historians Martina Droth and Paul Messier cite Stonehenge under Snow as a "turning point" in Brandt's career, when he "moved away from the socio-political images of depression-era and wartime Britain and became focused on a more subjective engagement with the landscape and the body". They add that "While capturing a newsworthy moment in time, the image also represents a timeless view of a mythic ancient symbol of the nation. Its artful and elegiac composition points to Brandt's interest in strong contrast, silhouette, and the use of large expanses of the picture space where visual detail is reduced to almost nothing".
Gelatin silver print - Museum of Modern Art, New York, New York
1958
East Sussex Coast
In his forward to Brandt's collection, Perspectives of Nudes (1961) the novelist Chapman Mortimer stated that when looking at the images in the book, "one thinks, again and again, Sculpture, sculpture". East Sussex Coast was one of several abstract nude photographs that Brandt took, placing body parts (here, a bent elbow) so close to the camera lens that they lose definition, and appear almost like Surrealist sculptures. Like many of these images, this was taken on a stone beach. As Droth and Messier assert "The beach provided Brandt with an evocative setting for blending body and nature. A pair of knees are arranged like boulders stacked on top of each other. The fingers of a hand blend into a bed of pebbles; a torso and elbow echo the shapes of the cliffs".

These works were published in Brandt's 1961 photobook Perspectives of Nudes. Droth and Messier argue that the collection "Unlike his other preoccupations, including landscape, photojournalism, and portraits, the nude for Brandt was less an avenue for commercial success and more a potent platform for creativity, experimentation, and discovery [...] These images, claustrophobic, dreamy, dark, sexual, are among Brandt's most identifiably surreal". As Brandt himself explained, his images before 1951 were "dark and muddy", but after 1951 his preference grew for "the very contrasting black-and-white effect [which is] crisper, more dramatic, and very different from color photographs".

Of all his works, Brandt's late career nudes, which share certain similarities with the famous cropped nudes of American Edward Weston, did most to reinforce the close connection between photography (which remains, in essence, an objective, mechanical, medium) and fine art. Brandt is interested here, not in eroticism, but rather the sculptural form (in this case, the human body) and its relationship to the natural landscape. Indeed, Life magazine juxtaposed Brandt's nudes with images of Aristide Maillol's carvings, making the connection between the two mediums explicit. This image is in fact one of many that reflects Brandt's close friendship with Henry Moore and was made shortly after the photographer had visited the coastal town of St Ives to photograph the sculptures of Barbara Hepworth (which he had also positioned on the beach).
Gelatin silver print - Museum of Modern Art, New York, New York
1963
Francis Bacon on Primrose Hill, London
In this charismatic portrait of one of Britain's premier figurative painters, Francis Bacon stands, visible from the waist-up, at the bottom-left quarter of the image. His brow furrowed, Bacon looks downward, past the camera to the left. Behind him, an expansive grassy park is visible, dotted with autumnal trees. The twilight sky is cloudy and moody, and a tall, illuminated streetlight stands behind Bacon, just to the left of a footpath visible on the right edge of the photo.

Brandt became well-known for his portrait work, and in the 1960s he photographed several significant artists and other cultural figures. His preference was to place the subject at the far side of the image, and to capture his subjects with more reflective expressions. Brandt once stated that it was important for portraits to still look good "twenty years later" and that "laughing pictures are very irritating to look at". Generally, he didn't want his subjects to look posed (and noted that "people don't pose for long" in any case) and would thus bide his time before exposing the image. For this portrait, Brandt asked Bacon to wait for quite some time in order to catch just the right lighting conditions of twilight.

Art critic Megan Williams suggests that Brandt's celebrity portraits had brought his oeuvre full circle. She wrote, "Despite being taken in an altogether different stage of his diverse photography career, Brandt's portrait of Bacon bears parallels with his earlier photojournalism - it is compelling, curious and still, filled with a sense of cloudy unease". One might also observe that the fact so many icons of twentieth century European modernism were willing to sit (some of them for his more esoteric extreme-close shot series of famous eyes) for Brandt - among them Henry Moore, Salvador Dali, Rene Magritte, Max Ernst, Louise Nevelson, Alberto Giacometti - was itself an endorsement of the reverence reserved for Brandt amongst his peers.
Gelatin silver print - Metropolitan Museum of Art, New York, New York
Biography of Bill Brandt
Childhood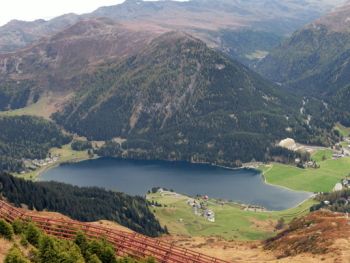 A notoriously private man (although happy to talk about his art) details of Brandt's personal life are scarce at best. Hermann Wilhelm Brandt was one of four sons born to a British father and German mother (both of Russian descent) in Hamburg. He spent most of his youth in Schleswig-Holstein, Germany, where he attended school, and then in a sanatorium in Davos, Switzerland, where he underwent prolonged treatment for tuberculosis. Brandt and his brother, R.A. (Rolf), were often bullied at school due to their British heritage. The brothers formed a close bond and took drawing lessons together at the Kunstgewerbeschule (a vocational arts school). In the late 1920s and early 1930s, Rolf (who went on to attend the Bauhaus school in Dessau) created several series of collages, using source materials from new photographic magazines such as Der Querschnitt, and to which Brandt himself contributed some early photographs.
Education and Early Career
The teenage Brandt took up photography as a serious hobby while convalescing at the sanatorium. He would remain a resident there until he was twenty-two. In 1927 (aged 23) he travelled to Vienna to consult with a lung specialist. While there, he met the writer, philanthropist, and socialite, Eugenie Schwarzwald whose home doubled as a social meeting point for Vienna's intellectual elite. Schwarzwald, who had already helped him secure a job at the portrait studio of the photographer Greta Kolliner, introduced Brandt to the American poet Ezra Pound at his residence in 1928. Pound sat for a portrait, and the American was so impressed with the results, he offered to introduce Brandt to American photographer Man Ray who maintained his primary studio in Paris.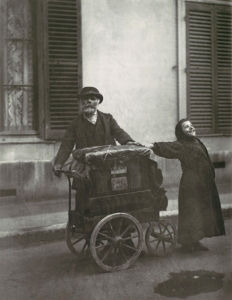 In 1929 Brandt relocated to Paris, where he spent three months apprenticing at Man Ray's studio. Brandt later recalled, "For any young photographer at that time, Paris was the centre of the world. Those were the exciting early days when the French poets and surrealists recognised the possibilities of photography". He learned new technical tricks from Man Ray including the use of the high grain aesthetic effect, as well as radical picture cropping techniques. He also absorbed much from the bigger Parisian art scene, through "cultural events" such as Luis Bunuel's and Salvador Dalí's notorious Surrealist movie, Un Chien Andalou (1929), and through his exposure to the photography of Eugene Atget and Andre Kertesz.
Brandt spent the next three years traveling (with his camera) around Europe, visiting the Hungarian steppe, Hamburg, Madrid, and Barcelona. In 1932, he married Eva Boros (the first of three wives), whom he had first met at Kollinger's studio. The couple set up home in the north London area of Belsize Park. In 1934, the Paris-based Surrealist magazine Minotaure published one of Brandt's early images, but England was to provide the inspiration for his most famous photographs. Around this time Brandt was also experimenting with montage techniques that combined portions of two or more negatives in one print. One of his best-known examples was an image called Early Morning on the River (1935). It features a seagull in flight that was superimposed onto a shot of a foggy River Thames. (Later, Brandt added a morning sun to the scene for a commissioned magazine feature.)
In 1936 Brandt published his first collection of photographs, The English at Home, which, in the words of art historians Martina Droth and Paul Messier, "presented a chronicle of British life, contrasting the customs and trades of the rich and the poor". Brandt used family contacts, including his uncles who worked as banking executives, to gain access to otherwise "exclusive" domains. The book's class contrasts were in fact illustrated on the book's dust sleeve with the upper classes represented on the front cover, the working classes on the reverse. Brandt said of the collection, "The extreme social contrast, during those years before the war, was, visually, very inspiring for me. I started by photographing in London, the West End, the suburbs, the slums". It is unclear exactly when Brandt disowned his German heritage altogether (and claimed henceforward to have been born in South London rather than Hamburg). But some accounts claim it was around this time and coincided with the shame he felt at the rise of Nazism (in Germany).
Two years later, Brandt published his second book, A Night in London (which was inspired by Brassaï's breakthrough 1936 book Paris de Nuit). Focused on London's nocturnal life, Brandt again moved between different social strata and enlisted the help of family and friends once more to create his images. London's Victoria and Albert Museum (V&A) states in fact that, night photography became one of Brandt's "specialities" and the idea of "casting" friends and relatives dated back to 1933 when "Brandt posed his wife, Eva, as a prostitute in the red-light district of Hamburg". Brandt later said of this collection, "I photographed pubs, common lodging houses at night, theatres, Turkish baths, prisons, and people in their bedrooms. London has changed so much that some of these pictures now have a period charm almost of another century".
Brassaï's work notwithstanding, night photography was a relatively new genre. The new flashbulb, the "Vacublitz", was in widespread use but Brandt's preference was for the older tungsten lamps, which created what were known as "photo-floods", to illuminate his composition. Brandt would also use his darkroom to recreate the "day for night" reversal technique that had been developed in cinematography to transform scenes filmed in daylight into night scenes. But he would soon be compelled to work without any artificial light in his much lauded "blackout" war photographs.
Mature Period
The 1930s was witness to the rise of the photo-essay magazine such as Weekly Illustrated, Verve, Harper's Bazaar, Picture Post and Lilliput. The V&A notes: "Brandt met Tom Hopkinson, then assistant editor of Weekly Illustrated, in 1936 [before becoming] Brandt's editor at Lilliput and Picture Post magazines. Brandt would propose picture-stories for both magazines and often sequence his own photo-essays, sometimes also contributing text. The blackout photographs [which were published in both publications] were probably Brandt's own idea, and were made during the 'phoney war' period in 1939, after war had been declared but before serious hostilities between Britain and Germany had begun".
Brandt was commissioned by the Ministry of Information to document life during the "live war" in 1940. Curator Martina Droth writes, "Brant's images became an integral part of the visual culture of the war in Britain. His lens transformed the dismal ordeal of the wartime blackout into scenes of atmospheric mastery: moonlight eerily illuminates the remains of bombed-out buildings, while the beams of searchlights thrown into dramatic patterns across the night sky". She adds that many of the blackout photographs "required extremely long exposure times, which Brandt recorded as 'varying from 'three minutes to thirty, with around twenty as the average'". The following year, Brandt's work was included in the Britain at War show at New York's MoMA (in the inaugural year of the museum's photography department) while his war portfolio was also sent to Washington as part of the British government's appeal to America to join the war in Europe.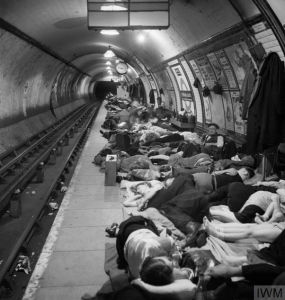 Brandt and the sculptor Henry Moore both produced images (photographed and drawn respectively) for the so-called "shelters project", also made during the London Blitz, and which recorded life in the underground train stations that were used a makeshift air raid shelters. The men met formally in 1942 when Brandt photographed Moore in his studio to accompany a photo-essay on the "shelters project". It was the beginnings of a lifelong friendship formed around both men's appreciation of the close relationship between the human body, photography and sculpture.
Late Period
Reflecting on the period immediately after the war, Brandt stated "Whatever the reason, the poetic trend of photography, which had already excited me in my early Paris days, began to fascinate me again. It seemed to me that there were wide fields still unexplored. I began to photograph nudes, portraits and landscapes".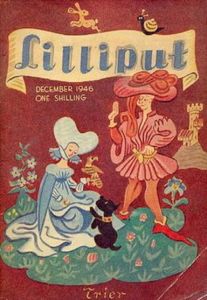 The V&A explains that "During the World Wars, suspended social life, long railway journeys and the need to reaffirm ideas of national identity all encouraged a return to the literary classics. Brandt shared in this. He read and admired the writings of the Brontë sisters, Thomas Hardy, George Crabbe and John Clare, some of whose poems he knew by heart. From 1945 onwards Brandt contributed a series of landscape photographs, accompanied by texts selected from British writers, to Lilliput, a British monthly magazine, founded by the photojournalist Stefan Lorant that focused on short stories, humour, photography and art. Other landscapes appeared in Picture Post and the American magazine Harper's Bazaar". Lilliput also took the "daring" decision to publish some of Brandt's early nudes.
Brandt acquired a second-hand mahogany and brass Kodak camera fixed with an extreme wide-angle lens in 1944. Once used by the police to photograph whole crime scenes, it allowed Brandt, in his words, to "see like a mouse, a fish or a fly". At the same time, he acknowledged a debt of influence to the groundbreaking wide-angel/deep-space cinematography of Greg Toland that was used to such stunning effect in the movie Citizen Kane (1941). Brandt said "My new camera saw more and it saw differently. It created a great illusion of space, an unrealistically steep perspective, and it distorted". He experimented with this camera on his nudes which became increasingly more abstract and sculptural. As the V&A put it, Brandt's late career nudes revealed his "intimate knowledge of the École de Paris - particularly Man Ray, Picasso, Matisse and Arp - together with his admiration for Henry Moore".
Brandt's relationship with Moore, and, indeed, a general affinity with the sculptural form, saw him also photograph the work of many important sculptors including Moore, Barbara Hepworth, and Aristide Maillol. Droth writes, "Photography offered possibilities for experimentation that went beyond documentation. During Brandt's 1956 trip to St Ives to photograph Hepworth, he staged her sculptures in beach landscapes [...] in what must have been an elaborate undertaking [the pieces] were transported to the beach and photographed on the shoreline. Reclining Figure, Involute and Orpheus appear like monuments that have mysteriously risen from the seabed".
Brandt complemented his nudes and landscapes with a series of "unposed" portraits of prominent artists, including Moore, Salvador Dalí, Cecil Beaton, René Magritte, Francis Bacon, and Joan Miró. During the early 1960s, Brandt complemented his "unposed" portraits with a series of surrealistic close shots of the eyes of famous artists. These were in fact extreme close-ups of a single eye and Brandt's roll call of sitters - including Moore (again), Alberto Giacometti, Max Ernst, Jean Arp, Louise Nevelson and Georges Braque - amounted to something of a "who's-who" of early modernist pioneers.
Brandt's first one-man show in the United States was at Eastman House in Rochester, New York, in 1963, and was followed by a full retrospective at MoMA, New York, in 1969. MoMA introduced him in its catalogue as "the artist who defined the potential of photographic modernism in England for much of the twentieth century". In his last years, Brandt's output was however largely restricted to commissioned portraits and a teaching post at London's Royal College of Art (which had awarded him an honorary doctorate). Brandt (like Moore) had also experimented with assemblages formed of found objects. These were published in 1993 as Bill Brandt: The Assemblages.
Brandt was working on an exhibition, Bill Brandt's Literary Britain, when he died after a short illness in 1983 (the exhibition, which became a tribute to his life, opened the following year). In 1984, the Royal Photographic Society inaugurated its National Centre of Photography in Bath with an exhibition/celebration of 50 years of Brandt's pictures. He was posthumously inducted into the International Photography Hall of Fame and Museum in St Louis, also in 1984. As was his wish, his ashes were scattered in London's Holland Park. He had no children and a strong element of mystery and reclusiveness surrounded his personal life. Tom Hopkinson, former assistant editor of Weekly Illustrated, summed up Brandt by saying he had "a voice as loud as a moth and the gentlest manner to be found outside a nunnery".
The Legacy of Bill Brandt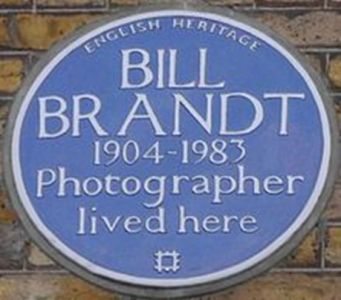 Brandt ranks as one of Britain's most important photographers. Darius Himes, Christie's International Head of Photography in New York, stated that, "Employing a range of techniques and surprisingly varied subject matter, Brandt's images evoke mysterious and often dream-like realms. This distinct quality, which he himself once described as 'familiar and yet strange,' probably best defines Brandt's legacy". English painter David Hockney, who was influenced by Brandt's adventurous artistic spirit, as well as by his capacity for elegant simplicity, noted that Brandt "regarded the image as the important thing, rather than the purity of [its] execution".
Says Hodgson, "Brandt is the only British photographer who is absolutely world class as we come to the end of photography's span as a separate art form. Curiously, the reason for that is that he didn't regard photography as a separate art form. He was literate and educated in books and theatre and dance as a young man - he cared passionately about the arts - but the critical thing is that he was always somebody who had something to say [...] he is somebody who really did believe in social equality, in a decline of a certain kind of idyllic British life". Curator Sarah Hermanson Meister adds that "A lot of [Brandt's] work is relevant to a new generation of people, both because of evaluations of where photography's modernist traditions lie, and also because issues of class, issues of the feminine gaze or the masculine gaze on a feminine figure mean they feel very fresh and relevant even today".
Influences and Connections
Influences on Artist

Influenced by Artist
Friends & Personal Connections
John Szarkowski
Movements & Ideas
Night photography

Nudes

Portraiture
Friends & Personal Connections
John Szarkowski
Movements & Ideas
Night photography

Nudes

Portraiture
Useful Resources on Bill Brandt
Books
The books and articles below constitute a bibliography of the sources used in the writing of this page. These also suggest some accessible resources for further research, especially ones that can be found and purchased via the internet.
biography
written by artist
artworks