Artists
Robert Mapplethorpe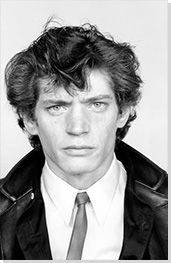 Born: November 4, 1946 - Floral Park, New York
Died: March 9, 1989 - Boston, Massachusetts

"I'm looking for perfections in form. I do that with portraits. I do it with cocks. I do it with flowers. It's not different from one subject to the next. I am trying to capture what could be sculpture."

Summary of Robert Mapplethorpe
There are few photographers who have sparked national debate around artistic freedom and eroticism as profoundly as Robert Mapplethorpe. Although championed for his erotic black and white photography of fetish and leather gay imagery in New York City, his artistic accomplishments range across many media. He is best known as a photographer and his subjects consisted of sculptural nudes, erotic S&M imagery, homoerotic themes, flowers, and portraits of celebrities. His formalist approach to photography allowed the artist to approach subjects primarily through beauty and composition, and secondarily through content. It is easy to find the documentary value of his work, however it is the plight for artistic expression of which he was most concerned, consistently searching for new levels of self-expression. His work continues to be considered taboo by many, yet he remains to be one of the most revered American photographers.
Key Ideas
Mapplethorpe was interested in universal values like symmetry and beauty, and approached all of his subjects with the same discerning eye through sublime composition, use of color contrasts, and cinematic lighting. He is considered a formalist for his sculptural use of photography and often listed
Michelangelo
as a primary influence.
For him, photography was a means to an end in a search for original self-expression. His utilitarian use of the medium resulted in a revolution for art photography. During Mapplethorpe's lifetime, photography wasn't a respected means of art making as it is today. He was able to bring photography into major museums during the course of his career, most notably one of his final shows at the Whitney Museum of American Art in 1989, and many museums posthumously.
Some of his work was considered too edgy, on the verge of being pornographic or racist. Specifically, his work from the early 1980s, which featured graphic depictions of homoerotic or S&M based imagery, and his fascination with black nude male bodies. This work was not made with the intent of having political or ideological framework, rather he simply photographed what he thought was beautiful and otherwise treated all subjects with the same treatment, whether they were penises or flowers.
Mapplethorpe will be remembered historically as a traditional black and white photographer, but he also worked in sculpture, combines, films, and was hired to photograph celebrities for magazines. It is now considered common for artists to dabble across mediums and find one that best suits their message. For Mapplethorpe, photography was an immediate means to producing a sculptural work. He often said that he would work in marble if it weren't so time consuming.
Mapplethorpe's tragic end enacts the allegory of artist as cultural hero. He is remembered as one of the first celebrity victims of AIDS, and because of this, his legacy is often used to symbolize the struggle for gay liberation.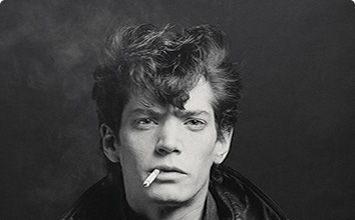 Born in 1946, Robert Mapplethorpe was the third of six children. His father, Harry, worked as an electrical engineer while his mother, Joan, stayed at home raising their six children. Mapplethorpe grew up in a conservative Catholic household nestled in the quiet Queen's suburb of Floral Park. Mapplethorpe described his hometown as too safe to stay, "I come from suburban America. It was a very safe environment, and it was a good place to come from in that it was a good place to leave." The Mapplethorpe family attended Mass every Sunday and Robert served as an altar boy and occasionally made art for their family priest. His father, an amateur photographer himself, had a dark room in his basement. However, Mapplethorpe did not show an early interest in photography.
| | | |
| --- | --- | --- |
| Robert Mapplethorpe's childhood, life, career, and various anecdotes | | Read Robert Mapplethorpe's Biography |
Important Art by Robert Mapplethorpe

The below artworks are the most important by Robert Mapplethorpe - that both overview the major creative periods, and highlight the greatest achievements by the artist.


Artwork Images

Untitled (Blue Underwear) (1970)

Artwork description & Analysis: This early work explores Mapplethorpe's interest in the use of sexualized, readymade objects that are the precursor to his career in photography. This sculpture is one of the only surviving artworks from his first exhibition outside of school in 1970 titled Clothing as Art at the Chelsea Hotel. The artist created a sculpture consisting of two simple items: a wood frame conventionally used to stretch canvas, and a personal pair of simple blue briefs. The briefs are pulled inside out exposing the stitch work as well as exposing the most intimate section of the garment toward the viewer.

Fashion and style were closely linked to personal identity for Mapplethorpe, and stretching this sexualized garment to the point of strain on the fibers offers a look into the idea of clothing as access to hidden desires for the artist. Instead of using a frame traditionally used to mount and stage a canvas, Mapplethorpe intentionally exposes the frame as a part of the artwork. This is crucial to the piece, for he is referencing the act of art making by leaving the wood exposed while at the same time elevating a personal item into a public readymade intended for an art audience. Mapplethorpe understood that clothing is used to mark sexual identity and independence, and he used art to provide a context for erotic display.

Untitled declared Mapplethorpe's artistic thinking as an emerging artist and pointed to his future artistic style. The assemblage is one of Mapplethorpe's earliest surviving works and he created several similar works of briefs stretched to wood frames. His interest in the heightening of quotidian items into art objects gives reference to his influences of Dada, Pop art, and Andy Warhol; and his knowledge of assemblage artists like Jasper Johns and Robert Rauschenberg. Yet, his theme of using the frame to create a visually enticing object remains unique to Mapplethorpe's claim to artistic innovation.

Fabric, Wood, Paint - J. Paul Getty Trust and the Los Angles County, Los Angeles


Artwork Images

Leatherman #1 (1970)

Artwork description & Analysis: Leatherman #1 is a mixed media piece that features a half-tone print of a man in a leather jacket and underwear holding a bullwhip - the print is actually a clipping from a pornographic magazine. The clipping is overlaid with plastic mesh giving the illusion of Ben-Day dots, which is a process used in screen printing. The background of the image is colored-in red and situated asymmetrically against blue and white velvet flocked damask wallpaper within a handmade shadow box frame. A small metal five-pointed star is glued on the image. The centerpiece was taken directly from and inspired by his interest in homoerotic "physique" magazines, which were an antecedent to more hard-core types of pornography (prior to the mid-1960's publications were prohibited from printing full frontal male nudity in the United States). The style of Leatherman #1 references the Pop art movement with bright colors, the illusion of screen printing, and the found photo as the key subject in this piece. The juxtaposition of the sexualized gay man in leather against the pastel-colored, floral motif emit synchronized feelings of pain and pleasure.

Though largely overlooked, his early works are important to understanding Mapplethorpe's formative years. Leatherman #1 shows Mapplethorpe exploring his artistic and sexual individuality through a play on cultural norms and visual cues. Whereas Pop art often used celebrities as their subjects, Mapplethorpe has chosen to mock the mainstream art establishment, because blatant sexuality, gay rights, and even photography were marginalized at the time. This work was created within the year after the famous Stonewall riots, which were a series of violent demonstrations that fought against gay oppression and police brutality. At the time, the need for an individual voice through art seemed even more urgent in conjunction with a gay male voice.

Mixed Media - J. Paul Getty Trust and the Los Angeles County Museum of Art, Los Angles


Artwork Images

Self Portrait (1975)

Artwork description & Analysis: Self-Portrait is a black and white photograph of a young Mapplethorpe posed shirtless against a white background. Donning a boyishly playful smile with an arm outstretched across the background wall, his body remains mostly out of frame. The arrangement of his arm and relaxed hand hold a subtle resemblance to a crucifixion and might hint at his interest in spirituality. Self-Portrait marks Mapplethorpe's transition from collage, mixed media, and assemblage to focusing exclusively on photography. This photograph is also the beginning of Mapplethorpe's dedication to self-portraiture as a central theme in his work. He would go on to create a wide variety of self-portraiture exploring the interconnections of spirituality, nudity, and eroticism.

This is a rare image of Mapplethorpe for he depicts himself as an innocent, happy young man; his curiosity is distinct from any image seen in his subsequent portfolios. He had many different personas that he captured on film, which range from blatantly pornographic, to serious and stern with little human emotion or expression. This photograph is amateur in comparison to his later work, before he refined his studio techniques. Mapplethorpe's studio photography legacy as it stands today is akin to that of Richard Avedon and Irving Penn with the utmost care and attention paid to bringing the essence of the subject on to film through manipulation of light and shadow. This portrait from 1975 shows the artist coming into his own and becoming self-aware as studio photographer, artist, subject, and sexual object.

In the canonical text Camera Lucida, Roland Barthes writes about this photograph and the relation it holds to erotic photography generally. He states, "The erotic photograph...does not make the sexual organs into a central object; it may very well not show them at all; it takes the spectator outside its frame, and it is there that I animate this photograph and that animates me." Of Self-Portrait specifically, Barthes continues, "This boy...incarnates a kind of blissful eroticism; the photograph leads me to distinguish the 'heavy' desire of pornography from the 'light' (good) desire of eroticism; afterall, perhaps this is a question of 'luck': the photographer has caught the boy's hand (the boy is Mapplethorpe himself, I believe) at just the right degree of openness, the right density of abandonment: a few millimeters more or less and the divined body would no longer have been offered with benevolence (the pornographic body shows itself, it does not give itself, there is no generosity in it): the photographer has found the right moment, the kairos of desire."

Photograph on paper, dry mounted on board - Robert Mapplethorpe Foundation, New York
More Robert Mapplethorpe Artwork and Analysis:
Influences and Connections
Influences on Artist
Artists, Friends, Movements
Influenced by Artist
Artists, Friends, Movements

Interactive chart with Robert Mapplethorpe's main influences, and the people and ideas that the artist influenced in turn.
View Influences Chart

| | | | | |
| --- | --- | --- | --- | --- |
| Artists | | Personal Contacts | | Movements |

Influences on Artist

Robert Mapplethorpe
Years Worked: 1963 - 1989
Influenced by Artist

If you see an error or typo, please:
tell us
Cite this page

Content compiled and written by The Art Story Contributors
Edited and published by The Art Story Contributors
" Artist Overview and Analysis". [Internet]. . TheArtStory.org
Content compiled and written by The Art Story Contributors
Edited and published by The Art Story Contributors
Available from:
First published on 02 Nov 2016. Updated and modified regularly.


[Accessed ]