Artists
Sanja Iveković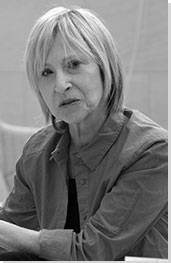 Born: January 6, 1949 - Zagreb, Croatia

"The position of an artist differs from that of an activist, but rather than separating the two activities, we can see them as circles of human activity that overlap in a relatively small area, and that is the area in which I try to do most of my work."
Summary of Sanja Iveković
Sanja Iveković bravely tackled women's rights and issues of gender identity whilst living under the rule of a repressive and dangerous communist dictatorship. Coming of age during the radical decades of the 1960s and 70s, like her American counterparts, Iveković has worked extensively as a Performance and Body artist. Always seeking ways to disseminate her message more widely however, she additionally uses basic photomontage and poster techniques, as well as creating and re-envisioning different forms of the traditional monument. Within all of these different media, the artist's main focus is to recover the 'real' woman hidden beneath a glossy and idealized version. Once the façade has been stripped away, beautiful women are imbued with complexity, presented also as abused, pregnant, and politically active, and as such as multi-faceted and strong human beings.

Aside from prolific art making, Iveković is the founding member of a number of women's organizations, including Elektra - a Women's Art Centre, B.a.B.e - the Women's Human Rights group, ATTACK! - an Autonomous Cultural Center, the Center for Women War Victims, and the Association of Feminists, all in the country that is now Croatia. She is devoted to the protection and aggrandizement of women in all aspects.
Key Ideas
Iveković makes art that is explicit, radical, and political. She intends her work to exhibit absolute challenge to authority and prescribed ideas. No boundaries or restraint are adhered to; for example in a famous work she simulates masturbation. Like the more daring of the American feminists, including
Valie Export
and
Hannah Wilke
, Iveković asserts that women have active sexual libidos and are by no means passive objects designed to satisfy male gratification. Iveković thus completely disbands and deconstructs centuries of patriarchal hierarchy and dominance over the female body.
She is part of a historical wave of intensely corporeal artists including Marina Abramović and ORLAN who pushed notions of what was, and what was not, a socially constructed view of the female body. Iveković, however, is set apart from her international contemporaries in that she remained in her country of origin, and as such was the first artist in Yugoslavia to actively engage in gender debates in this way. She sought to establish an open dialogue in a closed environment of censorship.
Iveković was one of only a few women to be part of the New Art Practice (NAP), an art movement established in former Yugoslavia. Like fellow members, Iveković sought to break away from institutional infrastructures and to make her work more public. As an act of resistance to earlier and elitist art forms, this group used newly available technologies including photography, Polaroids, photocopies, film, video, and graphic design. In 1978 Iveković co-founded the Podroom Gallery with fellow artist Dalibor Martinis and this became the hub for Croatian artists until 1980.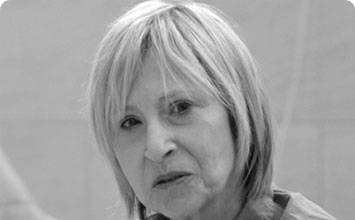 Sanja Iveković was born in 1949 in what is now the Croatian capital, Zagreb. Her mother, Nera Šafarič, was a survivor of Auschwitz; she had been a fighter in the People's Liberation War, arrested and sent to the prison camp in 1942; she was released in 1945. In 1949, when Iveković was born, Croatia was part of the former Yugoslavia and was ruled under the dictatorship of Marshal Josip Broz Tito. Tito's authoritarian rule routinely suppressed basic human rights, including gender equality and freedom of speech. Croatia did not achieve independence until 1991 and thus a large part of Iveković's life was spent resisting repression. There remains much to be done in the research of Iveković work and life, but interestingly, one of her artworks, Reconstructions (1952-76), pieces together scenes from her childhood through the use of moving image. She was brought up in an intellectual household and remembers being interested in drawing from a very early age, saying in an interview that art always came out very easily.
Important Art by Sanja Iveković

The below artworks are the most important by Sanja Iveković - that both overview the major creative periods, and highlight the greatest achievements by the artist.


Artwork Images

Instructions No.1 (1976)

Artwork description & Analysis: Sanja Iveković's, early video works from the 1970s expose the pressures on women to conform to existing ideas of beauty and singular notions of self image. In Instructions No. 1 Iveković makes herself the subject and the lens of the camera is used as though it were a mirror, filling the monitor entirely, her gaze is directly fixed upon the viewer as she draws black lines and arrows upon her face. She also massages, pinches, marks, and twists her face and neck with her hands, as though physically manipulating her appearance in order to draw attention to usual, neat, and normalized ideas and standards of beauty. Towards the end of the performance, the artist rubs the markings from her face, but traces remain. Such faint reminders suggest pains and scars that social expectations leave upon us, even despite active resistance against unrealistic demands.

During the early 1990s the French artist, ORLAN, made a series of artworks, which document her experience of plastic surgery. The images that remain of the experience show the artist with pen drawing and marks on her face to indicate to the doctors where to cut. The same marriage of beautification, and the same closeness of possible violence, is a theme shared with Iveković's (much earlier) video piece. The work also strongly recalls a work by the Surrealist Meret Oppenheim called Portrait with a Tattoo (1980). Oppenheim has marks on her face that look like tribal adornment and as such the viewer returns to look at the work by Iveković and to see the arrows less as marks where to make incisions for cosmetic therapy, or where to imagine the application of make-up. Instead the marks appear as somehow ornate, like tribal warnings applied by a warrior preparing to do battle. Indeed, Iveković intends to portray herself as a fighter, as a woman sure of her identity whilst at the same time examining how it has been constructed.

Video performance, duration 6 minutes - Tate Modern, London


Artwork Images

Make-up Make-down (1978)

Artwork description & Analysis: Make-up Make-down (1978) is a nine-minute color video that shows the artist's upper body within the confines of a television monitor. The static shot brings the woman's hands into focus; they lovingly twist a rouge-red lipstick upwards and down again. Following this, her fingers run slowly over the tip of an eyeliner pencil, and then tenderly handle a tube of mascara. Unhurriedly, Iveković strokes while delicately holding, even caressing, the cosmetics that are seemingly in use. We do not know if they are used for certain, as ambiguously, the artist applies make-up to a face that is never seen. Make-up Make-down focuses the viewer's attention on an ordinary yet private activity, and successfully subverts the representation of women in the media by withholding the image of the face. The video was produced by Galleria del Cavallino based in Venice, who had also produced an earlier black and white version of the work in 1976. This 1978 version was originally filmed on an open reel portable video recorder and was later transferred onto a digital betacam tape.

The use of make-up and cosmetics in art, especially lipstick, is a relatively common motif amongst other female artists, and has typically been used to explore the question of selfhood. Both Jessica Lagunas and Janine Antoni use make-up in their work by means to help defy and fight against the idea of a woman as an object for consumption. Indeed, instead of presenting the female body as an object of desire for the male gaze, Iveković redirects desire towards the eroticised cosmetics. It is not the finished image of the woman made-up that is displayed here, but the process or ritual of self-care - of love for oneself - represented by the act of putting on make-up. Thus the artist complicates even feminist ideas; she imbues make-up with positivity by suggesting that the application of such can allow space for self-reflection, and in turn, create a reflective space in which the viewer is invited to share. The work raises many questions: Does make-up help women to show how they really feel inside, revealing sexuality and confidence for example, or does the application of such products in fact hide the real person? Iveković has said herself, in an essay titled, Is This My True Face, "The application of make-up is a discreet activity performed between my mirror and myself ... The TV message is received in the isolation of a private space. The everyday movements that I make are slowed down, thereby giving to the ordinary act of applying make-up the character of a ritual performance."

Video performance, duration 9 minutes - Tate Modern, London


Artwork Images

Triangle (1979)

Artwork description & Analysis: Triangle (1979) consists of four black and white photographs and a piece of text, all of which document an 18-minute performance that took place on May 10, 1979. The work is directly political and successfully exposes the high levels of surveillance and control experienced by the Yugoslavian people at this time. On one particular day, Iveković knew that Marshal Tito was making a state visit to the capital; he would be driving along the street below her apartment and security measures would therefore be heightened. In defiance and protest against the repressive regime, Iveković took herself out onto her balcony with a pile of banned books, including the British Marxist sociologist Tom Bottomore's 1964 study Elites and Society, started to read these, drink whisky, and simulate masturbation. The artist's text that accompanies the performance states, "...a policeman in the street in front of the house. Due to the cement construction of the balcony, only the person on the roof can actually see me and follow the action. My assumption is that this person has binoculars and a walkie-talkie apparatus. I notice that the policeman in the street also has a walkie-talkie. The action begins when I walk out onto the balcony and sit on a chair; I sip whiskey, read a book, and make gestures as if I perform masturbation. After a period of time, the policeman rings my doorbell and orders the persons and objects are to be removed from the balcony."

It was after 18 minutes that the policeman knocked on the artist's door. His visit revealed that Iveković was indeed being watched. It also exposed the total lack of privacy available to citizens living within this rigid socialist system. As the policeman unwittingly becomes a part of the performance however, there is a comical aspect to the work as well. He becomes a voyeur confirming the abused status of woman as objects in the system. Ultimately, and interestingly in reverse of what seems to be the case, it is Iveković, the artist, who is entirely in control of this situation.

18-minute performance, gelatin silver print photographs on paper - Museo Nacional Centro de Arte, Reina Sofia
More Sanja Iveković Artwork and Analysis:
Influences and Connections
Influences on Artist
Artists, Friends, Movements
Influenced by Artist
Artists, Friends, Movements

Interactive chart with Sanja Iveković's main influences, and the people and ideas that the artist influenced in turn.
View Influences Chart

| | | | | |
| --- | --- | --- | --- | --- |
| Artists | | Personal Contacts | | Movements |

Influences on Artist

Sanja Iveković
Years Worked: 1968 - Current
Influenced by Artist

Artists

| | |
| --- | --- |
| | Annegret Soltau |
| | Jessica Lagunas |

Personal Contacts

| | |
| --- | --- |
| | Dalibor Martinis |
| | Breda Beban |
| | Vlasta Delimar |

Movements
If you see an error or typo, please:
tell us
Cite this page

Content compiled and written by The Art Story Contributors
Edited and revised, with Synopsis and Key Ideas added by Rebecca Baillie
" Artist Overview and Analysis". [Internet]. . TheArtStory.org
Content compiled and written by The Art Story Contributors
Edited and revised, with Synopsis and Key Ideas added by Rebecca Baillie
Available from:
First published on 25 Sep 2018. Updated and modified regularly.


[Accessed ]