Artists
Marina Abramović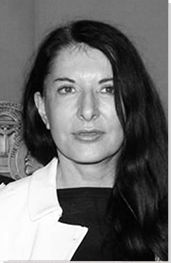 Born: November 30, 1946 - Belgrade, Yugoslavia

"The audience is like a dog. They can feel immediately that you are afraid, that you are insecure, that you're not in the right state of mind - and they just leave..."
Summary of Marina Abramović
Towards the late 1950s, as abstract art began to lose impetus, many artists across the world began to embrace performance art. Performance had been a feature of avant-garde art since around 1910, but Marina Abramović's work is typical of the aims of the new generation in her eagerness to avoid traditional, object-based art materials (such as paint and canvas), and to cut down the distance between the artist and the audience by making her own body the medium. Brought up during Yugoslavia's repressive Communist dictatorship, and raised by parents closely tied to the regime, Abramović's dramatic and dangerous performances often seem like cathartic responses to these early experiences. She has produced a quantity of sculpture, but she is best known for performance, and she remains one of only a handful of performance artists of her generation who have continued to perform late in their career.
Key Ideas
Marina Abramović's work is typical of the ritualistic strain in 1960s performance art. It often involves putting herself in grave danger and performing lengthy, harmful routines that result in her being cut or burnt, or enduring some privation. She views her art almost as a sacrificial and religious rite, performed by herself for a congregation of viewers. And the physical ordeals she endures form the basis for exploring such themes as trust, endurance, cleansing, exhaustion, and departure.
We might interpret her work as having displaced art from traditional media such as painting and sculpture, and moved it directly on to her body. Yet far from conceiving it as simply a surface, she has said that she thinks of the body as the "point of departure for any spiritual development."
Between 1976 and 1988 she collaborated with the German-born artist known as
Ulay
. The performances the pair created during this time often exploited their duality to investigate ideas such as the division between mind and body, nature and culture, active and passive attitudes, and, of course, between male and female.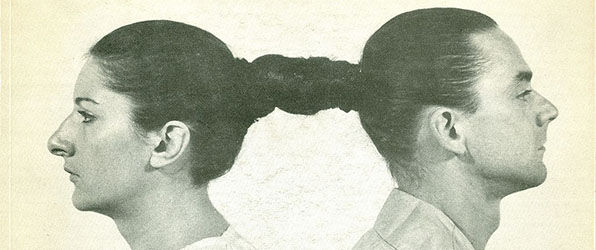 Promotional postcard for the Marina Abramović / Ulay exhibition in Galerie Krinzinger, Innsbruck, Austria, 1973
Enduring pain and thriving through it are skills and necessities that root from Abramović's early years under communist oppression.
Important Art by Marina Abramović

The below artworks are the most important by Marina Abramović - that both overview the major creative periods, and highlight the greatest achievements by the artist.


Artwork Images

Rhythm 10 (1973)

Artwork description & Analysis: Abramović's first forays into performance focused primarily on sound installations, but she increasingly incorporated her body - often harming it in the process. In Rhythm 10, she used a series of 20 knives to quickly stab at the spaces between her outstretched fingers. Every time she pierced her skin, she selected another knife from those carefully laid out in front of her. Halfway through, she began playing a recording of the first half of the hour-long performance, using the rhythmic beat of the knives striking the floor, and her hand, to repeat the same movements, cutting herself at the same time. She has said that this work marked the first time she understood that drawing on the audience's energy drove her performance; this became an important concept informing much of her later work.

20 knives, tape recorder


Artwork Images

Rhythm 5 (1974)

Artwork description & Analysis: Viewing both life and performance art as reaching beyond the realm of awareness, Abramović has created performances in which she sleeps or becomes drugged into unconsciousness to examine this crucial aspect of life. In Rhythm 5, she created a star shape with wood shavings covered in gasoline and lit the wood on fire. After cutting her nails and hair and dropping them into the fire, she lay down within the burning star, a symbol both of the occult and of Communism in Yugoslavia. When audience members realized her clothes were on fire and she had lost consciousness due to the lack of oxygen amidst the flames, they pulled her out, ending the performance. After performing Rhythm 5, she said she "realized the subject of my work should be the limits of the body. I would use performance to push my mental and physical limits beyond consciousness."

Wood shavings, gasoline, fire


Artwork Images

Rhythm 0 (1974)

Artwork description & Analysis: With a description reading "I am the object," and, "During this period I take full responsibility," Abramović invited spectators to use any of 72 objects on her body in any way they desired, completely giving up control. Rhythm 0 was exemplary of Abramović's belief that confronting physical pain and exhaustion was important in making a person completely present and aware of his or her self. This work also reflected her interest in performance art as a way to transform both the performer and the audience. She wanted spectators to become collaborators, rather than passive observers. Here, they physically directed the actions, while in other performances, Abramović involved the audience through a dynamic exchange of energy. In Rhythm 0, the audience divided itself into those who sought to harm Abramović (holding the loaded gun to her head) and those who tried to protect her (wiping away her tears). Ultimately, after she stood motionless for six hours, the protective audience members insisted the performance be stopped, seeing that others were becoming increasingly violent.

72 objects including a feather, pen, book, saw, honey, band-aid, salt, rose, gun, bullet, paint, whip, coat and scissors
More Marina Abramović Artwork and Analysis:
Influences and Connections
Influences on Artist
Artists, Friends, Movements
Influenced by Artist
Artists, Friends, Movements

Interactive chart with Marina Abramović's main influences, and the people and ideas that the artist influenced in turn.
View Influences Chart


Influences on Artist

Marina Abramović
Years Worked: 1970 - Present
Influenced by Artist

| | | | | |
| --- | --- | --- | --- | --- |
| Artists | | Personal Contacts | | Movements |
If you see an error or typo, please:
tell us
Cite this page

Content compiled and written by Rachel Gershman
Edited and published by The Art Story Contributors
" Artist Overview and Analysis". [Internet]. . TheArtStory.org
Content compiled and written by Rachel Gershman
Edited and published by The Art Story Contributors
Available from:
First published on 01 Jul 2010. Updated and modified regularly.


[Accessed ]