"One can learn many things in life, but not art. The madness you need - the must which is shaking you all the time. You are an artist, even when you are asleep. Because of the must."
"I have always felt like a tribe member, a tribesman, always did, I just have never quite identified my tribe yet."
"I am very unorthodox, both in my life and work. I never did what artists are "supposed to do": I don't follow the market, I don't have a signature style; I am more project oriented."
"My work has never been linear, consistent, or programmatic."
"I am not a career artist in the sense of finding a concept or style, being recognized for it, and going on repeating it. I chose a different path."
"I produced a very bizarre body of work. I experimented a lot: You have to if you are aiming at something that does not exist yet."
"Creation implies a desire for community!"
"Vulnerability is a great strength, definitely my strength."
"We wanted to change things, to bring the humane aspect, the social dimension into the art establishment."
"I was never into changing the world. I was more interested in stirring up communities and the art enterprise."
"The burden of photography is that it always stays on the surface, it never goes under the skin."
"It's through art that people exchange interpretation and meaning and love."
Summary of Ulay
Ulay was a mercurial, multi-disciplinary, and profoundly independent artist, working across the borders of disciplines, bodies, and nations to produce urgent and immediate artworks that asked the viewer to confront what they had once assumed without question about the world around them. He is best-known for his artistic and personal collaboration with Marina Abramović over 12 years from the mid-1970s, performance work which influenced a generation of Performance, Body, and Installation artists and became foundational to an art-world understanding of the power and potential of live performance in a gallery.

Ulay's practice went far beyond this collaboration, however, stretching from an early investment in photography (specifically the Polaroid) as a medium to explore gender and identity, to audacious public interventions like stealing a painting from a national museum and displaying it in the home of a migrant family. After concluding his work with Abramović he produced more photography, sculpture, and installation, and whilst the two ex-collaborators occasionally clashed on the representation of their joint work, Abramović's increased profile led in turn to Ulay achieving an ever greater level of recognition and curatorial respect.
Accomplishments
Ulay formed with Marina Abramović one of the most important partnerships in the history of Performance Art, and yet has consistently been underrepresented in curatorial representations of their collaboration. This stems partly from his resentment of the commodification and archiving of performance, a process that, unlike Abramović, he largely refused to participate in. He dismissed attempts to "reperform" any of their works (as Abramović has explored), suggesting that their uniqueness, irreproducibility, and resistance to incorporation within a museum is an essential quality of their success as artworks.
This skepticism of the institutions of the art world extends from museums and their attempts to "capture" performance to art historians and critics, whom Ulay frequently dismissed as lazy. Described by some as having a "secretive" relationship to art history, Ulay insisted that his work was never made for the benefit of art critics or historians and made little attempt to be recognized or included in surveys or retrospectives. This "secretive" relationship could easily be read as a form of Institutional Critique.
As a consultant for the Polaroid company in the 1970s, Ulay pioneered polaroid photography as a new technique for artists, centering his experimentation around ephemerality and the recording of unique moments, and using the medium to explore gender and those on the margins of society. Whilst not as well-known as some of his performance collaborations, these images would prove to be highly influential in later conversations around the documentation of performance and embodied artistic practices, particularly the notion of "performing to camera".
Ulay believed profoundly in the social and political efficacy of art, famously stating that "aesthetics without ethics is cosmetics". Much of his artistic practice and personal life therefore engaged with the representation and experiences of marginalized people, from migrant workers in Germany, transvestites in Amsterdam in the 1970s, and Aboriginal Australian people. As with all his work, Ulay invested his own body in this engagement, living amongst these communities, taking on aspects of their lives in his own and committing to a productive and unique artistic dialogue.
Alongside this interest in cultural and social identities (such as the way that indigenous and non-western societies viewed questions of art and ecology), Ulay's work is also concerned with an internal interrogation of self. This examination of the way that he, and by extension his audience, establish and perform our own identities extends throughout his photographic work, his collaborations with Abramović, and his solo performances and connects his practice to a broader history of Identity Art.
The Life of Ulay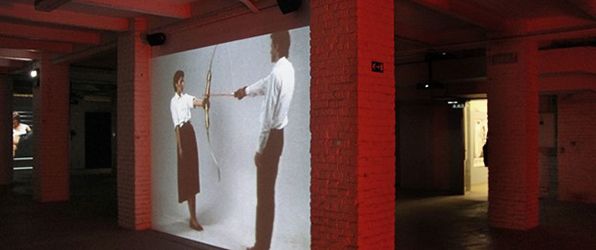 Ulay was born in a German bomb shelter during a WWII air-raid, spent over a decade living out of a van with his lover and artistic collaborator Marina Abramović, and has called himself " a Polaroid child," "a loner who longs for collaboration," "a model of the urban nomad," and the "most famous unknown artist."
Important Art by Ulay
Progression of Art
Biography of Ulay
Youth and Education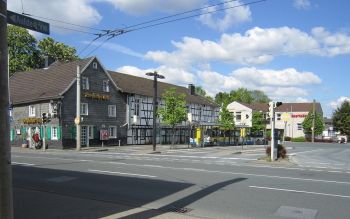 Frank Uwe Laysiepen, later to take the professional name Ulay, was born in a bomb shelter during an air raid on the steel-manufacturing town of Solingen, Germany, two years before the end of WWII. He was the only child of his mother Hildegard and father Wilhelm. Wilhelm had been forced to fight in both the first and second world wars, and as a child Ulay never met any other relatives as they had all been killed in these conflicts. The lived experience of the wars and the atrocities that took place were not discussed in Ulay's family while he was growing up, a fact that would cause him a great deal of distress later in life. He once stated "I was born into what you could call a 'social refrigerator.' I had to educate myself."
When Ulay was fourteen his father gave him his first camera. As his father liked to work in the garden and would have his son plant seeds for flowers and trees, Ulay's earliest photographs were of these plants. In the same year his father gave him this camera Wilhelm died, which caused Ulay's mother Hildegard to turn "in on herself". Ulay later remarked that for all intents and purposes he considered himself "an orphan" beyond the point of his father's death.
Ulay left home to study engineering in the early 1960s, but deviated from this path after a 1968 trip to Amsterdam during which he met an anarchist group of performers called Provos. He began photographing the group's actions and performances and signed up for the Art Academy in Cologne in 1969.
At the Academy, Ulay wanted to study photography, but as no such faculty existed he "ended up" in painting. He was already a technically advanced photographer, and as a result was often called upon to teach these skills to some of his fellow students. He recalled that, "after a year and a half, my professor called me in, offered me a bowl of goulash soup and some Unterberg (a heavy German digestive drink), and said: 'I would suggest that you leave the Academy before it spoils you. The Art School community can ruin your character, just go and do your own work.' He also told me something I now believe deeply: you cannot learn art in school. You can learn about art, but not to produce art. I was thrown out of school with the best intentions!"
Early Career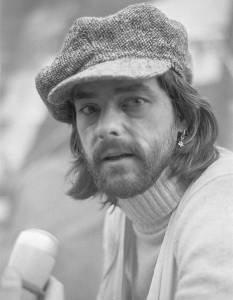 Now finding himself "in the streets" with a newfound resolve to be an artist, Ulay began collaborating with German visual artist Jürgen Klauke. During this time he became politically involved with social issues affecting people on the margins of society, or as he put it, "transvestites, homeless people, misfits". He recalled, "I felt I could find my reason for being an artist in that world." At this point, however, he also found himself in a crisis of identity and troubled by his "Germanness". Seeking to address this, in the early 1970s he packed up his belongings and left Germany to settle permanently in Amsterdam.
Ulay worked as a consultant for Polaroid for the next five years, enjoying unlimited access to equipment and film. He used his own practice to explore questions of identity, shooting himself and the "misfit" population with whom he had grown close, at times dressing as a woman, or presenting himself with a mental disability. He said, "In the first phase of my art making, my attempts were the works of a loner. I used a Polaroid camera as my witness: these were intimate performances. There was just the camera and myself."
The result of Ulay's early introspective photographic work (dealing mainly with gender) was a series of autobiographical collages titled Renais sense (1974). In 1975, Ulay held his first public exhibition at De Appel Foundation in Amsterdam (a contemporary art institution focusing on performance, which he helped to found that same year). Also in 1975, he began doing public performances, although he preferred the term aktion to "performance". This period of solo public aktions included his now notorious theft of Carl Spitzeg's The Poor Poet from the Neue Nationalgalerie in Berlin in 1976. He called this aktion Irritation - There is a Criminal Touch to Art.
Ulay had accompanied his new partner, Serbian Performance Artist Marina Abramović to Berlin for a series of performances, recording and taking photographs of her work, but was struck when he saw the painting displayed in the Neue Nationalgalerie. Spitzeg's work was a major symbol of German national identity and the favorite painting of Adolf Hitler, and Ulay later said that he stole it "to deal with my German-ness. I wanted to irritate it, and I did it best by stealing Germany's favorite painting". Ulay removed the painting from the wall of the museum and took it to the home of a Turkish migrant family, which he saw as making "a point about the difference between their living conditions and the safety of the art world". He then telephoned the museum director to come and collect the work, certifying that it had not been damaged.
Ulay was arrested and fined at the conclusion of this aktion and convicted and sentenced to either serve 36 days in prison or pay a fine of 3,600 deutschmark. He had began an itinerant lifestyle with Abramović by this point and evaded paying until he was detained in Munich after travelling from Amsterdam to Agadir (Morocco) a year later. Ulay paid the fine, with help from friends, but had achieved a particular notoriety in Germany through the tabloid scandal around the theft, which would present later problems when attempting to show both his work as a solo artist and his collaborative practice with Abramović in the country.
Mature Period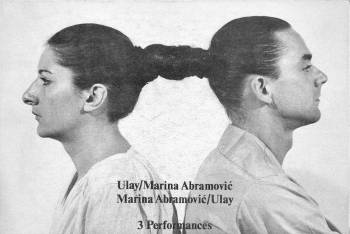 Ulay had met Marina Abramović in Amsterdam in 1976 before his theft of The Poor Poet, and the two had begun a romantic relationship almost immediately. Besides sharing, as art critic Thomas McEvilley notes, "remarkable similarities of physiognomy, personal style, and life-purpose", the two artists found that they shared the birthday of November 30th (though Ulay was three years older). Arts writer David Bramwell explains that, from the moment they laid eyes on each other, they were inseparable, as "Ulay found Abramović 'witchy' and otherworldly" and "she found him wild and exciting". The couple began performing and living an intense and sexually charged nomadic lifestyle together, referring to themselves as a "two-headed body," "That Self," "the third," "glue," and "the Other".
As Ulay later remarked about his partnership with Abramović, "We were a couple, male and female, and the urgency for us had an ideological basis. The idea was unification between male and female, symbolically becoming a hermaphrodite [...] We used to feel as if we were three: one woman and one man together generating something we called the third." For the next twelve years, their collaborative performances, which focused on the use of their bodies and the creation of opportunities for viewer discomfort, as well as the critical analysis of the concepts of the Ego and artistic identity, took center stage in their lives, and to this day, their collaborative works and personal relationship continue to dominate their narratives as individual artists and cultural figures.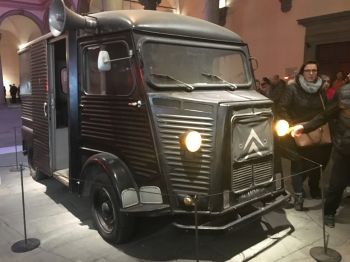 Shortly after Ulay conducted his aktion in Berlin, the two artists embarked on an itinerant lifestyle together, moving from place to place across Europe and living with their dog Alba, in a corrugated iron Citroën van. They wrote a one-line manifesto, titled "Art Vital", which stated, "No fixed living place, permanent movement, direct contact, local relation, self-selection, passing limitations, taking risks, mobile energy." Ulay explained that this was "not a hippie idea [nor] a nomad idea, it has to do with the intensity achieved by permanent motion." Together, they performed at the 1976 Venice Biennale and the 1977, 1982, and 1988 editions of the Documenta quinquennial in Kassel, Germany. Some of these appearances were additionally complicated by the fall-out from Irritation - There is a Criminal Touch to Art, but their joint practice was rapidly recognized as a significant intervention in the rapidly developing discipline of Performance Art.
In 1980, Ulay and Abramović had the idea for an epic performance work titled The Lovers, which would consist of a walk from opposite ends of the Great Wall of China toward each other, culminating in a wedding at the point of their meeting. It took them eight years to secure approval from the Chinese government, and in that time the couple's relationship changed significantly. Several factors contributed to this shift, including infidelities and Ulay's inability to maintain the same intensity of endurance as Abramović in their collaborative performances, although the major dividing issue was that Abramović sought higher levels of acclaim and prestige, while Ulay was resistant to what he saw as the growing commercialization of their work.
The Lovers took place in 1988, but instead of the three-month, 2500 km walk terminating in a marriage, it ended with a break-up of their collaboration and romantic partnership at the point on the wall where they met. Ulay later said of their split, "For her, it was very difficult to go on alone. For me, it was actually unthinkable to go on alone. So it was actually heartbreaking for both of us." After the performance, each returned separately to Amsterdam, after which they would not see each other again in-person for twenty-two years. Ulay had begun a relationship with his Chinese interpreter Ding Xiao Song during the walk, who was pregnant at the culmination of The Lovers. Ulay would live together with Song and their daughter Luna Rey Laysiepen for the next 17 years.
Late Period
After parting ways with Abramović, Ulay maintained primary residences in both Amsterdam and Ljubljana (Slovenia). After taking a break from art making for a few years, he returned to photography and performance work. His performances increasingly involved audience participation, and once again began to deal more directly with social and political issues, such as the expansion of the European Union, women's rights in Morocco, elephants' rights in Sri Lanka, and worldwide access to clean drinking water. As he put it, "art without ethics is cosmetics".
From 1998-2004 Ulay worked as a professor of new media at the Hochschule für Gestaltung, Karslruhe in Germany. His seminars involved taking students to the Black Forest for a week, during which they had to survive in the wilderness, similar to an Australian Aboriginal walkabout.
In 2010 at her MoMA retrospective, Abramović performed The Artist is Present, in which she sat across from an empty chair that audience members could sit in and share a moment of silence with the artist. This performance shared many elements with an earlier work she had developed with Ulay, Nightsea Crossing (1981-87). Ulay attended unbeknownst to Abramović, and when he took the seat and Abramović opened her eyes and saw him, she reacted emotionally, crying, and breaking her "no contact" rule to reach across the table between them to take his hand. Video documentation of this moment would circulate widely across print, broadcast, and social media, cementing the growing recognition and art world profile of Abramović (and, to a lesser extent, Ulay). It was later reported that Ulay had to be persuaded to attend this performance by his family and gallery, who were insistent that his contribution to their shared work should be recognized and present in the record of the exhibition.
Despite their moment of reconnection, 5 years later Ulay took Abramović to court claiming that she had failed to pay him sufficient royalties for sales of their joint works. In September 2016, a Dutch court ruled in Ulay's favor. In 2017, the pair reported that they were once again on good terms. Said Ulay, "Everything naughty, nasty disagreements or whatever from the past, we dropped. We became good friends again. That's a beautiful story actually." Likewise, Abramović asserted that "this really beautiful work that we left behind [...] is what matters," adding that "Looking back, this relationship was extremely important for the history of performance art".
In addition to his daughter with Deng Xiao Song (who was named Luna after he delivered her himself by moonlight), he also had a son from his earliest marriage, which had lasted for approximately three years in the mid-1960s, and another son from a relationship he had with artist Paula Françoise-Piso in Amsterdam from 1971-75. He later said of these two early relationships, "I left the mothers of my children twice because I had so much work to do on myself and I gave priority to my own development and existence. So, I left, I ran away." In 2012, Ulay married Slovenian graphic designer Lena Pislak.
In 2011, Ulay was diagnosed with lymphatic cancer. His battle with the disease was documented in Slovenian director Damjan Kozole's 2013 documentary film Project Cancer: Ulay's Journal from November to November. He went into remission in 2014, the same year as he established The Ulay Foundation in the Netherlands to preserve and promote his artistic legacy, but suffered a recurrence a few years later. He passed away at the University Rehabilitation Institute in Ljubjana on March 2, 2020, at the age of 76. His New York gallerist, Mitra Korasheh, wrote that he "was incomparable. The most influential and generous artist I have ever known, the most gentle, selfless, ethical, elegant, witty, the most incredible human."
The Legacy of Ulay
Ulay is best known and remembered for his collaborative, body-centric performance work with Marina Abramović, which was massively influential on the development of Performance Art as a defined medium in its own right and as a direct inspiration for innumerable artists, including Chris Burden, Coco Fusco, Nao Bustamente, Guillermo Gomez-Peña, and Annie Sprinkle. However, Ulay's solo work in performance and photography was also pioneering. He was the first recognized artist to used body modification (tattooing and piercing) and plastic surgery as part of his Performance Art, prefiguring the later work of other artists like French Performance artist Orlan, who underwent a series of plastic surgeries to change the appearance of her face or Japanese artist Mao Sugiyama who had his genitals and nipples surgically removed in order to promote asexual rights.
Ulay's pioneering use of photography as performance (rather than to simply document performance) paved the way for artists like Cindy Sherman to engage in "performative photography" (a term coined by curator RoseLee Goldberg to retroactively describe Ulay's early explorations of self through Polaroid photography). As gallerist Richard Saltoun writes, "Ulay was the freest of spirits - a pioneer and provocateur with a radically and historically unique oeuvre, operating at the intersection of photography and the conceptually-oriented approaches of performance and body art."
Ulay's legacy is maintained by his family and gallerists, as well as the foundation he established in the later period of his life. There has been a greater interest in his contribution to his shared works with Abramović, particularly following the successful civil case in 2016. As Abramović's public profile has grown and been the subject of increasing controversy (both politically and in relation to her use of volunteer performers and connections to celebrities and wealthy elites), several academics, historians, and gallerists have published works which seek to reassert his importance and centrality to these now commercially and canonically valuable works.
Influences and Connections
Influences on Artist

Influenced by Artist
Friends & Personal Connections
Jürgen Klauke
Movements & Ideas
Photography
Artists
Stelarc

Karl Wratschko

Ron Athey
Friends & Personal Connections
Jürgen Klauke

Christian Lund

Jaša
Movements & Ideas
Performance Photography
Useful Resources on Ulay
Books
The books and articles below constitute a bibliography of the sources used in the writing of this page. These also suggest some accessible resources for further research, especially ones that can be found and purchased via the internet.
biography
written by artist
artworks