Artists
Laurie Anderson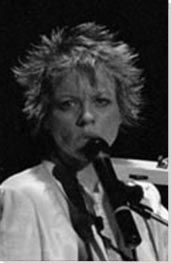 Born: June 5, 1947 - Glenn Ellyn, Illinois, USA

"I'm always curious about the mechanics of the story, who is narrating and I like to try to play with that. I learned how to use the word 'you' from William Burroughs.. I was into more slightly playing with the autobiographical I, but Burroughs was really wonderful at saying 'you people, you people who are in the audience' ... so I began to write somethings that were addressed that way, almost like political speeches."

Summary of Laurie Anderson
Laurie Anderson is a highly acclaimed performance artist who also became an unlikely pop star in the 1980s. She was a pioneer of multimedia Performance and Installation art, before crossing over into the popular music industry with songs from her large-scale performance pieces, later producing full albums for commercial release. As one of the first artists of her downtown New York context to achieve a level of commercial fame, she was at the forefront of debates around the influence of mass media on the art world. She has since been recognized as being remarkably ahead of her time in embracing of new technologies in art and performance practice, and in her engagement with new media to share her work.

Anderson is a classically interdisciplinary artist, drawing on the forms, techniques and strategies of many different art forms and expressing herself across a huge array of different mediums. Performances, music, installations and film works are often autobiographical in nature, and encourage a sense of intimacy with the viewer through her characteristically meditative tone and calm delivery. Despite this calmness, Anderson's work often features political content and engages with societal issues. Her work often involves mediating and changing her own voice as she tells stories and narrates her thoughts, framed by the striking images she creates through props, costumes and the innovative use of projection and lighting. Her artworks therefore often have a futuristic, almost science-fiction aesthetic.
Key Ideas
Anderson's practice straddles several distinct artistic disciplines, questioning the division between them and opening up new hybrid possibilities for artists and musicians. She draws on her abilities as a musician, performer, conceptual artist, scientist and inventor to blend together aesthetic elements from art, theatre, opera, popular music and scientific and technological experimentation, also encouraging the cross-pollination of audiences between forms.
Technological innovation has always been key to Anderson's work, from her aural experimentation with tape loops, overdubbing, and recording technology in the 1970s and 80s to her use of projection and experimental theatrical lighting. This introduced new aesthetic vocabularies to galleries and performance spaces. She continues to innovate with her most recent digital experiments in virtual reality and binaural sound.
Her work has been particularly significant in the development of performance art in the 20th century. Anderson embarked on high profile and large-scale performances in the 1980s that introduced the more traditionally theatrical elements of large and carefully designed sets and props, extensive rehearsal and repeat performances to an art form previously dominated by spontaneity and a DIY aesthetic.
Electronic music has also been hugely influenced by Anderson. Her pioneering use of synthesizers, vocoders, and sampling technology on her albums in the 1980s are regularly cited as an inspiration by later musicians, as they were some of the first records played on commercial radio and TV.
Anderson contributed and corresponded to the postmodern dismantling of hierarchies of culture, making clear to her audiences, and artists inspired by her, that the border between 'high' and 'low' culture was artificial. In her work concepts and strategies rooted in experimental art forms and influenced by other artists and art movements are used within mass media contexts, such as the music industry or commercial television. And ideas and aesthetics from television, popular music, and commercial theatre were similarly brought back into the 'high culture' context of the gallery and opera house.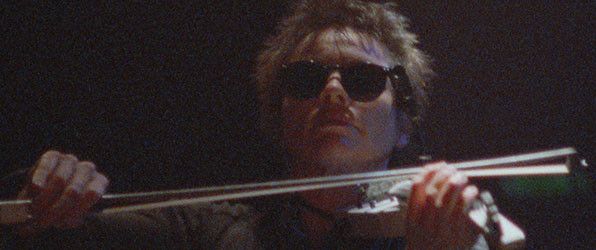 Laurie Anderson was born in the Glenn Ellyn suburb of Chicago in 1947. She was originally named Laura Phillips, and grew up in a family of ten with four brothers and three sisters. At the age of five, Anderson began studying classical violin. As she explains, "All the kids were more or less forced to play an instrument. And some of them had absolutely no musical talent whatsoever. But they banged away on things anyway, because my parents thought it would be nice to have an orchestra." As a teenager, she would practice up to six hours a day, and often performed with the Chicago Youth Symphony. Anderson also took advanced art classes at the Institute of Chicago, and her early years were split equally between music and painting.
Important Art by Laurie Anderson

The below artworks are the most important by Laurie Anderson - that both overview the major creative periods, and highlight the greatest achievements by the artist.


Artwork Images

Handphone Table (1978)

Artwork description & Analysis: Handphone Table is one of Anderson's earliest sculptural pieces. The work consists of a five-foot-long table incorporating a concealed sound-system which, in turn, emits low range vocal tones through one end of the structure and instrumental music at the other. Just like the sound-system that produces them, however, these sounds are hidden inside the work and are inaudible in the absence of a viewer. In order to access them the audience must not simply be present but actively engage with the sculpture by positioning his or her elbows onto two depressions on the tabletop and using their hands to cover their ears. Sharing wood's porous properties, the bones of the listener begin to serve as conductors which allow for the sound to travel through the arms to the ears and allow Handphone Table's music and poetry to be heard. Anderson has said that the work was inspired by an experience she had whilst resting her head on her hands while using an electrical typewriter.

More than a sculpture, Handphone Table is an investigation into both sound and materials, informed by the artist's own musical training. But the work achieves also something else: it breaks with a tradition wherein the object of art is something to be looked at. In a manner similar to Anderson's later performances the body is made to function here "as a working part of the machine", as Erin Striff writes or, in this case, as a musical apparatus. "I tried to be as quirky as I could," Anderson has said in relation to her early practice, elsewhere noting that, "at that time none of us thought we would ever be professional artists or that anyone would ever pay us for doing any of this. So it was this really crazy innocent moment". The work can therefore be said to represent the experimental scene and atmosphere in early 1970s New York, with precedents in the Dada movement, such as Marcel Duchamp's With Hidden Noise from 1916.

- MASS Moca, North Adams MA


Artwork Images

United States I-IV (1983)

Artwork description & Analysis: United States I-IV is a seven-hour-long multimedia performance that combines earlier versions of her performance United States with newly developed material. An audio recording of the performance was subsequently released as a 5-LP album by Warner Brothers. The performance, which combines text, music, photography, film, and projected drawings, is thematically organized into four sections: 'Transportation', 'Politics', 'Money', and 'Love'. While the different sections "share many recurrent images and musical motifs" writer and critic Stephen Holden points out that the sensation is similar to "driving across the country from East to West, with no specific destination in mind."

Anderson's United States is often praised for the "heterogenous mixing of genres", and for being ahead of its time in its ambitious combination of musical performance, projection and written text. It's combination of forms was an inspiration to performance artists in terms of scale and potential, and to musicians inspired by its careful and detailed coordination between visuals and music. RoseLee Goldberg suggests that United States I-IV is most significant in the fact that the performance was still "accessible to mainstream audiences" despite being highly experimental and innovative, and that Anderson's achievement of "crossing from avant-garde obscurity into the so-called mainstream without compromising her ideas or aesthetic integrity' would ensure the performance's continued significance in the 'annals of art history".

In terms of content, United States presents its audience with common phrases and expressions which within the context of the performance are left devoid of meaning and perhaps rendered threatening. Even the things we do and say habitually, all the simple gestures we often take for granted, carry with them, for Anderson, the potential to be misinterpreted or, worse, emptied of all meaning.

The performance also alludes to NASA's launch of the Voyager 1 and 2 spacecraft in 1977, which carried with them recorded sounds and images selected by a committee chaired by cosmologist Carl Sagan. The contents were intended, as President Jimmy Carter enclosed message read, as "a present from a small, distant world, a token of our sounds, our science, our images, our music, our thoughts and our feelings. We are attempting," he wrote, "to survive our time so we may live into yours". As with much of Anderson's work, humor is an important element in United States I-IV. This is something she acknowledges herself in the performance with the line "I see myself as part of a long tradition of American humor." And yet, as theorist Kathryn Van Spanckeren argues, "despite its humor, Anderson's work, like Kafka's, is full of metaphysical angst...To enjoy Anderson, in fact, we find ourselves...laughing at the apocalypse - fiddling as it were, while Rome (America) burns." This sense of angst builds throughout the performance towards the conclusion that "The United States helps, not harms, developing nations by using their natural resources and raw materials".

- First Performed in 1983 at the Brooklyn Academy of Music before touring to London and Zurich


Artwork Images

Personal Service Announcements (1990)

Artwork description & Analysis: In 1989, Laurie Anderson released Strange Angels, her fourth studio album produced for Warner Brothers Records. It was alongside this that the series of videos Personal Service Announcements were produced and aired on commercial music television (particularly MTV and VH1). The artist had been asked by the studio to make a music video, but this was something she found conceptually difficult to approach, and she decided instead to create a series of self-contained video pieces to promote the album. She later admitted that "in the end they had nothing to do with the songs", with Anderson exploring in the series a variety of topics, including women's salaries (she is a founding member of the Women's Action Coalition), military spending and the national debt. The videos were subsequently collated in the 1990 VHS release Collected Videos.

It was not only in the choice of topics that the videos differ from more conventional music videos, but also their mode of presentation. In one of the clips, Anderson is discussing the American national anthem from inside the smoky kitchen of a diner, while a cook grills meat in the background. She observes to the camera, "Hey, can you smell something burning? I mean...that's the whole song" - thus jarring viewers out of their typical habits and viewpoints. As with much of her work, here humor is a key aspect of its effectiveness in engaging the viewer. All of the videos in the series deploy humor in their engagement with topical political issues.

This series of videos is most notable for the way in which Anderson plays with the form of the music video, and its relationship to popular culture. They are exemplary of her blending of high and low culture, which has been a consistent theme throughout her career. Anderson writes that as America gets more conservative her "reactions to this are driving me further into the politics of pop culture. I want to know what the motor is, what is driving this culture further and further to the right ... The art that I like the most and the art that I aspire to make helps people live this life as well as possible. It is engaged in this world ... This means being involved with the aspirations, lies, and dreams of what is so snobbishly called low culture."

Anderson's Personal Service Announcements filter ideas developed within the frame of contemporary art practice through a popular culture lens that encourages the widest dissemination possible. In this they preempt the video-centric engagement with political discourse intrinsic to social media, and artworks which intervene in mass media forms.

- Museum of Modern Art, New York
More Laurie Anderson Artwork and Analysis:
Influences and Connections
Influences on Artist
Artists, Friends, Movements
Influenced by Artist
Artists, Friends, Movements

Interactive chart with Laurie Anderson's main influences, and the people and ideas that the artist influenced in turn.
View Influences Chart


Influences on Artist

Laurie Anderson
Years Worked: 1969 - Present
Influenced by Artist

Artists

| | |
| --- | --- |
| | Sophie Calle |
| | Jean-Michel André Jarre |
| | Cut Copy |
| | Susan Stenger |
| | Isaac Butler |

Personal Contacts

Movements
If you see an error or typo, please:
tell us
Cite this page

Content compiled and written by Lilly Markaki
Edited and revised, with Synopsis and Key Ideas added by Lewis Church
" Artist Overview and Analysis". [Internet]. . TheArtStory.org
Content compiled and written by Lilly Markaki
Edited and revised, with Synopsis and Key Ideas added by Lewis Church
Available from:
First published on 01 Apr 2018. Updated and modified regularly.


[Accessed ]