Artists
Hannah Wilke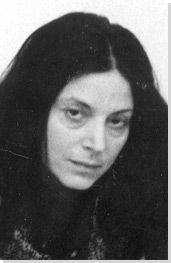 Born: March 7, 1940 - New York City, USA
Died: January 28, 1993 - New York City, USA

"To diffuse self-prejudice, women must take control of and have pride in the sensuality of their own bodies and create a sensuality in their own terms, without referring to the concepts degenerated by culture."

Summary of Hannah Wilke
Now seen as an iconic and path-breaking Feminist artist, Wilke's work was first rejected by many critics, largely because of her conventional beauty. Her performances and photography are now seen as a crucial component of the Feminist movement in their use of the artist's own body in ways that addressed issues of female objectification, the male gaze, female agency, and even sexism within the feminist movement itself. Her challenge to traditional art practices and cultural assumptions puts her work squarely within postmodernism, while her fearless exploration of the female body keeps her relevant to this day.
Key Ideas
Wilke relentlessly explored stereotypes of the female body by drawing attention to the objectification of women in both high art and popular culture. Her use of her own body put her practice at the cutting edge of performance art, but her work in this genre was often misread by critics as a celebration of her own beauty and thus a reaffirmation of women's objectification.
Wilke employed a wide range of media; her experiments with non-art material were not unusual for the time, but her chosen media were ephemeral and playful, including gum, erasers, chocolate, play-doh, cookie dough, and dryer lint. The common denominator in these materials is their malleability, something she used to express both stereotypes about women and women's vulnerability.
Wilke's work was a significant element of postmodernism that dominated the art world beginning in the 1970s. Postmodern art is characterized by the breakdown of distinctions between high and low culture, a rejection of fine art materials, a challenge to traditional definitions of art, and a focus on spectacle. All of these were at the core of Wilke's practice.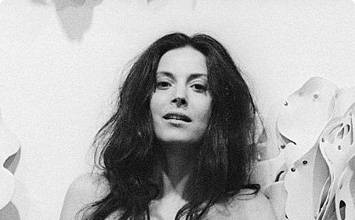 Hannah Wilke was born in New York City, originally named Arlene Hannah Butter. Her parents, Selma and Emanuel (a lawyer), were practicing Jews whose families had immigrated from Eastern Europe. Along with her sister Marsie, Wilke went to a public school in Queens before attending Great Neck High School.
Important Art by Hannah Wilke

The below artworks are the most important by Hannah Wilke - that both overview the major creative periods, and highlight the greatest achievements by the artist.


Artwork Images

Advertisement for an Exhibition at Ronald Feldman Fine Arts (1970)

Artwork description & Analysis: Wilke created a provocative advertisement to promote her first solo exhibition at Ronald Feldman Fine Arts in the early 1970s. The photograph depicts Wilke in her studio in Chateau Marmont, Los Angeles, wearing a sweater, high-heeled boots, and thin hosiery. She is shown from behind with one leg planted firmly on the ground, while the other foot rests on a chair. Her position looks neither natural nor comfortable, and the effect is deliberately sexualized and confrontational. The photograph was taken by Wilke's partner at the time, artist Claes Oldenburg, and is the first of a lifelong series of photographic self-portraits taken by people close to Wilke under her direction.

The image is complex and contradictory. It shows Wilke with her back to the viewer, as if she is working hard on her art, taking her practice seriously. However, while it presents a woman-as-artist, it also presents a woman-as-object. As Amelia Jones puts it, "she is absorbed in something on her desk and her defiance is marked by her ass-in-your-face pose and her seemingly complete lack of interest in or concern for the viewer's potentially devastating 'male gaze'."

Wilke's absorption appears to give the (implicitly male) viewer uninhibited access to this highly sexualized image of her. This reading is complicated, however, both by the fact that the image was staged by Wilke herself and by her complete lack of interest in her to-be-looked-at-ness. Even at this early stage of her career, Wilke demonstrates an awareness of the duality of women's roles, both as sex objects and as active agents in society.

Printed advertisement - Robert Feldman Fine Arts, New York


Artwork Images

Gestures (1974)

Artwork description & Analysis: In this half-hour video, Wilke uses her own skin as sculptural material, exploring her own facial features with pats, slaps, and strokes while also kneading and pulling at her skin. At times, she uses her head and hands for various expressions and gestures. The length of the video sometimes makes it uncomfortable for the viewer as these acts of self-exploration feel almost too private for the camera; the viewer becomes a sort of voyeur. At one point, Wilke smiles so hard that her face turns into a grimace.

The video seems to underscore femininity as a performance - as much pleasure as pain. She described it as "the pathos past the posing." As in all of her works she is purposely putting herself on display, becoming both artist and art object, but here going through the process of exploring her face for the viewer who cannot do it themselves.

Video


Artwork Images

S.O.S Starification Object Series (1974-75)

Artwork description & Analysis: This is one of Wilke's best-known works; it constitutes a series of photographs of Wilke posing topless much like a glamorous pin-up girl in which she parodies traditional representations of "femininity". The difference between these photographs and typical glamor shots is that Wilke has created tiny sculptures out of chewing gum and stuck them to her body. The gum is formed into vulval shapes, a shape that she explored in other media throughout the 1960s. The title, "Starification" is a neologism that refers to a concept of creating a "star" or celebrity. The term also recalls "scarification," which could refer to the coming-of-age scarring rituals undertaken in some non-Western cultures or the numbered tattoos on Holocaust victims, while also suggesting a relation between women's bodies and wounds/vulnerability. By juxtaposing ideas of celebrity and scarring, Wilke points to the complexity of responses to images of women's bodies. This piece continues the theme underlying most of her works in which she is shown as both an object for viewing and as the agent of the objectification. Her goal, therefore, is to bring attention to depictions of women in popular culture, thus dismantling stereotypes about femininity and disrupting the pleasures of the male gaze.

Wilke's series received a mixed response. Many feminist critics in particular condemned Wilke for being narcissistic, and for confirming the conventional male gaze by using her own traditionally beautiful body as her subject. However, later interpretations see Wilke's work as openly questioning the representation of women. Joanna Frueh, for example, sees the Starification Object Series as evidence of Wilke "representing herself as a woman damaged by female embodiment in a culture that subordinates woman to man."

Wilke who also made independent sculptures from chewing gum, explained her use of this ordinary and everyday material: "I chose gum because it's the perfect metaphor for the American woman - chew her up, get what you want out of her, throw her out and pop in a new piece."

Photographs and chewing gum - Museum of Modern Art, New York
More Hannah Wilke Artwork and Analysis:
Influences and Connections
Influences on Artist
Artists, Friends, Movements
Influenced by Artist
Artists, Friends, Movements

Interactive chart with Hannah Wilke's main influences, and the people and ideas that the artist influenced in turn.
View Influences Chart

| | | | | |
| --- | --- | --- | --- | --- |
| Artists | | Personal Contacts | | Movements |

Influences on Artist

Hannah Wilke
Years Worked: 1960 - 1990
Influenced by Artist

If you see an error or typo, please:
tell us
Cite this page

Content compiled and written by Anna Souter
Edited and published by The Art Story Contributors
" Artist Overview and Analysis". [Internet]. . TheArtStory.org
Content compiled and written by Anna Souter
Edited and published by The Art Story Contributors
Available from:
First published on 19 Jun 2016. Updated and modified regularly.


[Accessed ]