Artists
Lynda Benglis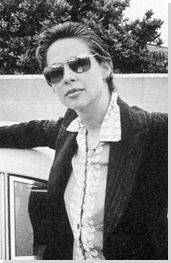 Born: October 25, 1941 - Lake Charles, Louisiana

"I can't deny anything the viewer reads into the work; that is the viewer's pleasure, hopefully. I am a permissive artist. I allow things to happen. I believe the viewer is half the work. Duchamp said it and I believe it."
Summary of Lynda Benglis
Though best-described as a sculptor, Lynda Benglis is impossible to align with a single movement or medium. In 1968, she began pouring latex or polyurethane foam onto the floor of her studio and into the corners. The resulting forms were both painterly and sculptural. By the 1970s she was casting these works in bronze and incorporating other metals in unusual combinations. Furious when her innovations were ignored by the New York art world, she posed for an outrageous advertisement for an upcoming exhibition of her work, oiled up, wearing nothing but sunglasses, and brandishing an enormous dildo. This infamous act of protest, a deservedly unforgettable moment in Feminist art history, made Benglis famous but failed to call attention to the artist's superb sculptures. Only over the past decade has Benglis begun to receive recognition as a major contributor to late-20th- and 21st-century art.
Key Ideas
Benglis was the first artist to make sculptures out of paint, eliminating the boundary between painting and sculpture - two traditionally separate art forms.
Benglis's work is a continuation of the Abstract Expressionist tradition of dripping and pouring pigment from above. She takes the process one step further, however, eliminating the canvas and pouring directly onto the floor, allowing the walls and corners to shape the piece.
In her use of candy colors, glitter and other craft materials, she distanced herself from the serious, brooding color and macho materials used by her contemporaries. In doing so, she sought to question traditional gendered distinctions in art, above all the opposition between art and craft.
Her willingness to use her own body in art films and play stereotypically feminine roles (her pornstaresque appearance in Artforum in 1974, for example) paved the way for Cindy Sherman and other artists who specialize in experimental role play, and ushered in a new era in self-portraiture.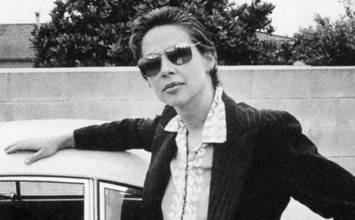 The eldest of five children, Lynda Benglis was born into a Greek-American family and raised in Lake Charles, Louisiana. Her mother was the daughter of a preacher from Mississippi. Her father ran a business selling building materials, an early influence on her work: "I'm a real fan of surfaces. My father ... had samples of colors and plastics and laminates and woods in his car. I was always very interested."
Important Art by Lynda Benglis

The below artworks are the most important by Lynda Benglis - that both overview the major creative periods, and highlight the greatest achievements by the artist.


Artwork Images

Fallen Painting (1968)

Artwork description & Analysis: This work is around 30ft long and dates from a breakthrough period in Benglis's career. The artist poured latex rubber pigment in brightly-colored hues onto the floor of her studio. Unlike conventional oil or acrylic paint, the rubber remained in the shape of the artist's spill, preserving her gesture, and needed no canvas. It was a self-sufficient artwork. As Susan Richmond points out, "each pour was the product of a complex choreography, necessitating a balance of spontaneity and precision, not to mention physical endurance, as the artist frequently wielded five-gallon cans of the pigmented medium." The resulting form is sculptural; it is meant to be exhibited on the floor, and takes up a significant portion of the space in which the work is exhibited. For feminist scholar and art historian Amelia Jones, Fallen Painting is about "the depravity of the fallen woman", and resembles a "prone victim of phallic male desire."

Pigmented Latex Rubber - Albright-Knox Art Gallery, New York


Artwork Images

Now (1973)

Artwork description & Analysis: Lynda Benglis made several video pieces in the 1970s, when she was working at the University of Rochester and could use the school's equipment. Now is the most well-known of these works, and made a significant impact on the field of video art and critical theory. The screen shows the artist standing in front of a monitor, viewing another recording of herself inside it. These dual versions of the artist talk throughout the film, while the artist's voice can be heard in an additional voiceover. Throughout the film, these three different versions of the artist shout instructions and questions, such as: "now!", "now?", "start recording", and "do you wish to direct me?" The theme of auto-eroticism is palpable. At one point Benglis French-kisses her double inside the monitor. The overall effect is disorienting, yet sensuous, beckoning the viewer into the self-referential world of the video. It was the inspiration for Rosalind Krauss' seminal essay on video art, 'Video: The Aesthetics of Narcissism.' (1976) As Krauss acknowledged, Benglis had broken new ground in examining how the artist's voice and image might act as subject, object, and raw material for the artwork.

Video (Color, Sound) - Museum of Modern Art


Artwork Images

Psi (1973)

Artwork description & Analysis: One of a series of works named after letters of the Greek alphabet, Psi is a sculptural knot made from various materials. Its twisting shapes are heavily reminiscent of organs or intestines. The momentum inherent in its never-ending form takes the eye on an endless journey. Like Now (1973), Benglis' film of the same year, it is self-referential, self-contained, and apparently infinite. Here the use of glitter, a distinctly "girlish" material, invites the viewer to consider the work from a gendered perspective, but is simultaneously confrontational about why the viewer makes assumptions about the gendering of the material in the first place.

Aluminum, cotton bunting, plaster, silver paint, enamel, and "sparkles" - Cheim and Read Gallery, New York
More Lynda Benglis Artwork and Analysis:
Influences and Connections
Influences on Artist
Artists, Friends, Movements
Influenced by Artist
Artists, Friends, Movements

Interactive chart with Lynda Benglis's main influences, and the people and ideas that the artist influenced in turn.
View Influences Chart


Influences on Artist

Lynda Benglis
Years Worked: 1960s - present
Influenced by Artist

If you see an error or typo, please:
tell us
Cite this page

Content compiled and written by Anna Souter
Edited and revised, with Synopsis and Key Ideas added by Ruth Epstein
" Artist Overview and Analysis". [Internet]. . TheArtStory.org
Content compiled and written by Anna Souter
Edited and revised, with Synopsis and Key Ideas added by Ruth Epstein
Available from:
First published on 07 Dec 2015. Updated and modified regularly.


[Accessed ]