Artists
Henri-Fantin Latour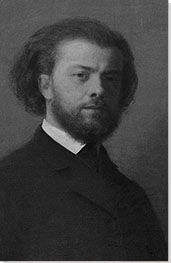 Henri-Fantin Latour
French Painter and Lithographer
Movement: Realism
Born: January 14, 1836 - Grenoble, France
Died: August 25, 1904 - Bure, France

"We form a group and make noise because there are lots of painters about and one is easily overlooked. When we get together . . . we gain strength in numbers and grow more adventurous. I thought it could last. That was my mistake."
Summary of Henri-Fantin Latour
Fantin-Latour is widely celebrated for a series of sumptuous, exquisitely detailed, flower pieces and still-lifes. He produced many other important works however, notably several prestigious group portraits of contemporary artists and writers. His group portraits now stand as vital historical documents given that they brought together many key figures associated with the rise of the French avant-garde, including Ingres, Delacroix, Carot, Manet and Baudelaire. However, and though he was closely associated with the troupe, Fantin-Latour remained something of an outsider inasmuch as his own art had its roots in eighteenth century Dutch Golden Age painting. Though an artist firmly rooted in the Realist tradition, he was still willing to explore a more expressive palette through his forays into mythical narratives based on important operatic works. In his late period, Fantin-Latour took his interest in opera further by bringing performance narratives to life through a series of finely executed lithographs.
Key Ideas
Following early setbacks with his portraiture, Fantin-Latour turned his attention to floral still-life paintings. His earliest works were marked by a purity and easiness of composition. As he progressed, however, his still-lifes became more complex and more finely detailed. Indeed, his eye for fine detail, which had hitherto distinguished his portraiture, was honed on still-lifes allowing him to produce floral compositions of near photographic detail.
Fantin-Latour continued to work in portraiture through which he finally established a second foothold in the market. He earned further recognition and prestige for his group portraits of fellow artists which drew praise for their outstanding virtuosity and fine brushwork. His portraits confirmed his relationship with other contemporaries, including
James Abbott McNeill Whistler
with whom he shared a close artistic affinity.
Complementing his earlier work with groups, Fantin-Latour produced a number of refined "domestic" portraits. Rendered through a softly colored palette, and featuring family members and intimate acquaintances occupied in everyday activities, these portraits owed much to the style to the Dutch Golden Age and the eighteenth century French painter
Jean-Baptiste Siméon Chardin
.
Though (rightly) renowned as a Realist, Fantin-Latour found success with more fantastical themes that would anticipate the conventions of
Symbolism
. His operatic and mythological narratives were rendered through effortless, poetic, brushwork and a more animated, multihued palette.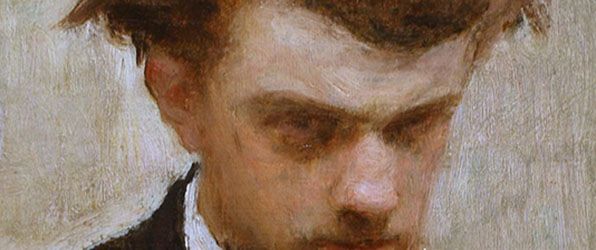 One of three children, Henri Fantin-Latour (née Ignace Henri Jean Fantin-Latour) was born to a Russian mother and the French portrait painter and drawing tutor, Theodore Fantin-Latour. At the age of 5, he and his family moved to Paris, where he began to study drawing under his father's tutelage. Later, between the ages of 14 to 18, he studied with the artist Horace Lecoq de Boisbaudran, who was known for having his students observe works on display at the Louvre and then attempt to reproduce them from memory.
| | | |
| --- | --- | --- |
| Henri-Fantin Latour's childhood, life, career, and various anecdotes | | Read Henri-Fantin Latour's Biography |
Important Art by Henri-Fantin Latour

The below artworks are the most important by Henri-Fantin Latour - that both overview the major creative periods, and highlight the greatest achievements by the artist.

Woman Reading (1861)

Artwork description & Analysis: Having had a self-portrait turned down in 1859, Woman Reading was the first of Fantin-Latour's paintings to be accepted into the Salon de Paris. He would usually choose his models from his family circle and the sitter in this portrait, one of the artists personal favourites, was indeed the artist's sister. In contrast to the impressionistic preferences of the burgeoning French avant-garde, Woman Reading took its lead rather from 18th century Dutch realist painting.

Painted in muted colors, the canvas shows a young woman absorbed in a book. The atmosphere and subject of the painting was inspired in fact by the work of eighteenth-century Dutch masters and his fellow countryman Jean-Baptiste Siméon Chardin who is best known for his domestic portraits including those of women engaged in everyday activities (such as sewing or weaving). Like Chardin, Fantin-Latour's women would be so engrossed in their activity that would appear oblivious to the artist's presence and to the spectator's gaze. In its exhibition notes on the painting, the Musée d'Orsay suggests that "The motionless model, the still life formed by the two books in the foreground, the subdued colours scarcely warmed by the reds of the sofa all contribute to the air of tranquillity and silence [...] It gives a foretaste of the sobriety, simplicity and severity that characterised [Fantin-Latour's] later portraits".

Oil on canvas - Musée D'Orsay

Homage to Delacroix (1864)

Artwork description & Analysis: Painted a year after the death of Eugène Delacroix, Homage to Delacroix is an early example of the group portraits Fantin-Latour became so well known for. Still using a palette of muted earth tones, the artist has painted a group of ten gentlemen seated around a portrait of Delacroix (which is based on a photograph of Delacroix taken ten years earlier). Also depicted are: Fantin-Latour himself on the left in the white shirt and holding a palette; James Whistler standing next to him; Charles Baudelaire is seated with his arms crossed; and Edouard Manet, stands directly behind him.

Aside from promoting the artist's preferred colors, the work also shows how Fantin-Latour stayed true to his preference for Realism and a more academic style, despite being close to the most significant figures associated with the more radical art directions in Paris. The painting also provides evidence of his ability to use subtle changes in shade and tone to denote precise lines and the characteristics of his sitters. Although the work was not well received by progressive critics, Fantin-Latour was not swayed by the fashion for Impressionism and his portraits, now looked to as historical records, have stood up to scrutiny and the tests of time.

Oil on canvas - Musée D'Orsay

Tannhäuser on the Venusberg (1864)

Artwork description & Analysis: Tannhäuser on the Venusberg is one of Fantin-Latour's earliest interpretations of contemporary operas, here Richard Wagner's controversial take on the frictions between profane and sacred love. The first of his three treatments of this opera, the image is taken from the first scene in which Tannhäuser has just arrived in Venusberg, the fairyworld ruled by Venus. He is surrounded by dancing nymphs and Bacchantes while Venus reclines across him. This is the moment leading up to the most scandalous part of the play in which Tannhäuser has an orgy with Venus and her nymphs.

This opera was a favorite of the Fantin-Latour (he went on to create a lithographic transfer of this painting in the 1870s, his first serious attempt at using this method). As a painting, and though rendered via a brighter color palette and looser brushstrokes than his portraits and still-lifes, one can still detect his commitment to muted Realism in the figure of Tannhäuser. He is somehow placed outside the gaiety of the scene, shown in shadow and rather alone when placed against the pale bodies and pastel hues of his mythical companions. Fantin-Latour's dedication to working in his studio, led to some compositional flaws; the awkward relationship between the bodies being attributed to the artist refusal to work with landscapes.

Oil on panel - Los Angeles County Museum of Art
More Henri-Fantin Latour Artwork and Analysis:
Influences and Connections
Influences on Artist
Artists, Friends, Movements
Influenced by Artist
Artists, Friends, Movements
Interactive chart with Henri-Fantin Latour's main influences, and the people and ideas that the artist influenced in turn.
View Influences Chart


Influences on Artist
Henri-Fantin Latour
Years Worked: 1859 - 1904
Influenced by Artist

| | | | | |
| --- | --- | --- | --- | --- |
| Artists | | Personal Contacts | | Movements |
If you see an error or typo, please:
tell us
Cite this page

Content compiled and written by Ximena Kilroe
Edited and published by The Art Story Contributors
" Artist Overview and Analysis". [Internet]. . TheArtStory.org
Content compiled and written by Ximena Kilroe
Edited and published by The Art Story Contributors
Available from:
First published on 23 Dec 2019. Updated and modified regularly.


[Accessed ]