Venues
Museum of Modern Art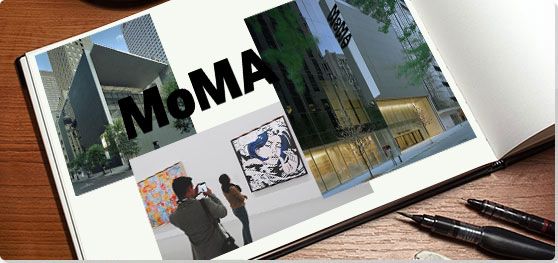 Museum of Modern Art
Opened: 1929

"While majority opinion may not take kindly to forms of modern art, that same majority has also been hostile to most original and radical innovations, such as automobiles or airplanes or transatlantic cables or Protestantism or the theory that the earth is round and not flat."
Summary of Museum of Modern Art
Since its inception in 1929, the Museum of Modern Art (MoMA) has continually redefined the idea of the museum in contemporary Western culture. Originally conceived by its founders as a place for modern art to come and go (since what makes up modernism is constantly changing), MoMA only established a permanent collection in 1952, but it has become the home for some of the greatest works of avant-garde painting, sculpture, film, and multi-media art in the world.

Shaped by the founding mission to educate the public about modern art, MoMA's guiding principles were further honed by the inaugural director Alfred H. Barr, Jr., who saw the museum as a laboratory, exploring various branches of artistic production. MoMA's collection continues to expand as it embraces Installation, Conceptual, Performance, and Video Art as well. In an increasingly globalized world, MoMA has made attempts to diversify its collection and tell new stories of modern art.
Key Ideas
The idea of a Museum of Modern Art was once considered by critics to be an oxymoron. Its very existence posed the question: How can there be a museum - a permanent institution housing the heritage of human civilization - for modern art, which embodies the ideal of always moving forward and constantly changing? Rather than shy away from this paradox, MoMA has embraced its contradictory nature by appealing to both the history of modernism and the legacy it continues to leave in the 21st century.
Alfred Barr's influence was felt for decades after he left the museum. Barr's interest in the German
Bauhaus
and Russian
Constructivism
led him to think of the museum as a laboratory of sorts. Even though he is known for his
formalist
take on modern art, Barr was eager to explore modernism through a range of artistic practices, including film, photography, dance, architecture, and design.
With the rise of the Nazism in Germany in the 1930s and Hitler's denunciation of so-called "degenerate art," MoMA became one of the few places in the world to view a wide array of European avant-garde art, cementing its reputation as an indispensible cultural institution. In many respects, MoMA's reputation continued to grow in the subsequent decades with the shifting of the art world center from Paris to New York in the middle of the 20th century.
MoMA has faced various criticisms over the decades. From its entrenched European biases to the extremely low percentage of female and minority artists in its collection. Its high admission fee and its embrace of spectacle-based contemporary art makes some long-time visitors queasy, but MoMA constantly attempts to keep up with audience desires and expectations in a rapidly changing art world.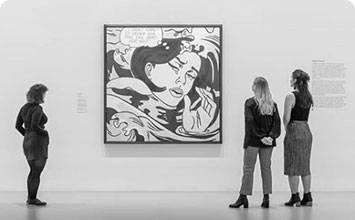 MoMA's early and peculiar approach to the avant-garde can be understood in its inclusion of Meret Oppenheim's fur-covered cup and saucer Object in Fur. The work was bought by the museum's director for $50 in 1936, but could not be exhibited at the time as the trustees didn't like it. The work was held in secret until the Surrealist piece could finally be put on show ten years later.
The Most Important Art in Museum of Modern Art

The below artworks are the most important in the history and development of The Museum of Modern Art. Don't forget to visit the artist overview pages of the artists that interest you.


Artwork Images

Before the Mirror (1923)

Artist: Max Beckmann

Artwork description & Analysis: Paul Sachs, one of MoMA's first board members, gifted the nascent museum a set of prints and drawings by prominent German Expressionists, including Max Beckmann's Before the Mirror, thus seeding a permanent collection long before the museum officially had one. A nude woman sits, with her back to the viewer brushing her hair, while the mirror in front of her reflects her face back out to the viewer. The etching is simple but contains many themes and formal treatments favored by many modern artists. Sachs, in addition to being an early supporter of MoMA, was a professor at Harvard University and developed a program of museum education, training who he termed "the connoisseur-scholar." Famously, his Print Course saw students analyzing prints and drawings from his own collection.

Though MoMA would go on to amass a considerable collection of German Expressionist art, including paintings, prints, and books, Alfred Barr and others championed the French artists, particularly Picasso and Matisse, above most.

Drypoint - Museum of Modern Art, New York

The Starry Night (1889)

Artist: Vincent van Gogh

Artwork description & Analysis: MoMA purchased van Gogh's Post-Impressionist masterpiece in 1941 through the Paul Rosenberg Gallery, an important source of modern European art. With its juxtaposition of quiet order and swirling energy, The Starry Night remains to this day one of the Museum's most prized acquisitions. Of the painting, van Gogh once said, "Looking at the stars always makes me dream....Why, I ask myself, shouldn't the shining dots of the sky be as accessible as the black dots on the map of France?" The closeness and accessibility van Gogh spoke of provides a nice parallel to the closeness and accessibility for which MoMA strived. Interestingly, conservators were forced to put glass over the painting when it was discovered that viewers liked to kiss the work.

While MoMA does not have the deepest holding of van Gogh's work (they own three paintings and three prints), van Gogh has appeared in ninety-five different solo and group exhibitions over the years, and he featured prominently along side Cézanne, Gauguin, and Seurat in MoMA's first exhibition. In the story of modern art told by MoMA, van Gogh and the Post-Impressionists forever changed the trajectory of painting.

Oil on canvas - Museum of Modern Art, New York


Artwork Images

Girl Before a Mirror (1932)

Artist: Pablo Picasso

Artwork description & Analysis: Picasso's Girl Before a Mirror was Barr's first major acquisition for the museum, purchased in 1938 for $10,000 with the assistance of Olga Guggenheim, the wife of businessman Simon Guggenheim. In a 1974 interview, Alfred Barr's wife Marga said that Girl Before a Mirror was "the first really important picture Alfred was able to buy."

In the painting Picasso used one of his favorite subjects, his mistress Marie-Therese Walter, to achieve a strange and somewhat off-putting mixture of tranquility, sexuality and mortality. Consciously or not, Barr's first major acquisition echoed the theme and form of Beckmann's Before the Mirror, one of the first works to enter MoMA's collection.

Barr's positioning of Picasso as the greatest modern master had profound effects on the understanding of modern art for many decades. For Barr, Cubism was the great impetus that led later avant-garde artists into the realm of abstraction, which he argued in his 1936 exhibition Cubism and Abstract Art, and three years later, Barr's Picasso retrospective showcased the modern master's forty-year career, cementing his reputation. Girl Before a Mirror was part of a series of portraits that Picasso embarked upon, and Barr described them as "unlike anything he had done before in their great sweeping curves."

Oil on canvas - Museum of Modern Art, New York
More Museum of Modern Art Artwork and Analysis:
If you see an error or typo, please:
tell us
Cite this page

Content compiled and written by The Art Story Contributors
Edited and published by The Art Story Contributors
" Overview and Analysis". [Internet]. . TheArtStory.org
Content compiled and written by The Art Story Contributors
Edited and published by The Art Story Contributors
Available from:
First published on 24 May 2019. Updated and modified regularly.


[Accessed ]