Artists
Adrian Piper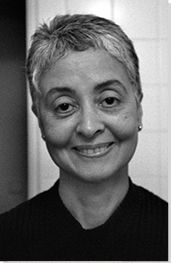 Born: September 20, 1948 - New York City, New York

"It seemed that the more clearly and abstractly I learned to think, the more clearly I was able to hear my gut telling me what I needed to do, and the more pressing it became to do it."
Summary of Adrian Piper
Who are you? How do others see you and how do you define your own identity? These are the key questions at the heart of Adrian Piper's practice. Rising to prominence as a pioneering Conceptual, Minimalist and Feminist artist in the New York art scene during the early 1970s, Piper's work raises often uncomfortable questions about racial politics and identity, engages in social critique, and deploys concepts from her parallel career as a philosopher.

Her work is often provocative, and asks her audience to confront truths about themselves and the society they live in. This practice has included performances and street interventions, paintings and sculpture, and events and objects less easily defined by conventional art historical terms. She works across disciplines, forms and conceptual frameworks, positioning her practice as a single endeavour of multiple parts.
Key Ideas
Piper's political convictions and strategies are often communicated through an engagement with autobiography and/or everyday life, a strategy which speaks to her interest in philosophical notions of the self. Her experiences with LSD as a young artist, instances of everyday racism and institutional marginalisation, and personal tragedy have all formed the basis of a different suite of works or series of performances.
Her work most often asks questions about identity and self, perhaps most notably around the question of race. By drawing on her experience as a person of mixed racial heritage her work interrogates the assumptions made about identity as it relates to skin color, revealing the underlying racism and hypocrisy of Western society, particularly in the United States.
As a female artist and scholar, Piper's work often also interrogates her experiences of sexism and misogyny. This provided an inspiration for a slightly later generation of independent and multi-disciplinary female artists (including
Barbara Kruger
and
Cindy Sherman
), a legacy that has only recently come to be acknowledged as significant in the development of this kind of work.
Piper's work and personal life are blurred, and she maintains a commitment to the significance of symbolic action in her interactions with artistic and educational institutions, authority figures and governments. Perhaps most indicative of this conviction is her insistence that she would not return to the United States after some time abroad until her name had been removed from the "watch list" of potentially subversive passengers.
Piper is committed to working across multiple disciplines and areas of scholarship. She maintains her artistic practice alongside a career as an academic within the subject area of philosophy, and sees the two roles as informing each other. Her foundation (The Adrian Piper Research Archive) works to support other interdisciplinary scholars who might similarly struggle to balance two concurrent and interrelated careers.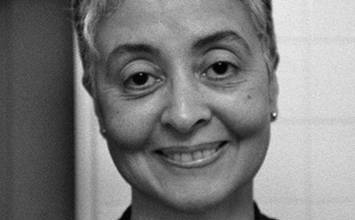 Adrian Piper was born in New York City in 1948 and grew up in a middle-class home in Washington Heights, near the Harlem area of Manhattan. Her father, Daniel Robert Piper, was a lawyer and her mother an administrator in the English Department of the Open Admissions Program at the City College of New York. Piper describes her racial background as 'mixed, like all Americans'. She talks of her father as having a mixed heritage derived from white and light-skinned black property owners, and of her mother as descending from planter-class Jamaican immigrants. This created a complex genealogy she describes as, "1/32 Malagasy (Madagascar), 1/32 African of unknown origin, 1/16 Igbo (Nigeria), and 1/8 East Indian (Chittagong, India [now Bangladesh]), in addition to having predominantly British and German family ancestry". Piper remembers her upbringing as warm and nurturing, writing, "(I) grew up physically inviolate, unable even to imagine the possibility of a breach to my physical integrity." As an adult, Piper credited her unflinching self-confidence in the face of racist and sexist marginalization to this solid grounding, firmly stating: "I do not need your help. I was loved."
Important Art by Adrian Piper

The below artworks are the most important by Adrian Piper - that both overview the major creative periods, and highlight the greatest achievements by the artist.


Artwork Images

LSD Self-Portrait from the Inside Out (1966)

Artwork description & Analysis: Angry and jagged forms in acrid yellow, outlined with black and red, expand outwards from a central female figure, forming a tight web that seems to mutate across the surface of the painting. The nude figure in the centre of the canvas is Adrian Piper herself, seen in the reflection of a mirror. Her pose resembles that of a classical female nude, yet this similarity is partially undone by her reduction to a stark black and yellow silhouette.

In around 1965, just as she was beginning her fine art degree at the School of Visual Arts in New York City, Piper experimented with the still-legal drug LSD, which she took about six times over 6 months as part of a personal mission to go "beyond the surface of things". Her strange, hallucinogenic experiences were recorded in the painting series LSD Paintings, made between 1965 and 1967, which document the experience of the drug through forms reminiscent of the then fashionable Op Art, with geometric shapes which seem to swell in and out of the painting in an approximation of the merging of real and imaginary during a trip. Piper made these paintings as an attempt to capture the experience of psychedelic drugs in order to retain and communicate the potential of LSD to teach people about themselves. Piper wrote about observing herself and her experiences "from the inside out", and here brings together both her inner experiences with the drug and the viewpoint of an outsider looking on as she disappears into a trance-like state.

These early paintings are often viewed as separate from her later, more Conceptual works of art, yet as writer Craig Hubert points out in the Observer, "...there can be found in these early drawings and paintings the emergence of a lifelong preoccupation with the mutability of identity, a self-exploration that looks both inward and outward, which is a hallmark of the psychedelic experience." This dual approach, where Piper sees herself both through her own eyes and those of an outside observer, would become a central focus as her practice developed, which as Hubert points out, "allows both a sense of removal and a deeper embrace". The loss of subjectivity through psychoactive drugs also has a long history in Piper's parallel career of philosophy, with the notion of being "outside yourself" brought about by LSD in particular raising interesting philosophical questions about the constitution of self through conscious perception.

Acrylic on Canvas


Artwork Images

Catalysis III (1970)

Artwork description & Analysis: In this photograph a young Adrian Piper walks through the streets of New York City wearing a sign emblazoned with the warning "WET PAINT." The work is one of a series of performances made between 1970-3 under the series title Catalysis. In this suite of works the artist takes a series of direct actions aimed at challenging and antagonising her relationships with her audience; here she wore clothing coated in sticky white emulsion paint and took on ordinary activities including a shopping trip to Macy's Department Store.

Piper entices viewers to come in and touch her to find out whether or not the paint is really wet, provoking varied reactions once they realise that it is. The interaction represents a break with the normal parameters of social conduct, introducing an element of danger and the unknown to everyday life. As with many other examples of performance art, the reaction and response from the audience (whether traditionally constituted through attendance at an event or by simply being on the street at the same time Piper walks through) is as much part of the performance as the action itself.

Throughout the Catalysis series Piper questions the boundaries of socially acceptable behaviour, and documents what happens when they are transgressed. Other public actions included walking the streets and travelling on the train in peak hour in clothes that had been soaked in eggs, milk, vinegar and cod for a week, testing the public's reaction to someone 'unwashed', and travelling around the city 'silenced' with a towel stuffed in her mouth. The title of the series of works makes reference to a chemical reaction triggered by a catalyst, with Piper's actions becoming the trigger to spark a reaction between herself and her audience. Throughout the 1960s and 70s Piper established a reputation for causing deliberate provocation amongst her viewers, actions that influenced a generation of artists that followed including the Young British Artists movement and later performance artists such as William Pope L.

Silver Print, Performance


Artwork Images

The Mythic Being: I Embody Everything You Most Hate and Fear (1975)

Artwork description & Analysis: In this monochrome, drawn-on photograph, a shadowy figure emerges from the darkness wearing dark sunglasses and smoking a cigarette, captioned in the top corner with the phrase, "I embody everything you most hate and fear." The figure in the image is Piper, in drag as her male alter ego 'Mythic Being', whose identity she assumes through wearing a fake moustache, afro wig and sunglasses.

Piper created the character of "Mythic Being" over a period of two years between 1973 and 1975. Disguising herself as a light-skinned and working class black man, Piper wandered around the streets of New York reciting various mantras that were lifted from her teenage diary, including the caption seen here, and various other angst-ridden phrases including, "surrounded and constrained", and "God please give me the strength to withdraw - I can't be hurt anymore - I've been hurt too much. Please help me preserve myself". Her performances were documented through photographs, drawings and videos, including this work. Many of the different forms of documentation and accompanying information (such as museum wall labels) also tracked public reactions to her character and his behaviour.

Piper's black male character deliberately embodied a marginalised, outsider position, which drew attention to the difficulties faced by people who share those aspects of identity in their everyday life. Yet Piper also found in the role a certain emancipation, as writer John P. Bowles explains: "Suspended between difference and identification, the Mythic Being becomes, in Piper's account, a paradoxical figure of liberation. Dressed as a man of uncertain race, the artist could act in ways that, as a black woman, she was expected not to". Piper elaborated on this in a description of her behaviour, writing, "I swagger, stride, lope, lower my eyebrows, raise my shoulders, sit with my legs wide apart on the subway..." In breaking out of her usual persona Piper highlights the restrictive ways women, and particularly African American women, were expected to behave. The tension that comes from Piper's assumption of this role, plays against both her gender and the way she was usually perceived by people of different ethnicities in her day-to-day life. This pioneering break with prescribed gender and racial norms and assertion of her own right to define how she is perceived influenced a raft of later artists, including Cindy Sherman's theatrical photographs, Sarah Lucas' "ladette" posturing and Glenn Ligon's powerful text art.

Oil Crayon on Gelatin Silver Print
More Adrian Piper Artwork and Analysis:
Influences and Connections
Influences on Artist
Artists, Friends, Movements
Influenced by Artist
Artists, Friends, Movements

Interactive chart with Adrian Piper's main influences, and the people and ideas that the artist influenced in turn.
View Influences Chart

| | | | | |
| --- | --- | --- | --- | --- |
| Artists | | Personal Contacts | | Movements |

Influences on Artist

Adrian Piper
Years Worked: 1965 - present
Influenced by Artist

Artists

| | |
| --- | --- |
| | Kara Walker |
| | Ellen Gallagher |
| | Glenn Ligon |
| | William Pope L. |
| | Hayley Newman |

Personal Contacts

| | |
| --- | --- |
| | Carrie Mae Weems |
| | Lorna Simpson |

Movements
If you see an error or typo, please:
tell us
Cite this page

Content compiled and written by Rosie Lesso
Edited and revised, with Synopsis and Key Ideas added by Lewis Church
" Artist Overview and Analysis". [Internet]. . TheArtStory.org
Content compiled and written by Rosie Lesso
Edited and revised, with Synopsis and Key Ideas added by Lewis Church
Available from:
First published on 05 Jun 2019. Updated and modified regularly.


[Accessed ]