Artists
Beauford Delaney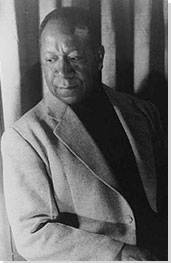 Born: December 30, 1901 - Knoxville, Tennessee
Died: March 26, 1979 - Paris, France

"The abstraction, ostensibly, is simply for me the penetration of something that is more profound in many ways than rigidity of a form. A form if it breathes some, if it has some enigma to it, it is also the enigma that is the abstract, I would think."
Summary of Beauford Delaney
An often overlooked American artist, Beauford Delaney's artistic career straddled all of the most important art movements in the first half of the 20th century. He found himself among the heady intellectual and artistic milieu of the Harlem Renaissance as well as the modernist explorations of Georgia O'Keeffe and Alfred Stieglitz's circle, and he shared similar interests with burgeoning Abstract Expressionists. Delaney's output ranged from portraiture and city scenes to abstract compositions, but in all of his paintings he communicated the vitality and rhythms of his subjects.

Perhaps overlooked because of his move to Paris at a moment when the American art scene was consolidating or perhaps because of his life-long struggles with mental illness, Delaney's artistic profile did not really register in the narratives of American modernism, but his reputation has become important to younger artists such as Chris Ofili and Glenn Ligon.
Key Ideas
Never committed to a strict realism or abstraction, Delaney's best work hovers between the two tendencies. Reduced and simplified forms painted in high keyed colors created unique contributions to the development of modern American art.
Delaney's education and early inspirations lie in the examples of modern European masters such as
van Gogh
,
Cézanne
, and Matisse, and these he combined with an interest in traditional African art. These two strands allowed Delaney to move back and forth between the art communities in Harlem, then exploring their black heritage and identity, and Greenwich Village, then extrapolating and pushing European abstraction into new avenues.
Delaney's experience as a gay African American man in the United States caused him much anxiety throughout his life and contributed to his eventual mental deterioration. He tried to overcome these struggles and the compartmentalization through his painting process and his friendships with like-minded individuals.
One of Delaney's most enduring friendships throughout his adult life was with the younger writer James Baldwin. Baldwin variously described Delaney as a father figure and something of a midwife, who helped him find himself as a writer, and artist. Jazz and Blues would become important for both of them as they found their artistic voices.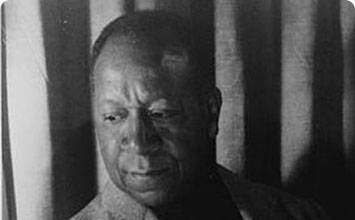 Beauford Delaney's early life was full of contrasts. Raised in Knoxville, Tennessee during the Jim Crow era, Delaney's mother had been born into slavery, and Beauford was the eighth of ten children. Delia, his mother, made a living as a cleaner and laundress to the rich, white people in town, and his father Samuel was a Methodist preacher. Only four of the children survived into adulthood because, according to Delaney, "So much sickness came from improper places to live - long distances to walk to schools improperly heated...too much work at home - natural conditions common to the poor that take the bright flowers like terrible cold in nature...."
Important Art by Beauford Delaney

The below artworks are the most important by Beauford Delaney - that both overview the major creative periods, and highlight the greatest achievements by the artist.


Artwork Images

The Burning Bush (1941)

Artwork description & Analysis: This painting is one of Delaney's most prominent early works, and indicative of the strong impression that biblical imagery made on the artist as a young man. In this small piece, a swirling towering inferno divides a bright blue sky. Earthy greens, browns, purples, and oranges represent an acrid desert landscape and the bush fire which bursts from it. Critics have described this painting as a statement of Delaney's intentions as a modernist painter, departing from a realist approach to embrace a more evocative and emotional style which went on to characterise his life's work. Stylistically, this painting is reminiscent of Post-Impressionist artists such as Paul Gaugin, not only in the earthy color palette but also in Gauguin's ideas of the spiritual and the "primitive" in nature.

The Burning Bush is also highly significant in terms of the subject matter. Harlem Renaissance painters and writers shared the tendency to draw on spiritual hymns and the powerful influence of the Church as an important part of their culture. While Delaney often resisted being pigeonholed as a "Negro" artist, the term used at the time, he did wish to work with the other Harlem Renaissance artists, such as Hale Woodruff, to celebrate and represent African American heritage. Therefore, the burning bush represents the towering, all mighty presence of the force of God in his life.

Oil on paperboard - Newark Museum, Newark, NJ


Artwork Images

Can Fire in the Park (1946)

Artwork description & Analysis: In Can Fire in the Park, a group of men huddle together over an open fire in a New York park. While the painting is representational, it is striking in its use of colors and abstracted forms. The mix of streetlights, moonlight, and the can fire produce waves and puddles of light shown in yellow, purple, and blue. This use of color produces a scene which is both moody and vibrant at the same time.

This painting is typical of Delaney's work in New York in the 1940s when he focued on cityscapes representing the Harlem and Greenwich Village communities he inhabited. While the huddled characters exude warmth and inclusiveness, they also seem isolated, just as Delaney felt himself throughout most of his life. It is described by the Smithsonian American Art Museum as a "disturbingly contemporary vignette [which] conveys a legacy of deprivation linked not only to the Depression years after 1929 but also to the longstanding disenfranchisement of black Americans, portrayed here as social outcasts...." Delaney's combined sense of celebration and melancholy in his portrayals of the African American community contribute a profound statement to the Harlem Renaissance.

Oil on canvas - Smithsonian American Art Museum, Washington, D.C.


Artwork Images

Jazz Quartet (1946)

Artwork description & Analysis: Delaney's love of musical rhythms is on full demonstration in his 1946 painting Jazz Quartet. A group of jazz musicians perform in a colorfully decorated interior. The scene is a riot of blues, yellows, greens and blues. While at first glance this setting may seem like a Harlem jazz club or bar, the Star of David in the upper left hand corner actually shows it to be an old synagogue. Little background is known about the exact setting which inspired the piece, but there was a small but prominent Jewish African American community in New York in the 1940s that Delaney may have encountered.

This attraction to the internal vibrancy of an outcast or fringe community is typical of Delaney's subjects. Delaney loved meeting people of different cultural backgrounds and felt an innate sympathy, as a gay African American man, towards minority groups. Such sympathy came easy to a man so full of cultural contradictions: black, but mixed in white circles; gay, but secretive about it; American, but full of European influences. In fact, this painting, while celebrating the pure vibrancy of multi-sensory life in New York City, hearken to the styles of French artists like Cézanne and Matisse. In the end, Delaney seems to be telling us to forget these taxonomies and instead enjoy the jubilation of jazz, which he described as "warm, vibrant, and conducive to dreaming and romantic musing."

Oil on canvas - Collection of Burt and Patricia Reinfrank, Paris
More Beauford Delaney Artwork and Analysis:
Influences and Connections
Influences on Artist
Artists, Friends, Movements
Influenced by Artist
Artists, Friends, Movements

Interactive chart with Beauford Delaney's main influences, and the people and ideas that the artist influenced in turn.
View Influences Chart

Artists

Personal Contacts

| | |
| --- | --- |
| | Henry Miller |
| | James Baldwin |

Movements

Influences on Artist

Beauford Delaney
Years Worked: 1930s - 1970s
Influenced by Artist

| | | | | |
| --- | --- | --- | --- | --- |
| Artists | | Personal Contacts | | Movements |
If you see an error or typo, please:
tell us
Cite this page

Content compiled and written by Eve MacNeill
Edited and published by The Art Story Contributors
" Artist Overview and Analysis". [Internet]. . TheArtStory.org
Content compiled and written by Eve MacNeill
Edited and published by The Art Story Contributors
Available from:
First published on 15 Dec 2018. Updated and modified regularly.


[Accessed ]