"You ask: 'Do you hope sometime to make painting your chief occupation?' Yes! That is the ambition of my life!"
"We have paired well-known Negroes in many walks of life - literature, music, dance, social sciences - to acquaint the general public with Negro personalities who are making contributions to the progress of American life."
Summary of Laura Wheeler Waring
With Edmonia Lewis, Meta Vaux Warrick, and Augusta Savage, Waring is one of the foremost Black American female artists of the first half of the twentieth century. Taking her stylistic lead from the likes of Monet, Manet, Corot and Cézanne, Waring emerged, with Aaron Douglass and Beauford Delaney, as one of the most influential portrait painters associated with the Harlem Renaissance, the influential movement in African American literary, artistic, and cultural history that thrived between 1918 and the late 1930s. Challenging racial stereotypes, she built her reputation on portraits of prominent African Americans which she executed with consummate skill and imagination. Waring is equally respected for her life-long dedication to the advancement of Black culture and history through her role as director of arts education programs at America's oldest Black teaching institutions.
Accomplishments
Waring painted many high-profile, Black society figures, members of the Harlem Renaissance, and friends and family members. But it is her 1925 portrait of a common laundress, Annie Washington Derry, that stands as Waring's career defining work. The award-winning portrait, which captured her subject's quiet dignity and inner resolve through muted brown and beige hues, was exhibited in Paris and across America, and effectively "announced" Waring to the art world.
In addition to her painting, Waring was a pioneering educator who saw art and music as integral to African American identity and achievement. She was the founder and Chair of the art and music departments at Philadelphia's all-Black Cheyney Training School for Teachers. Her forty-year association with the school saw her inducted into the Connecticut Women's Hall of Fame for her life-long "commitment to teaching and art and her prolific influence on future generations of African American artists and teachers".
While renowned as a portraitist, Waring worked in other genres, including still lifes and landscapes. The landscapes reveal her empathy with the Impressionists and Post-Impressionists, and her affinity with her natural surroundings. It was through her landscapes, indeed, that Waring arrived at her preference for a more expansive color palette, and her general shift towards a more wisplike merging of hues that became the defining quality of her later portraits.
Waring's created many illustrations for short stories, poems, essays, and articles for Harlem Renaissance luminaries including Rudolph Fisher, Georgia Douglas Johnson, Jessie Fauset, and James Weldon Johnson. But it is for her work for the civil rights quarterly, The Crisis, that she made her greatest impact as an illustrator. Like her paintings, her illustrative work was apolitical, with images that celebrated the dignity of African American life and people.
The Life of Laura Wheeler Waring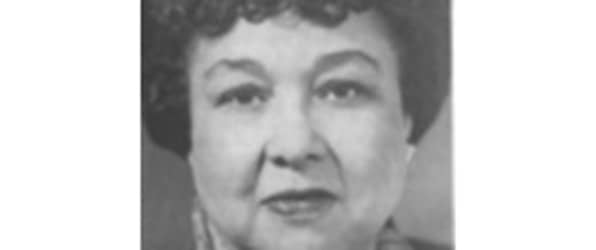 Critic Patricia Tilton comments, "Waring is the perfect role model for little girls who have big dreams. Determined and committed to pursuing her passion, young Laura began to manifest her dreams. She was self-confident, believed in her gift, and welcomed each opportunity that came her way".
Important Art by Laura Wheeler Waring
Progression of Art
1923
Egypt and Spring
This black and white silhouetted image presents a kneeling Egyptian figure playing a harp. She is wearing an ornate skirt, headdress, and other jewelry, while the profile head of a Pharaoh is positioned at the base of the harp. On the ground are flowers, and in the air above, flying and swooping birds. Directly above the harpist's head we see creeping plants that hang down from the patterned geometric border that frames the entire image. Waring was a regular contributor to The Crisis, the official magazine of the National Association for the Advancement of Colored People (NAACP). She produced several covers for the magazine, including this one for the April 1923 edition, and another in the same thematic style (featuring an Egyptian noblewoman holding a lion on a leash) for the September 1924 issue.

The Crisis, edited by writer and activist W. E. B. Du Bois, was an important publication for the intellectuals and artists who grouped together in the name of the Harlem Renaissance. Many members of the movement considered themselves "Pan-Africanists". They sought to express a new African-American identity that connected aspects of contemporary Black American life with an imaginary and idealized view of the ancient African continental. Ancient Egyptian visual motifs were thus common amongst these artists. While working on this cover, Waring herself stated, "I couldn't think of anything strikingly racial but lately I have been much impressed by the Egyptian discoveries". Other Harlem Renaissance figures who incorporated Ancient Egyptian imagery into their work were visual artists Meta Vaux Warrick Fuller, Aaron Douglas, Joyce Carrington, and Charles C. Dawson, and prominent writers and poets including Langston Hughes.

Waring's covers for The Crisis exemplify the visual and conceptual direction favored by the Harlem Renaissance: the blending of Ancient Egyptian imagery with elements of Art Nouveau and the Arts and Crafts Movement. Journalist Herb Boyd states "The covers she created for the magazine reflected her political consciousness and her enduring and endearing connection to African and African-American history and culture". Waring's covers were indicative of a wider initiative within the Harlem Renaissance to foster associations between the African American diaspora and continental African history and culture.
Ink on paper - New York Public Library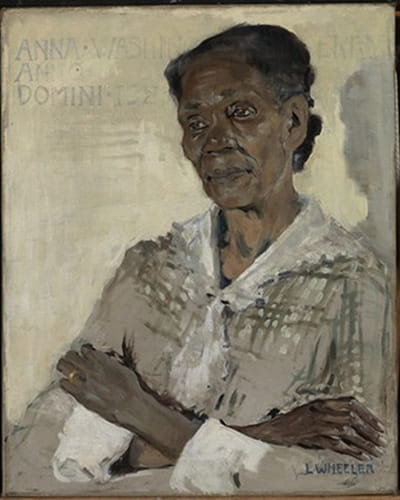 1925
Anna Washington Derry
This portrait is perhaps Waring's most acclaimed work. The sitter is a laundress called Anna ("Annie") Washington Derry. One of five children, Derry was the daughter of George and Nancy Washington who moved their family from Maryland to the town of Stroudsburg, Monroe County, in the Pocono Mountains area in eastern Pennsylvania. Monroe was home to a small free Black community who had arrived via the Underground Railroad, the name given to a network of secret routes and safe houses used by enslaved African Americans to escape into free states (estimates suggest that by 1850 approximately 100,000 slaves had escaped to freedom via the Underground Railroad network). Given that the majority of her sitters were middle/upper-class patrons, the fact that Derry was a woman of working-class origins makes this portrait unique in Waring's oeuvre.

Waring communicates Derry's dignity and inner resolve through the simple, brown-beige tones of her dress, her expressive face, her folded arms and hands, and through the inclusion of text: "Anna Washington Derry, Anno Domini". Derry was in fact something of a community matriarch who was fondly addressed locally as "Annie". The fact that Waring paints her full name coupled with the Latin inscription ("Anno Domini"), which translates as "in the year of the lord", connotes the esteem in which Waring held her humble and devout sitter. Yet while her treatment of Derry might have been considered rather "traditional" by modern standards, her style proved better suited to the tastes of ermerging Black portrait painters.

The portrait was unveiled in 1926 at a select exhibition for Black Philadelphian professionals who would not have identified with Waring's "ordinary" subject. However, as art historian Amanda Lampel notes, "Although Derry's portrait did not sell that day, the Philadelphia Tribune, the oldest continuously published African American newspaper in the United States, called it remarkable". The following year, Waring exhibited Derry's portrait at New York's Harmon Foundation where it received the "First Award in Fine Art - Harmon Awards for Distinguished Achievement Among Negroes". It later exhibited at Les Galeries du Luxembourg in Paris and across America (and was regularly reproduced in magazines and journals). As Lampel observes, "Compared to fellow contemporaries like Aaron Douglas, Waring was much more conservative in her painting style and subject matter. This was in keeping with the types of artists who won the prestigious Harmon Foundation award, which sought to spotlight the up-and-coming Black artists of the Harlem Renaissance. Most of the award winners painted more like Waring and less like Douglas".
Oil on canvas - Smithsonian American Art Museum, Washington D.C.
1925
Houses at Semur, France
The outbreak of World War I interrupted Waring's first three-month tour of Europe (financed after winning a scholarship from the Pennsylvania Academy of the Fine Arts (PAFA)). A few years after the war, however, Waring was able to return to Paris where she continued her studies at the Academie de la Grande Chaumière. While her portraits did most to highlight the accomplishments of successful African Americans (as was her subtle, apolitical, way of contributing to the early Civil Rights Movement), Houses at Semur, painted while in France, helped bring her wider critical acclaim.

Leaving behind the soft, pastel tones that characterized her earlier work, Waring's French landscapes saw her experiment with a more radiant and realistic style. Few extant works (either lost or in private collections) are available to us from this period but she did produce two landscapes, Saint-Jean-Pied-de-Port, and Houses at Semur, France (both dated 1925), that now stand as markers for this change in her style. Indeed, her preference for a more expansive color palette, and a general shift towards a more delicate merging of hues, became characteristic of her painting style henceforward (regardless of what genre she was working in).

Having brough Waring recognition in France, her landscapes duly led to greater demand for her art in prestigious American galleries including the Corcoran Gallery in Washington D.C., the Brooklyn Museum, and the Philadelphia Museum of Art. But Waring had in fact painted a small number of American landscapes. As a student, she had been compelled to commute the twenty or so miles between her home base at the Institute for Colored Youth (ICY) where she taught (and lodged), to the PAFA, where she studied. Historian Valerie Harris writes that Waring "compensated in some way for the scant time she had to pursue instruction in PAFA's studios" by painting her surroundings at Cheyney. Harris notes that, living in Cheyney, Waring took "inspiration from the long, hilly roads that seemed to stretch endlessly ahead, roads bordered by trees of various kinds, full-leafed or stark and spindly, and from the farmhouses, large white framed ones with green shutters or solid stone structures that sprung up intermittently, the generous space between each, ensuring quiet and privacy for their owners".
Oil on linen canvas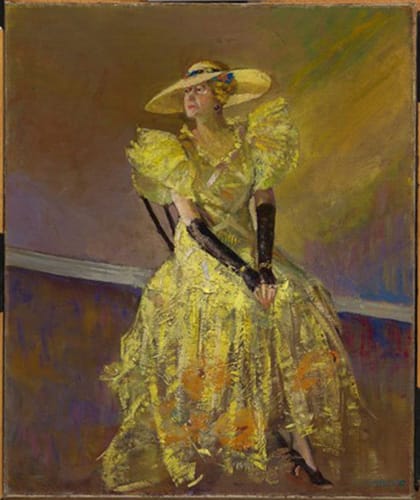 1927
Alice Dunbar Nelson
This portrait presents American poet, journalist, essayist, and women's rights activist, Alice Dunbar Nelson, in full figure. She wears a shimmering golden-yellow dress with large frilly sleeves, as well as black, elbow-length demi-gloves, black high-heeled shoes, and a large hat with flowers. She sits on a chair in a room whose walls and floors are painted with the same multi-colored, ethereal, and luminous quality as the dress. This vibrant use of contrasting strokes of color, reminiscent of Degas, is typical of Waring's portraits of more affluent Black individuals.

Dunbar Nelson was one of the first generation of free Blacks born in the South, and was university educated. She and her first husband, poet Paul Laurence Dunbar, were important symbolic figures within the Harlem Renaissance. Waring's portrait of Dunbar Nelson served to challenge racial stereotypes by presenting her Black sitter in a manner generally reserved for white members of the upper classes. Waring achieved this, not just in terms of her delicate use of color and light, but also in the sitter's dignified, confident, and self-possessed pose and expression. Waring and Nelson were in fact good friends who together attended meeting of Black women's clubs, like the National Association of Colored Women, founded in 1896.
Oil on canvas - National Portrait Gallery, Washington D.C.
c. 1940
Woman with Bouquet
In this portrait, the unknown sitter (possibly a friend of Waring's living in Philadelphia) is shown in three-quarter length, seated, in front of a white and pink background. She wears a blue dress with red and yellow flowers, and a pendant on a simple gold chain. Her left hand holds a bouquet of red, orange, yellow, and pink across her lap, while her right hand rests on her hip, in a relaxed, confident, pose. The strength of her arms is accentuated by the slightly puffy short sleeves of her summer dress. The sitter wears a half smile and looks down to the right. The Brooklyn Museum writes, "Like Waring's other portraits of sophisticated or dignified working-class African Americans, this painting countered the many racial stereotypes that were prevalent at the time".

While the sitter's dress is by no means elegant or expensive, it appears to be her "Sunday best", indicating that this is a working-class woman who Waring represents with dignity and poise. Artist and art historian Samella Lewis notes that "The realistic style Waring exhibited in her portraits included aspects of Expressionism, but unrestrained in regard to structure and treatment of forms, it was most closely related to the work of the rebellious Romantics who painted in France during the 1920s. Yet, while her lyrical approach can be classified as Romantic, it did not include the 'prettiness' common to the Romantic school. Her soft but contrasting portrait style also avoided the surface stillness characteristic of realistic painting of the time". Here, the bold color palette and energetic brushwork, which is typical of much of Waring's portraiture, is a likely influence on contemporary African-American portrait painter Kehinde Wiley, who was famously commissioned to paint the official presidential portrait of Barack Obama in 2018.
Oil on canvas - Brooklyn Museum, New York
c. 1940s
Four Friends
While most of Waring's works were individual portraits, Four Friends features three boys and a girl. Two of the boys and the girl look out to the left, with solemn expressions, while the boy at the center of the image looks directly at the viewer and smiles, giving us the sense that he is the cheeky one of the group. All four sitters appear to be dressed up, perhaps having just attended, church. The boys, two of whom are wearing jacket and tie, are rendered in muted shades of brown and gray, while the girl's pretty frock is pink with a white lack neckline. Her hair is gathered at the back and tied with a bow. The background is comprised of diagonal pastel streaks. The painting exemplifies what art historian John Welch calls Waring's "mastery of realistic portraiture accompanied by expressionist flourishes".

Curator Sarah Spencer stated, "[this is] one of the most touching depictions of children that I've seen Waring do, it's sensitive and intimate to the point that it feels nurturing as well. Waring's portraiture of prominent figures captures the essence of their character, but in this group portrait I think we see more of the artist's emotions than that of the sitters". For the painting's wall caption, Spencer wrote "Four Friends celebrates Black youth and the innocence of childhood in a world that often sees Black children as a threat. Waring captures joy in its purest form, emphasizing its necessity for Black children's survival and the ability to fully claim their humanity".
Oil on canvas - Pennsylvania Academy of the Fine Arts, Philadelphia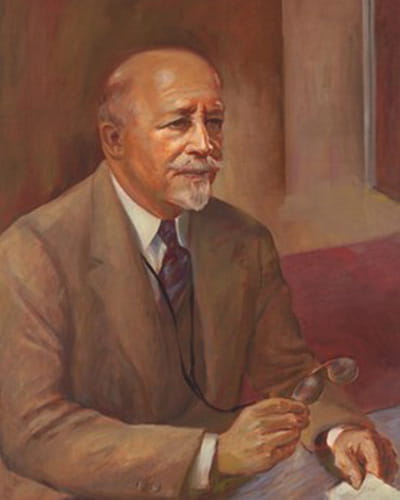 between 1931-48
W. E. B. Du Bois
Waring is perhaps best known for her portraits of prominent members of the Harlem Renaissance, such as writer and activist W. E. B. Du Bois. He was the first African-American to earn a doctorate from Harvard University, a professor of history, sociology, and economics at Atlanta University, a co-founder of the National Association for the Advancement of Colored People (NAACP), and founder and editor of the NAACP's magazine The Crisis. Du Bois hired Waring to create several illustrations for The Crisis, and they had a good working relationship (although correspondence between the two reveals that Waring was often frustrated by late and/or unsatisfactory payments from Du Bois for this work). Waring's portrait shows Du Bois seated at a wooden desk or table, looking to the right. The spectacles he holds in his right hand, and the small paper he holds in his left, confirm his status as an intellectual and academic.

This late-career portrait underlines what author and critic Nancy Churnin identifies as Waring's preoccupation with "shades of brown" (Churnin even titles her 2020 biography of Waring, Beautiful Shades of Brown). Indeed, her portrait of Du Bois is executed entirely in brown hues (with some red tinges). Art critic Patricia Campbell Carlson describes how this preference for brown shades dated back to Waring's childhood: "Shades of brown were Laura Wheeler Waring's passion [...] nothing could keep her from delighting in chestnut, topaz, ebony, russet, and all the other nuances of color she could see in the eyes and skin of her family. [She even] kept a notebook of luminous browns that she didn't want to forget".
Oil on canvas - National Portrait Gallery, Washington D.C.
Biography of Laura Wheeler Waring
Childhood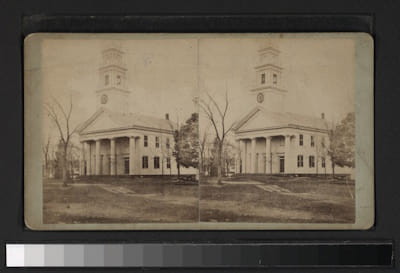 Laura Wheeler Waring was the fourth of six children born to Reverend Robert Foster Wheeler, pastor of Talcott Street Congregational Church (formerly the African Religious Society), the first all-Black church in Connecticut, and Mary (née Freeman) Wheeler, a teacher and amateur artist. Laura's maternal grandfather, Amos Noë Freeman, was a Presbyterian minister, and her maternal grandmother, Christiana Williams Freeman, was an anti-slavery activist who worked as part of the Underground Railroad (the given name to a secret network of escape routes and safe houses run by abolitionists) in Portland, Maine, and Brooklyn, New York. Waring's family (she changed her name from Wheeler to Waring after her marriage) was well-educated (her father and mother had graduated respectively from Howard University and Oberlin College) with five generations before her earning college diplomas.
In classes run by her father's church, Waring and the other children were taught about African history (as-well-as bible classes) and her parents regularly took their children to Hartford's Wadsworth Atheneum Museum of Art and other local art events. Indeed, such was their love or art, the Wheeler's would regularly gather around their dining room table to draw together. Art critic Patricia Campbell Carlson writes "[Waring] would even bribe her brothers and sisters with peppermints to get them to pose for her. And although she knew there were no portraits of African Americans in museums yet, she hung her paintings in her room as a ten-year-old so that her sisters and brothers could see pictures of people with all different shades of brown staring back at them".
Waring herself attended Arsenal Grade School and Hartford High School (the second-oldest public high school in the United States). She was a high-achieving student who graduated from Hartford with honors. The High School also supported her interest in art, encouraging her passion for drawing and painting, especially with watercolors.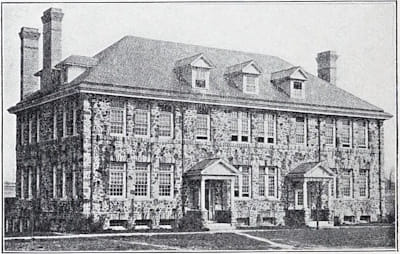 In the fall of 1907, a twenty-year-old Waring joined the staff the Institute for Colored Youth (ICY), soon to be renamed, Cheyney Training School for Teachers (CTST) (and today known as Cheyney University). It was the beginning of a near forty-year association with one of America's most impressive Black institutions. Historian Valerie Harris writes, "ICY would turn out African American teachers to educate and advance the next generation beyond the servant and laborer status of most of their parents [and is] the country's oldest of the historically black colleges and universities".
Waring's father was a close friend of the ICY's president, Hugh M. Browne, and it was through that connection that she took up a part-time teaching position at ICY as an instructor in drawing and decorative arts. Harris writes, "An atmosphere of genteel collegiality and decorum was practiced by the Cheyney faculty, who were expected to present themselves to the students and others as well-mannered, watchful and benevolent role models of the highest order, enlightening and encouraging them by instruction and personality". Waring subsisted on a monthly salary of about $7, with room and board included. From her salary she would need to pay the train fare to Philadelphia where she would attend classes at the Pennsylvania Academy of the Fine Arts (PAFA).
Education and Early Training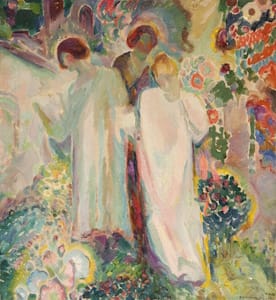 Attending PAFA between 1909 and 1915, Waring studied drawing, still life painting, portraiture, and illustration. Waring's most influential teacher was the modernist illustrator and painter, Henry Bainbridge McCarter who instilled in Waring a love of Impressionism and Post-Impressionism. But despite her total commitment to her training, Waring stated that she was still "afraid to trust my livelihood to art alone". In addition to her teaching classes at Cheyney, Waring earned extra money as a drawing instructor at summer schools at Harvard and Columbia. She graduated from PAFA in 1915, becoming the first African American to receive a prestigious William Emlen Cresson Memorial Traveling Scholarship.
Waring used her scholarship money to embark on a tour of Europe. In Paris, she studied at the Académie de la Grande Chaumière, and made frequent visits to the Louvre and to the Jardin du Luxembourg. Arts journalist Herb Boyd writes that during her time in the French capital "she deepened her knowledge of impressionism, absorbing the works of Monet, Manet, Corot and Cézanne. 'I thought again and again,' she recalled in an interview, 'how little of the beauty of really great pictures is revealed in the reproductions which we see and how freely and with what ease the great masters paint'". From France she travelled to England, visiting the museums and historical sites of London. However, her plans to continue on to Switzerland, Italy, Germany, and the Netherlands were scuppered with the outbreak of World War I.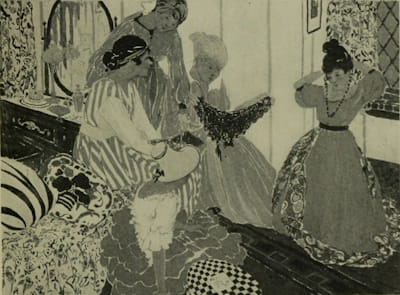 Back in the US, Waring returned to teaching at Cheyney, playing a pivotal role in founding the school's new art and music departments. During her thirty years as the department's art director and Chair, she conducted the Cheyney Choir (from 1921­­­ to 1934) training them in high-toned spirituals and classical music. Harris writes, "The college, like the [local] Thornbury African Methodist Episcopal (AME) Church, slowly evolved into a community center for the black residents of Cheyney. They rallied to the school to watch football and baseball games, hear esteemed speakers, and attend concerts performed by the Cheyney Singers, which Wheeler conducted. She took the students to sing at Thornbury AME and would present joint concerts with the two choirs during the holidays and on other special occasions". It was through her involvement with the AME that Waring became acquainted with Annie Washington Derry, destined to become the subject of her most famous portrait.
While on sabbatical between 1924-25, Waring returned to Europe for a second time, accompanied this time by African-American novelist and poet, Jessie Redmond Fauset. She signed-up for classes in Expressionism and the Romanticism run by French artist and designer Bernard Boutet de Monvel, and the American painter Robert Henri. Boyd writes, "One of the benefits of this second tour was to resume her study at the Academie de la Grande Chaumiere, where she was more intensively devoted to style and application. It was there that she began to cultivate her lifelong interest in portraits, particularly her choice in displaying a more realistic and vibrant method than ordinarily prevailed at the Academie. Her painting 'Houses at Semur, France' (1925) is indicative of this shift in her style, her usage of vivid colors to convey a bright, brilliant atmosphere. This approach would dominate her style no matter what painting genre was demanded".
Having spent roughly four months in Paris - Waring later referred to this time as her "only period of uninterrupted life as an artist with an environment and associates that were a constant stimulus and inspiration" - she and Fauset visited London, Dublin and Rome, before heading on to Algiers (North Africa). Along with her paintings, Waring pursued her love for writing short stories, one of which, "Dark Algiers and White", was published in The Crisis (although there remains some confusion as to whether it was a free-standing short story by Waring, or a co-authored two-part article written with Fauset).
Waring produced many artworks during the tour but most of these are believed to have never been exhibited, and their whereabouts today remain unknown. However, during her time in France she produced two important landscapes, Saint-Jean-Pied-de-Port, and Houses at Semur, France, that signaled her general shift towards a more expansive color palette. These pieces contributed to her growing reputation. In 1926 she had works exhibited at the Corcoran Gallery in Washington, D.C., the Brooklyn Museum, and the Philadelphia Museum of Art. her standing was such that she curated the Negro Art section at the Sesquicentennial Exposition in Philadelphia, also in 1926, and at the Texas Centennial Exposition the following year. In 1927, she also Madeline Weisburg won a gold medal in the annual Harmon Foundation Salon in New York.
Mature Period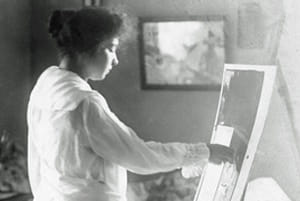 In New York, Waring met a number of important artists, writers, and intellectuals associated with the Harlem Renaissance (or the New Negro Movement as it was sometimes called). The painter Henry Ossawa Tanner introduced her to fellow artists Palmer Hayden, Malvin Gray Johnson, Augusta Savage, and Hale Woodruff, poet, Langston Hughes, and composer, Roland Hayes. In fact, Waring was, with sculptors, Savage and Edmonia Lewis, and the painter and poet Meta Vaux Warrick, one of the four female artists linked to the movement to be regarded equally with their male counterparts. Waring was also a long-standing member of the National Association for the Advancement of Colored People (the NAACP is a US civil rights organization set up in 1909 to oppose racial segregation and discrimination by nonviolent means), and was a regular contributor to the organization's monthly magazine, The Crisis, and its children's publication, the Brownies' Book.
Historian Madeline Weisburg writes, "Waring frequently contributed illustrations to the magazine The Crisis - a literary and political publication of vital significance to intellectual life throughout the Harlem Renaissance, aimed to strengthen solidarity between members of the African diaspora. Under W.E.B. Du Bois' editorship, Waring provided graceful line drawings of women and children, which appeared on the cover and inside the magazine at least twenty times between 1917 and 1932, including many covers for the annual Christmas issue". Weisberg adds that her April 1923 and September 1924 cover illustrations introduced Waring's "signature delicate Art Deco and Arts and Crafts-inspired decorative style [that expressed] a coming together of the contemporary moment and an imagined African continental history, which was frequently envisioned by Pan-Africanists through idealised visions of Ancient Egypt".
In 1925 the Harmon Foundation, established four years earlier by the real-estate developer and philanthropist, William E. Harmon, began presenting cash awards to African Americans for achievements in the fields of: fine arts, literature, music, race relations, education, business, religious service, and science. The Smithsonian Library writes that the foundation would become "best known for its impact on African American art of the Harlem Renaissance. Only a few years after the first awards were presented, the annual program was receiving such large numbers of high-quality art works that the Harmon Foundation began organizing a corresponding exhibition to provide an opportunity for the candidates to show and sell their work. These awards exhibitions gained even more national attention when they were toured to art museums, colleges, public libraries, and even YMCAs all around the country".
In the autumn of 1926, Waring served as a juror in the selection of the inaugural William E. Harmon Distinguished Achievement Among Negroes competition in the fine arts category. One year later, Waring was herself honored with the gold award in that same category for her portrait, Anna Washington Derry (1925). (The Smithsonian adds, however, that in by the mid-1930s the Foundation was attracting criticism for "perpetuating racial segregation in its all-black exhibitions and for patriarchal practices, in particular, using mostly white juries. [The Foundation] did later shift its focus from the awards to different avenues of support for black artists. But during its existence, the purpose of the awards was to stimulate creative achievement among and to bring attention to the work being accomplished by African Americans, and it became almost synonymous with Negro visual art".)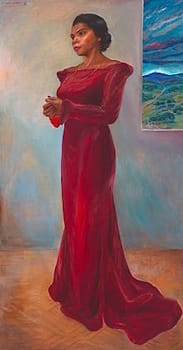 In 1926 Waring was married to the Philadelphian, Walter Waring, a public school teacher (ten years her junior) who was then working as a professor at the all-Black Lincoln University in Jefferson City, Montana. As money was tight, the newlyweds had to put off their honeymoon until 1929, when they travelled to France for two months.
In 1944, Mary Beattie Brady organized an exhibit of fifty Portraits of Outstanding Americans of Negro Origin. Brady, a director of the Harmon Foundation, toured the exhibition throughout the United States over a total period of some ten years. It featured forty-two portraits by the white artist, Betsy Graves Rayneau, and eight by Waring. Waring's works included portraits of Du Bois, Johnson, the suffragist, and journalist, Mary White Ovington, the contralto (classical female singer) Marian Anderson, and her prize-winning portrait of Derry. Commenting on the exhibition's revival in 1997, Curators David D. Driskell and Tuliza Fleming write: "Blacks were believed to be less capable, unintelligent, violent, sex-starved, immoral, and unpredictable. The exhibition counteracted these myths through the calm, friendly, and dignified portrayal of their subjects".
Late Period and Death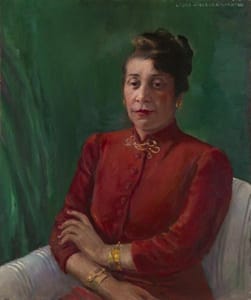 Towards the end of her life, Waring's status as an academically-trained artist, and her niche of painting portraits of affluent Black individuals, saw her fall out of favor. The arts patron Alain LeRoy Locke called her "derivative" and "falsely sophisticated" with other critics dismissing her as a mere "society painter". She preferred to keep her personal life private and she and her husband remained together throughout their lives (though they remained childless). Waring passed away after a long illness, in her home in Philadelphia, on February 3, 1948. One year later, a posthumous exhibition of her work was held in her honor at Howard University in Washington, D.C.
The Legacy of Laura Wheeler Waring
Waring was, with sculptor Augusta Savage, one of the two most prominent female artists linked with the Harlem Renaissance of the 1920s and 1930s. The expressive portraits for which she remains most revered, saw her included in the first all-Black exhibition in America held in 1928 by the Harmon Foundation. Author and critic Nancy Churnin states that Waring's greatest legacy "[was her] desire to see representation and inclusion on museum walls. At the time she was painting, America was segregated, and it was unusual to see African American faces as subjects in portraits. She felt that if people saw inclusion in art, it would open hearts and minds to the importance of inclusion in all aspects of life". In addition to her achievements in art making, Waring devoted her entire adult life to the education and cultural advancement of Black students through her four-decade tenure at Cheyney's, America's oldest historically Black college/university. A Philadelphia middle school is named in Waring's honor.
Waring paved the way for Black women artists and illustrators to pursue careers in the visual arts. In addition to her portraiture, Waring's illustrations were the most frequently featured female artist in The Crisis, the magazine of the National Association for the Advancement of Colored People (NAACP). Her influence can also be seen in the later portraiture of African-American painters Barkley Hendricks and Kehinde Wiley. Wiley's dignified portraits of "regular" African-Americans, with their boldly colored patterned backgrounds strongly evoke the works of Waring, particularly her Little Black Girl (Christine). She is also an acknowledged inspiration on her great niece, Madeline Murphy Rabb, the prominent collector and art dealer who has curated numerous important African American art collections and loaned work from her extensive African American art collection to national and international museums.
Influences and Connections
Influences on Artist

Influenced by Artist
Friends & Personal Connections
Jessie Redmond Fauset

W. E. B. Du Bois

Leslie Pinckney Hill

Alma Thomas
Artists
Barkley L. Hendricks

Madeline Murphy Rabb
Friends & Personal Connections
Jessie Redmond Fauset

W. E. B. Du Bois

Leslie Pinckney Hill

Alma Thomas
Useful Resources on Laura Wheeler Waring
Books
The books and articles below constitute a bibliography of the sources used in the writing of this page. These also suggest some accessible resources for further research, especially ones that can be found and purchased via the internet.
biography