Movements, Styles, and Tendencies
American Impressionism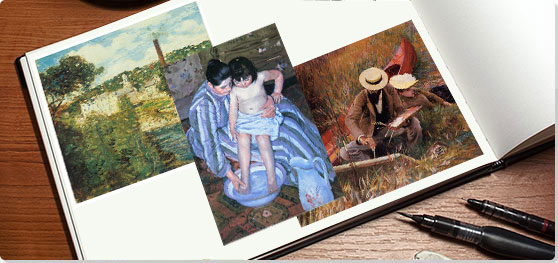 American Impressionism
Started: 1880
Ended: 1920

Summary of American Impressionism
Like much of the art world, American painters of the late 19th-century were stunned and startled by the dazzling colors and vibrant brushwork of French Impressionism, yet by the century's end, Americans would be among the most passionate devotees of the Impressionist style. Inspired by the novel approaches to painting modern life embodied in French Impressionism, American Impressionism adopted bright palettes and loose brushstrokes to capture the intimate beauty of everyday American life. Whether capturing the natural world or urban energy, the American Impressionists broke with the traditional expectations of academic art to usher in the first popular, modern art movement in America.
Key Ideas
Although initially many American artists rejected the loose sketchiness of French
Impressionism
, their eventual adoption of the style ultimately facilitated a revolutionary break from the linear style and classical narratives that defined academic painting. In both style and subject matter, Impressionism inspired American painters to document their rapidly modernizing world with a mixture of curiosity and nostalgia.
Combining European sophistication with identifiably American subject matter, American Impressionism quickly became popular among the increasing numbers of upper-class patrons. As American industrialists built private collections of art, they had previously purchased Old Master works to demonstrate their good taste; American Impressionists were the first contemporary artists to be widely collected by Americans.
American Impressionism built upon the examples of landscape painting practiced by the
Hudson River School
and the
Tonalists
, particularly in the emphasis on immersion in the natural world and an attention to light and color. The Impressionist interest in everyday life and commonplace scenes, however, marked a difference from the transcendentalist visions of earlier 19
th
-century American landscape painting.
The American Impressionists fostered new organizations for the creation and exhibition of their work; these innovations would last beyond the popularity of the style. Many of the artist colonies and exhibition societies that supported Impressionism were critical in broadening American art beyond academic painting.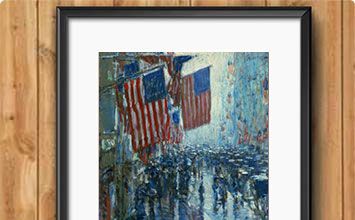 Beginnings:
With the end of the Civil War and a new era of American prosperity, the wealthy built large houses to showcase their success. In order to demonstrate their cosmopolitan taste, they furnished these mansions with furniture and art imported from Europe. Although American artists such as the Hudson River School and the Tonalists had developed distinctively national styles, their paintings did not command the prices of European art; American art was not considered fashionable or sophisticated. To become a respected artist, it was necessary for Americans to train in the famous art schools of London and Paris and adopt the academic styles taught there.
Important Art and Artists of American Impressionism

The below artworks are the most important in American Impressionism - that both overview the major ideas of the movement, and highlight the greatest achievements by each artist in American Impressionism. Don't forget to visit the artist overview pages of the artists that interest you.

Mrs. Chase in Prospect Park (1886)

Artist: William Merritt Chase

Artwork description & Analysis: William Merritt Chase was one of the earliest American artists to incorporate Impressionism into his work. His series on the Prospect Park in Brooklyn, which he painted and exhibited in 1886, exemplifies his Impressionist style. Here, Chase depicts his future wife sitting in a row boat in a small lake. There is a sense of ease as she strikes a contemplative pose. The park offered a convenient spot to paint en plein air, following the example of the French. Furthermore, as a natural space engineered by people in the midst of an urban environment, the park provided the perfect backdrop for Chase's vision of upper class leisure and genteel interaction with light and nature. Prospect Park was also an answer to the sophisticated spaces of European capitals, arguing that American cities had evolved to include such cultural considerations.

The painting demonstrates the broad brushstrokes and interest in the play of light that are characteristic of Impressionist art, however, Chase's palette is notably more muted than most of French Impressionist painting. This might reflect his training in Munich (which he chose over studying in Paris). When he returned to America from Germany, he established an elaborately decorated studio in the Tenth Street Studio, the first building in New York designed as an artist space. He also began teaching at the newly formed Art Students League, making him a highly visible and influential central figure in American artistic circles. In the 1880s, he turned towards Impressionism, inspired by Whistler and Manet's loose brushwork along with a deep admiration for the work of John Singer Sargent, a lifelong friend after they met in 1881. His popularity among the social elite of Long Island, where he directed the Shinnecock Hills Summer School of Art helped to establish Impressionism as a collectable new school.

Oil on panel - Metropolitan Museum of Art

Paul Helleu Sketching with his Wife (1889)

Artist: John Singer Sargent

Artwork description & Analysis: John Singer Sargent was not a fully-fledged American Impressionist, but he had an important impact on the development of the movement as a conduit of new ideas from Paris to friends and colleagues in the states. His own style mixed elements of Impressionism with more traditional, academic portraiture. In this painting, Sargent depicts his friend, the French artist Paul Helleu, painting outdoors with his wife.

In this work, art critics Helene Barbara Weinberg, Doreen Bolger and David Park Curry argue that Sargent "revealed a great deal both about the practice and the purpose of the new movement in landscape painting as it would emerge in the United States. Landscape painting (not just the more common landscape drawing) has been brought outdoors, a point made forcefully by the artist's canvas shown resting directly on the ground, in the midst of the subject he is depicting, and by the presence of his brushes and portable palette. Sargent, already a well-known portraitist, depicts his model, an academically trained figure painter who usually works in the studio, embracing the plein air method and the commitment to direct observation that recently had become mainstays of his own work."

Sargent represents a seemingly unremarkable couple. The man paints professionally, but here he appears reclined in the grass, accompanied by his wife. Its ordinariness is key to its modernity, as Sargent rejects the need for a narrative. Without the title, the subject would only be recognizable to a small circle of friends and colleagues. The couple is viewed slightly from above, enclosing them in a natural space, but one that feels hospitable and comfortable. Sitting next to a small boat, they are day-trippers, enjoying a moment of leisure; their stylish clothing reveals that they are undoubtedly urban sophisticates, escaping to the fresh air of the countryside for a brief respite.

The viewer can't see what Helleu is painting; instead, the focus is on the figures and their immersion in nature. Notably, the couple's faces are detailed more carefully than the rest of the picture, creating a contrast with the looser brushwork of the grass and canoe. This speaks to Sargent's stylistic balance between academic and Impressionist approaches, which would influence other American artists.

Oil on canvas - Brooklyn Museum, New York

Woman Sitting with a Child in Her Arms (c.1890)

Artist: Mary Cassatt

Artwork description & Analysis: Although she developed her painterly style in tandem with artists such as Degas and Camille Pissarro, Cassatt's position as both a woman and an American positioned her as an outsider. While she was not quite as restricted by her gender as was her French-born colleague, Berthe Morisot, Cassatt tended to represent feminine subjects and domestic interiors. Unable to visit the racecourses, dance academies and cafes favored by her male counterparts, Cassatt painted the spaces and scenes she had easy access to among her acquaintances.

Although Cassatt spent two years at the Pennsylvania Academy of Fine Arts, her work was most influenced by her time in Europe. She studied academic art with Jean-Léon Gérôme in Paris during the 1860s, but when she returned to France in 1874, she became closely connected to the French group and showed her work with them on several occasions. Notably, Cassatt's work was also featured in the first major exhibition of French Impressionist work in the US, cementing her position as an artist who provided a bridge between French and American Impressionism.

Cassatt frequently painted images of mothers with their children, a subject that was often understood as a secular version of religious images featuring the Virgin Mary with the Christ child. Rather than monumentalizing her figures, however, Cassatt emphasizes the domestic qualities of each scene. Take, for example, the large expanse of the foreground that is occupied by the comfortable chair in which the mother sits. Although the room is actually fairly sparsely furnished, Cassatt's presentation of the chair and water pitcher create the impression of a comfortable bourgeois home, and particularly of a uniquely female space which is used to look after children. This painting is striking partly because the woman is looking away from the viewer. This both makes the woman anonymous and gives the impression that the mother and child inhabit a private and intimate space that cannot be shared by the viewer. Cassatt offered American Impressionists a model for painting calm scenes of domestic tranquillity, a key subject matter for the group.

Oil on canvas - Museo Bilbao, Spain
More American Impressionism Artwork and Analysis:
If you see an error or typo, please:
tell us
Cite this page

Content compiled and written by Anna Souter
Edited and revised, with Synopsis and Key Ideas added by Sarah Archino
" Movement Overview and Analysis". [Internet]. . TheArtStory.org
Content compiled and written by Anna Souter
Edited and revised, with Synopsis and Key Ideas added by Sarah Archino
Available from:
First published on 30 Jul 2018. Updated and modified regularly.


[Accessed ]