Artists
Childe Hassam
Born: October 17, 1859 - Dorchester, Massachusetts
Died: August 27, 1935 - East Hampton, Long Island, New York

"The portrait of a city, you see, is in a way like the portrait of a person... The spirt, that's what counts, and one should strive to portray the soul of a city with the same care as the soul of a sitter."

Summary of Childe Hassam
Childe "Muley" Hassam enjoyed the mystery surrounding his moniker. Playing off the confusion from his surname as to whether he was of Arabic descent, Hassam adopted "Muley," a corruption of the Arabic word for "master," in reference to a 15th-century Moorish ruler who appears in Washington Irving's writings. The nickname is fitting, since Hassam's stature as one of the giants of American Impressionism has remained unchallenged since his death. Influenced greatly by French painters of the 1870s and 1880s, Hassam turned his art into an industry that mirrored the rapid industrialization of America at the turn of the 20th century. In hundreds of works, he strove to depict both the frenzied pace of city life as well as the unspoiled expanses of nature that provided a respite from the urbanization, propagating a certain pride in the nation's past as well as present.
Key Ideas
Hassam's work, like that of the French Impressionists, is intimately concerned with the interaction of light, weather, and surface, especially as they change with the movement of elements within the scene, and often in concert with the frenzied pace of modern urban life. But unlike the French, Hassam avoids uncomfortable political issues in favor of an optimistic view of American industriousness and rural charm.
Hassam treated his art much like a business, aggressively marketing himself and churning out canvases and works on paper by the carload, and gathering associations of artists around him to increase his notoriety. His efforts paid off, as he built a sizeable reputation and fortune over a career spanning more than fifty years.
While Hassam helped create a strand of Impressionism that was distinctly American, he remained connected with the European Art of the 1870s and '80s for the bulk of his career, and frequently maintained ties to foreign lands through his travels; the culmination of his patriotic internationalism is his series of flag paintings supporting the allied cause during World War I.
Hassam's devotion to Impressionism was impressive, as he steadfastly refused to adapt to the innovations in modern art coming from Europe starting in the 1910s, instead ridiculing non-representational abstraction in painting even after its acceptance as cutting-edge modernism by American critics in the interwar era.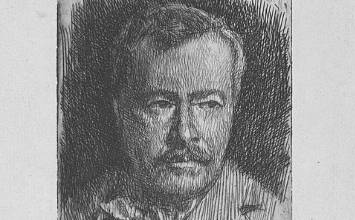 Frederick Childe Hassam's family had deep New England roots. His father was a cutlery salesman based in Boston whose ancestors arrived in America from England in the 17th century with a name that began as Horsham. This name went through a number of spelling changes before becoming Hassam, which would result in questions regarding the future artist's origin with some believing, much to Hassam's amusement, that he was Arabian.
Important Art by Childe Hassam

The below artworks are the most important by Childe Hassam - that both overview the major creative periods, and highlight the greatest achievements by the artist.

A Back Road (1884)

Artwork description & Analysis: A Back Road most significantly reveals the influence of the Barbizon School painters on Hassam. The expansive, agricultural landscape (suggested by the haystack in the distance), wagon, and cloud-filled sky all recall the rural farm scenes of these midcentury French painters, whose work Hassam would have seen on his first trip to Europe in 1883. In Hassam's painting, the sense of stillness and the heat of summer are coupled with an acknowledgment of the vastness of nature that dwarfs the human scale. But unlike the Realist paintings of the Barbizon School, whose content focused on the downtrodden, hand-to-mouth agricultural existence of the French peasantry, Hassam's painting of a solitary laborer driving down a dirt path celebrates the American farming tradition and the lush foliage of the countryside. Here the irregular, winding trail, partly encroached upon by patches of grass, suggest both the power of nature and the struggle of man to carve out his place within it.

Oil on canvas - Brooklyn Museum, New York

Rainy Day, Columbus Avenue, Boston (1885)

Artwork description & Analysis: One of the last paintings that Hassam completed before leaving America in 1886 for three years in France, this work depicts an intersection near the artist's apartment in Boston's South End during the titular weather. But the importance of the work lies in Hassam's ability to explore simultaneously the literal intersection of his numerous artistic interests. Hassam had taken a brief trip to Europe in 1883, including Paris, where he had seen works by the French Impressionists, and Rainy Day, Columbus Avenue also suggests Hassam's shared preoccupation with several of their themes, principally the interplay of light, weather, bodies, and surfaces, and their combined effect upon the naked eye's perception under such conditions. The wide angle of the scene also suggests Hassam's interest, like his French counterparts, in photography, and perhaps particularly stereo-views or panoramas created by multiple photographs joined together in series.

Although Hassam probably did not see Gustave Caillebotte's Paris Street, Rainy Day (1877) specifically when he had visited France, it is virtually impossible not to compare the two works. Along with identical weather conditions, the paintings' scenes use strikingly similar architectural settings, with three primary rows of buildings receding into the distance, creating a dramatic, two-point perspectival system that moves the viewer's eye horizontally across the frame. Unlike Caillebotte's work, however, which is charged with complex symbolic overtones about the fragmentation of modern French society in the aftermath of Haussmann's transformation of Paris and the traumatic Franco-Prussian War, Hassam's work remains nearly empty of political undertones. In Rainy Day, Columbus Avenue Hassam creates an implicit comparison between Boston and Paris: the former as the city that nurtured his early career, and the latter where he would transition into a mature artist. Not surprisingly, Hassam liked this work so much that he selected it to be shown at the highly-regarded Society of American Artists exhibition in New York in 1886.

Oil on canvas - Toledo Museum of Art, Ohio

Grand Prix Day [Le Jour de Grand Prix] (1887-88)

Artwork description & Analysis: This painting depicts a busy tree-lined street in Paris filled with horse-drawn carriages traveling in both directions, one of two identically-titled canvases capturing the parades that occurred in Paris to mark the beginning of the annual horse racing season. Its importance is revealed by Hassam's ability here to immediately synthesize the artistic developments then taking place in Paris. Much of the work is painted in loose brushstrokes like Impressionist works, but it is also evident that Hassam appreciated the pointillist works that Georges Seurat and Vincent van Gogh were beginning to exhibit upon the dissolution of the Impressionist circle. This nod to Seurat's work can be seen here in the sky and in the trees, where Hassam has juxtaposed small, nearly dot-like flecks of varied tones of color, thus creating more luminant regions that almost seem to glow. Much like this work represents a transitional phase in Hassam's career, between his period in Boston and later work in New York, it also serves as a documentation of the transition in avant-garde art at a precise moment, as well as the considerable artistic exchange of the era between Europe and North America, of which Hassam's work played a major part.

Oil on canvas - New Britain Museum of American Art, New Britain, Connecticut
More Childe Hassam Artwork and Analysis:
Influences and Connections
Influences on Artist
Artists, Friends, Movements
Influenced by Artist
Artists, Friends, Movements

Interactive chart with Childe Hassam's main influences, and the people and ideas that the artist influenced in turn.
View Influences Chart

Artists

Personal Contacts

| | |
| --- | --- |
| | Celia Thaxter |

Movements

Influences on Artist

Childe Hassam
Years Worked: 1878 - 1935
Influenced by Artist

| | | | | |
| --- | --- | --- | --- | --- |
| Artists | | Personal Contacts | | Movements |
If you see an error or typo, please:
tell us
Cite this page

Content compiled and written by The Art Story Contributors
Edited and revised, with Synopsis and Key Ideas added by Peter Clericuzio
" Artist Overview and Analysis". [Internet]. . TheArtStory.org
Content compiled and written by The Art Story Contributors
Edited and revised, with Synopsis and Key Ideas added by Peter Clericuzio
Available from:
First published on 22 Sep 2016. Updated and modified regularly.


[Accessed ]