Artists
Tina Modotti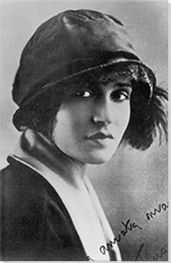 Born: August 16, 1896 - Udine, Italy
Died: 1942 - Mexico City, Mexico

"I cannot . . . solve the problem of life by losing myself in the problem of art."
Summary of Tina Modotti
Tina Modotti was a captivating personality from whom creativity effortlessly flowed. She was destined to be at the center of important historical change, not only as a photographer, but also as a sought-after model, a famous film actress, and a key political activist. It has been said that her career divides neatly in two, the first half inspired in particular by her relationship with the American photographer Edward Weston and their shared exploration of Straight Photography. The latter half of Modotti's oeuvre - apparently by contrast - is considered dominated by the artist's love for Mexico and the growth of her passionate Communist beliefs. However, on close inspection it seems more accurate to assert that all of Modotti's recurring interests - in the floral, repeated pattern, the depiction of the working classes, and of indigenous culture - were animated having left Europe and America, and bare homage to Mexico. Unlike other photographers who retreated into pure aesthetics during times of conflict, Modotti threw herself head first into contemporary politics and into real, often dangerous action; hers was a total and highly intellectually charged art that unfortunately dwindled in production as she was summoned to protest.
Key Ideas
Comparable to other iconic
Straight Photographers
of her generation, Modotti's pictures privilege sharp and highly defined close-ups, and reveal an inexhaustible interest in underlying geometrical pattern, both manmade and present in nature. In this respect, her body of work is as notable and seminal to the movement as the likes of images made by
Paul Strand
, and
Ansel Adams
, and
Edward Weston
.
Perhaps in some respects more in tune with the ideology of the Hungarian-American photographer,
Laszlo Moholy-Nagy
, Modotti was more liberal and defiant of photographic convention than some of her contemporaries working with the new medium. She often used the technique of cropping, and was more experimental in her choice of perspective than other Straight Photographers. As such her body of work is also interesting when aligned with the movement of
Surrealism
.
Modotti's recurring interest in the subject of flowers and in still-life likens her career to those of
Imogen Cunningham
,
Georgia O'Keeffe
, and
Frida Kahlo
. The flower for all of these women was a subtle assertion of female sexuality, and not only a nod to the theme of mortality and the transience and fleeting nature of life, but also paradoxically an attempt to capture life and give it duration beyond its natural cycle. Both Modotti and Kahlo successfully subverted the seemingly innocent motif of still-life as means to convey powerful and revolutionary messages.
As well as being a practicing artist, Modotti was also an active political activist, possibly even a Soviet spy (bearing witness to political crimes and an assassination). Ultimately she was deported from Mexico labeled as an enemy of the state, and in this respect, unlike her fellow artists, had in many ways sacrificed her art in the name of her political beliefs and the fight for Communism.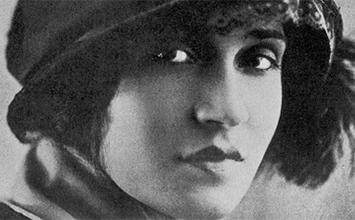 Tina Modotti was born Assunta Adelaide Luigia Modotti Mondini, and given the nickname Assuntina, a diminutive of her mother's name, later shortened to Tina. She was the third of six children born to Giuseppe Modotti and Assunta Mondini, and the family lived in the Northeastern Italian town of Udine, at the base of the Austrian Alps. Although the historic town of Udine was prosperous and in general politically conservative, the working classes tended toward Socialism and political activism. Modotti's father was among those influenced by such activism; he often attended demonstrations and meetings, including the May Day demonstrations that took place every year. The family moved, and Modotti spent much of her childhood living in Austria, where her father worked as a mason, and her mother stayed home with the children working as a seamstress to generate additional income. In 1905, the family returned to Udine and Modotti left school to work in a textile factory. Although she seems to have had little exposure to art as a child, her uncle Pietro Modotti did run a successful photography studio (and school), where she may have worked as a teenager.
Important Art by Tina Modotti

The below artworks are the most important by Tina Modotti - that both overview the major creative periods, and highlight the greatest achievements by the artist.

Roses, Mexico (1924)

Artwork description & Analysis: Roses, Mexico, is an extreme close-up of four roses. Cropped to fill the frame from edge to edge, this is not a traditional still-life photograph of roses arranged in a vase. Here, the roses lay prone and slightly wilted, just beyond their prime, thus reflecting the passage of time and the ephemerality of delicate blooms. Much like a traditional vanitas still life that asked the viewer to contemplate mortality by reflecting on the fleeting nature of material objects, Roses brings this subject to modern photography. As photography historian Carol Armstrong notes, Roses "calls on the line of figural abstraction identified, not with [Alfred] Stieglitz, [Paul] Strand and the 'straight' photograph, but with Georgia O'Keeffe and her blown-up genital flowers, which like [Edward] Weston's single-object photographs reduced the flora still-life that had been the traditional purview of the female painter to one (or two or four) item(s), expanded to fill the entire field of the image."

The theme of the still-life preoccupied Modotti throughout much of her brief photography career. A relative newcomer to photography, she made use of the still-life photograph as a means to work through various formal issues including composition, framing, light, pattern, and tone. At this time, she was working with a large-format camera, which was unwieldy, not easy to transport, and forced the photographer to carefully compose the image, rather than creating images on the move with a handheld camera. The still-life, which was easy to set up and did not alter, was the perfect vehicle for mastering the myriad technical complexities of a photograph.

Not only holding a mirror to the similar close-up flower paintings by Georgia O'Keeffe, Modotti's flower paintings also bare interesting comparison to the oeuvre of Imogen Cunningham, a fellow photographer with shared interest in both the subject of botany and in hands (as seen in Modotti's later puppeteer series).

Palladium print - The Museum of Modern Art

Telephone Wires, Mexico (c. 1925)

Artwork description & Analysis: In this 1925 photograph of isolated telephone wires, Modotti shifts the perspective, removing any reference to the ground that holds the telephone poles in place. Instead, the carefully composed image focuses on the angles and patterns produced by the wires and clouds, to create a work that mingles modernism and social concerns. During this period Mexico was undergoing increased modernization and industrialization, which Modotti symbolizes in her photograph of telephone wires. Modotti thus presents an optimistic view of Mexico's modernization and the promise of instant communication brought about by the installation of telephone systems that seemed to open up Mexico to the rest of the world.

Lauded by the Mexican avant-garde group, Estridentistas, who aligned their work with the Mexican Revolution and sought to modernize Mexico, Modotti's photograph was included in their journal Horizonte because it represented dynamism, technology, and progress. The photograph's framing and its use of oblique angles and unusual perspective, brought it into alignment with other modernist painters and photographers, including Paul Strand, Charles Sheeler, and Charles Demuth, but also with European avant-garde photographers like László Moholy-Nagy, Man Ray, and Albert Renger-Patzsch. Although the tendency to focus on the subject/object was characteristic of her former mentor Edward Weston's work, Diego Rivera praised Modotti's work as "more abstract, more ethereal, and even more intellectual" than Weston's.

Palladium print - The Museum of Modern Art

Workers Parade (1926)

Artwork description & Analysis: A closely cropped image of a sea of sombreros, Workers Parade, much like her earlier photograph Roses, focuses in on the subject by eliminating all extraneous information. The politically charged subject matter, along with the unusual camera angle, attention to light and dark, and the texture and pattern produced by photographing the scene from above recalls the slightly later work of Alexander Rodchenko, and in particular, his Gathering for a Demonstration (1928). The ubiquitous sombrero would have been immediately recognizable to the Mexican viewer for its connection to the campesinos and trabajadores, the Mexican workers, who were gathered for the annual May Day parade in Mexico City. May Day, traditionally celebrated on the first of May, commemorates International Workers' Day, often with large parades and gatherings as a demonstration of solidarity among workers. This was a calendar event that Modotti had been familiar with since childhood due to her father's involvement in these very same parades.

Among Modotti's earliest politically motivated photographs, Workers Parade brings together her formal concerns with her interest in using art to express her political beliefs and her desire to make her photography socially relevant. On a symbolic level, as noted by Sarah Lowe, Worker's Parade conveys the power of unity by "suggesting that the source of power to make political changes lies with the peasants." This photograph signaled a turning point in Modotti's work toward a new modern form of photography that addressed contemporary issues and events in order to instigate and effect change.

Gelatin silver print - The Museum of Modern Art
More Tina Modotti Artwork and Analysis:
Influences and Connections
Influences on Artist
Artists, Friends, Movements
Influenced by Artist
Artists, Friends, Movements

Interactive chart with Tina Modotti's main influences, and the people and ideas that the artist influenced in turn.
View Influences Chart

| | | | | |
| --- | --- | --- | --- | --- |
| Artists | | Personal Contacts | | Movements |

Influences on Artist

Tina Modotti
Years Worked: 1923 - 1930
Influenced by Artist

| | | | | |
| --- | --- | --- | --- | --- |
| Artists | | Personal Contacts | | Movements |
If you see an error or typo, please:
tell us
Cite this page

Content compiled and written by Karen Barber
Edited and revised, with Synopsis and Key Ideas added by Rebecca Baillie
" Artist Overview and Analysis". [Internet]. . TheArtStory.org
Content compiled and written by Karen Barber
Edited and revised, with Synopsis and Key Ideas added by Rebecca Baillie
Available from:
First published on 12 Nov 2018. Updated and modified regularly.


[Accessed ]