Artists
Leonor Fini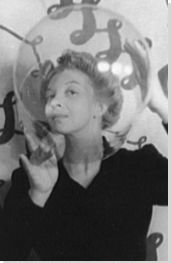 Born: August 30, 1907 - Buenos Aires, Argentina
Died: January 18, 1996 - Paris, France

"I have always loved, and lived, my own theatre."

Summary of Leonor Fini
Throughout a long career, the canvases of Leonor Fini's journey between the pains of despair and the serenity of enlightenment but remain polished with eroticism at every extreme. Driven by passion, liberty, and sexual experimentation, she was arguably the most rebellious, theatrical, and autonomous of the female Surrealists. Described by many to be particularly tall and commanding in physical appearance with very unusual cat-like eyes, in many ways she was more creaturely than human. Taking the artistic interest in the motif of an animal/human hybrid somewhat literally, she stood as an embodiment of feline transformation and metamorphosis, and came to accurately identify herself with the ancient figure of a Sphinx. Deadly in Greek tradition, whilst benevolent but ferocious in Egyptian stories, the appearance of the mythical creature is symbolic of Fini's love for artifice and nature combined.

Although she exhibited with the Surrealists, Fini's staunch individuality was often at odds with the collective ideas of the group. Unlike many women who became central to the movement, she was not impressed by the charisma and intellectualism of male members. Already well read and versed in psychoanalytic theory, Fini refused to be submissive or subordinate to men. She formed an intense friendship with Leonora Carrington in the summer before the onset of World War II, but in general did not draw upon the support of other women in the way that Carrington and Remedios Varo did. She lived more flamboyantly and communally and always with two men, one as her lover and one as her friend.
Key Ideas
Brought up in Italy, Fini studied
Renaissance
and
Mannerist
painting, and while rejecting earlier artistic qualities of balance, proportion, and ideal beauty she instead exaggerated and elongated limbs and facial features in her portraits and conjured the same unsettling instability and tension encountered in 16
th
century Mannerist canvases. It is remarkable that Fini had no formal artistic training, as she was technically impeccably skilled.
The artist lived a life directed by unrestrained passion and desire. Unlike Dorothea Tanning who explored early childhood encounters with sensuality, Fini explored uncensored adult eroticism. She enjoyed fantasy and role-play; she would often wear masks, dress in men's clothes (including priestly robes), and deliberately tear her own outfits. Along with the Czech Surrealist, Toyen, Fini was the only woman to directly illustrate some of the 19
th
century sexual revolutionary and pornographer's writing, that of the
Marquis de Sade
.
Fini was utterly fascinated by death and since the age of thirteen had regularly visited the morgue in Trieste. She spent hours studying and drawing both adorned and untouched corpses. Whilst the likes of
Georges Bataille
and
André Masson
theorized such underbelly interests and formally defined them as 'base materialism', the importance of living surrounded by one's own mortality was for Fini, as well as for
Frida Kahlo
, Carrington, and Remedios Varo, simply an individual reality which they had all reached intuitively.
Fini mourns 'infertility' in her paintings, a theme shared with Kahlo and the two have motifs in common. However, for Fini, the decision not to have children was absolute and voluntary (by hysterectomy) and as such she does not explore notions of 'maternity' in the same way as Kahlo, Carrington, Varo, and
Dorothea Tanning
. She does though reveal an eternal love for cats (a lot like Tanning's connection to small dogs), exposing her need for attachment, and at the same time making a statement on the combined civilized and beastly nature of human beings.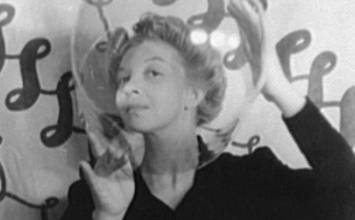 Leonor Fini, originally called Eleonora, was born in Buenos Aires in 1907. Her Italian mother Malvina, married Herminio Fini, a wealthy businessman also of Italian background, and together they moved to Argentina. The two separated when Fini was just a baby and Malvina quickly moved back home to Trieste in Italy with her daughter. Raised entirely by her independent mother, Fini experienced a free and bohemian lifestyle from an early age. The separation between the artist's parents was not simple; Herminio fought for the custody of Fini and once tried to kidnap her. As result, Fini spent some of her childhood years disguised as a boy, likely initiating a lifelong fascination for dressing up.
Important Art by Leonor Fini

The below artworks are the most important by Leonor Fini - that both overview the major creative periods, and highlight the greatest achievements by the artist.


Artwork Images

Self Portrait with Scorpion (1938)

Artwork description & Analysis: In this relatively early self-portrait, Fini confronts the viewer with a direct stare and reveals a hidden scorpion beneath a single glove (a commonly recurring motif within the Surrealist oeuvre). Although on first glance the woman appears feminine and attractive, a closer look uncovers the predatory and venomous creature as well as tears in an apparently traditional blouse and skirt. Fini was known to intentionally rip outfits with the suggestion of clothes torn in passion, especially when a trace of red is revealed beneath the folds of fabric. Perhaps this is a vaginal metaphor, an invitation to pleasure with a simultaneous warning. The blouse could also make reference to the structure of the scorpion's armored abdomen and as such introduces the theme of metamorphosis from human to animal to which Fini will often return.

As a self-taught artist, Fini's works reflect influence from multiple sources. She was inspired by the Romantics, by the Pre-Raphaelites, by the Flemish masters including Hieronymus Bosch, by elongation techniques of the Italian Mannerists, by Symbolist painters, and by the Surrealist environment she found herself an integral part of. She also found inspiration in her dreams. The scorpion here could be interpreted as a symbol of feminine power, in a similar way that the spider is used by Louise Bourgeois decades later. The art historian, Mathew Gale claims that "Fini located herself within a specifically female hermetic tradition of an originary and powerful Great Goddess", emphasizing the qualities of the powerful female in which her work is rooted."

Sexually charged and encouraging the viewer to look beyond the surface to the layers beneath, the painting bears parallel to many other Surrealist works. With traces of a bodily interior exposed from above one is reminded of Fur Teacup by Meret Oppenheim (1936), and equally of Oppenheim's work in general, often re-imagining the glove and imbuing her objects with a creaturely life. Dorothea Tanning also used the folds of fabric to hint towards sexual experience, and this idea has since been taken further in the psychologically challenging fabric sculptures of Louise Bourgeois.

Oil on canvas - Private Collection


Artwork Images

The Alcove: An Interior With Three Women (1939)

Artwork description & Analysis: The work, also known as La Chambre Noir, or The Dark Chamber, features a low-lit interior with three women, one foregrounded and two sitting behind on the bed. The woman in battle dress at the front is a direct portrait of Leonora Carrington, made whilst the two artists spent the summer together in 1939. The work shows the intense admiration that Fini felt for her friend, as Carrington is depicted as a 'woman warrior', a tower of strength like a modern day Joan of Arc. Carrington even holds Fini's signature striped black and white fabric that she wore often, thus revealing the immense degree to which she identified with her fellow artist. The two figures on the bed may both be reminiscent of Fini herself looking over at Carrington in wonder. The overall composition, drapery, and pulled curtains all hark back to much earlier paintings and to settings of the Old Masters. The work captures a moment experienced by Fini of productive female companionship. This however, was not typical for the artist, and unfortunately after the war she did not spend much time with Carrington (a much altering time for all and one that saw Carrington's permanent emigration to Mexico), preferring in general the company of men.

Here though, during the last months of calm before the onset of wartime chaos, the power of three women is considered. Whether the three fates, the three graces, or three sorceresses, all of these trios embark on important ritual tasks that have the potential to decide on matters of life and death. Carrington and Varo (who Fini did not know but shared artistic affinity with) were particularly interested in magic, ritual, and the occult, and there is certainly a sense that some kind of ancestral powers are here being summoned. Deeply inspired by Carl Jung and his mythological connections and use of symbolic universal archetypes, many of Carrington and Varo's own portraits present women on quests, or journeys, traveling to realms where they may find hidden and enlightening treasure. Fini seems to suggest here, in her rendering of the eternal shared language of the feminine, by giving her friend an armored breastplate that any great secrets of life, if they are to be found must be fought for.

Oil on canvas - Collection of the Edward James Foundation, Sussex, UK


Artwork Images

The Shepherdess of the Sphinx (1941)

Artwork description & Analysis: The painting depicts a powerful tribal like woman, with her commanding staff, looking over a group of smaller sphinxes. They all abide a dramatic, arid, and deserted landscape. There is a somber feeling of destruction that is further emphasized by the broken egg-shells, bones, and other remains that are scattered on the ground. This kind of vast, desolate and unearthly landscape is one explored by other female Surrealists, including Kay Sage, Toyen, and also to a degree, by Remedios Varo.

The image of the sphinx (a mythological hybrid that is half lion half female sometimes with bird wings) is a recurring motif for Fini, which appeared in many of her paintings during the 1940s. So inspired by the fictional creature, in 1951 she traveled to Egypt to see some original examples carved in colossal stones. Sphinxes had already been revived since ancient times, depicted in the 19th-century symbolist works of the Belgian painter, Fernand Knopff. The sphinx has long since been associated with death and destruction, but also with notions of transformation. For the renowned art historian Whitney Chadwick, with the suggestion that everyone has the power to be active in the formation of their own identity and to re-invent themselves, "by assuming the form of the sphinx Fini exercises all the powers that have been lost to contemporary woman".

Upon noticing that the protective armor worn by the guardian 'shepherdess' could be a chastity belt, other interpretations presented with regards to this image are associated with sensuality and sexuality. Looking at the painting along these lines, art historian Rachel Grew adds that: "While this might imply virginity, the way in which she straddles her shepherd's crook is highly suggestive, creating a connection not only to the witch's broom... but also to sexual autonomy". Desire and bodily vigour is portrayed to be an at once destructive and protective force with the roles and intentions of the women depicted remaining elusive and ambiguous.

Oil on canvas - Peggy Guggenheim Collection, Venice, Italy
More Leonor Fini Artwork and Analysis:
Influences and Connections
Influences on Artist
Artists, Friends, Movements
Influenced by Artist
Artists, Friends, Movements

Interactive chart with Leonor Fini's main influences, and the people and ideas that the artist influenced in turn.
View Influences Chart

Artists

| | |
| --- | --- |
| | Carlos Carrà |
| | Giorgio de Chirico |
| | Meret Oppenheim |
| | Jean Cocteau |
| | Salvador Dalí |

Personal Contacts

| | |
| --- | --- |
| | Max Ernst |
| | Leonora Carrington |
| | Balthus |
| | Dora Maar |
| | Eddy Brofferio |

Movements

Influences on Artist

Leonor Fini
Years Worked: 1972 - 1996
Influenced by Artist

| | | | | |
| --- | --- | --- | --- | --- |
| Artists | | Personal Contacts | | Movements |
If you see an error or typo, please:
tell us
Cite this page

Content compiled and written by Sarah Frances Dias
Edited and revised, with Synopsis and Key Ideas added by Dr Rebecca Baillie
" Artist Overview and Analysis". [Internet]. . TheArtStory.org
Content compiled and written by Sarah Frances Dias
Edited and revised, with Synopsis and Key Ideas added by Dr Rebecca Baillie
Available from:
First published on 26 Dec 2017. Updated and modified regularly.


[Accessed ]