Artists
Remedios Varo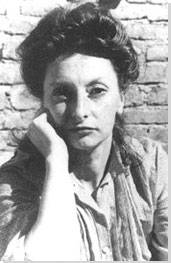 Born: December 16, 1908 - Anglès, Girona, Spain
Died: October 8, 1963 - Mexico City, Mexico

"I do not wish to talk about myself because I hold very deeply the belief that what is important is the work, not the person."

Summary of Remedios Varo
The visionary lone painter, Remedios Varo, typically portrays herself sitting at a desk engaged in magical work, embarking on a journey to unlock true meaning, or dissolving completely into the environment that surrounds her. As a well-studied alchemist, seeker, and naturalist, however dreamlike her imagery may appear, it is in fact reality observed more clearly; Varo painted deep, intuitive, and multi-sensory pictures in hope to inspire learning and promote better individual balance in an interconnected universe. Interestingly, and understandably, it was not until the last 13 years of the artist's life, having fled war-torn Europe, found home in Mexico (amongst a community of other displaced Surrealists) and finally become free of ongoing financial constraints that she was able to paint prolifically. Every work completed by Varo demonstrates profound technical skill and an extraordinary insight into human nature.
Key Ideas
Although an avid believer in the inter-relatedness of all things and people, including the inter-weave of sound, light and image, her paintings are not typically populated by multiple figures. Instead we are usually introduced to an isolated creaturely hybrid thinker/artist character, reminiscent of St. Jerome in his study or a wise crone wandering in search of new discoveries.
Varo repeatedly situates mystical machines in her pictures. Whilst in most cases such industrial looking devices function to make products that can be touched, held, and made use of, Varo's structures are here to process that which we cannot see. As our emotions and psychological lives are intangible and invisible, it is useful to investigate them within some kind of known parameters, i.e. within a previously encountered system. Therefore, such apparatus, however made strange, help us to communicate what would be otherwise unspeakable ideas.
Varo surrounded herself by a group of likeminded women (with
Leonora Carrington
and
Kati Horna
in particular) also interested in alchemy and the occult. Together, these women - sometimes referred to as 'the three witches' - placed full attention on achieving a higher spiritual life, recognizing that such divine power would then in turn be transmuted more widely throughout the cosmos. They were sensitive to a shared ancestral/evolutionary feminine consciousness and felt determined to free women from repressive patriarchal hierarchies, often illustrated in the work of Varo by repeated motifs of the cage and the tower. Imbued at once with a natural and cultivated understanding of opposites and union, Varo and her friends transformed relatively small and domestic experiences into colossal and universal ideas.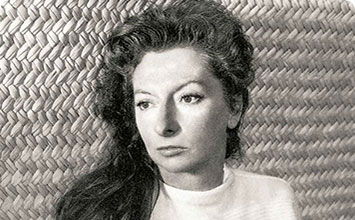 Remedios Varo was born María de los Remedios Alicia Rodriga Varo y Uranga in the small town of Anglès, located in the province of Girona in Spain. Her father, Rodrigo Varo y Zajalvo, was a hydraulic engineer, whose work often necessitated moving his family throughout Spain and North Africa. This disruption had a profound effect on Varo, and, as if longing for 'home', she kept a childhood postcard of Anglès all her life.
Important Art by Remedios Varo

The below artworks are the most important by Remedios Varo - that both overview the major creative periods, and highlight the greatest achievements by the artist.


Artwork Images

The Souls of the Mountain (1938)

Artwork description & Analysis: In this early work, mountains, depicted as slender volcanic tubes rise from light-imbued mist. Heads of women resembling the artist emerge from the tallest two. A translucent veil billows between them and a windswept plume issuing from several others suggest active forces deep beneath these chimney tops. Cloaked by the craggy rocks, one of the women conjures her powers, whilst the other entombed summons an other-worldly slumber.

Using fumage, a Surrealist technique developed by Wolfgang Paalen that employs a candle flame to leave sooty marks across a freshly painted canvas, the work reveals that - as a way to limit one's own control and thus best represent the subconscious - Varo enjoyed experimental methods like many other figures connected to the Surrealist group. Yet it is less a question of being 'Surrealist' or of a particular technique that is important. By adding traces of candlelight, Varo herself is ever the more present. With assured mythical and universalist beliefs, the microcosm of an individual becomes the macrocosm of the earth, and Varo feels intuitively connected to the energy of the candlelight and the mountain. Having painted over the fumage to create clouds swirling around and linking the stony peaks, she reveals the inherent connectivity of all. True to the alchemical union of opposites, one thing cannot exist without its other: darkness without light, solidity without the gaseous, or Varo's strength without her fragility. The artist stands colossal, wide awake and affirmed of her own artistic abilities but equally dormant and vulnerable at this time, overshadowed by a band of more established male artists and troubled by financial pressure and political unrest.

Oil on plywood - Private collection


Artwork Images

Insomnia (1947)

Artwork description & Analysis: In a bare room, two large crystalline-winged moths flutter between a dark interior window and a burning candle. Pairs of floating eyes stare out at the viewer from doorways to more empty rooms.

Recalling the work of René Magritte in its flatness, the painting is not typical of Varo's all-immersive and multi-layered style that she develops further throughout the 1950s. It thus makes sense that the painting was commissioned by the Bayer pharmaceutical company to advertise sleeping pills; an illustration designed to evoke the text copy description of how insomnia can feel: "Sensing that someone has been observing them, they open tired eyelids, searching the nocturnal shadows! Undefined anxiety fills the solitude of dark, dry rooms, devoid of warmth." Interestingly, Bayer became a longstanding client for Varo and her principal source of income at the time, resulting in 30 illustrations that allowed further exploration of an already active interest in science.

Like the forerunner of Surrealism, Giorgio de Chirico, Varo uses a collage-type method of painting, with focus placed on converging lines, geometric shapes, architectural forms and on sharply receding perspective. The lack of daylight emphasizes the sense of being trapped in a seemingly endless and empty space of night, whilst the staring eyes combine a longing for rest with the weight of personal unease felt here most acutely because of the lack of sleep. The nocturnal insects fly towards the single light source, delicate but bringing hopeful lightness and the message of transformation.

Gouache on Bristol board - Private collection


Artwork Images

Allegory of Winter (1948)

Artwork description & Analysis: In Varo's allegory, winter appears threatening and frozen, holding captive the promise of new growth amid a parched high desert landscape. Skeletal remains of cacti-esque organic matter dominate the composition and thorny stalks, a mass of snowflakes and a muted gray sky reinforce the sense of lifelessness. White, web-like marks suggest a network of cocoons or pods containing living plants, birds, and insects.

The pods look forward to the motif of the cage and other small-enclosed spaces that the artist will continue to explore. Painted while the artist was exploring the Venezuelan jungle with a French scientific expedition, Allegory of Winter incorporates Varo's work as a naturalist with her Surrealism-inspired use of the symbolic, often contradictory language of dreams. Recalling both A Morning in March (1920) by the Norwegian painter, Nikolai Astrup, as well as Tree Anatomy (1942) by Ithell Colquhoun, it is crucial to recognize that Varo's 'trees' share much in common with humans. Sadly, these organic totems are, at this point, on the defensive and in pain.

Gouache on paper - Museo Nacional Centro de Arte Reina Sofia, Madrid, Spain
More Remedios Varo Artwork and Analysis:
Influences and Connections
Influences on Artist
Artists, Friends, Movements
Influenced by Artist
Artists, Friends, Movements

Interactive chart with Remedios Varo's main influences, and the people and ideas that the artist influenced in turn.
View Influences Chart

| | | | | |
| --- | --- | --- | --- | --- |
| Artists | | Personal Contacts | | Movements |

Influences on Artist

Remedios Varo
Years Worked: 1924 - 1963
Influenced by Artist

Artists

| | |
| --- | --- |
| | Octavio Paz |
| | Thomas Pynchon |
| | Rosario Castellanos |

Personal Contacts

Movements
If you see an error or typo, please:
tell us
Cite this page

Content compiled and written by Rebecca Seiferle
Edited and revised, with Synopsis and Key Ideas added by Rebecca Baillie
" Artist Overview and Analysis". [Internet]. . TheArtStory.org
Content compiled and written by Rebecca Seiferle
Edited and revised, with Synopsis and Key Ideas added by Rebecca Baillie
Available from:
First published on 20 Sep 2017. Updated and modified regularly.


[Accessed ]