Artists
Andreas Gursky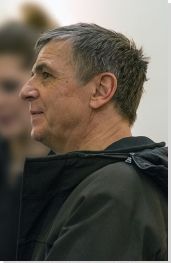 Born: January 15, 1955 - Leipzig, Germany

"It is not pure photography, what I do."

Summary of Andreas Gursky
Emerging from the renowned Düsseldorf School in the late 1980s, Andreas Gursky was pivotal in creating a new standard in contemporary photography, a pioneer who furthered the possibilities of scale and ambition. His massive, clinical, and distanced surveys of public spaces, landscapes, and structures contributed to a new art of picture taking in contrast to the Minimalism and Conceptualism of the 1970s. His use of large-format cameras, scanning, digital manipulation, the layering of multiple pictures to create a cohesive image, and technical postproduction positioned him as an important bridge between the old ways of shooting and presenting pictures and the current highly, technologically advanced era of photography.
Key Ideas
Vast, large places are of particular interest to the artist such as stock exchanges, concert arenas, big box stores, sweeping landscapes, racetracks, and other locations, which engage in regular relationship with the human population. His monumental photographs of these environments have the effect of fully encompassing the viewer within the spaces they aim to portray.
Gursky's photographs are often shot from an elevated, aerial perspective. This allows viewers to experience a scene in its full proportions, which would ordinarily be impossible, allowing for a visual comprehension of scope, center, and periphery.
A straightforward and distanced observation informs Gursky's work, leaving us to formulate our own opinions and responses. We recognize his world as our own rather than one adorned with any personal messaging.
Aggregate space performs largely in the success of each work. Even though his subject matter exists prior to his encounter with it, he manages to masterfully reveal its inherently harmonious sum of individual parts where objects become elements such as strata, line, geometry, color, and form.
Gursky's photographs create a dialogue between painting and representation in that they go beyond merely capturing a piece of visual documentation - they in fact oftentimes conjure the look and feel borrowed from such movements as
Abstract Expressionism
and
Minimalism
.
Although Gursky refrains from social or political commentary with his work, he admits an overriding interest in capturing the existence of globalism and consumerism as it relates to modern man.
Andreas Gursky was born in Leipzig, East Germany on January 15, 1955. An only child, he later moved with his family to the West German city of Essen followed by Düsseldorf in 1957. Both his grandfather and father were successful commercial photographers and although he at first "denied anything to do with photography," he changed his mind in high school. He dabbled in a few commercial shoots before moving in a more artistic direction.
Important Art by Andreas Gursky

The below artworks are the most important by Andreas Gursky - that both overview the major creative periods, and highlight the greatest achievements by the artist.


Artwork Images

Gas Cooker (1980)

Artwork description & Analysis: Gas Cooker (1980) is Andreas Gursky's first published photograph, depicting the lit gas stove in his Düsseldorf home. His consideration of form and texture in the piece reflects the burgeoning development of his signature style. Like his landscapes and interiors, he approaches the stove from a high vantage point in a way that is slightly unusual for the viewer. His choice of even light and a deadpan presentation of the scene emphasizes the milky fields of monotone color and causes the viewer to notice the geometry of squares, rectangles, and line within an otherwise ordinary, everyday object made further delightful by the circular rings of fire.

This image exists both in contrast and preface to the later work he is most known for. Gursky's mature work deals with globalism and capitalism in contemporary society, but this image was conceived from individual experience while cooking when "after a while I saw it as an image." Although this early photograph was not made upon complete impulse, his later work relies on extensive research and logistical planning. Gas Cooker is also one of his most 'simple' images as is a still life with a single object-as-subject instead of a scene exploring how the chosen subject interacts within its environment.

Although Gas Cooker may appear different than Gursky's later works, upon examination one can see a consistency of approach that weaves through his oeuvre.

Chromogenic Print - Private Collection


Artwork Images

May Day II (1998)

Artwork description & Analysis: May Day II depicts a crowd of people during a concert at Mayday, the oldest and most renowned German electronic music festival that draws thousands of people every year. This image is one in a series of photographs taken at various May Day festivals the Gursky created from 1997 through 2006. Gursky has a great passion for the electronic music scene.

Upon first glimpse, the piece resembles a painting as dots of yellow light swarm in from the right of the frame to illuminate a strip of the crowd while the rest of the frame remains in pitch-black darkness. By shooting from his signature perspective of elevated distance, Gursky first delivers to the viewer a scene of color juxtaposition and distinct fields of color, withholding actual clues about the true reality of the event and its participants. Instead, in true character, he fosters an (initially) aesthetic and atmospheric experience, which similarly mirrors the act of observing a concert. It provides the experience of an international community in a public space and showcases Gursky's love of capturing vast spaces frequented by the human species.

Chromogenic Print - Private Collection


Artwork Images

99 Cent (1999)

Artwork description & Analysis: This enormous photograph (over 6 by 11 feet) depicts the interior of a Ninety-Nine Cent store in Los Angeles. The shelves are filled with stacks of mass produced and widely recognizable branded items such as Kit Kat Bars, Reese's Peanut Butter Cups, and Colgate toothpaste, all sold below their normal market value. Six white poles in the middle and background break up the sea of color, moving the viewer's eye throughout the space and calling attention to the ".99 Cent Only" posters on the walls. As the assault of color dissipates the viewer discovers the presence of shoppers walking among the aisles.

Gursky says 99 Cent was inspired by an experience on his first trip to Los Angeles when he became "directly fascinated" by a dollar store window while driving at night. The result is this immersive and beautifully composed scene, in which he lends a critical eye to issues of manufacture and exchange. His manipulation of perspective combined with the reflection of merchandise in the mirrored ceiling radiates a sense of claustrophobia and forces the viewer to confront the details of an overwhelming number of brightly packaged objects. The piece is a great example of Gursky's use of parts to inform a whole, relying on the exorbitant amount of boxed products to inform the overall composition through both color and form and compiling a message about human beings' role in consumerism.

In 2001, he made a related piece, 99 Cent II, Diptych of two Ninety-Nine Cent store interiors. The layout and color palate of these interiors are so similar to each other and to those of this photograph that they could be the same store. Although the products displayed on shelves are different, the repetition of the architecture, color and signs shows little change in terms of the mass production and marketing in the years between the two.

Chromogenic Print - San Francisco Museum of Modern Art
More Andreas Gursky Artwork and Analysis:
Influences and Connections
Influences on Artist
Artists, Friends, Movements
Influenced by Artist
Artists, Friends, Movements

Interactive chart with Andreas Gursky's main influences, and the people and ideas that the artist influenced in turn.
View Influences Chart


Influences on Artist

Andreas Gursky
Years Worked: 1978 - Present
Influenced by Artist

Artists

| | |
| --- | --- |
| | Candida Höfer |
| | Edward Burtynsky |

Personal Contacts

Movements
If you see an error or typo, please:
tell us
Cite this page

Content compiled and written by Hope Guzzo
Edited and revised, with Synopsis and Key Ideas added by Kimberly Nichols
" Artist Overview and Analysis". [Internet]. . TheArtStory.org
Content compiled and written by Hope Guzzo
Edited and revised, with Synopsis and Key Ideas added by Kimberly Nichols
Available from:
First published on 21 Sep 2017. Updated and modified regularly.


[Accessed ]