Artists
Thomas Struth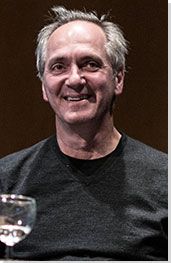 Born: 11th October 1954 - Geldern, Germany

" For me, making a photograph is mostly an intellectual process of understanding people or cities and their historical and phenomenogical connections. At that point the photo is almost made, and all that remains is the mechanical process"
Summary of Thomas Struth
Struth was a fundamental player in elevating the status of photography to new heights of artistic credibility. Known for his observational approach and the sheer scale of his images, which are on a par with historical painting, he uses his camera as a means of presenting his audience with what he has called "the undeniable truth of what is in front of you." As one of the members of the Düsseldorf School of Photography he helped promote the ideals of Bernd and Hilla Becher which finds the art of photography in the German documentary traditions of August Sander and the Neue Sachlichkeit (New Objectivity) movement.

Best known for his photographic "series" - street, audience, family portrait and new technologies series - Struth has a strong nomadic streak and has travelled to the corners of the world for his art. More recently, Struth has undertaken expeditions into densely overgrown tropical forests and jungles to produce images he has called (perhaps with a little irony) "new pictures from paradise."
Key Ideas
Struth valued the camera as means of communication which has a "clear language" all of its own. He was a forceful champion of the objective properties of the photograph and has stated that he is "interested in photographs that have no personal signature." However, Struth has remained mindful of the fact that the images the photographer produces must reflect his or her own attitudes towards their subject. In that respect, his huge, minutely detailed, tableaus are always recognizably "Struth photographs".
Struth approaches his photography as an "intellectual process" in which he uses his camera to arrive at a better "understanding of people or cities and their historical and phenomenological connections." His photographs therefore straddle the domains of art and artefact through the way in which he asks us to reflect on the routines of modern living.
Struth acknowledges that he has the instincts of a restless wanderer. Indeed, he believes that the photographic artist "sharpens their own existence" by learning of foreign and distant cultures and of the similarities and differences between alien cultures. In its truly global reach, his oeuvre fully reflects his "global-village" worldview. On a personal level, however, he has stated that the
Renaissance
-like scale of his compositions, and their stillness and clarity of detail, represents his attempts to silence his inner wanderer. Speaking of his
Jungle
series, for instance, he has stated that his aim was to produce images that audiences could look at "forever and never see everything" and he was personally gratified to observe how audiences looked "very quietly into the
Jungle
pictures [and in an even] deeper silence than usual."
More recently, Struth has turned his lens away from human interaction and jungles onto technological, manmade structures. Following in the spirit of the Bechers, Struth became captivated by monumental buildings and structures that served only practical ends and which had hitherto evaded the notice of the art world. However, Struth went further than his famous mentors by taking his camera into the interiors of these buildings, producing images of cluttered technological "junk" that are as knotty and dense as his jungle foliage series. Struth called these images "landscapes of the modern brain" and his aim was to produce, not so much still images, but rather photographs that were "somehow exhausting" to look at.

Thomas Struth was born in 1954 in Geldern, North Rhine Westphalia, Germany, to Gisela Struth, a ceramic potter, and Heinrich Struth, a bank director. Thomas was born nine years after WWII (his father was a soldier in the Wehrmacht and was shot twice) and he claims that growing up in post war Germany had a profound effect on his worldview. This was especially true when working on his family portraits series which, he claimed, always prompted him think about what his own family did under fascism.
Important Art by Thomas Struth

The below artworks are the most important by Thomas Struth - that both overview the major creative periods, and highlight the greatest achievements by the artist.


Artwork Images

58th Street at 7th Avenue, Midtown, New York (1978)

Artwork description & Analysis: 58th Street at 7th Avenue depicts a near empty street lined with skyscrapers that dwarf everything falling within their vast shadows. Photographed from a central perspective - somewhere between a vehicle and pedestrian perspective - Struth's photograph displays little by way of intrusive stylistic application in favor of a stronger focus on documentation. There is an impersonal, truthful, quality to an image process that Struth has called "monumental emotional packages of overwhelming experience." The sense of detached isolation within an area usually brimming with civilisation recalls the stillness of Struth's mentors Bernd and Hilla Becher, and even the early twentieth century photographs of legendary Parisian street photographer Eugène Atget.

The foreshortened road draws the eye to the lower portion of the photograph, and in so doing, the height of the buildings are emphasized. Struth then presents a different perspective on a Manhattan typically perceived of at street level as an energetic metropolis. The building at the centre-left of the frame, to so-called "lollipop" building, meanwhile, caused considerable debate amongst architects and city officials who could not agree on whether Edward Durell Stone's 1964 design amounted to a pastiche or a bone-fide Modernist statement. The image might thus prompt the city-dweller to (re)consider the aesthetic value of Durell Stone's structure and/or their own humble position within the scale of their towering manmade environment.

Silver gelatin print


Artwork Images

National Gallery 1 (1989)

Artwork description & Analysis: Following his early black-and-white series of empty cityscapes, Struth began work on arguably his best-known cycle: the Museum Photographs in 1980. His Museum series featured large color photographs of people observing art in museum, gallery, and church spaces. Although his compositions comply with spontaneous snapshot aesthetic, Struth's approach was studied and designed to ensure that he captured the most appropriate art space dynamic. National Gallery 1 depicts visitors standing before three paintings, with Cima's Incredulity of St. Thomas (1502-4) occupying centre frame. Seen in various states of contemplation, Struth's photograph highlights the interaction (or lack of) between visitor and painting in the hallowed gallery context. The museum experience became a frequent focus for Struth who was disturbed by the visitors' habit of taking "pictures-of-pictures" with their phones.

By photographing the viewers and paintings into one composition, Incredulity of St. Thomas extends itself further into the gallery space. The richly-colored mantels worn by the various painted figures appear to echo the garments worn by the viewers, and the individual modes of admiration reflect into the visitor's own personal form of engagement with the work; one woman even leans towards the painting, suitably mirroring the left figure in the painting who leans and gestures towards Christ. In creating such an extension, Struth transfers the art status of the displayed paintings to the photograph and introduces the public as a prominent component of the art, resulting in a contemplative mode of engagement with the gallery experience. Paintings are usually only observed from a first-person perspective; with little-to-no awareness of those who surround us - the painting and only the painting is the focus. The role of the spectator is placed centrally as the subject of the painting, this allows her or him to explore the concept of viewing in itself, creating a multi-layered experience.

Chromogenic print - Tate Modern, London, England


Artwork Images

San Zaccaria (1995)

Artwork description & Analysis: Between 1995 and 2003, Struth extended his large-format, color-saturated, Museum series when he began photographing places of worship, including San Zaccaria, a church in Venice. Struth used his camera, which he described as "a tool of scientific origin for psychological exploration," to observe religious groups and their place and habits of worship. As with Cima's Incredulity of St. Thomas, an artwork - Giovanni Bellini's altarpiece (1505) - is central to the composition. Visitors perch on the pews, some gaze towards the skies, others assume a praying position, and some are admiring of Bellini's magnificent altarpiece.

Struth's interest in architecture is still evident in the way he uses the church's columns to frame the composition. Meanwhile, the camera's long exposure time brings to the image a mesmerizing quality that is coupled here with an added otherworldly aspect showing in the blurred spectre of moving figures occupying the first three pews. In this image, Struth observes the different ways in which people choose to engage with their belief, and in a manner that is unobtrusive and non-judgmental. Struth's approach allows his spectator to connect with the subjects in the photograph and to become involved in the photograph's narrative.

Chromogenic print - The MET Museum
More Thomas Struth Artwork and Analysis:
Influences and Connections
Influences on Artist
Artists, Friends, Movements
Influenced by Artist
Artists, Friends, Movements

Interactive chart with Thomas Struth's main influences, and the people and ideas that the artist influenced in turn.
View Influences Chart

Artists

Personal Contacts

Movements

| | |
| --- | --- |
| | Contemporary Art |
| | Contemporary Photography |

Influences on Artist

Thomas Struth
Years Worked: 1976 - present
Influenced by Artist

| | | | | |
| --- | --- | --- | --- | --- |
| Artists | | Personal Contacts | | Movements |
If you see an error or typo, please:
tell us
Cite this page

Content compiled and written by Libby Festorazzi
Edited and published by The Art Story Contributors
" Artist Overview and Analysis". [Internet]. . TheArtStory.org
Content compiled and written by Libby Festorazzi
Edited and published by The Art Story Contributors
Available from:
First published on 16 Jul 2019. Updated and modified regularly.


[Accessed ]