Artists
Théodore Géricault
Born: September 26, 1791 - Rouen, France
Died: January 26, 1824 - Paris, France
"The truly gifted individual does not fear obstacles, because he knows that he can surmount them; indeed they often are an additional asset; the fever they are able to excite in his soul is not lost; it even often becomes the cause of the most astonishing productions."

Summary of Théodore Géricault
Géricault's short career had a huge impact on the history of modern art and the evolution of French 19th century painting in particular. His radical choice of subjects taken from contemporary life, his fusion of classical forms with an atmospheric, painterly style, his passion for horses, his attraction to sublime and horrific subjects, and his compassion for the weak and vulnerable in society make him a singularly complex artist, but one who helped set the path for Romanticism's emphasis on emotion and subjectivity. His most famous work, The Raft of the Medusa, was a watershed moment in the history of modern art, as it married the immediacy of current events and an eyewitness sensibility with the traditional, monumental format of a grand Salon painting. Much of Gericault's work relied on keen observation, social awareness and at times a politically engaged view of the world around him. Indeed, a unique combination of realism and raw emotion can be seen in many of his works, including the late series of monomaniacs and his earlier "portraits" of guillotined heads.
Key Ideas
Gericault's art was utterly contemporary in its attention to current events and the realities of the human condition. He depicted dramatic scenes from real life on a monumental scale and found inspiration as a draughtsman in the most humble subjects. This can be seen in his colossal canvas, The Raft of the Medusa, his lithographs of London's poor and his late portraits of the criminally insane.
Though he absorbed the lessons of the Old Masters -
Michelangelo
was particularly important - Géricault's use of brisk, energetic brushstrokes and contrasting light effects created atmospheric scenes which broke free from the refined
Néoclassical
style of painting.
Much of Gericault's art typifies what we now think of as Romantic, with its attention to the exotic, the emotional, and the sublime. This can be seen in part as a reaction to the earlier Neoclassicism of
David
and
Ingres
, which embodied Enlightenment values of order and reason. With Gericault, the individual artist's subjective, emotional response is what counts, a concept that would carry forward into the 20
th
century.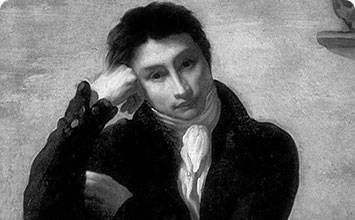 Jean-Louis-André-Théodore Géricault was the only child of wealthy, conservative parents. His father was a lawyer and his mother's family were tobacco growers. When he was four his family moved to Paris, which allowed Géricault to be educated in the most prestigious schools. At age fifteen, his drawing talent was recognized and he began to seriously study art.
| | | |
| --- | --- | --- |
| Théodore Géricault's childhood, life, career, and various anecdotes | | Read Théodore Géricault's Biography |
Important Art by Théodore Géricault

The below artworks are the most important by Théodore Géricault - that both overview the major creative periods, and highlight the greatest achievements by the artist.

Charging Chasseur (1812)

Artwork description & Analysis: As reflected in the title, Géricault's Charging Chasseur is a large-scale portrait featuring an officer in the French Imperial Guard charging away from the viewer. In the background a battle scene suggests that retreat is underway. The officer is a real life figure, Alexandre Dieudonné, who was a friend of the artist. He is depicted twisting backwards, sword ready, in a dramatically contorted pose.

Military figures were among the artist's favorite themes with this being one of his earliest and yet most important examples. The work also utilizes another favored subject of the artist, the horse, which he returned to throughout his career. Part of what makes this painting interesting is the scene Géricault chose to depict. This is not a moment of military victory as was commonly depicted by the Neoclassical artists of the period; rather everything about the narrative depicted implies that the battle is about to be lost. The officer seems to look back in sad resignation. Instead of an idealized scene created using Ancient Roman or Greek motifs, as was common in the French Neoclassical style, Géricault chose to depict a romanticized scene full of drama. The tension is enhanced by bold color choices and varied light effects. His depiction reinforces the Romantic idea of the hero who, rather than seen triumphing, is shown struggling, brooding or sad in the face of uncertain fate.

The choice of subject could be seen as slightly ironic, given that his father had found a way to get him out of military service. Perhaps the work was an attempt to give visual form to the military drama that Géricault so admired but had not yet seen first hand. Whatever the work's motivations, it helped to launch Géricault's career and was well received when it was exhibited at the 1812 Paris Salon.

Oil on canvas - Collection of Musée du Louvre, Paris, France

Male 'académie' Seated and Seen from Behind (c.1816)

Artwork description & Analysis: Géricault painted this work at the beginning of his career while training in the studio of the French Academy painter Pierre-Narcisse Guérin. This complex, atmospheric composition shows off the young artists ambition. The male nude, viewed from behind, is twisted across the canvas. The tension in his intertwined feet unfurls progressively as the eye ascends towards the figure's right hand. The work is dark and brooding other than the whites and yellows of the figure's flesh.

While the depiction of the nude was nothing new - nude studies or académies were an essential part of an artist's training - the manner in which Géricault rendered the subject already shows how revolutionary his approach to artmaking would be throughout his tragically short career. Conventional student studies of the male nude would have included a traditional, frontal pose set in a studio. This is abandoned entirely by Géricault who places the figure in a landscape and experiments with a radical way of presenting the body that allows for an exploration of his already developed understanding of anatomy. The dramatic contrapposto of the male nude also seems to presage the artist's later interest in Michelangelo and the expressive possibilities inherent in the body itself. In addition, the moody deployment of light and shade was unlike other student académies of the period. Through this work we can anticipate the development of Romanticism.

The work was not enthusiastically accepted by Géricault's teacher. Guérin was known to constantly criticize the artist for what he considered his unrealistic depiction of form and use of color. About these studies he chastised Géricault by stating, "your colors are not realistic ... all these chiaroscuro contrasts would lead me to think that you always paint under the moonlight; as for your académies they resemble nature as much as a violin case resembles a violin."

Oil on canvas - Collection of Musée des Beaux-Arts, Rouen, Rouen, France

Cattle Market (c.1817-20)

Artwork description & Analysis: A small work, Géricault's Cattle Market depicts the scene of a cattle market in an Italian country setting. In the foreground are three men, barely dressed, wrestling with cattle that are resisting their impending slaughter. In the right foreground one of the men has managed to wrestle one bull to the ground with the help of a dog, which he seems to be restraining from attack. In the background, beneath a blue, cloud-filled sky a nude wall and a simple building are depicted, beyond which an idealized landscape sets the scene.

Géricault's years in Italy, beginning in 1816, made a strong impression on the young artist. He enjoyed the scenes of Italian life and was intrigued by peasant life and folklore. That interest manifests itself in this painting which depicts a famous tourist attraction, the buying and slaughtering of cattle in the outdoor market near the Piazza del Popolo in Rome.

While still young the artist shows his skill in capturing the human form in complex poses and compositions. In fact, the work shows off the artist's eagerness to test and hone his skills. He has shifted the urban location to a country locale perhaps to enhance the dramatic impact of the scene; he experiments with classical elements by depicting the men nude in an Ancient Roman style that reflects the Classical emphasis of the artistic climate in Italy. Nonetheless, Géricault would not adopt this approach in his later works and so the painting is a rare example of a more classical style.

Oil on paper marouflé on canvas - Collection of Fogg Art Museum, Cambridge, Massachusetts
More Théodore Géricault Artwork and Analysis:
Influences and Connections
Influences on Artist
Artists, Friends, Movements
Influenced by Artist
Artists, Friends, Movements

Interactive chart with Théodore Géricault's main influences, and the people and ideas that the artist influenced in turn.
View Influences Chart

Artists

Personal Contacts

| | |
| --- | --- |
| | Laurent-Théodore Biett |
| | James William Bullock |
| | Pierre-Marie-Alexandre Dumoutier |

Movements

Influences on Artist

Théodore Géricault
Years Worked: 1808 - 1824
Influenced by Artist

Artists

Personal Contacts

| | |
| --- | --- |
| | James William Bullock |
| | Charles Clément |
| | Théodore Lebrun |
| | Louis Viardot |

Movements
If you see an error or typo, please:
tell us
Cite this page

Content compiled and written by Jessica DiPalma
Edited and published by The Art Story Contributors
" Artist Overview and Analysis". [Internet]. . TheArtStory.org
Content compiled and written by Jessica DiPalma
Edited and published by The Art Story Contributors
Available from:
First published on 16 Sep 2017. Updated and modified regularly.


[Accessed ]