Artists
Vik Muniz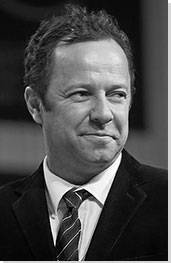 Born: December 20, 1961 - São Paulo, Brazil

"Things look like things, they are embedded in the transience of each other's meaning; a thing looks like a thing, which looks like another thing, or another. This eternal ricocheting of meaning throughout the elemental proves representation to be natural and nature to be representational."
Summary of Vik Muniz
Art photography has been around since the early 19th century as a viable way to see behind the eyes and into the mind of an artist. Yet contemporary artist Vik Muniz has managed to repurpose its traditional uses beyond presenting images at face value by treating photographs as source material, building block, and inspiration for more complex works. Verging on mixed media, and with a conceptual spin, Muniz's art asks us to question our relationship with illusion and perception, going deeper into the familiar to uncover layers of added meaning.

With his recycling and manipulation of imagery, Muniz's work questions the idea that artistic creativity involves coming up with a completely original idea and champions the idea of expounding upon the existent. Historical artworks, scenes from popular culture, iconic people from our communal consciousness, and cross sections of contemporary, global life highlighting lesser known social issues and marginalized communities are all prey to Muniz's investigations into how we are affected by, and find meaning within, what we see.
Key Ideas
In addition to his reworking of the age-old medium of photography, Muniz is noted for using a variety of eclectic and found materials such as chocolate, jelly, tomato sauce, diamonds, toys, and trash to recreate his or others' original imagery. The materials forward connections between what he is visually presenting and the underlying messages he wishes to convey about his subject matter.
Multi step process defines much of Muniz's work. Whether drawing, then photographing his own drawings for presentation; taking pictures that are then recreated using non-photographic materials on varying scales; or creating manufactured instances to photograph as reality, the steps involved in the artist's finished work catapults him beyond the realms of mere photography into the annals of
Conceptual Art
.
By photographing the "simulated real," Muniz destabilizes the concept of photography itself and instigates viewers to look beyond the surface. Described as both a "provocateur" and a "prankster," the artist questions the notion of reality and representation. In doing so, he touches on a variety of issues like "the reconnection of art with its public; art's relation to figuration and with the social-historical; and the demystifying of the false quarrel between photography and painting," as writer Affonso Romano de Sant'Anna maintains.
Muniz has said that he does not believe in originals, but rather believes in individuality. And indeed, in his photo manipulation and methodology, he truly creates signature works that repurpose and showcase themes in different lights for his viewers. He sees photography as having "freed painting from its responsibility to depict the world as fact."

Glass mosaic of subway riders that Muniz envisioned, a work that is now publicly displayed at the 72nd street, 2nd Ave subway line in New York City.
Muniz decided to become an artist when he discovered Jeff Koons's enigmatic vacuum cleaner and basketball sculptures. Muniz said: "I realized that I could be an artist too. He was speaking my language."
Important Art by Vik Muniz

The below artworks are the most important by Vik Muniz - that both overview the major creative periods, and highlight the greatest achievements by the artist.


Artwork Images

Clown Skull (1990)

Artwork description & Analysis: At first sight, Clown Skull looks like an actual human skull with a strange, protruding round nose that is the same color and texture as bone. However, it is made of plastic and other materials.

Muniz's artistic practice started after his move to New York City, where he rented a studio. His earliest art consisted of sculptures, which according to the artist, was a concrete way to use a separate creative muscle than he had for his commercial work in the advertising industry. Ironically though, many of the themes he explored through this medium would appear later when he primarily used photography as his chosen form.

Clown Skull comes from the Relics series, which drew upon the definition of relic as referring to an idolized or valued object from the past. Muniz's relics, though, also contained a dark sense of humor, showcasing not only the relic but turning it into a contemporary object of multiple interpretations. For instance, the skull makes references to both the European tradition of skulls and skeletons serving as reminders of death in memento mori still life paintings and popular culture's tendency to interpret clowns as frightening (Stephen King's It, John Wayne Gacy, etc.) Other Relics included a pre Columbian pot stuffed with a coffee filter like a modern day breakfast appliance, and an Ashanti sculpture artifact turned into a video game joystick. What results is a humorous commentary on the nature of representation and how objects from the past circulate in the present.

The Relics works introduced Muniz's themes of representation, appropriation, and history, which would become more important in his later photographic work. They also represented a personal milestone, marked by (as the artist said) a "comprehension of the object as an image and, provoked by this comprehension, a kind of identity crisis of the object itself, a discrepancy between what is expected from the material and what it offers."

After a professional photographer took photos of these works for a gallery, Muniz decided to photograph the objects himself. According to him, the professional pictures "seemed to go against the three-dimensional nature and dynamics" that he had sought to imbue in his objects. This episode ended up inspiring him and soon after that he began making two-dimensional things solely to photograph them.

Plastic, paint, wood, metal, plexiglass - Private collection


Artwork Images

Memory Rendering of Kiss at Times Square (1995)

Artwork description & Analysis: Memory Rendering of Kiss at Times Square appropriates one of the most famous works of photojournalism by the photographer Alfred Eisenstaedt in Life magazine. The image celebrates the end of World War II, in which a sailor in the US Navy grabbed a nurse and kissed her upon learning that Japan had surrendered.

Upon his arrival in the United States in 1983, Muniz bought the book Best of Life, a collection of photographs published in Life magazine. It presented photographs from historical moments such as the moon landing, the Vietnam War, and the Kent State shootings, and iconic images of pop cultural heroes such as John Lennon. The artist recalls that the book brought him comfort, acting as a kind of family album - "family of humankind." After losing it, Muniz decided to undergo a process of recreation via drawing exercises. For two years, he drew what remained of the photographs from his memory, filling in what he couldn't remember with his imagination. After keeping the drawings in a shoebox for a while, he decided to photograph them somewhat out of focus and print the images with half tone dots (some of them on newsprint). After noticing that no one questioned the photographs' authenticity, Muniz realized that he could leave out many of the original details in his renderings and the spectator would fill in the blanks themselves.

The process involved in creating Muniz's work adds layers of personal meaning to the original. His interference in the image calls attention to the fact that it is a product of the artist's imagination and not a straightforward reproduction. This addresses one of the fundamental questions of photography, including photojournalism: what role does the photographer play in the creation of the image? This work led Muniz to further explore the representational and highly mediated nature of photographs, as well as the idea that documentation can be transformed into an art form.

Memory Rendering illustrates several themes: the obvious use of previous sources as inspiration for further works of art, the relationship of an individual to "the news" and to larger histories, and the imperfections and inconsistencies of memory itself.

Gelatin silver print - Whitney Museum of American Art, New York


Artwork Images

Valentina, The Fastest (1996)

Artwork description & Analysis: The Sugar Children series originated after a trip to the Caribbean, where Muniz played with the children from the island of Saint Kitts for several days on a black sandy beach. After meeting the children's parents, he learned about the harsh conditions of the sugar plantations at which they worked, and was intrigued by the contrast between the happiness of the children and the sadness of their parents. Inspired by a poem from Brazilian poet Ferreira Gullar entitled Açúcar (Sugar), Muniz remembers: "It occurred to me that sugar had sapped the sweetness from those people." He returned to New York with Polaroids of the children, reproducing them into temporary images "by sifting various types of sugar onto black paper." He then photographed the images before discarding the sugar into a jar with the original photograph glued outside on the glass. When he exhibited the series for the first time, Muniz placed each corresponding jar next to its final photograph. Although the resulting photographs appear at first glance to belong to the canon of stereotypical tourist photos of happy children in developing countries, the use of sugar simultaneously references the candy and sweetness of youth, its impermanence, and the manual labor awaiting the children once they reach adulthood.

Muniz defines this work as the "founding moment" of his career. After years of drawing photographs, Muniz began to photograph drawings. This idea revolutionized his practice. Instead of using photography to appropriate and document the work of another artist, Muniz made the process of creating a work of art and documenting it into the main focus of his work. Muniz soon began to create ephemeral drawings using perishable, inexpensive, and impermanent materials such as chocolate, soil, dust, peanut butter, jam, wire, and garbage.

Curator and historian Pedro Corrêa do Lago asserts that the series is "a fundamental contribution to the thinking and practice of art at the turn of the century."

Gelatin silver print - Metropolitan Museum of Art, New York
More Vik Muniz Artwork and Analysis:
Influences and Connections
Influences on Artist
Artists, Friends, Movements
Influenced by Artist
Artists, Friends, Movements

Interactive chart with Vik Muniz's main influences, and the people and ideas that the artist influenced in turn.
View Influences Chart

| | | | | |
| --- | --- | --- | --- | --- |
| Artists | | Personal Contacts | | Movements |

Influences on Artist

Vik Muniz
Years Worked: 1985 - present
Influenced by Artist

Artists

Personal Contacts

| | |
| --- | --- |
| | Carlos Saldanha |
| | Fernando Meirelles |

Movements

| | |
| --- | --- |
| | Contemporary Photography |
| | Public art |
If you see an error or typo, please:
tell us
Cite this page

Content compiled and written by Catarina Flaksman
Edited and revised, with Synopsis and Key Ideas added by Kimberly Nichols
" Artist Overview and Analysis". [Internet]. . TheArtStory.org
Content compiled and written by Catarina Flaksman
Edited and revised, with Synopsis and Key Ideas added by Kimberly Nichols
Available from:
First published on 20 Jun 2019. Updated and modified regularly.


[Accessed ]