Artists
Cai Guo-Qiang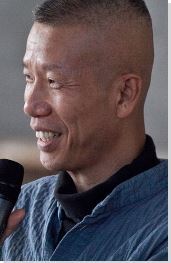 Born: December 8, 1957 - Quanzhou, Fujian, China

"Using gunpowder brings me closer to nature and even the universe. Of course at the moment of ignition the explosion is instantaneous... but gunpowder has its origins in minerals that took hundreds, thousands or millions of years to form. "
Summary of Cai Guo-Qiang
Rising from the ashes of China's Cultural Revolution, Cai Guo-Qiang forged his way into international art stardom as one of the first Chinese artists to expose the world to contemporary dialogues in Chinese art. Utilizing the groundbreaking mediums of gunpowder and fireworks to synthesize a new form of performance and spectacle into the art-making process, his work is renowned for its ability to leverage tension and fear toward a common consideration of the beauty in destruction. His unique artistic language, in which art becomes a reckless action, has catapulted him into a singular and inimitable role as one of our most innovative modern artists.
Key Ideas
The use of gunpowder in Cai's work carries deep meaning. The material, comprised of minerals that took hundreds of thousands of years to form, has a long lineage in Chinese history as an element of traditional Chinese medicine believed to help make one immortal. The relationship between the ephemeral and the immortal, of connecting heaven to earth, is a key theme for the artist.
Cai believes that destruction births construction - which runs in a perpetual cycle. Whether seen through the guise of the political, the spiritual, or the personal, this inherent circle of life and death touches all his work, his explosive methodology becoming a metaphor for this dance. As he says, "I'm exploring the connection to unseen power."
Spirituality, and its link between the seen and unseen worlds, is a constant source of inspiration for the artist who delves into historical Chinese traditions such as Taoism, Buddhism, Feng Shui, Qi Gong, Confucianism, and other practices, to explore and find fodder for his work. His use of largely black and muddied monochrome color represents the purity of the undistracted spiritual.
Cai believes that everyone is an artist. In this vein, he oftentimes creates large-scale projects within communities that invite participation by both local artists and ordinary citizens to further ideas of communal healing, political unity, and inspire reflections on man's role as both individuals and part of a group.
Experiencing firsthand the effects of a society falling prey to a totalitarian regime in China, Cai's work oftentimes promotes political ideas of revolution and the romance in idealism as a way to encourage people to consider ways to contribute to a more open sense of the world.
Cai's explosive mode of creation carries forth early influences of Chinese brush painting,
Arte Povera
,
Joseph Beuy's
"social sculpture,"
Dadaist
provocation,
Gutai
performance-painting, and a long history of
Performance artists
whose processes of making art carry as much weight as their final pieces. Only, Cai has evolved this idea of art making as event to an epic modern scale.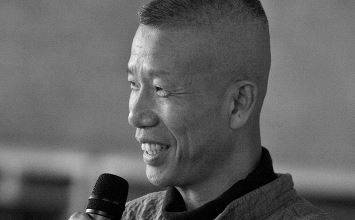 Cai Guo-Qiang was born in 1957 in Quanzhou City in the Fujian Province of China. His father Cai Ruiqin worked at a bookstore, was a collector of old books and manuscripts, and an amateur calligrapher and painter. He transmitted these early appreciations to Cai during his childhood, especially traditional landscape painting and calligraphy, and raised his son with a religious outlook on life, combining Buddhist, Taoist, and Confucianist teachings.
Important Art by Cai Guo-Qiang

The below artworks are the most important by Cai Guo-Qiang - that both overview the major creative periods, and highlight the greatest achievements by the artist.


Artwork Images

Self-Portrait: A Subjugated Soul (1985-1989)

Artwork description & Analysis: The work, almost two meters in height, portrays a dark human figure in an abstract, ochre, monochromatic aura - as if exploding out from the canvas. The blurry feel and absence of detail denotes an ethereal presence rather than a real human. It is, as the title suggests, a self-portrait of Cai's subjugated soul. It was painted when the artist was still living in China, during his mid-twenties, and is an example of his first explorations of gunpowder. For this piece, Cai mixed oil paint with gunpowder, creating both a defined and an undefined feel that results from the exploding particles.

He was drawn to the medium ever since his early childhood experiences with firecrackers. His interest also connects with various associations of the material such as its ability to harness natural forces, the fact that it is made from natural minerals, and the fact that it was traditionally used in Chinese medicine as a technique for healing (inflammation reduction and detoxification). In this regard, touching and using the material becomes a process of contact with nature, establishing a conversation and bridge with the natural world and spiritual dimension.

After moving to Japan, in 1986, the gunpowder experimentations continued. It was also in Japan that he realized that the scientific developments of physics were similar to Chinese Qi Gong cosmology, and that "The theory of yin and yang is paralleled in modern astrophysics as matter and antimatter, and, in electromagnetism, the plus and minus." This understanding connected the metaphysical concepts of Taoism he had originally been brought up in, with a broader more universal conception. In this regard, sustaining these early creations is also of metaphysical and cosmological significance.

The painting was retouched in 1989 to further express Cai's feelings of loneliness and the subtitle, A Subjugated Soul, was added. In a way, these initial works also carry within them a sense of poetry aiming to create a connection with the larger context of life by immersing man in a spiritual awareness. The work bears strong resemblance to Giacometti's infamous portraits that use a similar abstract language, color palette, and overall diffused immaterial presence. In a way, both artists aimed to capture the "vibration of life" that defined and composed human existence, representing the self as an ethereal presence.

Gunpowder and oil on canvas


Artwork Images

Inopportune: Stage One (2004)

Artwork description & Analysis: This installation featured nine Ford Taurus cars positioned in a sequence to give the effect of a single car flipping through the air. The first and the last cars sat on the ground, implying a beginning and an end, while the others hovered, suspended by cables from the ceiling. The spectacle was strewn with lights emanating yellow, pink, fuscia, indigo, and purple, granting the scene a colorful kaleisdoscopic effect. The installation spanned 90 meters in length.

With its theatrical components, mainly derived from Cai's studies in stage design, the work was a reflection on the psychological aspects, cultural problems, and overall political climate that defines our daily lives. In this sense, the moving car acts as a metaphor for the momentum of destruction. It was part of a series of installations developed in the 2000s, where Cai explored social and political associations and meanings.

The installation also aimed to provoke a dialogue surrounding terrorist attacks, specifically the September 11 catastrophe in 2001 that profoundly affected Cai who was living and working in New York at the time. In this perspective the car can be seen as exploding, representing the unstable climate of terrorism and the unsetling atmosphere it bestows upon the world. "We live in a world full of terror, of discussion and fear of terror," claimed Cai. The installation posed these considerations while framed in a shockingly vulgar beauty, which is something the artist has been criticized for, work in which vast spectacle mutes out the underlying substance.

Installation of various cars with lights - Seattle Art Museum


Artwork Images

BMoCA (Bunker Museum of Contemporary Art): Everything is Museum (2004)

Artwork description & Analysis: This picture is of an art installation by Wang Wen-chih, an artist from Taiwan, at the BMoCA () created by Cai on Kinmen Island.

The Bunker Museum of Contemporary Art was an old military center, with a long history of bombing attacks, that held special meaning for Cai, since as a child, he used to hear the attacks from Quanzhou, a port city across the Taiwan Strait. By converting it into an art center or temporary museum space for the community, he transformed an area of destruction into one of construction. Cai invited 18 artists from China and Taiwan to create site specific artworks for the space, also welcoming local children to collaborate. The work pictured here is by the exhibiting Taiwanese artist Wang Wen-chih whose installation, created with local craftsman, consists of a bamboo tower and a network of tunnels that promote movement, integration, and meditation. Wang claims that "[his] work searches for harmony after catastrophe or massive destruction."

The BMoCA museum is part of a larger group of social projects begun by Cai in the 1990s, that aimed to integrate art within the community. Cai was inspired by Joseph Beuys' philosophical ideas, and the belief that "everyone is an artist." Cai then created the Everything is a Museum franchise, which transforms abandoned spaces (such as bunkers or old pottery barns), into museums with the participation of the government and local artists. Acting as curator and organizer, Cai gives life to new cultural and artistic dialogues.

This concern with collective society can also be seen as a result of Cai's investigations into China's 'cultural and political memory.' Alexandra Munroe, art scholar and curator, explains that these projects embody Cai's 'utopian socialism,' reflecting "the allure of socialist memory and the idea of absolute faith in communitarian forces of historical progress," aspiring to "claim the public realm as a site for art of democratic empowerment."

- Permanent museum at the Guningtou Cihu Great Bunker, Nanshan Fortification, Tashan Battery, Shuito Village, Kinmen Island, Taiwan
More Cai Guo-Qiang Artwork and Analysis:
Influences and Connections
Influences on Artist
Artists, Friends, Movements
Influenced by Artist
Artists, Friends, Movements

Interactive chart with Cai Guo-Qiang's main influences, and the people and ideas that the artist influenced in turn.
View Influences Chart

| | | | | |
| --- | --- | --- | --- | --- |
| Artists | | Personal Contacts | | Movements |

Influences on Artist

Cai Guo-Qiang
Years Worked: 1986 - Current
Influenced by Artist

| | | | | |
| --- | --- | --- | --- | --- |
| Artists | | Personal Contacts | | Movements |
If you see an error or typo, please:
tell us
Cite this page

Content compiled and written by Sarah Frances Dias
Edited and revised, with Synopsis and Key Ideas added by Kimberly Nichols
" Artist Overview and Analysis". [Internet]. . TheArtStory.org
Content compiled and written by Sarah Frances Dias
Edited and revised, with Synopsis and Key Ideas added by Kimberly Nichols
Available from:
First published on 12 Apr 2018. Updated and modified regularly.


[Accessed ]