"Creativity is the power to reject the past, to change the status quo, and to seek new potential. Simply put, aside from using one's imagination - perhaps more importantly - creativity is the power to act."
"The art always wins. Anything can happen to me, but the art will stay."
"I always want people to be confused, to be shocked or realize something later."
"Technology is a liberation. I think the information age probably is the best thing to happen to the human race in human evolution. Now you have the equal opportunity to equip yourself through information and knowledge and express yourself as an independent mind."
"If there is no free speech, every single life has lived in vain."
"Creativity is the power to reject the past, to change the status quo, and to seek new potential. Simply put, aside from using one's imagination - perhaps more importantly - creativity is the power to act."
"My definition of art has always been the same. It is about freedom of expression, a new way of communication. It is never about exhibiting in museums or about hanging it on the wall. Art should live in the heart of the people."
"I don't think anybody can separate art from politics. The intention to separate art from politics is itself a very political intention."
"Self-censorship is insulting to the self. Timidity is a hopeless way forward."
"If my art has nothing to do with people's pain and sorrow, what is 'art' for?"
Summary of Ai Weiwei
Ai Weiwei is the most famous Chinese artist living today. As an activist, he calls attention to human rights violations on an epic scale; as an artist, he expands the definition of art to include new forms of social engagement. In a country where free speech is not recognized as a right, the police have beaten him up, kept him under house arrest, bulldozed his newly-built studio and subjected him to surveillance. He is viewed as a threat to "harmonious society." The West did not invent revolutionaries. China has an illustrious history of dissidents, anti-authoritarian originals and eccentrics, from the drunken monks of pre-history to counter-culture artists living in today's Beijing. Ai himself is from this long line of free-thinkers and writers, marginalized both by the right and left. From smashing an ancient vase to reciting the names of children who died due to government negligence, Ai's dramatic actions highlight the widening gap between the ideal and the real in Chinese society. He is also one of the earliest conceptual artists to use social media - Instagram and Twitter, in particular - as one of his primary media.
Accomplishments
Ai came of age as an art student in 1990s New York. A time and place where the more outrageously anti-authoritarian and oppositional the statement, the better. He then returned to China, an environment far less open to such views. In Ai's words, "China and the U.S. are two societies with very different attitudes towards opinion and criticism." He saw the difference, and refused to conform. He is an artist who actually put his life on the line to defend freedom of expression.
Ai was a professional blackjack player for a brief period early in life. His work is about risk (personal, professional, and political). It is also about testing the limits of freedom. His work is designed to remind us that risk-taking is an essential form of exercise in a free society.
Government spying, a hot topic in contemporary art lately, is not some futuristic idea but a fact of life for Ai. Under government surveillance for almost a decade, he has produced some of the most thoughtful work on this contemporary topic that is just as important in current popular culture as the hippies were in the 1960s or the feminists in the 1970s.
Trained in the West, Ai is intimately familiar with Conceptual and Minimalist traditions, and combines them. In his refusal to pleasure the eye, he is the opposite of Jeff Koons, his equally famous contemporary. In their visual austerity, Ai's pieces are closely aligned with the work of other global activists, among them David Hammons, Robert Gober, and Doris Salcedo, whose large-scale projects call attention to weighty social issues, breaking free from the confines of the gallery and the museum, and bridging the gap between the visual and the social.
The Life of Ai Weiwei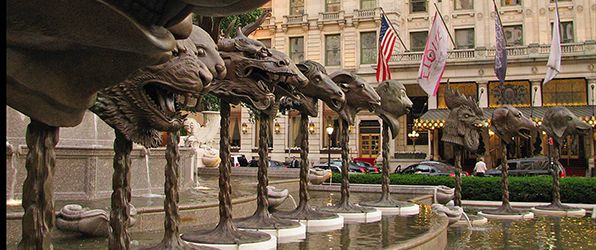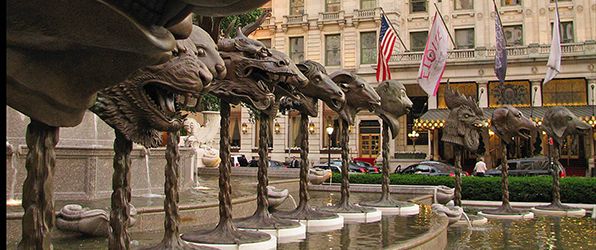 Ai said his father, the poet Ai Qing, was his single greatest influence. When the artist was a year old, the family was sent to a labor camp, then to a rural village where Ai Qing was forced to clean communal toilets. Ai said his father "as a poet, as an artist, [he] worked so hard at first, and it was very impressive...and I think that the only rewarding feeling he could get was to make the toilets so completely clean. That act influenced me a lot...So, you know, I was born radical, I did not become radical."
Important Art by Ai Weiwei
Progression of Art
Biography of Ai Weiwei
Childhood
Ai Weiwei is the son of writer Gao Ying and poet Ai Qing. His father was very well-known in China, and had been imprisoned by the Nationalist government before Ai's birth on suspicion of being a Leftist. After the People's Republic of China was founded, Ai Qing was accused again, this time of being a Rightist, during Chairman Mao's anti-intellectual campaign. The family was exiled when Ai was only one year old. His father's poetic artistry and the family's precarious political situation were to have a deep effect on the artist.
The family lived in exile for twenty years, in small villages near the North Korean border and in the province of Xinjiang, where his father was forced to carry out hard labor, including cleaning communal toilets. In order to survive as a child, Ai learned many of the practical skills that he would later apply to his art - such as making furniture and bricks. He says of his childhood that "living conditions were extremely harsh, and education was almost non-existent." The family had been able to keep only one book, a large encyclopedia - Ai's only source of information and education.
Early Training
Ai Qing and his family were allowed to return from exile after Chairman Mao's death in 1976. This allowed the 19 year old Ai to enroll in the Beijing Film Academy to study animation. Within a couple of years, he had started to get involved with the unofficial Beijing art scene, and was one of the first members of The Stars. This was a subversive political group of artists who wanted to reintroduce the idea of art as self-expression to China, after decades of Mao's policy of art serving the communal interests of the state. He also took part in a number of pro-democracy marches and rallies.
In 1981, he moved to the US, studying in piecemeal fashion at various institutions, trying to improve his English. He eventually moved to New York in 1982, where he studied at the Parsons School for Design under artist Sean Scully. He dropped out after six months, and instead tried to make a living as a street artist and odd-jobber.
Ai stayed in New York for 11 years, immersing himself in the contemporary art scene and taking photographs of the city, which would later be put together as a work known as the New York Photographs (1983-1993). He also met and befriended the beat poet Allen Ginsberg, who had once traveled to China and met Ai's father.
During this period he also traveled round the US, and became interested in the game of blackjack being played in Atlantic City casinos. He became so adept at the game that US blackjack players know him first and foremost as a professional gambler, rather than as an artist.
Mature Period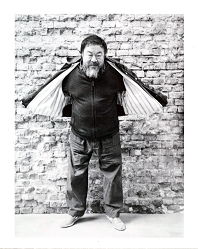 Ai's first solo show, entitled "Old Shoes, Safe Sex" was held in New York in 1988 at Art Waves/Ethan Cohen Gallery. Five years later his father became ill and he returned to Beijing. While there, he produced three books on interviews with some of his favorite Western artists, including Marcel Duchamp, Andy Warhol, and Jeff Koons, and drew connections between this older generation of artists and an emerging generation of iconoclasts (which included himself) in Beijing.
In 1996, his father passed away. Ai has identified his father as the single most important influence on his life. Delving more deeply into a traditional Chinese practice that he had learned from his father, he spent the last half of that decade making furniture. Despite no formal training in architecture, in 1999 he built himself a house and studio in north Beijing, and in 2003 founded an architectural practice called FAKE Design.
The year 1999 was a turning point in Ai's life and career. He was chosen to represent China at the Venice Biennale (a mark of high honor and geo-political distinction), a development that lifted him into a high-visibility role in the international arena. In the same year, he co-curated an exhibition in Shanghai, entitled "F**k off". This got the attention of the Chinese government, and not in a good way. In order to understand the impact of this exhibition, it is crucial to know a little bit about the state-sanctioned art of Beijing, dominant since the 1970s. The unstated, but relatively strictly-enforced guidelines were that art should be representational, respectful, and celebrates the lives of everyday people thriving under Communism in a manner consistent with Western Realism - but mostly known internationally as Soviet Socialist Realism.
It is impossible, therefore, to overstate the sensational impact of this exhibition showcasing work by the artist who had recently been invited to represent the country at the Venice Biennale, and his circle of Chinese conceptual artists who not only did not follow the state-approved program of glorifying everyday themes in a traditional, representational, propagandistic manner, but whose message could not have been more blunt: "We had to say something as individual artists" Ai said, "and what we said was 'F**k off'."
Current work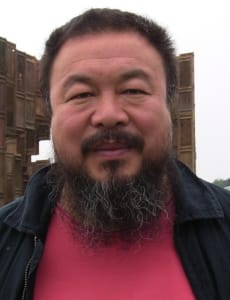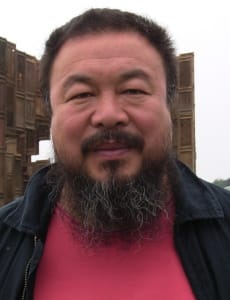 Ai has always been a political activist. Since 1999, however, his visibility in the public eye, both in the West and in China, has been seen as an active threat by Chinese government officials. Drastic efforts on the part of the government to limit his communication with broad audiences has, somewhat paradoxically, motivated him toward a number of ambitious projects designed to address directly politically sensitive themes in China, such as the internet (subject to government regulations that limit access to many websites, including Google, that many in the world otherwise take for granted). In 2005, he began to express himself via a blog, which he was invited to start by the Chinese internet firm Sina. In 2009 the Chinese government shut down the blog, which at the time was getting 100,000 views a day. Ai began posting on social media site Twitter, gaining worldwide exposure and an online presence that supported his personal conviction that artists need to remain in touch with their public: "as an artist, you have an obligation to let people know what is on your mind and why you are doing this."
One of Ai's most famous projects, popularly known as the Bird's Nest, was his design for the 2008 Beijing Olympics stadium. In designing the structure, completed in collaboration with Swiss architects Herzog & de Meuron, Ai expressed his hope that it would instill "a sense of equity and fairness." In the international press, he openly criticized the Chinese government, citing concerns that hosting the Olympics would only increase its abuse of power.
This project brought the artist greater international fame and a steep deterioration in his relationship with Chinese authorities. Ai had emerged as something of a problem child. On the other hand, he was by far the most famous Chinese artist, accepted and critically acclaimed in the West. The government's ongoing attempts to have positive relations with the West, despite some growing strains remain critical to China's goals for growth and national success.
In a series of impassioned Twitter posts after the Sichuan earthquake of May 2008, he expressed his anger at the death of thousands of schoolchildren due to the shoddy construction of school buildings in the area, evidence of governmental corruption. Hoping to sweep this national embarrassment under the rug, government officials failed to release the numbers (over 5,000 deaths, according to the most recent estimate), and Ai started an independent investigation, bringing the facts and evidence to light. This investigation was interrupted in 2008 when police broke into his hotel room in Chengdu, and beat him so badly that he was hospitalized with a cerebral haemorrhage.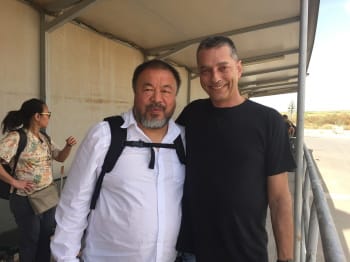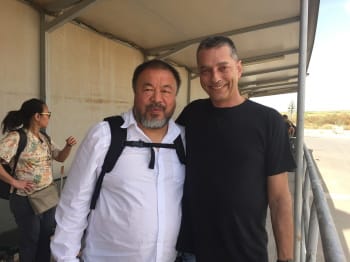 Since then, the Chinese government has taken further measures to limit Ai's freedom of movement and communication, both in and outside the country. In 2010 he was put under house arrest for several weeks; in 2011 he was banned from using Twitter, and his home was installed with government surveillance cameras. In 2011 he was arrested at Beijing International Airport and detained without formal charges (the official reason was financial crimes). As all this was occurring, the Western art world watched in horror and mobilized in his defense with the help of international human rights groups. After 81 days, Ai was released and fined over 12 million yuan (US$1.85 million). Chinese and international sympathisers raised the funds to repay what the government claimed it was owed. In July of 2015 he was finally provided with an international passport. While his international reputation did not ultimately shield him from harsh punishment, what led to his eventual release was a global awareness of his situation and increasing diplomatic pressure from democratic countries. He has since relocated to Berlin and held exhibitions in Helsinki, Paris, and other Western cities.
The Legacy of Ai Weiwei
Ai's impact on the West is arguably greater than it is in China, where he remains a controversial figure. In the U.S. and Europe he is almost universally revered, both as an artist and political activist, and has led the way to a more nuanced awareness of Chinese contemporary culture in the international community.
Some of his most recent works are simple actions designed to call attention to the humanitarian crises. In a 2015 striking performance piece, he posed as the lifeless toddler who washed ashore in Turkey. When a Syrian refugee in a Greek camp mentioned missing her piano, he had one brought to her and videotaped her performance. On an increasingly global scale, Ai's humanitarian efforts focus on those who live in poverty and oppression, and who might not otherwise have a voice.
He is an inspirational figure for many people both in the West and in China, and both in and outside the art world. Ai's struggle for freedom of speech and expression sheds light on specific issues that are important in their own right. More broadly, it reminds us of the power of visual art to move us as individuals, and sometimes entire nations, to action. Ai's work underscores the idea that art may have the power, and even the responsibility, to change society.
Members of the general public and the wider art community continue to support him. His often enigmatic messages on Instagram and Twitter have moved his "followers" to participate in the creative process by responding in an array of on-line expressions of artistic and political solidarity that are in turn indebted to his approach to art as social practice. In October 2015, for example, when Lego refused Ai a large shipment of blocks (on the grounds that it doesn't endorse political art), hundreds of Ai's followers sent their own Legos to the artist, via mail and official collection points. The entire event was organized through social media.
Numerous artists working across a range of media, in China and beyond, have been moved by Ai's expressive conceptualism and fearless activism. These include artist Huang Rui, whose works include provocative performances based on China's relationship with the West. Xu Qu's political conceptual installations are directly inspired by Ai's. As a high-profile, controversial figure (as well as a stark example of how dangerous political activism can be) it is also entirely possible that Ai's activism has put a negative spin on political art for a growing group of young Chinese artists who have retreated from contemporary politics, claiming that they know a different (better) China from that experienced by Ai, and that political art belongs to an older generation.
Influences and Connections
Influences on Artist

Influenced by Artist
Friends & Personal Connections
Allen Ginsberg
Artists
Huang Rui
Friends & Personal Connections
Movements & Ideas
Political Art
Useful Resources on Ai Weiwei
Books
The books and articles below constitute a bibliography of the sources used in the writing of this page. These also suggest some accessible resources for further research, especially ones that can be found and purchased via the internet.
biography
written by artist
artworks
Similar Art