Artists
Ai Weiwei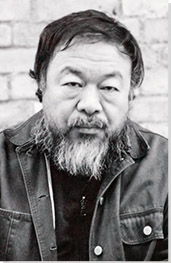 Born: August 28, 1957 - Beijing, China
"Creativity is the power to reject the past, to change the status quo, and to seek new potential. Simply put, aside from using one's imagination - perhaps more importantly - creativity is the power to act."

Summary of Ai Weiwei
Ai Weiwei is the most famous Chinese artist living today. As an activist, he calls attention to human rights violations on an epic scale; as an artist, he expands the definition of art to include new forms of social engagement. In a country where free speech is not recognized as a right, the police have beaten him up, kept him under house arrest, bulldozed his newly-built studio and subjected him to surveillance. He is viewed as a threat to "harmonious society." The West did not invent revolutionaries. China has an illustrious history of dissidents, anti-authoritarian originals and eccentrics, from the drunken monks of pre-history to counter-culture artists living in today's Beijing. Ai himself is from this long line of free-thinkers and writers, marginalized both by the right and left. From smashing an ancient vase to reciting the names of children who died due to government negligence, Ai's dramatic actions highlight the widening gap between the ideal and the real in Chinese society. He is also one of the earliest conceptual artists to use social media - Instagram and Twitter, in particular - as one of his primary media.
Key Ideas
Ai came of age as an art student in 1990s New York. A time and place where the more outrageously anti-authoritarian and oppositional the statement, the better. He then returned to China, an environment far less open to such views. In Ai's words, "China and the U.S. are two societies with very different attitudes towards opinion and criticism." He saw the difference, and refused to conform. He is an artist who actually put his life on the line to defend freedom of expression.
Ai was a professional blackjack player for a brief period early in life. His work is about risk (personal, professional, and political). It is also about testing the limits of freedom. His work is designed to remind us that risk-taking is an essential form of exercise in a free society.
Government spying, a hot topic in contemporary art lately, is not some futuristic idea but a fact of life for Ai. Under government surveillance for almost a decade, he has produced some of the most thoughtful work on this contemporary topic that is just as important in current popular culture as the hippies were in the 1960s or the feminists in the 1970s.
Trained in the West, Ai is intimately familiar with
Conceptual
and
Minimalist
traditions, and combines them. In his refusal to pleasure the eye, he is the opposite of
Jeff Koons
, his equally famous contemporary. In their visual austerity, Ai's pieces are closely aligned with the work of other global activists, among them
David Hammons
,
Robert Gober
, and Doris Salcedo, whose large-scale projects call attention to weighty social issues, breaking free from the confines of the gallery and the museum, and bridging the gap between the visual and the social.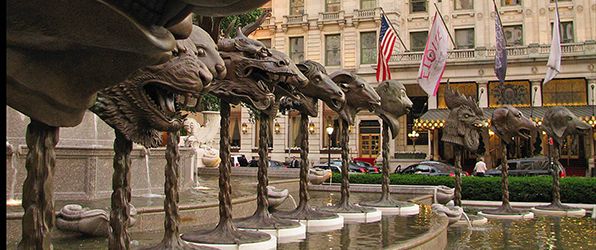 Detail of Circle of Animals/Zodiac Heads by Ai Weiwei installed in New York City at the Pulitzer Fountain at Grand Army Plaza, May 2011
Ai said his father, the poet Ai Qing, was his single greatest influence. When the artist was a year old, the family was sent to a labor camp, then to a rural village where Ai Qing was forced to clean communal toilets. Ai said his father "as a poet, as an artist, [he] worked so hard at first, and it was very impressive...and I think that the only rewarding feeling he could get was to make the toilets so completely clean. That act influenced me a lot...So, you know, I was born radical, I did not become radical."
Important Art by Ai Weiwei

The below artworks are the most important by Ai Weiwei - that both overview the major creative periods, and highlight the greatest achievements by the artist.


Artwork Images

Dropping a Han Dynasty Urn (1995)

Artwork description & Analysis: Dropping a Han Dynasty Urn, an early work by the artist, demonstrates his show-stopping conceptual brilliance, and desire to provoke controversy. Outside his mother's home in Beijing, he dropped and smashed a 2000-year old ceremonial urn. Not only did the artifact have considerable value (the artist paid the equivalent of several thousand US dollars for it), but symbolic and cultural worth. The Han dynasty is considered a defining moment in Chinese civilization. Understandably, antique dealers were outraged, calling Ai's work an act of desecration. Ai countered by saying "General Mao used to tell us that we can only build a new world if we destroy the old one." It was a provocative act of cultural destruction in reference to the erasure of cultural memory in Communist China, an anti-elite society that carefully monitored access to information, especially about its dynastic history. In its literal iconoclasm and spotlight on hypocrisy, this smashed vase embodies the central message Ai would continue to explore


Artwork Images

Study of Perspective Tiananmen Square (1995)

Artwork description & Analysis: In what first appears to be a classic tourist snapshot, Ai sticks his middle finger up at Tiananmen Square Gate. Also known as the "Gate of Heavenly Peace", and formerly the front entrance to the Forbidden City, this was also the site of the brutal massacre in 1989 in which state soldiers shot peaceful protesters. The Beijiing government still refuses to discuss it, and censors all footage of the event.

Study of Perspective Tiananmen Square was part of a series begun in 1995 and completed in 2003. The Eiffel Tower in Paris, The Reichstag in Berlin and the White House in Washington D.C. all get the same treatment in these parodies of Renaissance perspective. The central rule that objects closer to the eye must appear larger is being used to showcase an offensive gesture expressing Ai's basic disdain for state power, which is by no means limited to China. When Ai was arrested and interrogated by the Chinese police in 2011, his interviewers limited their questions, however, to this particular photograph, demanding an explanation. Ai stated that he had meant to target "Feudalism", explaining that the gate had been built by a Ming Emperor. While Ai's interrogators could not acknowledge it, they were no doubt aware of another layer of visual symbolism. In its resemblance to "tank man", an unidentified protestor photographed in 1989 facing a line of tanks, Ai's finger, standing alone against symbols of state power at the center of this image, is a provocative stand in for a figure strictly banned in the Chinese media, and therefore truly and brilliantly provocative.

Gelatin Silver Print - Museum of Modern Art, New York


Artwork Images

Ton of Tea (2008)

Artwork description & Analysis: This work compresses a ton of traditional pu'er tea leaves into the space of one cubic meter. Aesthetically, it recalls the glass and steel cubes of Minimalism. Donald Judd and Robert Morris were among the artists Ai admired. At the same time, it is made out of tea (one smells its pungent odor from afar) setting it apart from anything a Minimalist would make. Much tea in China is still produced in compressed cubes, so this is also an enlarged form of an everyday domestic item. While in the West, drinking tea (especially from Chinese porcelain) has historically been a status symbol, tea is the everyday drink in China. The brand here is one of the most common. In a much less dramatic way than Dropping a Han Dynasty Urn, Ai's act of making tea into Minimalist sculpture calls attention to divisions between past and present. Ai's awareness of Western trends and Eastern ideas locates the work at the center of a global matrix crisscrossing the world, a persistent feature of his approach as an artist.

Tea leaves - Ai Wei Wei studio
More Ai Weiwei Artwork and Analysis:
Influences and Connections
Influences on Artist
Artists, Friends, Movements
Influenced by Artist
Artists, Friends, Movements

Interactive chart with Ai Weiwei's main influences, and the people and ideas that the artist influenced in turn.
View Influences Chart

| | | | | |
| --- | --- | --- | --- | --- |
| Artists | | Personal Contacts | | Movements |

Influences on Artist

Ai Weiwei
Years Worked: 1980s - present
Influenced by Artist

Artists

| | |
| --- | --- |
| | Huang Rui |

Personal Contacts

Movements
If you see an error or typo, please:
tell us
Cite this page

Content compiled and written by Ruth Epstein
Edited and published by The Art Story Contributors
" Artist Overview and Analysis". [Internet]. . TheArtStory.org
Content compiled and written by Ruth Epstein
Edited and published by The Art Story Contributors
Available from:
First published on 28 Mar 2016. Updated and modified regularly.


[Accessed ]