Artists
Bartolomé Esteban Murillo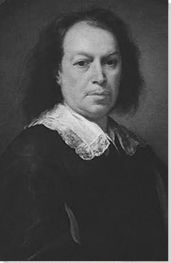 Bartolomé Esteban Murillo
Spanish Painter
Movement: The Baroque
Born: c. December 31, 1617 - Seville, Spain
Died: April 3, 1682 - Seville, Spain

"Murillo was favored by Heaven not only in the eminence of his ability but also in his natural endowments; he had a good figure and an amiable disposition and was humble and modest so that he did not disdain to accept correction from anyone."
Summary of Bartolomé Esteban Murillo
In Baroque Spain, artists were more than painters or sculptors, in the eyes of the faithful, they had the power to make the sacred real; and in Seville, Bartolomé Esteban Murillo was known as the greatest religious painter of his age. He developed a lush, illusionistic, yet accessible style that combined his grasp of the sensual world with religious conviction and respect for narrative clarity. So, whether his subject was sacred or secular, he painted convincing human beings with recognizable emotions. Murillo's pictures of street children captured their raw energy and brio, while his religious paintings held a mirror up to people and encouraged them to recognise their best qualities, so that they might strive for them in daily life. Like any good artist, he was a storyteller, and like any good storyteller, he painted to show, not tell. His elegant images of the Immaculate Conception, and his reinterpretations of the Virgin, Christ, and saints as beautiful children, blended realism and otherworldliness to immensely popular effect. Even into the 19th century, his paintings of children remained highly prized by English and French collectors, and inspired works by Thomas Gainsborough, Sir Joshua Reynolds and Jean-Baptiste Greuze.
Key Ideas
Murillo achieved a balance between reality and spirituality in his religious paintings by combining the sculptural formalism and clarity of traditional Spanish art with the technical innovations of Venetian and Flemish art.
Murillo painted Christ, the Virgin and Saint John the Baptist as beautiful children to inspire empathy and by extension, charity. Such an emotional approach to religious painting was unprecedented in Spanish art, and with the exception of Murillo's many followers, does not reappear until the late 18th century, in the work of
Francisco Goya
.
Murillo enlivened and simplified traditional subject matter - religious or otherwise - by using local models, and replacing attributes with dramatic poses and gestures, painting stories and lessons in a visual language ordinary people could comprehend.
Murillo was fascinated by boundaries and challenged the idea that a viewer's engagement with a painting stops at its surface. He used foreshortening, shallow foregrounds, and trompe l'oeil details to literally "fool the eye" and draw viewers deeper into his images.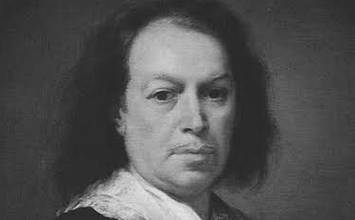 In December 1617, Bartolomé Esteban Murillo was born in Seville, where he would live and work his entire life. Throughout his childhood, Seville remained the foremost city in Spain, equal in power and population to Venice, Amsterdam, or even Madrid. Seville had long held the monopoly on trade with the New World, and despite Spain's near constant wars with France and the Low Countries, the city remained prosperous well into the 1630s. Later, when Murillo established his career, Seville's population and standard of living decreased, while its churches and religious fraternities increased. Eventually, his identity became integrated so strongly with religion that his pictures arguably shaped Baroque Seville as much as the city moulded his career.
Important Art by Bartolomé Esteban Murillo

The below artworks are the most important by Bartolomé Esteban Murillo - that both overview the major creative periods, and highlight the greatest achievements by the artist.

The Young Beggar (c. 1645)

Artwork description & Analysis: The Young Beggar was widely admired for its realism and is one of the finest examples of a subject effectively unique to Murillo: vignettes of local street children. Alternately known as Boy Delousing Himself or The Lice-Ridden Boy, these variations may have related to Andalusian folk wisdom which believed children with lice to be healthy and happy, because lice could not live on sick children. Here, as in similar pictures, most of which Murillo painted in the 1670s, his setting is only the barest suggestion of a room. He arranged the boy close to the picture plane (the child's dirty feet practically point at the viewer) and reserved only a shallow foreground to include the scattering of shellfish casings and bag of apples that hint at the boy's hunger and hardscrabble life. This level of realism would not have appealed to local collectors; Murillo actually painted these images specifically for his foreign market: the Genoese, Dutch and Flemish merchants who traded out of Seville's port on the river Guadalquivir.

Although the picture is neither signed nor dated, scholars agree Murillo painted it around 1645, when he was still influenced by Zurbarán and Velázquez. Murillo's sombre palette, volumetric forms and impasto brushwork recall genre subjects Velázquez painted before he left for Madrid, such as The Water-Seller of Seville (1620). Also, Murillo was known to share the current taste for picaresque literature, and his images of street children may have been informed by Miguel de Cervantès.

Since the early 19th century, the painting has been in the Louvre, where it influenced Realist painters, including François Bonvin, Gustave Courbet, and Édouard Manet (who actually copied it). While The Young Beggar might appear at odds with Murillo's religious imagery, examined in context of his sympathy for the poor and his dedication to charity, it emerges as not only one of his most striking paintings, but also one of his most empathetic.

Oil on canvas - Collection of the Musée du Louvre, Paris

The Angel's Kitchen (1646)

Artwork description & Analysis: Around 1644, Murillo won his first major commission from the Convento de San Francisco in Seville to paint thirteen canvases depicting various miracles and ecstasies associated with the order's friars and saints. One of the very few paintings Murillo signed and dated, The Angel's Kitchen possibly illustrates a vision of Saint Giles of Assisi, who, in 1212, made a pilgrimage to Santiago de Compostela en route to Jerusalem.

Giles, one of Saint Francis' first companions, was not particularly learned or articulate, but he was utterly committed to a life of poverty and pilgrimage. He wore a second-hand habit and lived as a nomad, earning his keep by doing odd jobs for any church or monastery that gave him food and shelter. Set in a space based on the Convento's actual kitchen, Murillo painted the saint twice. Giles first appears deep in spiritual ecstasy, floating in a nimbus. The Convento's Father Superior and two gentlemen (perhaps donors) look on in amazement. Then Giles appears again, at right, grounded and looking spellbound at a group of angels and cherubs, who variously prepare food, grind spices, wash pots and set the table. Every detail of the food, tools and kitchenware is tangibly present and injects a sense of reality into the scene that highlights an amusing fact: the divine helpers are actually doing Giles's work for him. In the middle of the canvas, two large angels punctuate the two scenes marking their existential difference (i.e. Giles's vision, and the angels' hard work). At the angel's feet a plinth notes a friar named Francisco, suggesting that perhaps Murillo based Giles on the Convento's cook, Francisco Perez, who was known for his piety.

The series as a whole, and The Angel's Kitchen in particular are masterpieces of Murillo's early style, which features graceful figures, realistic details, and a distinct spatial divide between reality and the spiritual world.

Eleven of the original thirteen canvases survived the Spanish War of Independence (1808-14). But four of these were stolen and dispersed, including the present work, to France. The Convento was demolished in 1841.

Oil on canvas - Collection of the Musée du Louvre, Paris

Virgin of the Rosary (c. 1650)

Artwork description & Analysis: Also known as The Virgin of the Escorial, this is arguably Murillo's finest Virgin and Child. A relatively early painting, it incorporates the strong chiaroscuro inspired by Caravaggio that endured in Spanish art well into the 17th century. Murillo would have known Caravaggio's paintings from prints, copies or possibly original works in local collections. However, this Virgin of the Rosary has a delicacy and sweetness atypical of Caravaggio's work, and curator Jane Martineau has argued that Murillo was inspired by the work of Bartoloméo Cavarozzi, an Italian who worked in Madrid, and whose paintings were widely known in Spain. If Caravozzi and Murillo painted similar Virgins, that may also have been due to their shared admiration of Raphael's Virgins, which Murillo would have known from drawings and engravings after the Renaissance master circulated throughout the local studios and workshops. Initially, as in much of his early work, Murillo strived for a sculptural effect in his figures, and he particularly admired the monumentality of Raphael's Virgins. By 1650, however, Murillo introduced a new elegance into his style, and painted the Virgin as younger, more delicately featured, with feathery brushwork possibly borrowed from Anthony Van Dyck, whose paintings were known in Seville. Likewise, in the present work, the Christ Child is no longer a languid baby, but an active toddler, who plays with a rosary entwined in the Virgin's hand. The beads formally unite the Child and the Virgin and their cheek-to-cheek embrace imparts a sense of tenderness that is deeply empathetic. This shift in pose also changed the overall composition, making it necessarily more vertical, allowing Murillo space to paint luxurious draperies in sweeping brushstrokes of glowing, jewel-like color.

In 1644, Murillo joined the Brotherhood of the Virgin of the Rosary, a lay fraternity dedicated to the Virgin Mary. Murillo possibly painted this Virgin of the Rosary for a private collector associated with the Brotherhood. It only entered the royal collections in the Escorial in 1788, before eventually passing to the Prado in 1827. However, the painting was always popular and well known, and it was copied by several accomplished painters. One copy in the Wallace Collection was apparently so good, it was long believed to be by Murilllo.

Oil on canvas - Collection of the Museo Nacional del Prado, Madrid
More Bartolomé Esteban Murillo Artwork and Analysis:
Influences and Connections
Influences on Artist
Artists, Friends, Movements
Influenced by Artist
Artists, Friends, Movements

Interactive chart with Bartolomé Esteban Murillo's main influences, and the people and ideas that the artist influenced in turn.
View Influences Chart


Influences on Artist

Bartolomé Esteban Murillo
Years Worked: c. 1639 - 1682
Influenced by Artist

| | | | | |
| --- | --- | --- | --- | --- |
| Artists | | Personal Contacts | | Movements |
If you see an error or typo, please:
tell us
Cite this page

Content compiled and written by The Art Story Contributors
Edited and published by The Art Story Contributors
" Artist Overview and Analysis". [Internet]. . TheArtStory.org
Content compiled and written by The Art Story Contributors
Edited and published by The Art Story Contributors
Available from:
First published on 28 Aug 2018. Updated and modified regularly.


[Accessed ]