Artists
Jean-Léon Gérôme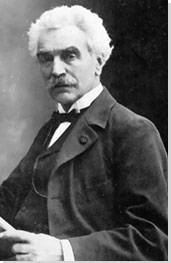 Born: May 11, 1824 - Vesoul, France
Died: January 10, 1904 - Paris, France

"My short stay in Constantinople had whetted my appetite and the Orient was my most frequent dream"
Summary of Jean-Léon Gérôme
Though the exotic, and sometimes scandalous, subject matter of his paintings attracted disapproval, there can be no doubt that Jean-Léon Gérôme was a technical maestro; a master of the spectacular who prided himself on a meticulous attention to picture detail. One of the most famous French painters of his generation, he can be credited with bringing about a transformation in historical painting. He was, however, subject to fierce criticism and controversy (mainly from Realists and Expressionists) who viewed his blending of academic painting with genre painting as falling somewhere between two outmoded schools. Nevertheless, Gérôme, whose pictorial worlds could certainly not be relied upon for historical accuracy, captivated a public that was won over by the skill and theatricality of his art. In his later career Gérôme reinvented himself as a sculptor, but he remains best known for his spectacular historical narratives that were made even more popular through the photographic reproduction of his images.
Key Ideas
Emerging as a force during the dawning of French modernism, Gérôme gained a reputation as something of a conservative dissident. Closely aligned to the "passé" (from a modernist's point of view) tropes of
Neoclassicism
,
Naturalism
and
Orientalism
, he antagonized the Parisian avant-garde community with his art
and
his vocal opposition to the rise of
Impressionism
, which he saw as unskilled and incompetent.
Gérôme's numerous paintings of the Orient revealed at once his strength and weakness. His meticulous and precise images lent a veneer of authenticity to a fantasy of the Orient that was rendered complete and untouched. While this skill did not win over the elders of the art establishment, it proved hugely popular with ordinary art lovers who purchased reproductions of his art in substantial quantities.
Though he predates the maturation of narrative cinema, his work has been described retrospectively as "cinematic". This description refers to a style of painting that creates powerful and overwhelming pictorial illusions of historical worlds in a style that comes close to photographic realism. Indeed, his paintings lent themselves to photographic reproduction with still copies of his work able to reach a broad public.
Gérôme was a founding member of the so-called Neo-Grec Circle. Formed in in 1847, it comprised of a group of young artists who wanted to bring a higher standard of detail and archaeological accuracy to Greco-Roman antiquity painting.
Gérôme was sometimes referred to as "The Father of Polychromy", a name given to the classical discipline of painting onto a marble sculpture. His polychrome sculptures drew thus on references from antiquity but to which he added a sense of modern day realism.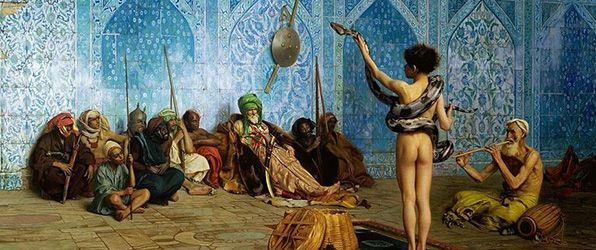 Art critic Jonathan Jones described Gérôme's well-known painting The Snake Charmer as "a sleazy imperialist vision of 'the east'." Given today's multicultural view of the world, it is hard to look at the French artist's work with the same eyes as his nineteenth-century audience. But the work is fantastic and spectacular nonetheless.
Important Art by Jean-Léon Gérôme

The below artworks are the most important by Jean-Léon Gérôme - that both overview the major creative periods, and highlight the greatest achievements by the artist.

Young Greeks Attending a Cock Fight (also called The Cock Fight) (1846)

Artwork description & Analysis: This genre painting was a huge success when it was exhibited at the Paris Salon of 1847. It shows two adolescents, seated privately at the base of a relic. In front of them two cocks fight to the death in what was a traditional sport of classical Greece. In the foreground, the boy holds one animal as he kneels in front of verdant greenery. Behind him, semi-nude, a beautiful young woman recoils from the fight. Behind her the turquoise Aegean sea can be seen, and beyond that a Grecian mountain backdrop.

Gérôme was a skilled animal painter and a lover of nature, and believed the study and representation of animals to be an essential part of the complete artist's training. But the work was positioned badly in the salon, "hung so high...as to hide it from the viewing eye", according to Gérôme. Nevertheless, it still met with critical acclaim, launching him into the avant-garde as leader of the Néo-Grecs. Championed by Art Critic Théophile Gautier, who saw "wonders of drawing, action and color" in the work, the painter Victor Mottez added to the praise when he said Gérôme was the "pearl of the Salon" (praise indeed for a work exhibited along-side Auguste Rodin's The Thinker).

The Néo-Grecs turned their back on the solemnity of classicism, seeking more joyous themes. This work represents what would become Gérôme's signature; a subject taken from history and transformed in his imagination. In his smooth, academic style he renders an image made from mosaics in Naples, frescoes from Pompeii and images from the Italian Renaissance. The academic influence of Jacques-Louis David is evident too in his faithful realism and attention to detail. But as Louvre chief curator Dominique de Font-Réaulx said: Gérôme "added a new dimension by seeking to base his painting on the most recent archaeological, ethnographic and historical research." This went on to inspire a "flock of imitators", known as the Pompeians. Not everyone was impressed however. Charles Baudelaire (who happened to be a great friend of Manet) condemned "an artist who substitutes the entertainment provided by a page of erudition for the pleasure of pure painting" and dismissed Gérôme as the leader of what he dismissively called the "meticulous school."

Oil on canvas - Musée d'Orsay, Paris

Ave Caesar, Morituri Te Salutant (Hail Caesar! We Who Are about to Die Salute You) (1859)

Artwork description & Analysis: This spectacular work shows a gladiatorial contest at the Colosseum in Rome - a subject seldom selected for history painting. In the darkened foreground a warrior lies dead; all around him in the sand lay discarded weapons and armor. Behind a man throws sand over the patches of blood, and beyond him other men pull dead bodies from the arena. In the centre is a group of eight gladiators, shouting the words of the title to the Emperor Vitellius who sits above. Sitting to his left are a group of vestal virgins. The light behind shines on the thousands of spectators housed in the curved sweep of the colosseum.

Gérôme liked to present panoramic visions of history; focusing not on individuals or faces, but on vast scenes that took in crowds, architecture, culture and geography. Critics and the public alike were astounded by the work which was the result of Gérôme's meticulous research. He studied architectural drawings of the Colosseum, made countless studies of gladiators and their weaponry and even included the web-like structure that held up the awning protecting the richer members of the audience from the Roman heat. Yet Gérôme's paintings were not historically accurate which diminished his standing as a serious painter. Here, for instance, it was remarked upon that construction of the Colosseum had not begun until 11 years after Vitellius took up office.

Throughout the 19th century, critics complained that history painting, which depicted classical and/or modern historical events in what was known as the "grand style," was becoming contaminated by the more intimate and overtly sentimental genre painting. History painting was supposed to be grand, truthful and moral, but as art historian Laurence des Cars noted, Gérôme's "visual system [which was] based on a very relative neutrality was put in the service of subjects that were themselves considered in terms of minor events and triviality." Des Cars noted however that though a "certain kind of history painting was indeed dead", the new animation of "narrative and images [...] had only just begun," with Gérôme singled out as its starring protagonist.

Oil on canvas - Yale University Art Gallery, Connecticut

The Death of Caesar (1867)

Artwork description & Analysis: The Death of Caesar became one of America's favorite Gérôme paintings. The work shows the immediate aftermath of the Roman emperor's assassination, as his joyous killers, hands aloft, seem to dance away from the body. We see a faithful depiction of the art, statuary and architecture, which Gérôme studied while visiting Rome. The scene, set in the Theatre of Pompeii, was however staged in an unconventional style for the time: the subject of the piece, while foregrounded, is secondary to the action of the conspirators. Caesar's body is abandoned in the dark to the left of the canvas, while the narrative is centered on the group of jubilant knifemen.

This composition would have an influence on other history painters. Des Cars wrote: "Its evocative power and its consummate mastery of visual theater, characterized by the favorite device of the central void, was to be a lasting influence on the way other painters depicted and staged drama." Even a grudging Baudelaire was impressed. He remarked: "This time, certainly M Gérôme's imagination has been carried away! [...] Criticism has been leveled at this way of presenting the subject but it deserves great praise. The effect is truly powerful." The work was brought by the American collector John Taylor Johnston.

Oil on canvas - The Walters Art Museum, Baltimore, Maryland, US
More Jean-Léon Gérôme Artwork and Analysis:
Influences and Connections
Influences on Artist
Artists, Friends, Movements
Influenced by Artist
Artists, Friends, Movements

Interactive chart with Jean-Léon Gérôme's main influences, and the people and ideas that the artist influenced in turn.
View Influences Chart

Artists

Personal Contacts

| | |
| --- | --- |
| | Paul Delaroche |
| | Charles Gleyre |
| | Emmanuel Fremiet |
| | Antoine-Louis Barye |

Movements

Influences on Artist

Jean-Léon Gérôme
Years Worked: 1849 - 1904
Influenced by Artist

| | | | | |
| --- | --- | --- | --- | --- |
| Artists | | Personal Contacts | | Movements |
If you see an error or typo, please:
tell us
Cite this page

Content compiled and written by Sarah Ingram
Edited and published by The Art Story Contributors
" Artist Overview and Analysis". [Internet]. . TheArtStory.org
Content compiled and written by Sarah Ingram
Edited and published by The Art Story Contributors
Available from:
First published on 15 Mar 2019. Updated and modified regularly.


[Accessed ]