Artists
William-Adolphe Bouguereau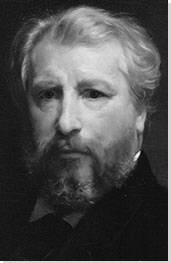 Born: November 30, 1825 - La Rochelle, France
Died: August 19, 1905 - La Rochelle, France

"Can we imagine the anguish felt by an artist who senses that the fulfillment of his dream is compromised by the weakness of his execution?"
Summary of William-Adolphe Bouguereau
There are few artists of the modern period whose critical and commercial fortunes during and after their lifetime stand in such stark contrast. In his own era, the Neoclassical painter William-Adolphe Bouguereau was one of the most reputable and commercially successful artists in the Western world, showered with official acclaim and prizes, hugely popular with the art-buying bourgeoisie, and a respected and loved teacher. His religious and mythological tableaux, classical nudes, and Naturalist-influenced scenes of humble peasant life were produced at a prodigious rate, for an endlessly eager public (he once declared that "every minute of mine costs 100 Francs"). But in the decades following his death, when academic painting fell out of favor with art historians and critics, his reputation was significantly reduced, in some cases to that of an establishment huckster, tossing off lifelessly perfect nudes and pietàs for a credulous middle-brow audience. In hindsight, we can see that this latter narrative is unfair: a brilliantly talented draughtsman capable of beautiful figurative paintings, Bouguereau's tastes were simply more traditional, his attitude to his career more acquisitive and pragmatic, than that of his avant-garde peers.
Key Ideas
Bouguereau has the odd distinction of being mainly renowned for his disagreements with other artists, namely the
Impressionists
, and other avant-garde groupings of the late-19
th
century. He scorned them for their lack of technical precision, while they abhorred what they saw as Bouguereau's overly fussy, fastidious approach. The artist himself once stated that " [a]s for the Impressionists, the Pointillists, etc., I cannot discuss them. I do not see the way they see, or claim to see". The Naturalist critic Louis de Fourcaud claimed that "in his observation of nature, [Bouguereau] is always the victim of his desire to improve on it."
Bouguereau, along with artists such as Alexandre Cabanel and Jean-Louis-Ernest Meissonier, was one of the figureheads of a late generation of Neoclassical painters active during the 1850s-90s. Despite the attention paid to Impressionism and other developments in experimental art during this period, these artists were in fact far more successful during that period itself, with Bouguereau celebrated for his technical mastery of the classical nude, amongst other things.
In spite of his reputation as a force of reaction, Bouguereau was a venerated and - by all accounts - avuncular and encouraging teacher, whose most lasting cultural legacy was his consistent advocacy of the training of female art students at the Académie Julian. A former pupil, the American painter Edmund Wuerpel (1866-1958), described Bouguereau as " [a]lways gentle, always fair, never saying things he did not really mean [...] it was a pleasure as well as a privilege to listen to him."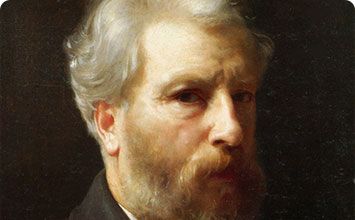 William-Adolphe Bouguereau was born in 1825 in La Rochelle, a traditionally Protestant city on France's south-west coast. His father was a modestly successful wine and olive oil merchant and a Roman Catholic, while his mother was from a middle-class Calvinist family. Compromising on their children's religious education, they decided to raise their sons as Catholic and their daughters as Protestant. Bouguereau's upbringing was strict, but he developed a deep love for his seaside home and its local customs which endured throughout his life. At twelve, he was sent to live with his uncle, a Catholic priest, possibly to prepare the boy for a career in the Church. During this period, which Bouguereau later recalled as "the happiest time of my life," he was exposed to classical literature, outdoor excursions, and a new depth of familial affection.
Important Art by William-Adolphe Bouguereau

The below artworks are the most important by William-Adolphe Bouguereau - that both overview the major creative periods, and highlight the greatest achievements by the artist.

Dante and Virgil in Hell (1850)

Artwork description & Analysis: The source material for this painting is Canto XXX from the "Inferno" sequence of the medieval poet Dante Alighieri's Divine Comedy (1308-20). In this section, the poet Dante and his guide Virgil descend to the eighth circle of hell, where they encounter the tormented souls of "falsifiers" (counterfeiters and fraudsters). Bouguereau was likely inspired by the following lines from the poem: "As I beheld two shadows pale and naked, / Who, biting, in the manner ran along/ That a boar does, when from the sty turned loose." In the foreground, the wrathful Capocchio - a friend from Dante's schooldays, who was burned at the stake as an alchemist - is attacked by Gianni Schicchi, another of Dante's contemporaries, who had impersonated a dead man in order to steal his inheritance. A demon hovers in the background, while other damned souls writhe around in the fiery landscape.

Bouguereau submitted this atypically macabre work to the Salon of 1850, at a time when he was just establishing himself as an Academic painter. The work garnered significant critical praise, including from the writer Théophile Gautier, who remarked on Bouguereau's attention to musculature and narrative drama. Through his studies at the École des Beaux-Arts, Bouguereau had encountered the works of the great Neoclassical painters, and had absorbed a contemporary fashion for dark subjects from medieval literature. At this early point in his career, he was also concerned with showing off his technical prowess, by capturing unusually strained nude poses.

Bouguereau would not return to Dante, soon discovering that - in his own words - "the horrible, the frenzied, the heroic does not pay", and that the public preferred Venuses and Cupids. Nevertheless, he retained the exquisite skill in figure painting which is clear from this work. Composed the same year as his breakthrough painting Zenobia Found by Shepherds on the Banks of the Arax (1850), which earned him the Grand Prix de Rome, this painting thus marks the point in Bouguereau's career when he established himself as a champion of the Academic style.

Oil on canvas - Musée d'Orsay, Paris

Pietà (1876)

Artwork description & Analysis: For this ambitious religious work, Bouguereau devised a large-scale interpretation of the classic Pietà theme, showing the Virgin Mary mourning the body of Christ. At the center of the composition, consumed by her black veil, Mary cradles her child, entreating the viewer to pity with her gaze. Golden aureoles, resembling the gold-leaf details on Renaissance icons and altar-work, surround the heads of the two central figures, while a group of mourning angels encircles the scene, echoing the central compositional shapes.

A year before completing the painting Bouguereau had suffered the traumatic loss of his teenage son George to a sudden illness. Contemporary correspondence reveals the artist's overwhelming grief at the death, that also seemed to have moved him to create a number of monumental religious works, this one being the most affecting. The golden urn in the foreground bears a faint Latin inscription dedicated to George, including his date of death. In stylistic terms, the art historian Gerald Ackerman has compared Bouguereau's religious works to "the masters of the high Renaissance[.] [Bouguereau] builds compositions out of the movement of strong, well rounded bodies, whose authoritative presence fills the canvases with energy." It is no coincidence that the position of Christ's head and shoulders echo that of Michelangelo's Vatican Pieta (1498-99) sculpture. Bouguereau also paid close attention to detail through his use of color: the rusty, drying blood on the white cloth in the foreground, the reddened eyes of the tearful Virgin, and the green tones of Christ's extremities in decay, all enhance the visual precision.

In 1870s France, religious painting was no longer the dominant genre it had been half a century previously, and the sharp, precise style of Neoclassicism was also under threat, from the advance of Impressionism; it is worth noting that this painting was composed four years after Monet's Impression, Sunrise (1872). However, Bouguereau was no captive of avant-garde fashion, and his personal identification with the Pietà theme allowed him to create a work transcending the cloying sentimentality for which he is sometimes criticized.

Oil on canvas - Private collection

The Birth of Venus (1879)

Artwork description & Analysis: In Bouguereau's interpretation of a famous origin narrative from Roman mythology, Venus, the goddess of love and beauty, emerges from sea-foam standing on a shell, traversing the water to reach land. A flock of nymphs, tritons, and putti surround her in admiration while, in a take on the classic contrapposto stance of Venus Anadyomene from antiquity, the goddess accentuates the curves of her body in alternate directions, while adjusting her hair. Cool pastel colors evoke the dewy atmosphere of the marine world.

For this composition, Bouguereau drew inspiration from Renaissance masterworks such as Raphael's The Triumph of Galatea (c. 1514), with its encircling halo of cherubs, and Sandro Botticelli's seductive Birth of Venus (1486), both of which Bouguereau had studied in Italy during his Prix de Rome scholarship. Unlike Raphael and Botticelli's nudes, however, Bouguereau's Venus is captured with a refined naturalism indicating the new artistic tastes of the 1870s, without thereby foregoing Neoclassical artifice. As such, the work rises to the challenge of the late-19th-century Salon painter as described by T.J. Clark: to negotiate the flesh of a modern woman in Naturalist style while clinging to the Academic ideal of "the body as a sign, formal and generalized, meant for a token of composure and fulfillment." In its technical perfection, Bouguereau's Venus appears realistic, yet she remains displaced from individual identity, safely confined to the role of an ideal.

This proved to be a successful (and profitable) combination, and Bouguereau received great acclaim for this painting at the 1879 Salon. The strongly erotic tincture also hints at some of Bouguereau's more pragmatic methods for ensuring a buying audience for his work: whereas Botticelli's Venus conceals her bosom enticingly, Bouguereau's invites the viewer to inspect every section of her, unashamed of her nakedness and sensuality.

Oil on canvas - Musée d'Orsay
More William-Adolphe Bouguereau Artwork and Analysis:
Influences and Connections
Influences on Artist
Artists, Friends, Movements
Influenced by Artist
Artists, Friends, Movements

Interactive chart with William-Adolphe Bouguereau's main influences, and the people and ideas that the artist influenced in turn.
View Influences Chart

Artists

Personal Contacts

| | |
| --- | --- |
| | Charles Marionneau |
| | Louis Sage |
| | Gustave Boulanger |
| | Jules Eugène Lenepveu |

Movements

Influences on Artist

William-Adolphe Bouguereau
Years Worked: c. 1842 - 1905
Influenced by Artist

Artists

| | |
| --- | --- |
| | Fritz Zuber-Buhler |
| | Johann Georg Mayer von Bremen |

Personal Contacts

Movements
If you see an error or typo, please:
tell us
Cite this page

Content compiled and written by Elisabeth Rivard
Edited and revised, with Synopsis and Key Ideas added by Greg Thomas
" Artist Overview and Analysis". [Internet]. . TheArtStory.org
Content compiled and written by Elisabeth Rivard
Edited and revised, with Synopsis and Key Ideas added by Greg Thomas
Available from:
First published on 29 May 2018. Updated and modified regularly.


[Accessed ]