Artists
Pierre Puvis de Chavannes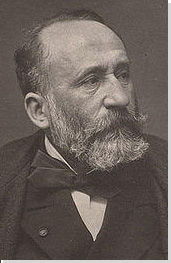 Born: December 14, 1824 - Lyon, France
Died: October 24, 1898 - Paris, France

"To simplify, that is to release the thought; the simplest conception proves to be the most beautiful."
Summary of Pierre Puvis de Chavannes
The works of the great 19th-century muralist Puvis de Chavannes, a pivotal figure poised at the threshold of modernism, still adorn public buildings in Paris. Their classically-inspired allegorical themes invoke a timeless, pre-industrial past, adhering to the rules of painting established in the Renaissance. However their shallow, collapsed spaces and broad swathes of color do not adhere to these rules, thwarting proportion and perspective. His own style incorporates bits and pieces of the new and the old, and achieves the transcendent effect that was his goal. Toulouse-Lautrec, Van Gogh, Gauguin, Matisse and Picasso (the list reads like a "Who's Who" of modernism) recognized him as a visionary, and he in turn admired the new generation of anti-academics. In his public commissions he focused on themes that pleased the French government (family, order, loyalty, etc.), but he also supported and mentored avant-garde artists, and his work evolved in tandem with theirs. Puvis was one of few academics of any time period who was able to see change coming and adapt to it - the mark of a truly great mind.
Key Ideas
His murals are the ancestors of today's public art. Dependent upon context for meaning, his works were meant for site-specific city spaces. Their allegorical subjects related to the specific goals and aims of libraries, schools, and other civic spaces. They were meant to address a broad audience that went beyond the public that visited museums and galleries. Audiences deeply appreciated this dimension of the work as part of the architectural space and institutional life of the city.
The tranquility of Puvis's scenes might lead us to believe this was a quiet period in history. In fact, he constructed his dream-like pictorial fantasies in the wake of the Franco-Prussian War and the Commune (1871-1872). During the war, Paris citizens survived on a diet of rats and water and under the Commune (an attempted coup that resulted in a blood bath), civic spaces were destroyed and the city hall burned. As such Puvis was part of a city-wide effort to repair the morale of the nation. The escapist dimension of his work is all the more poignant when we realize the 20
th
century would be even worse. This is also part of the legacy of abstraction. As
Paul Klee
(another Puvis admirer) put it, "the more horrifying this world becomes, the more art becomes abstract."
Like many great artists, Puvis doesn't fit neatly into one movement. His career overlapped with
Impressionists
,
Post-Impressionism
, and
Symbolism
. He engaged, mentored and learned from artists involved in each of these movements.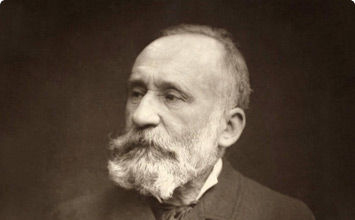 Pierre-Cécile Puvis, later known as Pierre-Cécile Puvis de Chavannes, was the youngest of four children born to Marie-Julie-César Puvis and Marguerite Guyot. His father found success as a chief mining engineer and encouraged his son to follow in his footsteps. Puvis lost both parents as a teenager - his mother in 1840 and his father in 1843. In 1841, he attended the Lycée Henri IV in Paris and prepared for admissions to the Ecole Polytechnique. However, he decided not to sit for the exams, much against his father's wishes. At a later date, Puvis once again did not take the entrance exams - this time due to illness - and discontinued attending classes at the Faculty of Law. To regain his health, he spent two years in Macon with his sister Josephine and her husband.
| | | |
| --- | --- | --- |
| Puvis de Chavannes's childhood, life, career, and various anecdotes | | Read Puvis de Chavannes's Biography |
Important Art by Pierre Puvis de Chavannes

The below artworks are the most important by Pierre Puvis de Chavannes - that both overview the major creative periods, and highlight the greatest achievements by the artist.

The Pastoral Life of Saint Geneviève (installed 1877)

Artwork description & Analysis: Puvis's murals for the capital depicting the life of the patron saint of Paris were created between 1874 and 1879. The work is bordered with leafy garlands that lend a decorative quality to the work. Even more emphatically, near the ceiling of the Pantheon a riot of decorative elements, a great frieze of twenty-two haloed figures and a winged monster, hang above the mural. While one sees more shading here than in some of Puvis's later works (which grew flatter and flatter) the abundance of vertical elements (figures stand like columns) that seem to hold up the wall, unlike the diagonals that lead the eye into fictive space (i.e. one-point perspective) in the manner of Renaissance painting. This excited a generation of avant-garde artists, among them Picasso, who set about copying the whole mural immediately after arriving in Paris in 1900. One sees reverberations of it in the elongated figures of Picasso's blue period.

These scenes were commissioned three years after the destruction caused by the Franco-Prussian War and the French Commune, a devastating period from 1870-71. Installed in the Pantheon, a former church turned civic building, these murals were an instant critical success that led to future commissions. Classicism (which had fallen out of favor after Napoleon) had re-entered the vocabulary of politics. Puvis's statuesque, draped figures celebrate the return of Classicism and the story of the founding of Paris. A symbol of new beginnings in the present as well as the past, a young Geneviève stands in the center panel of this triptych. Saint-Germain d'Auxerre, having arrived in Nanterre with Saint Loup de Troyes, notices she is bearing the divine seal. The fanciful decorative elements and clarity of form in this geometrically balanced work, coupled with its idealized references to the past, made it an instant success with officials and the public. Puvis's later works would build on this classicizing imagery, radically reducing and simplifying it, and expanding its associations to embrace universal symbolism.

Oil on Canvas - Pantheon, Paris

The Poor Fisherman (1881)

Artwork description & Analysis: Under a grey sky, a fisherman stands at the prow of his boat, arms folded, as if in prayer. Behind him are a naked child and a mother gathering the sparse dandelions that grow on the shore. Whether the child will be fed or has already starved is unclear. One of Puvis's best-known works, this canvas displays a private mood rarely shown to us in his wall-sized paintings, and may offer us a glimpse of his personal psychology. It was developed over the course of several years through sketches and painted studies, and executed during a personally challenging time for the artist.

With the success of his first murals in Paris in 1878, Puvis was anxious over his future prospects and the amount of artistic freedom he would exercise. When showing this work at the Salon of 1881, Puvis indicated that he wanted the painting to be regarded in "human, natural terms," with no religious, mystical, or philosophical symbolism. Paintings of fishing had Christian overtones in European art, and Puvis's own oeuvre included such pictures (Miraculous Draught of Fishes and The Fisherman). Puvis's insistence that there was no such symbolism here allowed him to introduce an element of realism to the work, without losing the attention of an audience accustomed to viewing religious subjects. Puvis had reservations about showing this work at the Salon of 1881, since it departed considerably in both subject matter and style from earlier triumphs, and he turned out to be correct. Conservative critics slammed it, taking issue with the lack of traditional proportion and shading. However it won him the respect of a new group of admirers, including Georges Seurat and Paul Signac, who championed the work, making reference to it in later writing, with the former incorporating Puvis's painting into his Landscape with Puvis de Chavannes' Poor Fisherman, circa 1881. Maurice Denis, a founding member of the Nabis, specifically admired the work and in his publication "Definition of Neo-Traditionalism," Denis called for a new type of painting his writings. Interestingly, sculptor, printmaker, and sculptor-painter Aristide Maillol executed a direct copy of this work.

Oil on Canvas - Musée d'Orsay, Paris

The Dream (1883)

Artwork description & Analysis: Presented at the Salon des Artistes Francais of 1883, The Dream depicts a sleeping man - most likely a traveler, given the bag at his side. Three airborne women approach, one with roses suggesting Love, one with a laurel wreath denoting Glory, and a third distributing coins representing Fortune. Broad planes of muted color are interrupted by stylized details such as the branches that spring from the earth. Unlike his mural cycles, made for public consumption, it is a private, non-literary, self-contained image that describes a dream.

Like the two-faced Roman god Janus, Puvis's work looks backwards and forwards at the same time. The Dream typifies this tendency. In privileging symbolism and fantasy over naturalism and reality, it recalls Romantic painting. In giving free reign to the imagination, it anticipates the wilder fantasies of the next generation. Compare this, for example, to the Sleeping Gypsy by the eccentric, self-taught Henri Rousseau, which might be seen as a reprise of this composition in reverse. Puvis actively championed and supported the next generation of younger and more radical artists who shared his desire to escape the realities of modern, industrialized society through dreams, esoteric symbolism, or mythology. They in turn were inspired by him. Puvis's effect on younger artists seeking an alternative to Realism, on the one hand, and the academy, on the other, went far beyond his efforts as a muralist.

Oil on canvas - Musée d'Orsay, Paris
More Pierre Puvis de Chavannes Artwork and Analysis:
Influences and Connections
Influences on Artist
Artists, Friends, Movements
Influenced by Artist
Artists, Friends, Movements

Interactive chart with Pierre Puvis de Chavannes's main influences, and the people and ideas that the artist influenced in turn.
View Influences Chart

Artists

| | |
| --- | --- |
| | Thomas Couture |

Personal Contacts

Movements

Influences on Artist

Pierre Puvis de Chavannes
Years Worked: 1848 - 1898
Influenced by Artist

| | | | | |
| --- | --- | --- | --- | --- |
| Artists | | Personal Contacts | | Movements |
If you see an error or typo, please:
tell us
Cite this page

Content compiled and written by Janet Oh
Edited and revised, with Synopsis and Key Ideas added by Ruth Epstein
" Artist Overview and Analysis". [Internet]. . TheArtStory.org
Content compiled and written by Janet Oh
Edited and revised, with Synopsis and Key Ideas added by Ruth Epstein
Available from:
First published on 02 Mar 2016. Updated and modified regularly.


[Accessed ]