Artists
Rosa Bonheur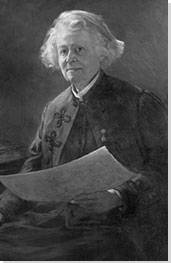 Born: March 16, 1822 - Bordeaux, Gironde, France
Died: May 25, 1899 - Thomery (By), France

"To (my father's) doctrines I owe my great and glorious ambition for the sex to which I proudly belong and whose independence I shall defend until my dying day."
Summary of Rosa Bonheur
From early childhood Rosa Bonheur had a liberal outlook and defiant personality, attributed in part to her father's belief in a form of socialism whereby class and gender distinctions were radically dissolved. As such, even though born at a time when women were not admitted to art school and most typically became absorbed into a life of domestic dependency, this was not Bonheur's fate. With her father's support she began to paint prolifically from her early teenage years, by mid career she had been awarded many prestigious accolades previously only achieved by men, and in later life she was famous and independently wealthy.

Alongside her English counter-part, Edwin Landseer, Rosa Bonheur was the foremost French "animalier" (animal painter) of her age, and arguably of all time. Bonheur's work was linked to landscape painting and the Realist tradition, but also spoke of a connection between nature, art, and society that ran deeper than the observational platform from which the canvases initially sprang. As the influential theorist John Ruskin well articulated in 1847, by painting surrounding nature, "by rejecting nothing; believing nothing", that then, effortlessly and organically "the truth" emerges. In this 'truth' there is a subtle moral lesson of equality to be learnt, that even animals have a soul, and that all (and this applies to humans now too), no matter how big, small, dark or light, deserve attention, care, and visibility. Rosa Bonheur said herself that she was 'wed to her art'. As such, her pictures become her children painted with unfailing dedication and exquisite tenderness. She was a pioneer for an alternate family structure, spending her life in a same sex partnership devoted to the creation and care of animals and art works.
Key Ideas
Rosa Bonheur is an early example of a feminist. She lived entirely independently, with no need of any financial support beyond her own living made from painting. Groundbreaking for the time, Bonheur was openly a lesbian, living for her whole life with another woman. She also rejected typical female attire and instead applied for a police permit (indicating just how radical this was) in 1852 to wear men's clothes whilst she worked. As such, she sets a precedent and becomes a role model to the likes of the iconic
Georgia O'Keeffe
and
Frida Kahlo
, who made similar visual statements of equality in the twentieth century.
Bonheur diligently studied animal anatomy, often visiting the abattoir and calling such research, "...wading in pools of blood...". The artist's interest in observing the world around her goes deeper than a simple surface sentimentality. The message is that art, like medicine, is a holistic discipline with the scientific impetus to get to the heart of what it means to be alive. How is flesh composed, and how does a body move, and how does that in turn then feel? Bonheur was dedicated to understanding the inner working of creatures in order to successfully convey an exterior view.
Painted with the accuracy and intricacy of photography before and simultaneous to its widespread invention, her work satisfied an intense craving for Realism at this time. However, there is also a subtle symbolism at work in Rosa Bonheur's pictures. In the way that the artist treats all of her subjects equally, whatever species, be it dog, lion, bull or horse, small or colossal, black, white or brown, Bonheur makes no distinction in terms of value. The underlying suggestion is that she may be a pioneer of racial as well as gender equality, and whether consciously or unconsciously so, a visionary of a better world in which boundaries and binary definitions are entirely dissolved.
Despite being born a Frenchwoman, Bonheur's work fits particularly well into the English values of the day. Under the reign of Queen Victoria - herself a personal lover of animal paintings - art became homely and easy to understand. The emphasis on literature and philosophy, as well as on art was to adopt a plainer language, and as such engage all people, not only the great and the wealthy. Bonheur's love of storytelling and passion for animals at a time when the British nation was establishing homes for lost and abandoned dogs in Battersea and building pet cemeteries, placed her perfectly in tune, and as such brought fame in her lifetime.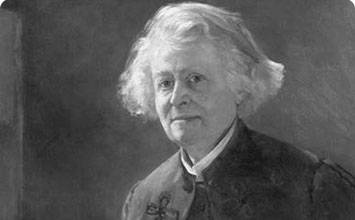 Rosa Bonheur (née Marie-Rosalie) was the oldest of four children, two girls and two boys, born to an idealistic artist father, Oscar-Raymond, and a patient piano teacher mother, Sophie. Interestingly, all four of the children grew to be talented and successful artists. The family moved from rural Bordeaux to Paris in 1829 when Rosa was six years old. She was a rambunctious child who enjoyed sketching as soon as she could hold a pencil, but initially struggled with reading and writing. Her mother helped her to learn basic literacy by asking her daughter to draw an animal for each letter of the alphabet. Rosa recalled "...One day she had a bright idea...She told me to draw an ass opposite the A and a cow opposite the C and so on..." Following her mother's ingenious method, Bonheur always credited her, and this moment in life for her enduring love and deep understanding of animals.
Important Art by Rosa Bonheur

The below artworks are the most important by Rosa Bonheur - that both overview the major creative periods, and highlight the greatest achievements by the artist.

Plowing in the Nivernais (1849)

Artwork description & Analysis: This large oil painting, commissioned and exhibited in 1849 by the French government, was Bonheur's first early success. She primarily depicted animal subjects and here twelve oxen peacefully plough the land in preparation for future planting. Her focus on the land, the animals and the landscape tell a respectful story of timeless peasant life, work, and tradition. The humble sense of realism that emanates from the canvas recalls that work of Camille Corot and Gustave Courbet. Similar to the Realists, Bonheur presents man and nature working seamlessly together to yield harvest from the land.

Bonheur's masterful use of a series of diagonals leads the viewer into and around the sunlit composition. The solid, straight edge of the plowed field recedes from foreground to middle ground. The artist's use of scale and perspective is epic and impressive, and in this sense also recalls the canvases of the Romantics. The two groups of six gleaming Charolais glisten in impressive muscular stride pleasing the eye in their subtle variations of color. The softness, elegance, and muteness of palette also recalls the calm wistful landscapes of earlier Dutch masters, with whose work Bonheur was also very familiar. The artist comments at the time, "I became an animal painter because I loved to move among animals. I would simply study an animal and draw it in the position it took, and when it changed to another position I would draw that."

Oil on canvas - Musée Nationale du Chateau de Fountainebleau, France

The Horse Fair (1855)

Artwork description & Analysis: Bonheur's most famous painting is monumental: eight by sixteen feet. She dedicated herself to the study of draft horses at the dusty, wild horse market in Paris twice a week between 1850 and 1851 where she made endless sketches, some simple line drawings and others in great detail. Her ability to capture the raw power, beauty and strength of the untamed animals in motion is superbly displayed in this dramatic scene. In arriving at the final scheme, the artist drew inspiration from George Stubbs, Théodore Gericault, Eugène Delacroix, and ancient Greek sculpture: she herself referred to The Horse Fair as her own "Parthenon frieze." The Parthenon featured rows of rearing writhing horses in sculpted muscular relief.

The masterful handling of the motion and swirl of dark and light surrounding the pounding, unruly beasts controlled by calm, masterful handlers pulls the viewer into the energy and action of the scene. Bonheur again makes use of a strong diagonal line (as also in Plowing in the Nivernais) in composition where the brooding sky meets the treetops. On the far right, potential buyers calmly look down upon the controlled frenzy from the safety of a wooded hillside. The extremely active middle ground is balanced by the simplicity of the bare foreground and the atmospheric perspective in the background, where we see the outline of the Pitie-Salpetriere Hospital. Although some critics described this work as purely an exercise in academic mastery, it is clear too that the artist is an intense observer of both animal and human psychology. Bonheur writes, "The horse is, like man, the most beautiful and most miserable of creatures, only, in the case of man, it is vice or property that makes him ugly. He is responsible for his own decadence, while the horse is only a slave." It is this painting that brought the artist her first fame outside of her own country as engravings of the scene were transported through Europe and to America.

Oil on Canvas - Metropolitan Museum of Art

Spanish Muleteers Crossing the Pyrenees (1857)

Artwork description & Analysis: Although the painting is dominated by a dense pack of animals, the dynamic composition incorporates one of Bonheur's most spectacular landscapes. Mules like these were an important means of trade over the mountains; they stream dutifully forward creating a scene of a "Hymn to Work" as described by one critic. The paler distant mountains serve as a backdrop for the artist's "...reverence for the dignity of labor and her visions of human beings in harmony with nature." The bright colors and donkey dressage hints towards more exotic and far away lands in a motif typical of Victorian painters and in particular of Lawrence Alma-Tadema.

Attended by three young muleteers, the calmly onward herd fans out across the middle ground in a loosely triangular shape as they descend toward the viewer from a small opening in a craggy pass of the Aspe Mountain. In fact, the entire plan of the composition is made up of triangles created by lines of perspective leading into the central standing figure. The white clothing of the two posed men helps pull the viewer into the middle of the composition, as do the lighter touches of paint on the animals and rutted ground. The attention to details such as the bells and tufted ornaments on the mules bring vitality to the scene. The two distant triangular shapes of misty grey, snowy peaks repeat the design plan. As the biographer Dore Ashton explained, French admirers of the painting praised "...its most glorious and most significant scenery, rendered with a handling akin to old mastership..."

Interestingly here, the protagonist of the scene appears to be a human, whilst all of Bonheur's canvases that follow focus entirely on animals. It is as though the artist needs to show explicitly that she is interested in an interconnectedness between humans and animals in these first three epic canvases, whilst in work to follow she decides that it is when animals stand alone that they convey the strongest messages to humans.

Oil on Canvas - Private Collection
More Rosa Bonheur Artwork and Analysis:
Influences and Connections
Influences on Artist
Artists, Friends, Movements
Influenced by Artist
Artists, Friends, Movements
Interactive chart with Rosa Bonheur's main influences, and the people and ideas that the artist influenced in turn.
View Influences Chart

Artists

| | |
| --- | --- |
| | George Stubbs |
| | Antoine-Louis Barge |
| | John Louis Gericault |
| | Karl Bodner |
| | Constant Tryon |

Personal Contacts

Movements

Influences on Artist
Rosa Bonheur
Years Worked: 1836 - 1899
Influenced by Artist

Artists

| | |
| --- | --- |
| | Anna Klumpke |
| | Molly Luce |
| | Wayne Theibaud |
| | Robin Becker |

Personal Contacts

Movements

| | |
| --- | --- |
| | Realism |
| | Romanticism |
| | Feminist Movement |
If you see an error or typo, please:
tell us
Cite this page

Content compiled and written by Cheryl Van Buskirk
Edited and revised, with Synopsis and Key Ideas added by Rebecca Baillie
" Artist Overview and Analysis". [Internet]. . TheArtStory.org
Content compiled and written by Cheryl Van Buskirk
Edited and revised, with Synopsis and Key Ideas added by Rebecca Baillie
Available from:
First published on 12 Jun 2018. Updated and modified regularly.


[Accessed ]