Artworks and Artists of The Pre-Raphaelites
Progression of Art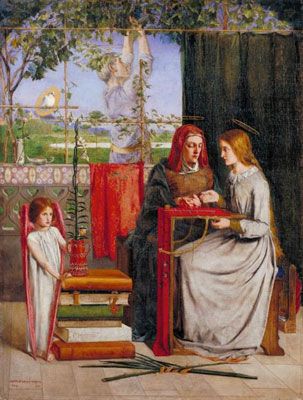 1848-49
The Girlhood of Mary Virgin
This painting by Rossetti was the first Pre-Raphaelite work to appear in public. It featured the secretive initials "PRB," indicating that the artist was a member of the newly established Pre-Raphaelite Brotherhood. In the painting, the Virgin Mary appears at home with her mother, St. Anne, and an angel, while her father tends the garden outside the window.

The style is deliberately modeled on late Medieval and early Renaissance paintings, which were highly unpopular in Victorian England at the time. The composition defies the techniques of traditional perspective, with a notable flatness between the foreground and background, which foreshadows later artists' rejections of classical ways of depicting realistic space.

As art historian Jason Rosenfeld points out, "Rossetti's picture represents a revivalist style that draws on early Renaissance paintings from Northern Europe and Italy, blended with a comprehensive religious symbolism expressed in a profusion of clearly observed details and natural forms, such as the lilies redolent of the Virgin Mary's purity and the lamp evoking piety." Rossetti adds another touch of realism by portraying the likenesses of his mother and sister as Mary and Saint Anne; at the time this was considered blasphemous given the standard dependence on classical models for the Holy Family. Rossetti's daring combined with his Medievalist style was highly controversial and drew attention to the limits of the "Grand Manner" that was still celebrated in the British Academy. In effect, Rossetti was proposing a radical alternative way to represent even the most sacred of subjects.
Oil on canvas - Tate, London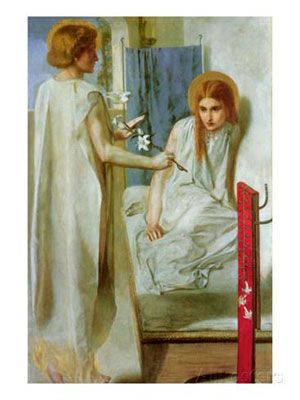 1849-50
Ecce Ancilla Domini! (The Annunciation)
Rossetti's painting of the Annunciation is still mystifying viewers in the 21st century. The angel Gabriel's announcement to the Virgin Mary of her impending miraculous pregnancy is one of the most familiar and popular subjects in religious art, but Rossetti's interpretation of the moment is utterly singular and was criticized for its realism when it was first exhibited.

Taking his inspiration from early Italian frescoes, like those by the monk Fra Angelico, Rossetti chose a simplified palette and composition. But within these self-imposed boundaries, and despite the inclusion of many recognizable symbols of the Virgin (the lilies, etc.), the scene departs totally from traditional depictions. The artist used his sister as a model for the Virgin, highlighting her red hair and the innocent, fragile state of a young woman just awakening from sleep. Since the Renaissance the Annunciation had been used as an example for women's piety and virginity, but the modern expression on Rossetti's Virgin's face and her posture seem disturbed and mysterious and are difficult to interpret as pious. This uncertainty introduced into a sacred scene is typical of Rossetti, and it is above all his Naturalism that allows the viewer to experience such a profound connection to the humanity of the normally idealized Virgin.
Oil on canvas - Tate, London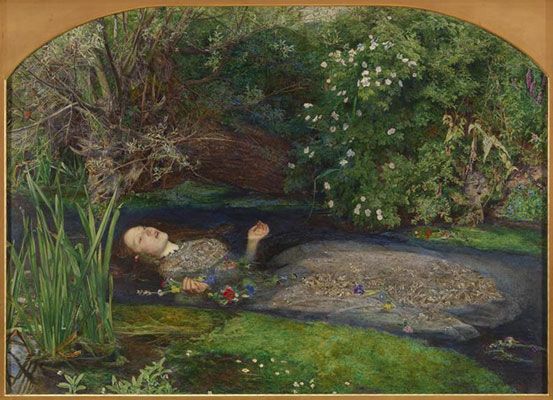 1851-2
Ophelia
Ophelia is arguably both John Everett Millais' masterpiece and the most iconic work of the Pre-Raphaelite Brotherhood. Painted when he was only 22 years old, Millais worked for months in the open air in the countryside, composing the background with painstaking detail. In addition to flowers and boughs, Millais included reeds, the muddy bank, and a water rat.

Elizabeth Siddall, a cutlery-maker's daughter whose unusual looks were highly regarded by Pre-Raphaelite artists, modeled the figure of Ophelia, whose death is described in Shakespeare's Hamlet by Queen Gertrude. Ophelia, having gone mad from Hamlet's rejection, sinks slowly into the river while singing. Millais posed his model in a bathtub filled with water to accurately capture the effect of water on her clothes and hair. Famously, the model nearly died after the candles warming the water went out and she caught pneumonia. Well beyond earlier Victorian genre paintings, in Ophelia Millais strived to recreate a moment from a fictional work as it really happened, in a way that is highly realistic, while being simultaneously romantic and dramatic.
Oil on canvas - Tate, London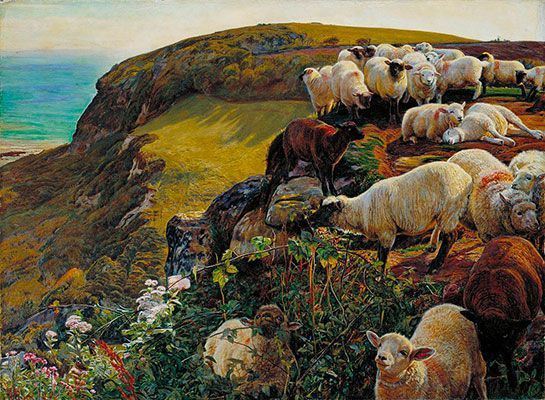 1852
Our English Coasts (Strayed Sheep)
Landscape painting was an important expression of the Pre-Raphaelite commitment to nature and Hunt painted much of this scene outside, on the cliffs near Hastings. This pastoral painting was celebrated for its Naturalism: Hunt's special attention to the specific changing effects of light across a wide variety of surfaces (field, flower, wool, water, sky), all of which would have appeared extremely modern to the Royal Academy where it was first exhibited in 1853. In a bold departure from idealized scenes of the English countryside, the asymmetrical composition traps the lost sheep in a disorderly tangle of coastal vegetation.

The picture also carried a deep political significance. The cliffs of southern England face toward France and hint at the possibility of foreign invasion. For a populace nervous about Napoleon III's 1851 coup d'etat, Hunt's untended sheep, perched precariously on the cliff's edge, may have represented the vulnerability of the British nation and her coasts. Hunt further emphasizes this political reading of the landscape with the sheep's expressions; their appealing individuality draws the viewer's concern to their fate and the future of England. When the painting was exhibited at the Exposition Universelle in Paris in 1855, Hunt changed its name to Strayed Sheep, possibly to facilitate more neutral interpretations.
Oil on canvas - Tate Britain, London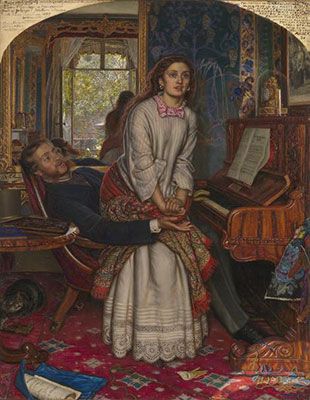 1853
The Awakening Conscience
A key part of the original Pre-Raphaelite ideology was to subtly challenge basic tenets of Victorian morality. In The Awakening Conscience, Hunt portrays an unmarried woman in the role of a mistress. The artist clearly demonstrates her unmarried state by emphasizing her left hand, where a ring is missing from her fourth finger (and yet all other fingers have rings, a testament to the gifts of her lover). The painting expresses her moment of realization, as she rises from the lap of her lover with an enraptured expression, looking from the dark interior of the stuffy Victorian parlor to the beautiful sunlit garden outside (seen by the viewer in the mirror in the background). The discarded glove on the floor below her may symbolize the future (she realized) she faces.

In the bottom left corner, a cat has caught a bird, mirroring the gentleman and his mistress and indicating the trap he has prepared for her. Here, Hunt provides an unusual and controversial view of prostitution in Victorian England. As Tate curator Alison Smith argues, "Hunt was offering an alternative narrative to the downward trajectory through prostitution to the grave propagated in much of the contemporary literature surrounding the fallen woman."

The moral message of the painting is presented lightly, even ambivalently. The visual confusion of the room is heightened by her half-risen stance, which could be interpreted as sitting down rather than getting up. This ambiguous, seemingly sympathetic view of a common - but never publicly discussed - situation was a unique interpretation that encouraged viewers to question their judgments, rather than supplying them with simple moral formulas.
Oil on canvas - Tate, London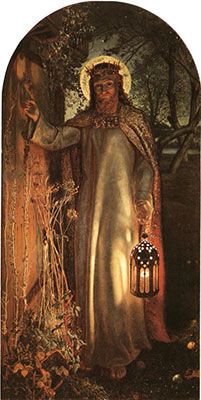 1853-54
Light of the World
Like many first-generation Pre-Raphaelite religious pictures, Hunt's painting of Jesus from Revelation 3:20: "Behold, I stand at the door and knock..." faced fierce criticism when it was first exhibited at the Royal Academy in 1854. Although Hunt struggled greatly with the nighttime light effects, it was not the Naturalism that offended its initial audience; it was its largely unfamiliar religious iconography, which seemed worryingly Catholic - especially the ecclesiastical robes worn by Jesus.

After this critical reception, the painting was reproduced through engravings and other prints, and surprisingly, it became hugely popular with both Protestant and Catholic audiences. Almost fifty years later, Hunt was asked to paint another, larger version, that now hangs in St. Paul's Cathedral. Before it was donated to the cathedral by the businessman Charles Booth, it toured the British Empire for two years (1905-1907), drawing enormous crowds in Australia and South Africa (the Canadians weren't as impressed). Some scholars have suggested Booth saw a relationship between the Light of the World and the phrase "The sun never sets on the British Empire," linking the light of Christianity to the power and progress of the Empire.

One could make an argument that it was, for a time, the most famous painting in the world. It inspired endless copies, numerous Victorian poems, and even musical works, as well as being ubiquitous in Protestant religious publications. In an ironic, modern twist, Hunt was thus made world-famous by the industrial arts of popular culture that he spent a lifetime resisting.
Oil on canvas - Chapel at Keble College, Oxford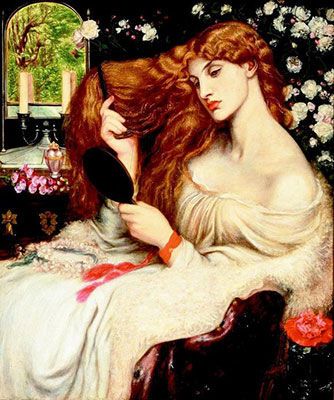 1866-68
Lady Lilith
In the Judeo-Christian tradition, Lady Lilith refers to the apocryphal first wife of Adam, a mystical figure who is often closely associated with the serpent in the Garden of Eden. Although she appears in various narratives as a demon, murderess, and child abductor, the Pre-Raphaelites were probably most familiar with her Romantic description as a femme fatale in John Wolfgang von Goethe's poem Faust (1808). In the famous book Goethe tells how Lilith traps men with her "dangerous" long hair, lyrically conflating her locks with a serpent's deadly embrace. Rossetti and other artists were greatly drawn to this erotic symbol of the conflicted sexual politics of the Victorian period.

Although the Victorians are sometimes characterized as a sexually repressed society, recent scholarship has shown a much more complex reality where strict "official" codes of behavior are juxtaposed with an extraordinary wealth of Victorian sexual literature, art, and pornography. The representation of women as possibly dangerous sexual creatures can seem contradictory in a time when their public roles and educational opportunities were expanding. And it was this conflict that seems to have obsessed Rossetti in his female portraits, which so often feature powerful, seemingly self-possessed women with mesmerizing physical attributes. In the accompanying poem to this work (which echoes Faust), Rossetti writes that Lilith entraps Adam with "one strangling golden hair," thereby playing off unbound female hair as a Victorian symbol for the fallen woman. Likewise, an oversized comb draws attention to this act of self-beautification and enticement.

However, for all the apparent power granted to her by this gesture, Lilith is depicted as looking into a mirror and not at the viewer, allowing the (presumably male) onlooker visual access to her sexualized body, which is scaled larger than life and occupies nearly the entire canvas. She is powerful and frightening, but she is also safely contained within Rossetti's painting for the pleasure of male viewers: the temptress trapped.
Oil on canvas - Delaware Art Museum, Wilmington, Delaware, USA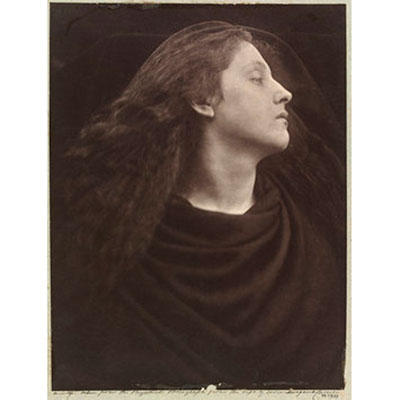 1867
Call, I Follow, I Follow, Let Me Die!
Julia Margaret Cameron was one of several photographers inspired by the Pre-Raphaelites. As a woman, Cameron worked with certain restrictions, but the new medium of photography allowed her great freedom to experiment in her home studio, and amongst her friends and relations.

In the mid-1860s, she worked on a series of close-up images of heads and faces, often of women among her household. This photograph is a portrait of her maid, Mary Hillier. Rejecting the conventions of stiff, formal Victorian photography, Cameron presents Mary as a sensual and free subject, with the Pre-Raphaelites' signature flowing hair and parted lips. She is dressed in simple clothing and set against a plain background, eliminating any telling narrative details in favor of an expressive focus. And in keeping with the poetic sensibility of the movement, the title of the photograph refers to a line spoken by one of the poet Lord Alfred Tennyson's tragic heroines: Eleanor, who dies of unrequited love for Sir Lancelot.

Cameron saw the work as a refusal of "mere conventional topographic photography - map-making and skeleton rendering of feature and form," which she saw in most photography at the time. Instead, she believed it was possible to use photography as an art form in its own right (akin to painting), a rare step that relates to the innovations the Pre-Raphaelites inspired in other non-fine arts media, including furniture and textiles.
Carbon print photograph - Victoria and Albert Museum, London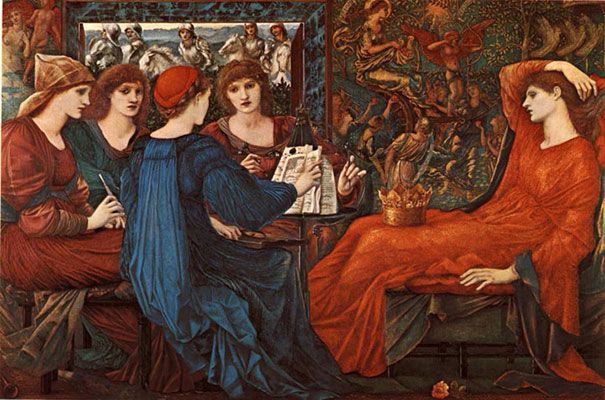 1873-8
Laus Veneris
The painting's subject is taken from the German legend of Tannhauser, the story of a knight who is taken in by the Roman goddess of love, Venus, and encouraged to live a life of sensual indulgence. Eventually, Tannhauser sees the error of his ways and chooses to repent. In Laus Veneris (Worship of Venus), Burne-Jones represents a vignette of Venus relaxing in her luxurious bower with her handmaidens in a scene of subtle eroticism.

Pre-Raphaelite scholar Tim Barringer describes this work as "one of the most daring and powerful works in the Pre-Raphaelite canon. In this work, Burne-Jones collapsed the boundaries between the fine and decorative arts, and offered a complex rumination on the relationship between art, music and love." The painting's flat perspectival plane and sweeps of bold color evoke a decorative effect (the painting itself has the feel of a tapestry), and the many aspects of the composition (from the flowing fabrics of dresses to the elaborate scene behind Venus and the peacock feather fan) create a highly ornamental surface. This emphasis on an aesthetically pleasing and harmonious composition was a point of inspiration for the Aesthetic movement, which became popular in the 1880s.

Laus Veneris is closely related to a poem of the same title by the writer Algernon Swinburne, published in a volume dedicated to Burne-Jones. The artist used references to Swinburne's erotic stanzas such as "And I forgot fear and all weary things, / All ended prayers and perished thanksgivings, / Feeling her face with all her eager hair / Cleave to me, clinging as a fire that clings / To the body and to the raiment, burning them; / As after death I know that such-like flame / Shall cleave to me for ever; yea, what care, / Albeit I burn then, having felt the same?". He combined such lines with painterly, decorative surfaces that recall his work for Morris & Co. In doing so, Burne-Jones creates an image of female beauty and sensuality that is fundamentally modern.
Oil on canvas - Laing Art Gallery, Newcastle-upon-Tyne, UK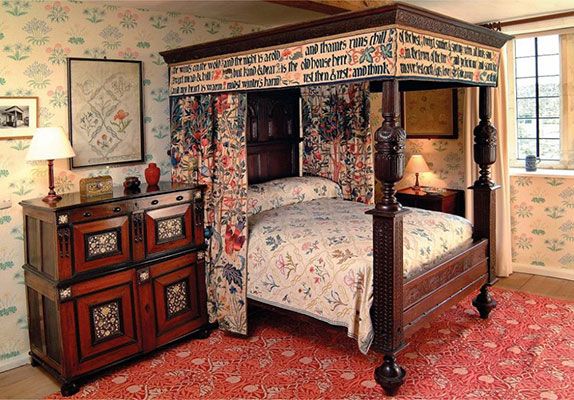 1891-3
Kelmscott Manor Bed Hangings
In 1871, William Morris and Dante Gabriel Rossetti rented an Elizabethan house in the countryside together named Kelmscott Manor. Morris saw it as a place where he could fulfill his artistic and social ideals: living in harmony with nature and enjoying his work. He had an elaborate four-poster bed in the house, which he loved so much that he wrote a poem about it.

Morris's daughter May was a talented designer, seamstress and businesswoman, who ran the embroidery department of Morris, Marshall, Faulkner & Co. She created hangings for her father's bed and embroidered lines from Morris' poem onto them. The result is a unique combination of poetry, innovative design, and skillful craftwork that epitomizes her father's all-encompassing vision of Pre-Raphaelitism, and what makes a complete artwork.

Tate curator Alison Smith points out that "May was one of the leading craftworkers of the era, having developed an aptitude for embroidery during her girlhood that she supplemented by studying the technique at the South Kensington School of Design." May developed her own unique style of embroidery, inspired by her father and his love of nature, but with a freer hand and less rigidity of pattern. As with other Pre-Raphaelite furniture, the bed and its hangings were intended to be both art and a practical object. The hangings were displayed in an exhibition of arts and crafts production at a London gallery in 1893, confirming the late Pre-Raphaelite desire to incorporate art and beauty into every element of life.
Cotton, embroidery - Kelmscott Manor, Oxfordshire
Similar Art