Artists
Julia Margaret Cameron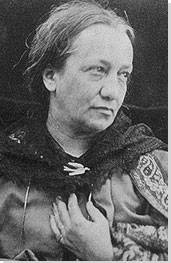 Born: June 11th, 1815 - Calcutta, British India
Died: January 26th, 1879 - Kalutara, British Ceylon

"Growth is a spiral process, doubling back on itself, reassessing and regrouping."
Summary of Julia Margaret Cameron
Julia Margaret Cameron was a mighty talent with a mighty heart; her photographs typically have a soft focus whilst her mind and eye have an acute sharpness, the combination of which created a pioneering quality in her work that still endures today. Unlike other early practitioners of the medium, Cameron did not seek technical perfection in her work as a means to "capture" or document reality. She appreciated the scientific processes behind her pursuit but privileged instead the creation of an otherworldly sense of beauty using props, allegory, and slight blurriness. As such, Cameron was intensely aware that she was an 'artist', trying ultimately to expose the emotional internal lives of her sitters. At the time, her experimental style was better received by the Pre-Raphaelite painters than by fellow Victorian photographers. Surrounded by impressive figures, mostly men, Cameron photographed them accordingly with great respect but rejected hierarchy and gave equal attention and importance to passing strangers, children, and nursing mothers.
Key Ideas
Cameron has become an influential mother-figure for subsequent generations of modern and contemporary photographers with particular interest in making images born out of heightened levels of communication. Following the creation of spaces of trust, consent, and reciprocity it is arguably possible to make more sensitive and revealing portraits, particularly of children. Such was also the endeavor of
Diane Arbus
,
Dorothea Lange
, and
Sally Mann
.
The notion of showing something of the reflective inner life of the sitter - an interest in the unconscious, the dream, and the imagination as the vehicles through which to explore identity - are the founding principles of Surrealism. Photographers Duane Michals and
Francesca Woodman
inherit Cameron's use of soft focus, shadow, and the trace as devices to highlight the more magical and ethereal aspects of human existence.
Cameron upheld a long-term relationship with Sir Henry Cole, the director/curator of the South Kensington Gallery (now the V&A museum), and was even given a studio space in the gallery from 1868 qualifying her as the gallery's first artist in residence. She was at the epicentre of an intellectual and artistic movement (connected to the Pre-Raphaelites) and this was unusual for a British woman at the time.
Due to her interest in experimenting with special characteristics particular to the medium (for example long exposure and soft focus), Cameron's oeuvre supports key theoretical debates surrounding the relationship between photography and time. Her photographs are now interestingly discussed in the context of the Belgian professor, Thierry de Duve's essay, 'Time Exposure and Snapshot', Walter Benjamin's concept of 'aura', and Roland Barthes' poetic discussions on the "punctum" of an image.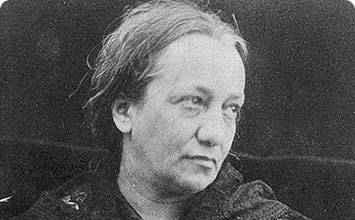 Julia Margaret Cameron was born in 1815 in Calcutta, India. She was the second of seven sisters, born into a wealthy, highly cultured, and well-educated family. Her father James Pattle was a well-respected official working for the East India Company. Her mother, Adeline Pattle was the daughter of French Royalists. As such, Cameron and her sisters spent their youth between India, Versailles, and England. All of the Pattle sisters were known for being vivacious and witty aesthetes, often noticed and commented upon for their unusual beauty and candor.
Important Art by Julia Margaret Cameron

The below artworks are the most important by Julia Margaret Cameron - that both overview the major creative periods, and highlight the greatest achievements by the artist.

Annie, My Frist Success (1864)

Artwork description & Analysis: This portrait of Annie Wilhelmina Philpot (1854-1930) was considered by Cameron to be her first photographic achievement, tellingly entitled "Annie, My First Success". Annie's three-quarter length portrait shows her head and shoulders on a slight angle to the left of the photograph. Her dark jacket with a peter-pan collar and round buttons complement her loose hair and pale skin. The little girl typifies Victorian notions of innocence and purity thought to be perfectly embodied within children. It also nods to the idea of Victorian children being considered to be miniature adults - Annie's face is locked in an expression of reserved tranquility. Cameron was so happy with the results of the sitting she remembers she "was in a transport of delight. I ran all over the house to search for gifts for the child."

Cameron sent the print to Annie's father, William Benjamin Philpot (1823-89), a vicar who dabbled in poetry with a note describing that the photograph owed "greatly to the docility and sweetness of the best and fairest little sitter."

Cameron's initial experiments began with little knowledge of the practicalities of photography. It is clear from this work that the initial technical issues she was confronted with were surmounted through trial and error. Cameron wrote, "I longed to arrest all beauty that came before me, and at length the longing has been satisfied. Its difficulty enhanced the value of the pursuit. I began with no knowledge of the art."

With the foundations of her practice established, Cameron began to work in more nuanced, unique, and unconventional ways, but this photograph remains iconic, as it was her first success in both the mastery of photographic technique and in her ongoing aesthetic interest in soft blurriness. Cameronian beauty much like that revered by the Pre-Raphaelites tended to be unsmiling and slightly melancholy, as is first demonstrated by Annie here.

Albumen print from wet collodion glass negative - Victoria and Albert Museum, London

The Madonna Penserosa (1864)

Artwork description & Analysis: The Madonna and Child was a recurring motif for Julia Margaret Cameron and a subject close to her heart as a mother to six children herself. On the one hand then, the images imbue the everyday women with an element of heroism in recognition of the important undertaking of raising children. On the other hand the image makes very clear the artist's knowledge of art history and her belief that the photographs she is making are akin to 'high art'. For of course the composition recalls the great masters like Raphael and Leonardo da Vinci, as well as iconic Byzantine depictions of the same subject. Furthermore, in the artist's particularly sensitive rendering of the child, the photograph interestingly looks forward to modern images in particular those of Dorothea Lange and Sally Mann. There is an uncanny resemblance to Lange's iconic 1936, Migrant Mother photograph (executed mere 70 years later, and thousands of miles away).

Albumen silver print from glass negative - The Met Museum, New York

Sappho (1865)

Artwork description & Analysis: This half-length image of Sappho is modelled by Mary Hiller, who often sat for Cameron. She wears a heavily embroidered dress and necklace with antique-looking coins. Her hair is loosely tied and flows gently down her back, most typical of the Pre-Raphaelite style. The background is a blurred wall of vines which softly edge the contours of Sappho's face. Sappho was a Greek poet active in the 6th century BC who famously wrote about women experiencing passionate love with other women. She was considered one of the greatest poets, was honored with numismatics and civic monuments, hailed by Plato as "the tenth Muse" and referred to as the Poetess, equivalent only to Homer's epithet of the Poet.

Sappho gazes to the right, her hand slouched over a Lyre, which symbolizes lyric poetry. In painting and sculpture, poets are often depicted holding a lyre to indicate their status and connection to Apollo. This image was the first of two studies made by Cameron on this subject. Cameron often sought inspiration from painting and sculpture, particularly for her allegorical and narratives photos. While some images were direct interpretations of paintings by Renaissance masters, others were inspired by subject and pictorial effect, but created through new dynamic figurations.

As one of the stand out female artistic and intellectual figures from Antiquity it is an unsurprising subject choice for Cameron, like the Virgin Mary, she is an iconic woman to be honoured and revered. Still however, Cameron was criticized for using the inherently truthful medium of photography to depict imaginary subjects, suggesting that her images be used for only painting studies. Cameron worked hard to have her work be understood for its intrinsic aesthetic worth, and led the way for modernist photographers to justify their medium as a fine art.

Albumen Print from wet collodion - Victoria and Albert Museum, London
More Julia Margaret Cameron Artwork and Analysis:
Influences and Connections
Influences on Artist
Artists, Friends, Movements
Influenced by Artist
Artists, Friends, Movements

Interactive chart with Julia Margaret Cameron's main influences, and the people and ideas that the artist influenced in turn.
View Influences Chart

Artists

Personal Contacts

| | |
| --- | --- |
| | George Frederick Watts |
| | John Herschel |
| | Alfred, Lord Tennyson |

Movements

Influences on Artist

Julia Margaret Cameron
Years Worked: 1863 - 1879
Influenced by Artist

| | | | | |
| --- | --- | --- | --- | --- |
| Artists | | Personal Contacts | | Movements |
If you see an error or typo, please:
tell us
Cite this page

Content compiled and written by The Art Story Contributors
Edited and revised, with Synopsis and Key Ideas added by Rebecca Baillie
" Artist Overview and Analysis". [Internet]. . TheArtStory.org
Content compiled and written by The Art Story Contributors
Edited and revised, with Synopsis and Key Ideas added by Rebecca Baillie
Available from:
First published on 07 Aug 2018. Updated and modified regularly.


[Accessed ]