Artists
George Frederic Watts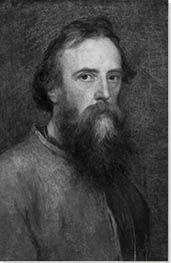 George Frederic Watts
English Painter and Sculptor
Movement: Symbolism
Born: February 23, 1817 - London, England
Died: July 1, 1904 - Compton, Surrey, England

"I paint ideas, not things. My intention is less to paint works that are pleasing to the eye than to suggest great thoughts which will speak to the imagination and the heart and will arouse all that is noblest and best in man."
Summary of George Frederic Watts
George Frederic Watts was a visionary force with a paintbrush and a powerful persona as a man. Following an extended and inspirational trip to Italy, he took to wearing Renaissance robes on a daily basis. Indeed always unusual, he revealed an early interest in the unconscious mind by preferring to depict his subjects with their eyes closed. In style, he moved organically from Symbolism to abstraction whilst other artists remained far from this point. Overall, Watts was drawn to a cosmic synthesis of all things and as such deals in recurring notions and allegorical renderings of human strength and folly, never to be distracted by the fashions and expectations of the Victorian Age.

Indeed, his art straddles two worlds, that of Victorian romantic and nationalist symbolism, and that of a modernist insistence on digging to the depths and following the individual psyche. To privilege ideas and internal feelings during this era was rare, as was foreseeing the dehumanizing effects of commercialism. Indeed, a character in one of the artist's paintings, Mammon, is born as the monster to herald the absolute emotional disaster of the beginnings of a highly industrialized and capitalist society. Not only a painter, it is one of Watts' sculptures that well embodies his own character and ambition - a man on horseback looking out to the horizon with his hand to his forehead - he was an idealistic dreamer with an unwavering belief in humanity's inclination towards betterment.
Key Ideas
Although Watts was a contemporary of the
Pre-Raphaelites
- he was well acquainted with members of the brotherhood and shared many of the same ideas - he is in fact more typical of a British artist in that he remained relatively isolated and unaffiliated with a particular movement. Like the Pre-Raphaelites though, and his friend
Julia Margaret Cameron
, Watts was inspired by literary references and practiced a holistic form of art making whereby poetry, philosophy, music, and general suggestions on how to live as a good person were all combined.
In many ways, Watts was a man before his time. It was a radical statement of the day to say, "I paint ideas, not things", for such is the premise of
Modern Art
and following that,
Conceptual Art
. His paintings look forward to the intricate canvases of the French Symbolist
Odilon Redon
, and similar to Redon, Watts' early explorations of the unconscious, dream, the irrational, and the imagination, led him to expose monsters. Both artists successfully uncover horror and darkness in man, as well as creativity and strength, and as such, their malevolent human hybrid creatures (in particular depictions of the Minotaur) recall those of
William Blake
,
Francisco Goya
, and
Pablo Picasso
.
Following extended travels in Italy, Watts was heavily inspired by the art of early and high Renaissance. He was influenced, not only by the soft color palette (particularly the hazy blues and icy pinks), but also by his desire to present an audience with a whole and epic story. Inspired most significantly by
Michelangelo's
Sistine Chapel
(1508-1512) and by
Giotto's
Scrovegni Chapel
(1305) he consequently aspired to create his own 'House of Life' (a united series of many of his canvases dealing with specific emotions). Like the Old Masters, he considered his body of work to be at once a didactic narrative and a synthesis of spiritual ideas.
A genuine and humble artist, Watts was also a political man. He bequeathed much of his art to the British nation in the belief that art should be accessible because it helped human development and was a tool for social reform (an idea shared by William Morris). He celebrated the heroic acts of ordinary men at Postman's Park, and built a community Ceramic Studio, and an Art Gallery within an Artists' Village in collaboration with his wife in the village of Compton in Surrey. Indeed, Watts' wife, Mary Seton Fraser-Tytler, was a suffragette, and Watts' sustained love and support for her, as well as his consistent return to the theme of the brutal mistreatment, limited choices, and unacceptable second-rate position of women in society, earn him the label as an early Feminist.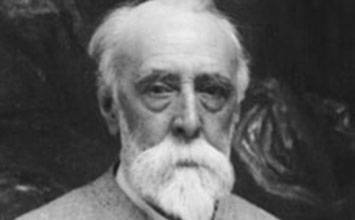 George Frederic Watts was born in Middlesex, a historic county in the south east of England that has since been swallowed up by London. His father was a piano maker and because of his love for music, named his son after the composer, George Frederic Handel, who shared the same birthday. The young Watts was a sickly child and as such was unable to attend school regularly. He was instead home-schooled by his father, both in a conservative Christian fashion but also with the introduction of interesting literature including Homer's The Iliad. Watts loved and held dear the inspiration that such ancient Greek texts brought him throughout his career, but resented and rejected the strict sabbatarian and evangelical household in which these were presented. Watts was deeply affected by the severe routine that he experienced on Sundays, and general restriction had a negative impact on his overall view of organized religion. As such, he questioned traditional biblical teachings and his own reimagining notions of 'the creator' can be seen in works through to the end of his life.
Important Art by George Frederic Watts

The below artworks are the most important by George Frederic Watts - that both overview the major creative periods, and highlight the greatest achievements by the artist.

Found Drowned (1848-50)

Artwork description & Analysis: Lying on her back, arms outstretched, the forlorn figure of a woman fills the bottom third of this imposing two-meter canvas. Her still face is highlighted whilst the distant industrial background is lost in a haze; a solitary shining star shines down on her lifeless body as a sign of celestial respect and acknowledgement of the women's individuality. The sad scene is framed by the Waterloo Bridge; underneath the woman, dressed in red (perhaps to signify impropriety or sexual experience as the cause of her downfall), has been washed up by the mysterious deep flowing waters of the River Thames.

The piece is physically as big as its intended emotional message, which was that Victorian society was unjust and women were drowning in its hypocrisy. The painting marked one of Watts' first forays into social realism and highlights the artist's confrontation of the sexual double standards that faced women who fell pregnant out of wedlock at this time. The inspiration for the piece came from Thomas Hood's poem The Bridge of Sighs, in which an unnamed expectant woman throws herself to her death after being made homeless. Watts said himself that he wanted his work to be considered "poems painted on canvas". Sadly, it was often the case that Victorian "fallen women" - be they expecting babies but unmarried, shunned by lovers, or made destitute and hungry fro other reasons - would commit suicide by drowning themselves in the icy and unforgiving waters of the Thames.

Watts uses color to highlight the stark contrast between the woman's soul - who we are asked to consider with compassion - and the dark, uncaring city beyond. The figure's skin is almost luminescent against the black and blues of the dark and indifferent London cityscape. The palette of the city beyond recalls the wispy and feathered aesthetic techniques of his fellow artist, James Abbott Whistler, who was soon to make London his home. As Watts knew that Victorian society was not yet ready for the mirror that he held up to it - indeed, his exposure of the harsh and unrealistic expectation placed on women's shoulders - he cleverly refrained from exhibiting the painting for another 30 years to come.

Oil on canvas

Choosing (1864)

Artwork description & Analysis: Watts was a prolific and successful portrait painter and his distinctive studies of women produced in a highly poetic and romantic spirit were very popular among Victorian society. The exquisite Choosing is one of his finest examples, depicting a classically beautiful, golden haired young woman tilting her head in a gesture of gentle eroticism in order to enjoy the imagined luscious scent of a bright red camellia. Her eyes are closed, repeating a favored and important motif for Watt's; he suggests that knowing comes intuitively from within, rather than as learnt response derived from the external world.

The model in this painting is in fact the artist's own teenage-bride Ellen Terry who he had married at the age of 46 (when she was 16). This sensuous image shares much in common with the Pre-Raphaelite style. Indeed, Watts too is extremely interested in allegory, and in the messages that he is able to convey using repeated motifs and poignant symbols. Camellias, though showy and beautiful, are scentless. Yet she is delicately holding close to her heart a clutch of violets. According to the art teacher and curator Wilfred Blunt, who wrote a biography of Watts, Choosing shows Terry "trying to decide between the rival merits of a showy, scentless camellia and the humble but fragrant violets held close to her heart". Do the flowers in this respect signify two different men vying for the young girl's affection? Or do the flowers stand as a choice at this point between the two states of innocence and experience? Or between the life as a man's lover, or the life of an independent actress?

At this point of the painting's creation, Terry had given up a career in acting in order to live with Watts and to be educated by him. The union was less shocking than it would be today, but it was disastrous nevertheless. Terry, the subject for a number of Watt's symbolist portraits left her husband in under a year and returned to the stage, later becoming the preeminent Shakespearean actress of her age. The portrait remains a skilled testament to love and beauty, an illustration that Watt's shared appreciation for flora, lavish color schemes, and youthful female beauty like the Pre-Raphaelites. Watts though, also made pictures without such obvious affiliations and as such with further extended possibilities of meaning and influence.

Oil on canvas

Love and Life (c.1884-85)

Artwork description & Analysis: Here Watts depicts the sturdy winged male figure of Love reaching down tenderly to help the female personification of Life as she fumbles her way up the rocky mountain path of existence. Pale, weak, and beautiful, she turns her head upwards to the guidance of Love. The message is similar to that of Found Drowned, whereby an expectant lone woman is left destitute. No doubt at some point before this said woman lost her life, Love reached out a hand to her also. Unfortunately, the impact of consummated love in the Victorian period (especially out of marriage) often heralded disastrous consequences.

Watts said himself that this was one of his of his best paintings "to portray my message to the age". As the pair ascends, violets blossom on jagged stones and clouds disperse to reveal a clear blue sky. Love is here understood as altruism and compassion, rather than physical passion, or indeed, if it is not to ruin a woman that it importantly is better kept this way. This was an important moral message for the Victorian age - when blind adherence to the teachings of the bible began to give way to scientific reason and more individualist ways of thinking. It was, in the artist's words, "a painted parable".

Watts believed that art should "lift the veil that shrouds the enigma of being" and he wanted this piece to represent in a universal symbolic language the emotions and aspirations of life. He donated the piece to the U.S. where he was growing in popularity, in the hope that it would spread the painting's double (and at times paradoxical message) - that Life cannot reach its transcendent best without the help of charitable Love, but also that women are suffering in contemporary society.

A critic at the time, G.K. Chesterton said: "More than any other modern man, and much more than politicians who thundered on platforms or financiers who captured continents, Watts has sought in the midst of his quiet and hidden life to mirror his age...In the whole range of Watts' symbolic art, there is scarcely a single example of the ordinary and arbitrary current symbol...There is nothing there but the eternal things, day and night and fire and the sea, and motherhood and the dead." In many ways this man was a poet and a visionary, interested only in powerful recurring symbols and never distracted by fashion or temporary societal ills.

Oil on canvas
More George Frederic Watts Artwork and Analysis:
Influences and Connections
Influences on Artist
Artists, Friends, Movements
Influenced by Artist
Artists, Friends, Movements

Interactive chart with George Frederic Watts's main influences, and the people and ideas that the artist influenced in turn.
View Influences Chart

| | | | | |
| --- | --- | --- | --- | --- |
| Artists | | Personal Contacts | | Movements |

Influences on Artist

George Frederic Watts
Years Worked: 1827 - 1904
Influenced by Artist

| | | | | |
| --- | --- | --- | --- | --- |
| Artists | | Personal Contacts | | Movements |
If you see an error or typo, please:
tell us
Cite this page

Content compiled and written by Sarah Ingram
Edited and revised, with Synopsis and Key Ideas added by Rebecca Baillie
" Artist Overview and Analysis". [Internet]. . TheArtStory.org
Content compiled and written by Sarah Ingram
Edited and revised, with Synopsis and Key Ideas added by Rebecca Baillie
Available from:
First published on 23 Nov 2018. Updated and modified regularly.


[Accessed ]