Artists
Luc Tuymans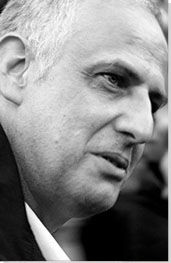 Luc Tuymans
Belgian Painter
Born: 1958 - Mortsel, Belgium

"Without generosity there is no art. I am convinced of that."
Summary of Luc Tuymans
Many artists use art to help make sense of, and process, the world around them. Luc Tuymans has become one of the world's most influential painters in doing just this. His eerie figurative works transform people and events from our global news and cultural feeds into unsettling examinations of history and memory. Social and political events from the world stage become memorialized on his canvas, albeit with a distinct lack of the artist's personal opinion. It's as if he is creating a veil, once removed from the actual event, in order to allow viewers to investigate their own feelings without the pull of direct culpability. His art positions ambiguity as a keystone to our communal existence.
Key Ideas
Tuymans sources popular media and news imagery, utilizing it to inspire his paintings both in subject matter, and techniques such as close cropping. This allows for instant familiarity for viewers but has also landed him in hot water with regards to being called a plagiarist.
The artist enjoys the distance between himself and his subject matter that the camera facilitates which he mimics by using his paintings to do the same. By painting a world event or important cultural figure, he is adding one more layer to that distance for his viewers.
In order to induce his signature ambiguity, Tuymans employs such measures as pale, muted palettes, wet on wet and choppy brushstrokes, and an often times distinct lack of detail to his painting. This allows for the viewer to use the limited information to formulate their own opinions and associations, culled more from the unconscious rather than the literal facts on the canvas.
A suggestion of horrors, dangers, or uncomfortable circumstance that take place beyond the painting's borders is typical of the artist's work. This causes viewer's to question what lies beyond what they are told or think they know about contemporary events.
Tuymans is often referred to as a political artist, and has indeed referred to life in general as a war zone. In so much that he as described history as chock full of unreliable information, he could also be considered a silent activist, presenting our media's constant fodder to us as documentation for further investigation into truth and falsity.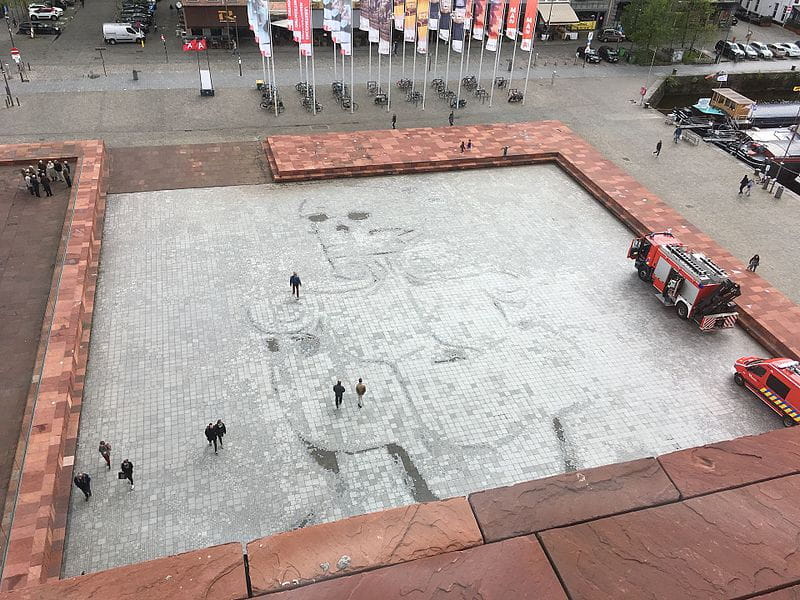 Luc Tuymans was born in Mortsel near Antwerp, Belgium in 1958. Although he has since described Antwerp as a city "of smartasses and troublemakers," he has always lived in Belgium and continues to call the area home. In an interview with author Elīna Čivle-Üye, he states: "I was born here and am somehow linked to this place."
Important Art by Luc Tuymans

The below artworks are the most important by Luc Tuymans - that both overview the major creative periods, and highlight the greatest achievements by the artist.


Artwork Images

Self-Portrait (1977)

Artwork description & Analysis: This self-portrait was one of the artist's first oil paintings, made when he was around eighteen years old. Whereas the composition is quite traditional, the figure is disjointed and barely described. As a result, the presence of the artist is evidenced as much by the visible brush strokes as his painted form. The palette is also very limited, reflecting the artist's view that: "Tones, more than colour, create the difference in how you memorize imagery."

Portraiture is fairly common in Tuymans's oeuvre, but the same cannot be said of self-portraits. This example is therefore quite rare. His portraits are traditional inasmuch as they are figurative representations of their subject, nevertheless they are often several degrees removed - painted not from life but from existing images such as press photographs, or even photographs or photocopies of photographs.

The painting is additionally significant as Tuymans entered it into a competition and was awarded a prize. His winnings included a book on the Belgian painter and printmaker, James Ensor (1860-1949), who became a lifelong influence for Tuymans. Poignantly, the book also featured a self-portrait painted by Ensor at the same young age as Tuymans. The latter identified similarities (in meaning as opposed to appearance) between the two works. Initially this was a cause of distress as Tuymans stated, "I had worked on my painting for more than three months; I thought I had made something original." Ultimately, the artist's frustration gave way to the realization that originality was an impossibility. He instead became interested in its "authentic forgery." This notion has continued to inspire Tuymans, as his paintings typically take as their precedents existing images that have often already been published.

Oil on canvas - Private collection


Artwork Images

Gas Chamber (1986)

Artwork description & Analysis: This painting is often discussed alongside two others, Our New Quarters and Schwarzheide, from the same year. All three works depict Nazi concentration camps; this one is Dachau. The artist presents the concentration camp as a blank interior. There is little detail, as if he is reluctant to engage with the subject too closely, while the limited palette adds to the impression of understatement. Common to journalists' and critics' impressions of this painting is the idea of claustrophobia, both visually - in the perspective and the lack of tonal variation that offers no relief for the eye - and in the relentless difficulty of its subject matter.

It is unsurprising that the painting demonstrates some wariness to address the traumatic events of the Holocaust. Speaking to art critic Jason Farago about Our New Quarters, which was painted prior to Gas Chamber, Tuymans commented, "Having not experienced such horrors, I didn't think it was morally possible to do it, but nevertheless, I did." The horrors to which he refers have personal significance to the artist with respect to his family history. While his mother's family worked in the Dutch resistance, hiding refugees, two of his paternal uncles were young supporters of the Nazi party. Tuymans has spoken of this tension as both fascinating and terrifying. He is nevertheless compelled to grapple with it and to address it in painting, perhaps in recognition that any response will appear inadequate.

At the Tate gallery, Gas Chamber and Schwarzheide are exhibited alongside other paintings by Tuymans that depict domestic interiors and everyday objects in what is described as the "interplay between the banal and the terrible." This curatorial decision brings out the domestic in Gas Chamber, which at first glance appears almost childlike in its depiction of an unremarkable and apparently quite modest space. The few disturbing details in the painting - the stained walls and holes in the ceiling, are not necessarily evident at first glance. According to Tate, this domestic similarity acts as a warning that fascism can be normalized and accepted into the everyday. The works that accompany these paintings with their mundane subject matter act as "reminders of the bourgeois environment that nurtured and protected Nazism."

Gas Chamber also demonstrates Tuymans's interest in documentation: the process of capturing and representing (or attempting to represent) something of the world in which we live, and the endless potential for reproducing and manipulating these records. He often uses documentary sources as inspiration for his art, while maintaining something of their original purpose. In the case of Gas Chamber, Tuymans's image is based on a watercolour that the artist made on site at Dachau and reflects that this original painting had discoloured by the time Tuymans reproduced it. Similarly, the image for Our New Quarters was originally a postcard, pasted into a book. Tuymans's version reflects this by using text to accompany the image.

Oil on canvas - The Over Holland Collection


Artwork Images

Heritage I (1995)

Artwork description & Analysis: This painting is one in a series of ten, each including imagery of stereotypically American motifs. For example, others include Mount Rushmore, people at work, a car, and children's toys. According to the Philadelphia Museum of Art, Tuymans was inspired to make these works following the bombing of a federal building in Oklahoma City. The images were made quickly and are lacking in detail. They all use muted, near monochrome colors, making them appear similar to the blurred snapshots one might come across in a newspaper.

In Heritage I, the complete lack of attention paid to detailing the face beneath the baseball cap gives the image a sinister edge. It speaks of the anonymity of the individual in a consumerist culture where the public is conceived as a generic mass as opposed to a group of unique people. According to author and filmmaker Peter von Ziegesar, there is also a similarity between these hats and generic hotel rooms. There is a suggestion that heritage is being temporarily inhabited by an unidentified individual, who will shortly move on. The ambiguity in the images leaves some of the responsibility for these interpretations with the viewer.

Inasmuch as Tuymans focuses on images that are ubiquitous in American culture and questions their meaning, the intent of the series (if not its appearance) could be said to have something in common with Pop Art. However, the artist goes much further, as he implies that these objects and scenes have a sinister dimension. In Tuymans's words, he wished to create in this series "a constant uneasiness, like a constant noise." In line with this statement, Von Ziegesar likens the images to sequences in a Hitchcock film in which the audience is shown a series of mundane objects that will later acquire a sinister meaning.

Oil on canvas - Philadelphia Museum of Art
More Luc Tuymans Artwork and Analysis:
Influences and Connections
Influences on Artist
Artists, Friends, Movements
Influenced by Artist
Artists, Friends, Movements

Interactive chart with Luc Tuymans's main influences, and the people and ideas that the artist influenced in turn.
View Influences Chart

| | | | | |
| --- | --- | --- | --- | --- |
| Artists | | Personal Contacts | | Movements |

Influences on Artist

Luc Tuymans
Years Worked: 1977 - present
Influenced by Artist

Artists

| | |
| --- | --- |
| | Paulina Olowska |
| | Ivan Grubanov |

Personal Contacts

Movements
If you see an error or typo, please:
tell us
Cite this page

Content compiled and written by Dawn Kanter
Edited and revised, with Synopsis and Key Ideas added by Kimberly Nichols
" Artist Overview and Analysis". [Internet]. . TheArtStory.org
Content compiled and written by Dawn Kanter
Edited and revised, with Synopsis and Key Ideas added by Kimberly Nichols
Available from:
First published on 02 Dec 2019. Updated and modified regularly.


[Accessed ]