"The small space between the picture's explanation and the picture itself provides the only possible perspective on the painting. Every picture is incomplete, just as every memory is also incomplete."
"I think that being an artist is also a profession. It is not only a hobby and a dream, and a thing that one likes to do. "
"Art cannot be created from art. It is created from reality. The reality in which we live, the reality that has been created by history."
"An artwork should point in more than one direction, not be this sort of placating, self-demonstrating, witnessing element."
"All art is failure. How one fails is a different matter."
Summary of Luc Tuymans
Many artists use art to help make sense of, and process, the world around them. Luc Tuymans has become one of the world's most influential painters in doing just this. His eerie figurative works transform people and events from our global news and cultural feeds into unsettling examinations of history and memory. Social and political events from the world stage become memorialized on his canvas, albeit with a distinct lack of the artist's personal opinion. It's as if he is creating a veil, once removed from the actual event, in order to allow viewers to investigate their own feelings without the pull of direct culpability. His art positions ambiguity as a keystone to our communal existence.
Accomplishments
Tuymans sources popular media and news imagery, utilizing it to inspire his paintings both in subject matter, and techniques such as close cropping. This allows for instant familiarity for viewers but has also landed him in hot water with regards to being called a plagiarist.
The artist enjoys the distance between himself and his subject matter that the camera facilitates which he mimics by using his paintings to do the same. By painting a world event or important cultural figure, he is adding one more layer to that distance for his viewers.
In order to induce his signature ambiguity, Tuymans employs such measures as pale, muted palettes, wet on wet and choppy brushstrokes, and an often times distinct lack of detail to his painting. This allows for the viewer to use the limited information to formulate their own opinions and associations, culled more from the unconscious rather than the literal facts on the canvas.
A suggestion of horrors, dangers, or uncomfortable circumstance that take place beyond the painting's borders is typical of the artist's work. This causes viewer's to question what lies beyond what they are told or think they know about contemporary events.
Tuymans is often referred to as a political artist, and has indeed referred to life in general as a war zone. In so much that he as described history as chock full of unreliable information, he could also be considered a silent activist, presenting our media's constant fodder to us as documentation for further investigation into truth and falsity.
Important Art by Luc Tuymans
Progression of Art
Biography of Luc Tuymans
Childhood
Luc Tuymans was born in Mortsel near Antwerp, Belgium in 1958. Although he has since described Antwerp as a city "of smartasses and troublemakers," he has always lived in Belgium and continues to call the area home. In an interview with author Elīna Čivle-Üye, he states: "I was born here and am somehow linked to this place."
While little has been written about the artist's childhood, Tuymans' Corso series (2015) of paintings recalls family holidays taken in Zundert, where a young Luc would work on the floats for the Zundert Flower Parade. Some of the paintings used photographs taken by his father for source material.
The influence of Tuymans's parents is most deeply felt, however, in the artist's work on World War II and the Holocaust. While his mother's family worked in the Dutch resistance, hiding refugees, two of his paternal uncles were members of the Hitler Youth. This tension has been a source of both fascination and fear for the artist, which he has attempted to address in painting.
Education and Early Training
Tuymans began his study of fine art at the Sint-Lukasinstituut in Brussels (1976-79), continuing his education at the École Nationale Supérieure des Arts Visuels de la Cambre in the same city (1979-80). In the late 1970s, he began to make his first oil paintings. One of these was a self-portrait, for which he won a prize in a competition between several Belgian schools. His winnings included a book on Belgian painter, James Ensor (1860-1949), who has been a lifelong influence for Tuymans.
In the 1980s, Tuymans moved from Brussels to Antwerp, where he studied painting at the Koninklijke Academie voor Schone Kunsten Antwerpen (1980-82). He was disillusioned with art school, where the contemporary art presented to him (Neo-Expressionism and the German equivalent, Neue Wilden) was "tedious." Furthermore, he was particularly troubled by the lack of attention given to painting both by contemporary artists and by his teachers. As a painter, he therefore considers himself self-taught.
Perhaps as a result of this disappointment, Tuymans returned to Brussels to study History of Art at the Vrije Universiteit (1982-86). Having lost interest in painting, albeit only for two years, the artist also worked as a filmmaker. He describes happening upon film "by accident" as "a friend shoved a Super 8 camera in my hand." His interest grew and ultimately influenced his painting style, as Tuymans began to use new techniques such as cropping and close-ups. He enjoyed the distance the camera afforded him as a spectator, stating, "I turned to film because, at that point, the world had become too tormented, existential, suffocating. I had to get away; I didn't have enough distance."
Mature Period
As evidenced by his experience at art school, Tuymans emerged as an artist during a time of general uninterest in painting, aside from the works of certain contemporary artists such as John Currin and Elizabeth Peyton. Noted art critic Peter Schjeldahl credited Tuymans with having contributed to the medium's revival after the artist first showed his work at a solo exhibition at the Palais des Thermes in Ostend in 1985. He continued to draw public attention over the next decade as he began to explore memories of World War II in Europe, with paintings such as Gas Chamber (1986), depicting the concentration camp at Dachau.
In the early 1990s, Tuymans became a full-time painter and was one of the first artists to be picked up by the David Zwirner gallery at its inception. Both Tuymans and the gallery have since won international acclaim. In an interview for Ocula magazine, the artist comments, "I never gave the market any thought when I started out as an artist. Initially I was chucked out of every academy and I worked as a bouncer, up to the point that I became too restless and needed to show my art ... I treat it [the market] as a war zone."
In the 1980s and '90s, Tuymans developed a distinctive process of painting he still uses today, whereby series of drawings, photocopies, and watercolors precede the final work, which is then completed in one day. Describing this method for Apollo magazine, the artist said the first stage, in which he contemplates and manipulates existing images, is "the most painful part" and often involves referencing existing visual materials such as Polaroids and film stills. This is followed by a burst of activity, in which he states, "intelligence shifts from my brain to my hand."
The resulting images often appeared slightly out of focus, a product of the artist re-photographing and remaking them, and of using wet paint on wet paint. These practices helped him put distance between himself and the original image. Additionally, Tuymans worked intentionally with cheap materials that caused the image to degrade. The artist explained, "the work is about the loss of meaning, but also about the failure of representation." Works made in this way included Die Zeit (Time) (1988), Heimat (1996), and Passion (1999).
Tuymans has spoken of a need, during the financial crisis, "to just organize [one]self." This inspired the artist to look back at his old works and put together a digital archive - a practice that ties in with his interest in documentation. Tuymans often works from images that are originally documentary, turning them into art while keeping something of their original purpose. For example his painting Our New Quarters (1986) reflects the fact that the original image was a postcard, which was later pasted into a book.
Current Work
Tuymans sees his work as grounded in the circumstances of modern reality, for example, war and its consequences on society. He believes that staying politically informed is important, since art is created "from what you experience and see." Given this philosophy, it is unsurprising that Tuymans has developed a reputation as a political artist - particularly prompted by his series of paintings Mwana Kitoko (2000), based on Belgian imperial rule in the Congo. He nevertheless resists this label, stating in an interview with Apollo magazine: "I don't think that an artist can be political, without formulating propaganda." He believes paintings should encourage viewers to question rather than reflect the artist's particular points of view.
On the basis of this reputation, many expected the artist's work for the Documenta 11 exhibition in 2002 to respond to the New York 9/11 attacks of the previous year. However Tuymans presented a still life on a grand scale, with no reference to world events - a piece for which he was widely criticized. Most recently, in 2015, Tuymans has been subject to public scrutiny on account of using photographer Katrijn Van Giel's portrait of Jean-Marie Dedecker as a source for his painting A Belgian Politician (2011). For this, he was found guilty of plagiarism, which he appealed on the grounds that the work was a parody of the photograph and a critique of Belgian conservatism, thus not in breach of copyright. The matter was settled amicably out of court, though it has left Tuymans wary of the media and of his country's position on individual success (and artistic license).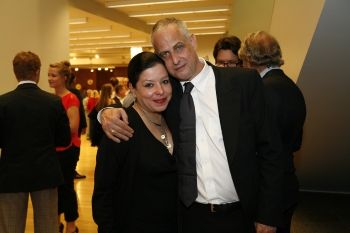 The art critic Jason Farago described Tuymans as follows: "he wears all black, a little white paint speckling one of his trouser legs. He lights cigarettes with the regularity of a metronome." Unlike many contemporary artists of his renown, he is extroverted and enjoys the lively creative atmosphere of Antwerp where he lives with his wife, Venezuelan artist Carla Arocha. Arocha and her business partner Stéphane Schraenen work as an artistic duo whose work spans art, design, and performance. Together with Tuymans, they also founded the artist initiative C A S S T L, which holds events and exhibitions of their own work and others. While their home includes a workshop and exhibition space for Arocha, Tuymans prefers to separate his everyday life from his art. His studio in Antwerp is the only place he can paint, though he is able to draw in any location. He claims to make about twenty paintings a year, describing his work as "intense."
Tuymans remains an utmost professional who views being an artist as a profession requiring organization and commitment. He is proud of his work ethic, claiming "I've never missed a deadline, unlike many artists who behave like prima donnas." Tuymans is also something of a perfectionist and extremely self-critical. These qualities are reflected in his unusual working process (as he described it to Coffeklatch), which includes leaving the studio on completing a painting in order to go drinking. The artist then returns to the studio "still somewhat under the influence... because that allows me to see the work with the eyes of a stranger" to recognize whether any changes are required. In a similar vein, Tuymans cannot abide seeing his works in the homes of collectors, "because I always see mistakes."
The Legacy of Luc Tuymans
Inspired by Jan van Eyck, René Magritte, and James Ensor, Tuymans is highly conscious of the history of Belgian painters and its preoccupation with realism, which he claims is "born of necessity. This country has been overrun by so many foreign powers that we don't have time to be Romantic." He sees his work as grounded in a reality where conflict is the norm rather than the exception with his paintings placing a veil between that reality and his self, once removed.
According to author Elīna Čivle-Üye, Tuymans is popular with prestigious curators, "A-class" gallerists and the public alike. He is considered to be one of the most influential contemporary painters and a pioneer of the medium's revival. The artist is often compared to Gerhard Richter, a leading German painter twenty-five years his senior. The two share an interest in photographs as source material, which might be manipulated and blurred via painting. Tuymans's work has also been exhibited alongside that of contemporary South African/Dutch painter Marlene Dumas, who has, like Tuymans, been described as one of Richter's "children." Dumas and Tuymans are both interested in the relationship between photographic and painted images, used to address historical and political events in art.
Besides painting, Tuymans has worked as a guest tutor at the Dutch institute Rijksakademie van beeldende kunsten, where he taught emerging artists Paulina Olowska and Ivan Grubanov. Additionally, he has curated several exhibitions, notably cross-cultural exhibitions that bring together Belgian and Chinese art. This ties in with his belief that isolation should be avoided. In his curation, Tuymans mixes contemporary and canonical art, with shows such as Constable, Delacroix, Friedrich, Goya. A Shock to the Senses at the Albertinum in Dresden. He believes that traditional curators often promote the same intellectual discourse, whereas Tuymans prefers to prioritize the visual, irrespective of background. Claiming, in an interview with Coffeeklatch magazine, that "Curating is satisfactory because it offers you new, often completely different insights." His 2015 exhibition at the Parasol unit foundation for contemporary art brought together six painters of varying ages and nationalities, through whose works he wished to demonstrate "juxtaposition of different lines of thought." He is as dedicated a curator as he is an artist, saying, "It's important to oversee a project from start to finish."
Influences and Connections
Influences on Artist

Influenced by Artist
Friends & Personal Connections
Artists
Paulina Olowska

Ivan Grubanov
Friends & Personal Connections
Stan Douglas
Useful Resources on Luc Tuymans
Books
The books and articles below constitute a bibliography of the sources used in the writing of this page. These also suggest some accessible resources for further research, especially ones that can be found and purchased via the internet.
biography
artworks