Artists
Marlene Dumas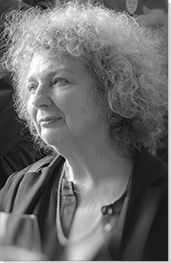 Born: August 3, 1953 - Cape Town, South Africa

"I have always been interested in how you can depict suffering without being heavy-handed."
Summary of Marlene Dumas
Marlene Dumas is a masterful presenter of what lies beneath. Who are we really behind our strategically composed facades? What darker truths simmer beneath our everyday lives? Raised in white South Africa knee deep amongst apartheid, the artist learned young that life was a study in contradictions and duality. Today, she is considered one of the most influential and iconic artists of the 21st century for her intimate, and yet estranged figurative portraits that explore the complexities of identity, and also for her politically-charged social art.
Key Ideas
Dumas' oeuvre is marked by an aesthetic dreaminess derived through the masterful use of creamy oils and watercolor with a decidedly muted application. This along with her washed out color palette and vacillation between sharpness and blur contribute to her status as iconic painter with a singular signature visual voice.
Regardless of subject matter, Dumas is noted for a visceral brewing of a tension that wavers between surface appearance, perception, and reality. The artist's role becomes one of mass manipulator in which she willingly pulls the puppet strings of a viewer's emotion in order to provoke reflection on personal culpability. In Dumas' hands, the image becomes a burden, asking the viewer to consider what is seen versus what isn't seen.
Like many figurative painters who bloomed in the 60s and 70s after the pop cultural explosion, Dumas works primarily from photographs garnered from the pages of contemporary newspapers and magazines, or film stills, oftentimes co-opting portions of an image like an abstract painter, and presenting it absent of its original context.
The contrast between violence and innocence, and our own communal participation on that varied shades of gray scale, marks much of Dumas' work. She constantly probes reflection on our individual responsibility, as well as her own, through her explorations into society's darker themes such as death, war, racism, and sex. To her, "There is no beauty, if it doesn't show some of the terribleness of life."
Dumas is part of a contemporary lineage of female figurative painters that have elevated the portrait from its roots in vanity, using it to depict personal, psychological, social, and political concerns. These women include
Jenny Saville
,
Lisa Yuskavage
,
Cecily Brown
, and
Elizabeth Peyton
.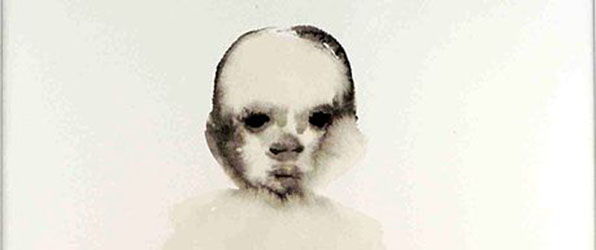 Detail of Marlene Dumas' Urinating Woman (1996)
Art critic Adrian Searle said of Dumas' paintings: "I am often struck by how little there seems to be on the canvas. The images coalesce out of almost nothing. Wiping paint off as often as painting positive emphatic marks, she gives us cheekbones or a forehead, a proffered anus and balls or a vulva using hardly anything."
Important Art by Marlene Dumas

The below artworks are the most important by Marlene Dumas - that both overview the major creative periods, and highlight the greatest achievements by the artist.


Artwork Images

Evil is Banal (1984)

Artwork description & Analysis: This painting is based on a photograph of the artist looking over her shoulder. She is in her forties, smiling, with long, flamboyant orange hair. Her light blue eyes are fixed on something outside the work, and her chin rests on her hand.

The bright self-portrait contrasts dramatically with its title, which refers to Hanna Arendt's controversial report on Nazi bureaucracy and the chilling normality of evil. This gap between the image and the word takes the painting to another dimension. Dumas clearly draws a parallel between the Nazi regime and the policies and practices of the apartheid. In the mid 1980s, when she finished this painting, apartheid was at its height. Dumas joined other South African artists engaged actively in diverse forms of political, social and cultural critique and resistance. Under this new light, the portrait here tends to be interpreted differently. Dumas in the painting does not seem as light but much more thoughtful. She looks behind her, to where she comes from, with an ironic smile. As a white person in South Africa, using self-portrait is a strong political statement, which makes the painting even more powerful. Questioning her own identity, Dumas places herself with humility as a potential perpetrator of evil acts and glances at the viewer as if saying: It could have been me, it could have been you.

She has commented about this portrait:

I have not come
to propagate freedom.
I have come to show the disease symptoms
of my time.
I am a good example of everything
that is wrong with my time.

Oil on canvas - Van Abbemuseum, Eindhoven, The Netherlands


Artwork Images

The Painter (1994)

Artwork description & Analysis: This jarring portrait presents a little girl, larger than life at over six feet tall. She is naked and eerily luminous with translucent flesh. Her hands are blue and red, covered with something that could easily be identified as blood. The upper part of the body is bluish while the rest is yellow to white; the face is even paler. The feet are not finished but broadly sketched. The girl seems angry as she stares petulantly toward the viewer. Her nudity gives her a barbarous air and she has been sometimes described as "an evil force of destruction."

The striking portrait is based on a snapshot of Dumas' own daughter, Helena, who was simply finger painting on a hot summer day. By taking her entirely out of her original context, Dumas deceives the viewer and makes him/her look at her child in a very distinctive way. The artist herself, talking about this work, commented on the ambiguity of childhood with its cruelty and naiveté. A parallel can be drawn with Diane Arbus' famous photograph Child with a toy hand grenade in Central Park, NYC (1962). In it, the little boy also seems angry and threatening as he holds a grenade in his hand, yet he was merely growing impatient with the photographer and only wanted to return to his toys. This contrast between violence and innocence would mark much of Dumas' work.

The generalizing title of "The Painter" adds another layer to consider. The menacing little girl suddenly becomes a powerful force of creation. She becomes the artist, the source, and the genius. Dumas plays with the iconic, romantic representation of a painter with a bit of humor. At the same time, she pays homage to her daughter - a mother's source of everything from life and death, fear and glory, happiness and sadness. Through the image of an angry and fearful monster-like little girl, Dumas powerfully and emotionally paints about love and motherhood. Helena has commented about this work that it is one of the best paintings her mother has ever done.

Oil on canvas - Museum of Modern Art, New York


Artwork Images

The Neighbor (2005)

Artwork description & Analysis: The picture depicts an ordinary young bearded man, likely of North-African descent, who could be anyone's neighbor as the title suggests. He looks rather calm and peaceful.

However, this portrait is based on a well-known newspaper photograph of Mohammed Bouyeri, convicted in 2004 for the murder of Dutch filmmaker and journalist Theo van Gogh. On the day of the crime, motivated by fundamentalist religious beliefs, Bouyeri who was then 26, shot van Gogh several times, and then tried to cut his throat and decapitate him with a large knife before stabbing him in his chest. The brutal assassination caused great social turmoil in the Netherlands, increasing feelings of fear, xenophobia, and Islamophobia. This very controversial image was taken down in the Netherlands and is part of the Man Kind series, one of Dumas' most political series.

This courageous work raises questions surrounding fear and manipulation on all levels. In it lies the unconscious suspicion relayed by media and populist groups that all Arab bearded men in Europe are potential terrorists. Yet, with nothing to clearly identify the portrait as a real criminal, we realize he could simply be another of our "neighbors." The tension between our fears of appearing racist and our fears of potential danger has become a modern-day reality and Dumas' ability to emphasize this marks a key component of her artistic genius.

In the same series, Dumas also painted a portrait that resembles Osama Bin Laden entitled The Pilgrim. When it was exhibited together with The Neighbor at the Galerie Paul Andriesse in Amsterdam for the first time, the two works were notably shown in the gallery office and not in the exhibition space. Today, The Neighbor is said to be the most famous work by Dumas in the Netherlands.

Oil on canvas - Stedelijk Museum, Amsterdam
More Marlene Dumas Artwork and Analysis:
Influences and Connections
Influences on Artist
Artists, Friends, Movements
Influenced by Artist
Artists, Friends, Movements

Interactive chart with Marlene Dumas's main influences, and the people and ideas that the artist influenced in turn.
View Influences Chart

| | | | | |
| --- | --- | --- | --- | --- |
| Artists | | Personal Contacts | | Movements |

Influences on Artist

Marlene Dumas
Years Worked: 1976 - Current
Influenced by Artist

| | | | | |
| --- | --- | --- | --- | --- |
| Artists | | Personal Contacts | | Movements |
If you see an error or typo, please:
tell us
Cite this page

Content compiled and written by Pich-Chenda Sar
Edited and revised, with Synopsis and Key Ideas added by Kimberly Nichols
" Artist Overview and Analysis". [Internet]. . TheArtStory.org
Content compiled and written by Pich-Chenda Sar
Edited and revised, with Synopsis and Key Ideas added by Kimberly Nichols
Available from:
First published on 11 Feb 2019. Updated and modified regularly.


[Accessed ]