Artists
Zeng Fanzhi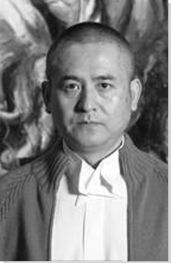 Born: 1964 - Wuhan, China

"What remains unchanged is my pursuit of beauty."
Summary of Zeng Fanzhi
For over three decades Zeng Fanzhi has been working to clear a path for Chinese art that offers a frank critique of contemporary Chinese life while creating an art historical dialogue between East and West. Zeng's oeuvre shifts between portraiture of artists, of himself, and of everyday workers; abstract color fields; landscapes; and satirical figurative works. Dedicated to the utilization and representation of emotion in painting, his works are challenging, hard-hitting, and evocatively rendered reflections on political and personal worlds.
Key Ideas
Zeng Fanzhi's most important contribution to contemporary art and painting is in his critique of communist-era Chinese propaganda, including the restrictive controls on art and artists, where
Socialist Realism
was the only permitted figurative painting model, featuring idealized images of political leaders and happy, healthy citizens.
Zeng's paintings present his own hybrid identity comprised of Western and Eastern influences (artistically, personally, and stylistically) and broader East/West hybridity brought on by increasing globalization. He also often challenges Westernization and Chinese tradition simultaneously in one painting, presenting complex renditions of global relations today.
His early work used thick, painterly techniques to reproduce flesh and meat - creating haptic, corporeal images of contemporary China through the literal bodies of the country's everyday workers and citizens.
Later, masks became an important signifier of loss, alienation, and the whitewashing of Asian identity in Zeng's work, where white-masked figures repeat themselves in different groupings.
His recent work includes abstract techniques to render landscapes, whose process (for example painting with two brushes simultaneously) gives them complex political meanings for example challenging the idealized landscape of a famous nationalist poem, thus continuing his interest in place and the weight of recent history in China.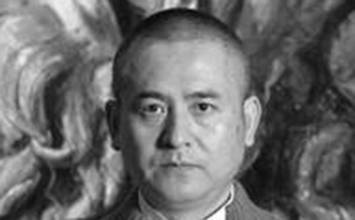 Zeng Fanzhi was born in 1964 in Wuhan, Hubei, and grew up during the later part of the Cultural Revolution in China. His parents worked at a printing house, and he says that they encouraged him to take up painting "to keep me out of trouble, off the street." He recalls, "When I was young, life was so tough that it was difficult to think about one's future. At the time, the most important thing was whether we could make ends meet and feed ourselves. I think before my 20s the most important thing to me was whether I could feed myself."
Important Art by Zeng Fanzhi

The below artworks are the most important by Zeng Fanzhi - that both overview the major creative periods, and highlight the greatest achievements by the artist.


Artwork Images

Hospital Triptych No.1 (1991)

Artwork description & Analysis: This larger than life triptych was Zeng's graduation piece, and it marked a huge shift in contemporary painting in China at the time - presenting menacing, fleshy, and nightmarish visions of realities of the people he saw in daily life, in stark contrast to the clean symbolic idealism of the state sanctioned Socialist Realism of the time.

The paintings are dominated by brown and grey tones and depict scenes from a hospital; patients waiting in a hallway; a naked figure facedown on an operating table surrounded by surgeons; and a full ward of clearly miserable and sickly patients convalescing. While the first painting might be read as fairly benevolent, the claustrophobic crowd of surgeons around the prostrate naked figure in the middle panel and the grinning doctor in front of suffering patients in the third panel suggest a class-based suffering in which vulnerable patients are powerless at the hands of sadistic doctors, who might also represent other kinds of powerful authorities.

Scenes witnessed by Zeng in a hospital in his hometown inspired those depicted in this work, as well as in other pieces from his Hospital series. He explains, "I used to walk to the Academy [of Fine Arts]. Life was very different then, we were poor, I mean really poor. I lived next to the hospital and we didn't even have a toilet so I used those of the hospital every day. What I saw left a strong imprint on me." At the same time, he was studying German Expressionism, including works by Max Beckman and the work of Willem de Kooning, focusing his work on the intense emotions that accompany social upheaval.

Zeng painted this piece for his final senior show at the Hubei Academy of Fine Arts in 1992. It caught the attention of Li Xianting, China's leading art critic at the time. Li brought the work to Johnson Chang, owner of the Hong Kong gallery Hanart TZ, where he had a solo show five years later.

Oil on canvas - Ullens Center for Contemporary Art


Artwork Images

Meat (1992)

Artwork description & Analysis: This painting, along with others from the Meat series, bears many similarities to his Hospital series, with its muted grey-brown color palette and harsh, aggressive brushstrokes. This image shows a back room of a butcher shop, with two large knives hanging on the wall, and several meat hooks hanging from the ceiling, many holding animal carcasses. Several other carcasses lie on the floor, partially covered by a white sheet. There are two male human figures in the painting. One stands behind the pile of meat on the floor. He is wearing white boxer shorts, a white vest, and is holding another carcass. The second figure stands at the front of the image, topless, in white boxers, and bloodstained running shoes. He is holding a lit cigarette and looking out at the viewer. There is a great deal of blood in the image, smeared across the floor and walls, and on the human figures themselves.

Like the Hospital series, Zeng's Meat series was inspired from his day-to-day experiences. On his way to school, he passed several butcher shops, where he often saw workers lying on top of frozen meat in an attempt to cool down during the hot months. He recalls, "As a young man, these were vivid and indelible images that conjure powerful and mixed feelings. One of those was hunger because we were poor. But also horror as the blood of the meat stained the workers and handlers. I used a lot of red during this phase of my work, the color repulsed yet fascinated me at that time."

Again, we see that Zeng refuses outright to follow the rules of Socialist Realism in Chinese art, in which figures must be represented as "decent, grand, and deprived of any imperfection", rather painting meat workers, who both fascinated and repulsed the artist when he encountered them in the street. Through color, brushstroke and a sameness in rendering flesh (of both dead animal and meat worker) Zeng proposes an equivalence of bodies, reminding us that human beings are also constituted of flesh, or meat, and suggests the objectification of people as things in oppressive societies.

He also plays with religious iconography in his paintings, allowing potential religious associations to complicate the meaning of the work. In this image, for instance, the white sheet covering the meat on the floor elicits associations with the shroud that covered the body of Christ, while meat and bleeding bodies in the bible symbolize both sacrifice and salvation, leaving open questions of what is offered up in this composition of bloodied bodies, and to whom? This painting presented a radical challenge to Chinese art and painting at the time of its production, and remains affecting and unusual in an international context via its uneasy ambiguity.

Oil on canvas - San Francisco Museum of Modern Art


Artwork Images

Mask Series No. 6 (1996)

Artwork description & Analysis: This painting depicts eight youths wearing t-shirts and red kerchiefs around their necks. All of the figures also wear white masks with huge, toothy smiles. The group poses amicably, with their arms around each other's shoulders, as if they are posing for a group photograph. The background is solid yellow.

This work, from Zeng's Mask series, came about shortly after he relocated to Beijing. Of this time he recalls, "It was a drastic change; everything was so monumental in scale. I felt a total sense of solitude, of isolation." These feelings spurred his Mask series. He explains, "China was changing very fast in the '90s, people wore suits and ties. But you could tell they were uncomfortable inside. There is a tradition of performing with masks, and I painted every character with a white mask on."

He felt that he, as well as the other modern Chinese urbanites, were obliged to hide behind figurative masks, hiding negative feelings of sadness, distress, and loneliness and instead pretending to be happy and thriving. Thus the masks represent an invisible barrier that exists amongst people. The white masks he paints bear a strong resemblance to masks used in Chinese opera, and also reference the 'mask' of Western dress and modernity, the mask of whiteness Zeng references in his recollection of the changing face of China in the 90s.

The exaggerated expression on the masks indicates that the facade they present to the outside world holds the figures hostage. The seamless way in which Zeng's masks fit on to the wearers' faces indicates that they go beyond the purely physical, instead being deeply entrenched in each person's psyche.

The figures in this particular painting are recognizable via their red kerchiefs as Young Pioneers, the youth movement of the Communist Party in China. Zeng had grown up during a time when every schoolchild aspired to receive the red kerchief, a sign of acceptance and achievement in the Little Red Guard. Years later, he still resented being denied this reward by a teacher at his elementary school that he describes as "strange" and "vindictively abusive", leaving him as one of only three children (in a class of fifty-four) without it. He was routinely mocked and bullied by his peers for not having a red kerchief. The figures' oversized hands make them both comical and disturbing, cartoonlike, but also able to cause physical harm.

Both a critique of the Westernization of China due to global business practices, and of oppressive Chinese regimes, this Mask painting is an important document of Western and Chinese relations in the 1990s.

This enormous painting broke auction records in 2008, and became the highest-grossing work by a contemporary Asian artist.

Oil on canvas - Private collection
More Zeng Fanzhi Artwork and Analysis:
Influences and Connections
Influences on Artist
Artists, Friends, Movements
Influenced by Artist
Artists, Friends, Movements

Interactive chart with Zeng Fanzhi's main influences, and the people and ideas that the artist influenced in turn.
View Influences Chart

Artists

Personal Contacts

| | |
| --- | --- |
| | Phong Bui |
| | Jörg Immendorff |

Movements

Influences on Artist

Zeng Fanzhi
Years Worked: 1987 - present
Influenced by Artist

Artists

Personal Contacts

| | |
| --- | --- |
| | Phong Bui |
| | Jörg Immendorff |

Movements
If you see an error or typo, please:
tell us
Cite this page

Content compiled and written by Alexandra Duncan
Edited and published by The Art Story Contributors
" Artist Overview and Analysis". [Internet]. . TheArtStory.org
Content compiled and written by Alexandra Duncan
Edited and published by The Art Story Contributors
Available from:
First published on 21 Sep 2018. Updated and modified regularly.


[Accessed ]