Artists
Antony Gormley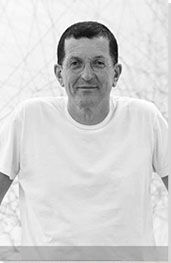 Born: August 1950 - London

"Maybe this is a utopian view of art but I do believe that art can function as a vehicle, that it isn't just a cultural pursuit, something that happens in art galleries. Unless art is linked to experience and the fear and joy of that, it becomes mere icing on the cake."
Summary of Antony Gormley
A highly celebrated contemporary sculptor whose works are globally recognizable, Antony Gormley is most famous for his large-scale public art interventions. Gormley is fascinated by the human form and he references it in most of his work, with sculptures that range from the semi-realistic to the semi-abstract. One of Gormley's reoccurring motifs is his use of multiple human figures within a single work, situating them in unexpected natural or urban locations. In doing so, he questions how humans interact with the environment and how they fit into the landscape that they inhabit. The fragility of the human form is contrasted with Gormley's use of industrial materials such as concrete and cast iron, which bring materiality and solidity to his work, giving them a sense of permanence and allowing them to survive in the outdoor environments in which they are often placed. Gormley is widely regarded as Britain's best-known sculptor with permanent public artworks existing in locations around the world, including Liverpool's Crosby beach, the Austrian Alps, and Sao Paolo in Brazil. He continues to work actively to date and has recently branched into more digitally-informed projects.
Key Ideas
In his earlier work Gormley used his body as both source and tool, creating indentions, shapes and replicas of his own form. Although, he has now stepped back from the production side of his artwork, he continues to use casts or models of his own body in many of his works. In doing so, his form exists as both himself and an Everyman representing the wider population, as he notes, "the instrument is particular, the ambition universal".
Some of Gormley's most prominent works, including his Turner Prize winner Field (1991), contain significant elements of collaboration, with communities engaging with the artist to produce the constituent parts of the artwork under his direction. In other pieces, individual components are informed by casts or measurements taken from the bodies of volunteers as in Allotment (1995) and Domain Field (2003). The effect of this cooperative effort is the creation of work that, when initially viewed, appears to present a homogeneous mass of humanity, but when inspected more closely is made up of distinctly individual shapes.
Gormley's figures are neutrally posed, simplified, repetitive, and lack facial features. This removes the ability of the viewer to draw emotional cues drawn from expression and posture and it is, therefore, hard to place a direct narrative interpretation on his works. The figures simply exist in the environment in which they've been placed, but their presence and appearance leads to a feeling of the uncanny. They are recognizably human, particularly from a distance, but on close inspection their humanity is less apparent. In the same manner, their placement within the landscape populates the space, but the figures lack sentience. This uncomfortable reaction to the pieces, in conjunction with the vastness of many of Gormley's installations, marks his work with a connection to
the sublime
, an effect common in
Romanticism
and particularly the works of painter
Caspar David Friedrich
.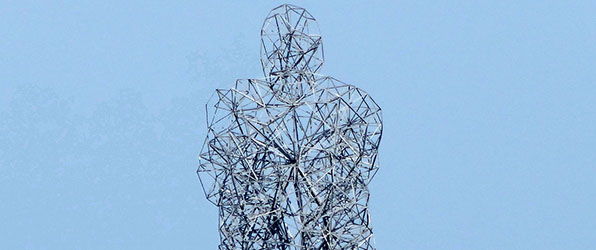 Antony Gormley was born in London in 1950 to a German mother and Irish father. A wealthy family, Gormley's father owned a pharmaceuticals company which was famously the first to work with Alexander Fleming to commercially produce penicillin. Gormley grew up in the family home his father had built in Hampstead Garden Suburb, where they had a chauffeur, cook and several household assistants to take care of them. Gormley has, however, hinted in interviews that his parents' strict, Catholic beliefs played out in harsh forms of discipline. Despite this, Catholicism informed the spirituality of some of Gormley's later pieces, as he explained in an interview, "If you are brought up a Catholic you may lose your Catholicism but the fact is it has marked you for life. And the need to replace its belief system with something else becomes your life's work."
Important Art by Antony Gormley

The below artworks are the most important by Antony Gormley - that both overview the major creative periods, and highlight the greatest achievements by the artist.


Artwork Images

Bed (1980-1)

Artwork description & Analysis: Over 8,000 slices of old Mother's Pride bread coated in paraffin wax are laid out into a patterned grid formation to resemble the weather-beaten surfaces of brickwork. Into the centre of the grid are two ghostly, body shaped indentations laid out flat like coffins in the ground, each forming one half of Gormley's figure.

Displayed during a two man show at London's Whitechapel Gallery, this work is a much celebrated, early example of Gormley's developing style as he explored the parameters of his own body, following on from his 1970s Sleeping Place sculptures. To create the work, he ate through enough slices of bread to leave the recessed areas behind, carefully calculating with mathematical precision the exact proportions of his body. "It was like eating to a (musical) score," he recalled. To prevent the complete decay of the remaining bread, Gormley deconstructed the stack and dipped the slices of bread into paraffin wax, preserving them in their gently mouldering state.

Commenting on the work's underlying meaning, Gormley wrote, "When making Bed I had this revelation that between what we eat and how we shelter ourselves was our condition and it became obvious that I had to address this in the most direct way possible and use my own experience as a template." The act of ingesting bread turned the simple, everyday ritual of eating, an act integral to human survival, into a work of art, pre-empting the Young British Artists of the 1990s, who, amongst other things, sought ways of humanising the gallery space by bringing in aspects of their own lives. Former director of The Whitechapel and later Tate, Nicholas Serota spoke of the work's potent message, which it still retains, pointing out, "The piece is a relic of an action - Antony did eat that bread - and today people respond to it like a relic. It remains an evocative and powerful image." Parallels can also be drawn between the consumption of the bread and the taking of Catholic sacrament, a significant ritual of Gormley's childhood. This imbues the process of the creation of the work and, therefore, the finished piece with a sense of religious purpose and this is also reflected in the traditional death-like pose of the absent figure.

Bread and Paraffin Wax on Aluminium Panels - Tate Gallery, London


Artwork Images

Three Ways: Mould, Hole and Passage (1981-2)

Artwork description & Analysis: Three figures are grouped together across the gallery floor, each in a series of conflicting poses. One curls up in a foetal position suggesting child-like vulnerability, another with legs flipped overhead in a transcendental yoga pose, while the final one lies flat on the floor, with a rigid body echoing his erect penis, as if caught in a trance.

This work is one of Gormley's earliest body castings, in which he created a series of figures based on plaster casts of his own body, yet removing any trace of his identity, allowing the figures to become anonymous signifiers for varying human states of mind. Each body relates to geometric language, forming a sphere, a pyramid and a line. They each have a recessed point of penetration, one at the mouth, one at the anus and the final at the penis, but rather than simply implying sexual connotations, Gormley's entry points allow the possibility for access to internal emotions and spiritual awakening. This play between the inner world and its external context has been a vital component of Gormley's artworks, inviting us to also consider our own inner/outer experiences amongst his bodies. Referring to these early work as "body cases," Gormley writes, "The works deal unequivocally with the darkness of the body, the space that we all inhabit when we close our eyes."

Lead and plaster - Tate Gallery, London


Artwork Images

Amazonian Field (1992)

Artwork description & Analysis: A vast sea of small figures are tightly packed together, rubbing shoulders with one another to form a mass of throbbing energy. Gormley has worked on many versions of this project, but the original idea was conceived during a difficult phase in his career in the late 1980s when financial struggles constrained his ability to make large scale cast sculptures. The immediacy of clay appealed to him, as he explains, "...clay is so receptive to touch and carries the sensation of a moment so powerfully." As his idea grew, he gradually saw the possibilities of including others in the process of making, remembering, "... it took several years to work out that I shouldn't be manipulating it. The process of giving up making something specific was a long one, but in the end I knew I had to get away from the idea of being the author, the originator and the subject."

Each version of Field made by Gormley has been constructed as a collaborative project with a specific community, with sites including Cholula in Mexico, Porto Velho in Brazil, St Helens near Liverpool in the UK, Ostra Grevie in Sweden and Guangadong in China. Although based on the same instructions, every location produced their own unique versions of the project. The work was carried out by men, women and children alike, who could each make as many figures as they liked. All he asked for was that each was hand-sized and easy to hold, had deep eyes, and a head in proportion with the body. Sizes of figures varied considerably, ranging from 8 to 26cms tall, and each was air dried before being baked in a kiln.

Gormley then installed these figures into rooms or galleries, packing them tightly together to create a surging mass, temporarily constrained by the architecture of the display space. This mass is punctuated by the eyes, which give the figures an unnerving sense of consciousness, returning the viewer's gaze. This, in turn, subverts the traditional idea of viewer and viewed. Gormley treated every individual figure with the utmost respect, commenting that "Each one comes from a lived moment. It is a materialisation of a moment of lived time, in the same way that my other work is...and they have a very particular presence, each of them." When seen as part of such a large group, the minutiae of each individual figure becomes lost as they are absorbed by the crowd, but their collective impact is a powerful metaphor of the strength made possible when people come together, a message which helped to win Gormley the Turner Prize in 1994 with Field for the British Isles (1993).

Fired Clay - Installation view: CCBB, Rio di Janeiro
More Antony Gormley Artwork and Analysis:
Influences and Connections
Influences on Artist
Artists, Friends, Movements
Influenced by Artist
Artists, Friends, Movements

Interactive chart with Antony Gormley's main influences, and the people and ideas that the artist influenced in turn.
View Influences Chart

| | | | | |
| --- | --- | --- | --- | --- |
| Artists | | Personal Contacts | | Movements |

Influences on Artist

Antony Gormley
Years Worked: 1980 - present
Influenced by Artist

| | | | | |
| --- | --- | --- | --- | --- |
| Artists | | Personal Contacts | | Movements |
If you see an error or typo, please:
tell us
Cite this page

Content compiled and written by Rosie Lesso
Edited and revised, with Synopsis and Key Ideas added by Kate Stephenson
" Artist Overview and Analysis". [Internet]. . TheArtStory.org
Content compiled and written by Rosie Lesso
Edited and revised, with Synopsis and Key Ideas added by Kate Stephenson
Available from:
First published on 24 Nov 2019. Updated and modified regularly.


[Accessed ]