Artists
Mona Hatoum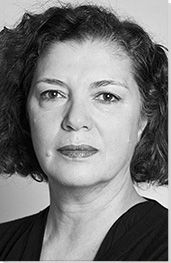 Born: 1952 - Beirut, Lebanon

"Often the work is about conflict and contradiction - and that conflict or contradiction can be within the actual object"
Summary of Mona Hatoum
Hatoum weaves together a minimalist vision with actual bodily material. As such, although her work often appears to be anonymous and well-contained upon first glance, after detailed inspection we realise that it is in fact resolutely individual and scattered in pieces. There is an edge of tension at the core of this artist's practice, as she regularly unites themes of the personal and the political, the public and the private, and of pain and pleasure. She sees her role as an artist to pose questions rather than to answer them and as a Palestinian woman who has lived the majority of her life in London, the question of what is and where is 'home' constantly penetrates her work. So too does an exploration of shifting borders (both physical and emotional) and the remains of things, be it the shedding of own bodies or the debris created after an event.

Hatoum's interest in what remains can be as historical and universal as her recent Hiroshima works, or as mundane and particular as the stains on a takeaway carton. The point being that apparently incidental oil stains on throwaway food plates, can, with the right eye, and a big imagination, become wondrous world maps that make profound statements on humanity and life lived in a global landscape. Despite Hatoum's obvious personal political struggles, her work speaks of something wider-reaching, more ambiguous, and slippery in intent and meaning. Like the Surrealists before her, Hatoum sees things differently - think of René Magritte's Personal Values (1952) and Meret Oppenheim's Fur Teacup (1936) - and encourages her audience to do the same, to explore multiple readings of her work and to start by putting a mirror up to themselves.
Key Ideas
The artist often uses threat and the suggestion of violence to make the familiar feel dangerous. For example, domestic objects such as kitchen utensils have been both enlarged and electrified to inherit sinister rather than comforting characteristics. Such inclination to re-visit familiar objects and to make them appear foreign and strange is a tendency that Hatoum shares with
Louise Bourgeois
. Both artists interestingly and successfully explore
Sigmund Freud's
concept of The Uncanny and express the notion that home is not always as it seems.
Hatoum typically infuses her work with humor. She plays with titles, for example The Grater Divide and Light Sentence, making witty references to the way that we use language. This element of her work is very important, for however serious the subject she may be investigating - this could be war or gender relations - there is always a balancing aspect that smart humor offers. In the end, it is this embedded lightness that gives the viewer the necessary means to understand an important, weighty, and deeply serious message.
The work of Hatoum investigates the concept of the 'abject' introduced by the cultural theorist, Julia Kristeva. Hatoum is attracted to a 'corporeal reality', to a breakdown between the self and other, and to facing and exploring inevitable death and decay. She explores this notion through the regular use of her own body as art material including nails, skin, and hair.
Hatoum expresses a recurring visual interest in prison, cage, or mesh-like structures. This repeated exploration of a grid motif, be it tiny or vast in scale, further reveals the artist's long-standing interest in tension and paradox. Her overlapping and interwoven lines stand as much for notions of strength and connectivity as they do for vulnerability and restriction. As such, Hatoum asserts a crucial and inherent interest in the combination of opposites and in the exploration of the illuminating tension that is created when conflicting ideas meet.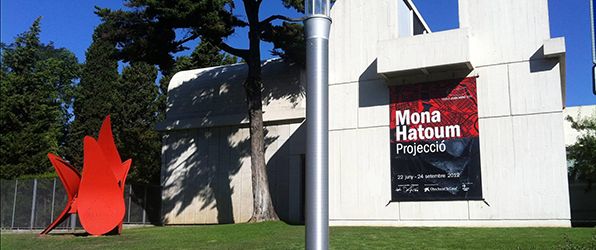 Mona Hatoum Exhibition at The Fundació Miró in Barcelona, Spain
Hatoum puts her heart and soul into her work, admitting that she has been "terrified" before performances, and sometimes sleeping only four hours a night ahead of shows. Speaking about the emotional toll the work would take in 2016, she said: "I used to think, why am I putting myself through this? There's enough tension and anxiety in my life already."
Important Art by Mona Hatoum

The below artworks are the most important by Mona Hatoum - that both overview the major creative periods, and highlight the greatest achievements by the artist.


Artwork Images

Road Works (1985)

Artwork description & Analysis: Hatoum's Road Works performance first took place in 1985 in Brixton, London, after a series of race riots. The protests had been spurred on by the then Prime Minister - Margaret Thatcher's newly-introduced police enforced stop-and-search laws that unfairly targeted the low-income Afro-Caribbean communities living in the area. During her performance, Hatoum walked barefoot through the streets for an hour, dragging behind Doc Marten boots, which she had attached to her ankles by their laces. These boots were in fact the footwear worn at the time by both the Metropolitan Police and by the gangs of skinheads also involved in the riots, therefore representing both parties. Having completed the performance, Hatoum's ankles were sore from the heavy weight of the shoes, and her feet scuffed and scratched from the unforgiving concrete. What were once the light-stepping feet of a Surrealist flaneur (Hatoum, in the same way as a man who saunters around observing society, often walks the streets of London looking for inspiration) are here transformed into heavy-laden dragging boots - a sort of ball and chain. The artist therefore subverts traditional patriarchal art movements and shows us what happens when a woman decides to investigate the world.

During her performance, passers-by in the street made various observations - interestingly, some made comments about an "invisible man" and asked if "she knew she was being followed". In an interview with John Tusa on the BBC Hatoum explained that such moments of audience participation brought humor to the performance, and as such made the otherwise difficult and painful experience easier to bear.

Artist and academic, Emma Robertson discusses the coexistence of humor and darkness in Hatoum's works further, saying, "There are often two sides to each piece, not just one meaning. Duality and contradictions exist in most of the work: darkness and light, heaviness and humor, beauty and danger". Indeed, interaction with the public in this politically-charged performance encapsulates notions of such duality and in turn bears testament to both the struggle and strength displayed by the various individuals caught up in the UK riots at this time.

Photographic documentation - Tate Collection


Artwork Images

Measures of Distance (1988)

Artwork description & Analysis: Measures of Distance collates cross-country phone calls between Hatoum and her mother. It is an uncharacteristically autobiographical work for Hatoum and one that she was inspired to make not long after her forced exile to London. The film speaks of her feelings of displacement, disorientation, and of the loss and separation from her family. Throughout the piece she overlays still footage of her mother in the shower with Arabic script taken from letters passed between mother and daughter, which Hatoum then reads aloud in both Arabic and English, the voices can be muffled and difficult to hear and the imagery can be difficult to see because of the text. The script is devised from six years of correspondence and speaks of how difficult it is to be apart, how her family is managing in war-torn Lebanon, as well as other various anecdotes shared between a mother and daughter catching up on lost time.

Art reviewer Bella Gladman comments that in this work, "Hatoum illuminates the reality of lives like hers - the tension, the pain, the loss and the fear - and makes the daily suffering of other people on the horizons of our world suddenly extremely relevant". The work reaches out as a direct connection between Hatoum, her family and war - themes she later approached more broadly. The author Edward Said wrote about the work stating that, "no one has put the Palestinian experience in visual terms so austerely and yet so playfully, so compellingly and at the same moment so allusively." He noted the way that Measures of Distance has the ability to "recall and disturb" at the same time. In these terms, the work not only encapsulates Hatoum's personal experience of having to flee war-torn land, but also the universal plight of all refugees forced from their homes to build new lives and integrate with a different society elsewhere.

Video Performance - Museum of Modern Art, New York


Artwork Images

Light Sentence (1992)

Artwork description & Analysis: Light Sentence is comprised of large wire mesh cages accompanied by a single light bulb that dangles, slowly circling in the centre of the installation. The light source dynamically and poetically casts shadows; these simultaneously grow and reduce on the walls around the room. The shadows in turn create more and even bigger cage-like structures, which effectively entrap the viewer in an ephemeral, and ever-changing cast of beams as the viewer moves and navigates around the space. The work implies themes of confinement, disorientation, and exile, but equally, creates a poignant and beautiful visual experience.

At the time it was first exhibited, viewers of the work commented that they read it as relating primarily to Palestinian refugee camps. Hatoum found this a very troublesome and likely a misguided view, commenting that "they [the viewers] tend to over-interpret the work in relation to my background". Hatoum's interest in entrapment goes deeper and spreads more universally, leaving room for positive and more purely aesthetic interpretations.

Indeed, it is within this grey zone of interpretation where Hatoum's work speaks widely across cultures and generations. Martha Barratt writing for Apollo Magazine acknowledges that while Hatoum's work is often framed in relation to her own experience of exile, this is misguided, because the work in fact "largely layers metaphor and allusion rather than overtly referencing world events, or constituting an easily recognisable political stance". The work certainly does not (nor does it intend to) give easy answers to what war or what conflict is and how we should feel about such happenings. Light Sentence does something altogether more poetic and ambiguous, making the audience consider what it means to be trapped, but this may be the experience of being restricted by a domestic setting or by a bad relationship, just as much as it could refer to the experience of being imprisoned by actual war.

Mesh cages and light - Tate Collection
More Mona Hatoum Artwork and Analysis:
Influences and Connections
Influences on Artist
Artists, Friends, Movements
Influenced by Artist
Artists, Friends, Movements

Interactive chart with Mona Hatoum's main influences, and the people and ideas that the artist influenced in turn.
View Influences Chart


Influences on Artist

Mona Hatoum
Years Worked: 1975 - Present
Influenced by Artist

If you see an error or typo, please:
tell us
Cite this page

Content compiled and written by Marley Treloar
Edited and revised, with Synopsis and Key Ideas added by Rebecca Baillie
" Artist Overview and Analysis". [Internet]. . TheArtStory.org
Content compiled and written by Marley Treloar
Edited and revised, with Synopsis and Key Ideas added by Rebecca Baillie
Available from:
First published on 20 Feb 2019. Updated and modified regularly.


[Accessed ]