Artists
Cornelia Parker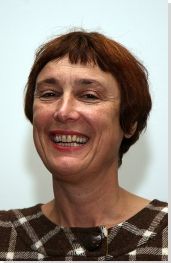 Born: July 14, 1956 - Cheshire, England

"I resurrect things that have been killed off ... My work is all about the potential of materials - even when it looks like they've lost all possibilities."
Summary of Cornelia Parker
Cornelia Parker is famous for her acts of destruction, which in turn produce ephemeral, beautiful installations out of wreckage. She often uses found objects with very specific histories - such as banned pornographic tape, or worn out brass band instruments as her base material, and in other cases (as with her exploded shed) produces objects only to blow them up, and carefully reassemble the pieces.

For Parker, the process and the materials are as important as the object. In more recent work, she has also used art historical works as 'found objects', destroying them symbolically instead of literally (as in The Distance: A Kiss With Added String (2003), as well as using the language of props, sets, and fake architecture, to set up new relationships between art, architecture, and the built environment.
Key Ideas
In the 1990s, Parker began to experiment with what she called "Avoided Objects". These include objects that have been squashed, burnt or exploded; the backs or underbellies of objects; objects only partially formed; objects that are avoided socially or psychologically; and non-objects like cracks, creases and shadows. Although
readymades and found objects
have been prevalent in contemporary art since the early 1900s, these works re-ignite this practice for contemporary art today; shift emphasis on to the actual objects' uses and pasts, and help us to better understand our own embodied relationship to things.
Much of Parker's work has been controversial due to her destructive processes - steamrolling, blowing up, wrapping and melting objects to produce a raw material to build up again. This process of collection, destruction, and then rebuilding is essential to representing histories as malleable, complex, and often traumatic things, and her seemingly delicate work helps open up the hidden stories of objects and the people who have used them.
In the 2000s, Parker made interventions in important historical artworks, working directly on to seminal artworks, as in wrapping Rodin's The Kiss in string, and recreating Gainsborough's painting Mr and Mrs Andrews as a large-scale sculpture of a gun against a tree. These later pieces are cotemporary re-imaginings of canonical works, allowing us to see the artworks she uses as source material as if for the first time, reinvigorating them for a contemporary audience.
One of three daughters, Parker and her family lived on a smallholding in Cheshire, England, where her father worked. She spent a lot of time helping her father, doing physical work on the land, and saw escape and play as something rare and secretive. She describes her childhood as "insular" both in terms of geography and a lifestyle characterized by hard work.
Important Art by Cornelia Parker

The below artworks are the most important by Cornelia Parker - that both overview the major creative periods, and highlight the greatest achievements by the artist.


Artwork Images

Pornographic Drawing (1996)

Artwork description & Analysis: This delicate work is the first of the series Pornographic Drawings, which are prints made from inkblots on folded paper. The ink is made from dissolved ferric oxide found in pornographic videotapes, which had earlier been confiscated by the government. The drawings are not figurative, but the title of the series leads the viewer to read them as sexual organs.

The use of pornographic tapes ties in with Parker's interest in "Avoided Objects" - objects whose meanings have been hidden or denied, or which suggest "issue[s that have] been sidestepped". These include objects that have been squashed, burnt or exploded; the backs or underbellies of objects; objects only partially formed; objects that are avoided socially or psychologically; and non-objects like cracks, creases and shadows.

Parker's original idea for the tapes was to cut them up and re-edit them into a film, but instead she chose to make Rorschach drawings - symmetrical blots classically used in psychoanalysis for insight into a patient's subconscious. Psychoanalysis as a discipline is always associated with its founder Sigmund Freud, who has been often satirised for linking dreams and images, and almost everything else a patient might think, to sex. The artist described the act of making the drawings as an investigation into her own subconscious as well: "I'm making you look at them again but they've become an abstraction, an abstraction caused by my subconscious because I just dropped these blots of "ink" onto paper and folded it."

Pornographic Drawings explore the idea of "repurposing" or "reallocating meaning" in two ways - in the re-use of the videotape material as ink and in the titling of the work such that the viewer imposes their own idea of the subject. As such, according to curator Iwona Blazwick, Parker redefines abstraction in art to mean "the use of something that already exists in the world ... and the substitution of its original nature or function with another".

Ferric oxide on paper - Tate, London


Artwork Images

Cold Dark Matter: An Exploded View (1991)

Artwork description & Analysis: Cold Dark Matter: An Exploded View is the result of an exploded shed - its contents put back together as if viewed in the middle of the blast. The shed was constructed to Parker's specification, as an anonymous, archetypal shed. The contents include tools, children's toys, objects gathered from car boot sales and Parker's belongings. It was exploded by the British Army on Parker's request and the surviving pieces suspended from the ceiling, dramatically lit from a single bulb within, so as to cast expressive shadows.

The theme of destruction recurs in Parker's work, the artist having been inspired by "cartoon deaths" for example the blowing up, flattening and dramatic falls of Road Runner and Tom and Jerry. Parker describes these in terms of "[the characters] experiencing a temporary shape shifting before they reconstituted themselves", and enjoys the idea of an instantaneous explosion preserved as art. In Cold Dark Matter, the exploded fragments of the shed are arranged in a perfect cube - the piece thus combining violence and stillness, order and chaos. The subject of the shed was meaningful since it is seen as a refuge or personal safe space. Parker destroys this but creates from it a new space in the form of her installation.

Author and researcher William Viney commends Parker for her engagement with the narrative properties of waste material - that it connotes another time and another place, whilst Dr. Maria Balshaw, Director of the Whitworth gallery in Manchester, says of the work: "It blew me away ... I had seen a lot of abstract art but this was something different - something genuinely emotional and exciting." The installation has inspired an orchestral composition of the same name by Joo Yeon Sir, along with a decade's-worth of other works by Parker in which she violently altered objects through explosion and distortion. The most closely related was Mass (Colder Darker Matter) (1997), the suspended burnt remains of a church struck by lightning, which was nominated for the Turner Prize.

Mixed media - Tate, London


Artwork Images

From Mountain Landscape (1998)

Artwork description & Analysis: This is one of several pieces by Parker comprising canvas liners and tacking edges removed by conservators at Tate from Turner's paintings, due to their deteriorating condition. She first came across them in the conservation department at Tate in 1988 where they were treated as support material but hadn't been accessioned as part of the collection. Parker framed and labelled each one and treated them as works of art themselves. The pieces were exhibited together by Tate in the exhibition "Room for Margins" (1998).

Parker was interested in the fragile beauty of the liners and edges, the variations in tone and texture and their historic marks such as water damage, tearing and imprints of the stretchers. For her, these archive materials are works of art in themselves, which she demonstrated by framing and labelling each one individually. As such, Parker challenges the grounds on which materials are accessioned or discarded by galleries. The artist and writer Craig Staff notes that unlike Parker's other works that deal with violent transformation, for example crushing and exploding, these works have undergone a gradual transformation from secondary to primary material.

As well as being works of art in their own right, the pieces in "Room for Margins" represent the fragility and vulnerability of the works from which they come. As such, they have been compared to "shrines" to Turner's works. They also raise important questions about authorship, since the canvas liners and edges come from works by Turner but they are now claimed as Parker's own.

Canvas lining with ingrained dust and ink - Tate, London
More Cornelia Parker Artwork and Analysis:
Influences and Connections
Influences on Artist
Artists, Friends, Movements
Influenced by Artist
Artists, Friends, Movements

Interactive chart with Cornelia Parker's main influences, and the people and ideas that the artist influenced in turn.
View Influences Chart


Influences on Artist

Cornelia Parker
Years Worked: c.1982 - present
Influenced by Artist

| | | | | |
| --- | --- | --- | --- | --- |
| Artists | | Personal Contacts | | Movements |
If you see an error or typo, please:
tell us
Cite this page

Content compiled and written by Dawn Kanter
Edited and published by The Art Story Contributors
" Artist Overview and Analysis". [Internet]. . TheArtStory.org
Content compiled and written by Dawn Kanter
Edited and published by The Art Story Contributors
Available from:
First published on 20 Aug 2018. Updated and modified regularly.


[Accessed ]