"To make progress in the evolution of art, you have to absorb all of what has been done and incorporate everything. And then what becomes the nature of your own art is what you do with what you know. So, all great art has some relationship to the great art that came before it. The departures are very few and far between, and they're not very recognizable until later on."
"I hate cartoons. But you paint what you don't like and try to make it right."
"If you wanna torture me, you put me in front of a white canvas and tie my hands behind my back and I'll go nuts."
"If you don't have influences then you've got to be a lousy artist. Without influence, you can't influence others. Artists who don't influence other artists are usually not important."
"The characters in your paintings must be alive in order for the art to live a long life."
"Humour is the antidote to horror, and comedy and tragedy will always be linked."
"Art is the truth and everything else is a lie."
"The only way for me to feel the difference between every other artist and me is to use every artist to become me."
"If you just let your brain wander and go in fifty different directions at the same time, there's no central point of focus in your thinking process, and even if you do think about one particular subject, one single thought, that thought can take you to a thousand different places."
""I strive to be a realist, to see things the way I see them as opposed to being representational. If you want to be representational, the only reality out there is the man-made artificial world that we live in. But this bled over into the news cycle and the confluence of artificial intelligence and fake news. The whole Trump world, and all politics, is essentially based on artificial realism, a constructed reality."
"Having a mutant for president has created such a hostile environment that it only makes you stronger and more determined to show the world what you think about it."
Summary of George Condo
With friends and colleagues Jean-Michel Basquiat and Keith Haring (not to mention Julian Schnabel and David Salle), Condo was part of a small cadre of precocious New York-based artists who were intent on restoring faith in the possibilities for a progressive, and distinctively American, figurative painting style. Through their collective endeavors, they aligned the contemporary America art scene with the international Neo-Expressionist movement that came to prominence in the 1980s. Condo has made his own reputation through his willingness to explore combinations of different artistic styles within a single canvas. In his portraits, for instance, Condo is apt to combine the ceremony of the Old Masters with a mischievous humor that often draws on the conventions of pop cartoons; his aesthetic goal being to confound his viewer by employing the pop cartoon as a device that effectively debunks the idea that connects classical art with the intellect.

Condo has also described his artistic style as "psychological cubism," explaining that "Picasso painted a violin from four different perspectives at one moment. I do the same with psychological states". Many of his paintings recall thus the works by the likes of Willem de Kooning and Pablo Picasso and he uses this technique to explore themes relating to the macabre, the carnivalesque and the abject. In a third idiom to describe his practice, he has spoken of "visual choreography" whereby he gives visual form to music, his second great passion (after art).
Accomplishments
Condo is amongst the pioneers who visualized the postmodern maxim that the function of contemporary painting is not to invent, but to repurpose and recombine preexisting styles and influences. In works such as Frankenstorm (2012) we see evidence of the way in which his "invented" characters combined the conventions of classical portraiture with elements of Cubism and Pop Art.
Condo, with other figurative revivalists on both sides of the Atlantic (such as the German George Baselitz), used portraiture to challenge the dominance of Minimalism and Conceptualism and in so doing they lent their voice to the movement of Neo-Expressionism. Holland Cotter of The New York Times even described Condo as the "missing link" between the figurative tradition of Rembrandt, Picasso and Bacon, and contemporary artists including John Currin, Glen Brown and Dana Schutz.
Condo's skill at blending and juxtaposing different aspects of art history, such as in Surrealist Landscape (1983), showed a way in which artists might reference the history of Western art without the need for appropriation and the attendant premises of parody - copying with the intent of critiquing an original - and pastiche - copying for mere aesthetic effect.
Dividing his time between New York and Paris, Condo absorbed the spontaneity of the Beat writers and musicians, and the more meditative aspects of French linguistic philosophy. He brought these two conflicting positions together in order to produce works - such as his homage to the great jazz musician Miles Davis, Dancing to Miles (1985-86) - his most original and experimental "musical" pieces ("Dissonance is one of the great qualities of music and art" he would argue).
Important Art by George Condo
Progression of Art
Biography of George Condo
Childhood
George Condo's mother was a nurse and his father was a physics and calculus teacher. George was one of five children but he recalled: "I had my own room, and I was always alone in my room with my door locked and making drawings. It was just my way to pass time in a small, rural town. I couldn't do sports; I couldn't do all the other things everybody loved to do; I was only interested in reading and art".
In 1962, when George was just five years old, the family relocated from Concord to Chelmsford, Massachusetts, near Lowell, the birthplace of Jack Kerouac. The Beat writer was a significant inspiration on Condo and some years later he would adapt Kerouac's method of spontaneous prose into his painting process. (Much later, in 2006, Condo would write the introduction and paint the cover art for the posthumous publication Book of Sketches, a collection of prose drawn from Kerouac's journals.)
Condo began drawing around age four or five (his mother has kept all of his early drawings to this day). It was also his mother's idea to put him into Saturday painting classes at the YWCA. He recalled that he never drew stick figures or typical child-like drawings, and in fact his first-ever artwork was of an abstracted crucifixion scene. He also developed an obsession with drawing dinosaurs as accurately as he could before proceeding to color them in with non-naturalistic tones.
Condo recalled how, as a young teenager, his scientifically-minded father taught him about ways to represent three-dimensions. He recounts his first encounter with modern art equally well, noting that as a thirteen-year-old he became captivated by a reproduction of a Picasso painting reprinted in a newspaper article. From the age of fourteen, Condo started studying classical music and classical guitar; his father telling him that "If you want to play rock and roll, first you have to learn to play Bach". Condo would later muse: "Having a music education really helped me understand how to paint and how to think about painting".
Education and Early Training
Condo studied art history and music theory for two years at the University of Massachusetts Lowell, where he became most interested in his classes on Baroque and Rococo painting. He also made frequent visits to galleries and museums in Boston. He recalls that he was too timid and insecure to show his teachers his own art and was unprepared to open himself up to criticism. This changed one day when he had a conversation with a professor during which he confessed his true passion for painting and his professor encouraged him to pursue that. Condo soon quit university having come to the realization that he was more likely to find success as a painter rather than in music.
Condo moved to Boston where he lived with his brother. He worked in a silkscreen shop and spent his spare time playing in proto-synth/punk rock band The Girls. Other band members included abstract painter Mark Dagley and avant-garde musician Daved Hild. The group's only single "Jeffrey I Hear You"/"Elephant Man" (1979) was produced by David Thomas of experimental rock group Pere Ubu. While in Boston, Condo also enrolled in night classes in drawing at the Massachusetts College of Art. It was at MCA that he became convinced to devote all his creative energies to art following praise for his drawing of a crushed can of Pepsi.
In 1979, Jean-Michel Basquiat's band, Gray, opened for The Girls at the Tier 3 nightclub in downtown TriBeCa in Manhattan. Condo and Basquiat quickly became friends: "We basically hung out as artists all the time and would meet up in different parts of the world and get smashed and go out and pull pranks on everyone" recalled Condo. Soon after their first meeting, Basquiat suggested that Condo should move to New York City and focus more seriously on his artistic career. Condo took his new friend's advice, relocating to Ludlow Street on Manhattan's Lower East Side. Once in New York, Condo helped start the blues/punk rock band Hi Sheriffs of Blue.
Condo soon signed up with the Kelly Girls temp agency through which he found various office jobs, including one at the World Trade Center. He eventually found a temporary two-week job working in the archives of a gallery. One of his assignments was to write a press release about Andy Warhol. Warhol was so pleased with the piece he invited Condo to come to his Factory and work as a diarist.
Condo spent the next nine months working at the Factory. Shortly after his arrival, Warhol's people learned that Condo had experience with silk-screening, and he was promoted to "diamond duster" on the production line. Condo remembers that he "never even met him [Warhol] more than once or twice, but working that job at Warhol's was amazing. It was 1981, I was 23 years old and it was the perfect way to begin my full-time life as an artist". Between 1981 and 1983 Condo held his first exhibitions in various East Village galleries. At one of these shows, Warhol purchased some of Condo's works, without realizing that he had in fact employed Condo at the Factory. It was at this time that Condo made the acquaintance of Keith Haring with whom he remained close friends until Haring's untimely AIDS-related passing in 1990. The pair shared many deep discussions and Condo recalls that: "When [Haring] was dying of AIDS, he asked me, 'What do you think is more important: art or life?' And I said, 'I don't know. I'm twenty-six. I think art is more important than life because it lives on way past us'".
In 1983, Condo moved to Los Angeles for nine months (during which time he worked as a pen salesman) and held his first solo exhibition at the Ulrike Kantor gallery and sold his first painting, The Adoration of the Sacred Cow (1982), to a private collector. He then moved to Cologne, Germany, in 1984, and had his first solo European exhibition at the Monika Sprüth gallery. While in Cologne, Condo befriended and collaborated with several artists from the Mulheimer Freiheit group, including Walter Dahn and Jiri Georg Dokoupil. Condo also met American art dealer Barbara Gladstone in Europe in 1984. Gladstone and Condo began working together, and she was instrumental in helping him organize simultaneous exhibitions in 1984 at the Pat Hearn and Barbara Gladstone galleries in New York.
Mature Period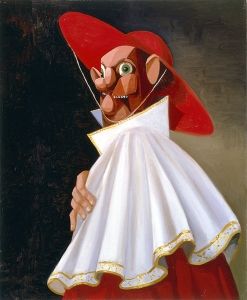 In the decade between 1985 and 1995, Condo traveled back and forth between Paris and New York. Working primarily out of hotels and rented studios, he exhibited in galleries on both sides of the Atlantic. While in Paris, Haring introduced Condo to British artist and writer Brion Gysin, who in turn introduced Condo to American Beat writer William S. Burroughs. Condo recalled that "Burroughs was amazing because he would just come up with these incredible topics of conversation and discussion and then [he could] go to work with him together on paintings". Between 1988 and 1998, Condo and Burroughs collaborated on several paintings and sculptures, some of which were exhibited at the Pat Hearn gallery in New York in 1997, and on a collection of writings and etchings titled Ghost of Chance, which was published by the Whitney Museum in 1991.
It was also in Paris that Condo met French philosopher Gilles Deleuze and the French psychoanalyst and political activist Félix Guattari. Condo and Guattari inhabited the same apartment block, leading Guattari to write extensively on Condo's working practice: "There is [...] a very specific 'Condo effect' which separates you from all the painters you seem to reinterpret. You sacrifice everything to this effect, particularly pictorial structure, which you systematically destroy, thus removing a protective guardrail, a frame of reference which might reassure the viewer, who is denied access to a stable set of meanings". Guattari also recognized that Condo's visual art drew upon his background in music, and he told Condo "You are still a musician at heart. With you the polyphony of lines, forms and colours belong to a temporal dimension rather than one of spatial coordination".
In 2004, Condo worked as a Visiting Lecturer on Visual and Environmental Studies at Harvard University, and taught a course titled "Painting Memory". In 2006, he lectured on the physiognomical studies of art historian Michael Kwakkelstein at Columbia University. He tried to impress the following life-lesson upon his students: "Never deprive yourself of an inspiration. Never deprive yourself of the moment when the image comes to your mind, to take note of that image, you'll never know whether it's of any use until it comes about and develops and turns into whatever it is you're doing."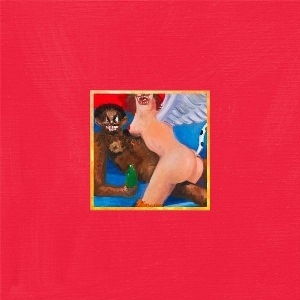 In 2010, Condo collaborated with rapper Kanye West to create a painting for the cover for West's album My Beautiful Dark Twisted Fantasy. The pair had already formed a working relationship with West having used an image of one of Condo's paintings as his Twitter profile image while Condo also customized a Hermès Birkin Bag for West to give to his wife Kim Kardashian as a gift. Condo recalls his working relationship with West: "he would come over to the studio and just have the beginning of a piece ready, start rapping out lyrics and we would talk about the words. He would talk about the painting and I would crack up over one or another idea that he had and then that would make it more concrete in his mind". For the 2010 album cover, Condo painted a cartoonish image of a naked, demonic-looking Kanye West with a highly sexualized female sphinx sitting on his lap, and a bottle in his hand. Kanye had apparently asked Condo to create an image that would "get banned". Indeed, the image was deemed inappropriate by iTunes, which now displays the album cover as a blurred image of Condo's original design, and was also banned in retailers such as Walmart. Condo has completed other cover designs, including sleeves for Phish (The Story of the Ghost, 1998) and Danny Elfman (Serenada Schizophrana, 2006).
In 2013, Condo contracted and recovered from Legionnaire's disease. Then, in 2015, he was diagnosed with cancer of the vocal cords. He underwent successful surgery but the experience affected him deeply, and he threw himself completely into his art. As he recalled, "I was starting to feel very scrambled up and thinking about my kids and how bad my situation was". (Condo married Armenian actress Anna Achdian in Antibes, France in 1989. The couple had two daughters, Eleonore (born 1990) and Raphaelle (born 1995) before their divorce in 2016). The subsequent 2016 exhibition, Entrance to the Void, was in his words a "rumination on death" as, indeed, was his 2019 show What's the Point? - of which he recently remarked: "It's another good reason to ask yourself what's the point when something like that happens. You have to recalibrate your life in a way that's a little bit healthier. What can I say? I've gone from cigarettes to vegan coffee, drinking vegan wine, vegan cigarettes, dropping vegan acid".
Condo currently lives and works primarily in New York City in an apartment on the Upper East Side where he proudly displays his instrument collection, which includes an intricately carved lute made by Parisian luthier Wolfgang Frith, a viola de gamba, a collection of rare acoustic guitars, and a cream-colored Fender guitar. His most recent works are what he refers to as "drawing paintings", and he describes these, which include charcoal, pencil, pastel and acrylic paint in a single work, as "a reaction to the hierarchy that supposedly exists between drawing and painting. For me", he continued, "there is no real difference between them, they can exist in one happy continuum".
The Legacy of George Condo
Condo, with close friends Keith Haring and Jean-Michel Basquiat, and other New-York based painters like Julian Schnabel and David Salle, were, in the words of curator Klaus Ottmann, "instrumental in the revival of figuration in American art". As such, he can be aligned with the rise of the international Neo-Expressionist movement. By juxtaposing elements of high and low art (or of drawing and painting) in a single work, Condo also challenges long-held beliefs about the hierarchy of artistic styles. Laura Hoptman, curator in the Department of Painting and sculpture at the Museum of Modern Art has asserted that Condo "opened the door for artists to use the history of painting in a way that was not appropriation".
Condo applied the label "artificial realism" not only to his own works but to works by other artists, including Stuart Davis, Andy Warhol, James Rosenquist, and Jeff Koons. Though they do not identify as "artificial realists", Condo's influence on a generation of contemporary painters can still be traced in the work of American painter Sean Landers, who presents viewers with jarringly unnatural nature scenes, and John Currin, who presents provocative contemporary social commentary through grotesque portraiture executed in Old Master and High Mannerist styles. Similarly, though he does not describe his work in these terms, Condo's vision of "psychological cubism" can be traced in the paintings of Mexican painter Jesus Villalpando Figueroa whose frenzied colorful canvases, filled with abstracted faces (which are highly reminiscent of works by Condo such as Dancing to Miles (1985-1986) and Figures in Motion (2013)), elicit a wide range of emotions from the spectator.
Condo has also influenced writers, including Demosthenes Davvetas, Donald Kuspit, Wilfried Dickhoff, and, most notably, Salman Rushdie whose 2001 novel Fury includes one chapter inspired by Condo's painting The Psychoanalytic Puppeteer Losing His Mind (1994), and David Means, whose short story The Butler's Lament (2011) was inspired by Condo's painting The Fallen Butler (2010).
Influences and Connections
Influences on Artist

Influenced by Artist
Friends & Personal Connections
William S. Burroughs

Brion Gysin
Artists
Sean Landers

Nigel Cooke
Friends & Personal Connections
William S. Burroughs

Brion Gysin
Useful Resources on George Condo
Books
The books and articles below constitute a bibliography of the sources used in the writing of this page. These also suggest some accessible resources for further research, especially ones that can be found and purchased via the internet.
biography
written by artist
artworks