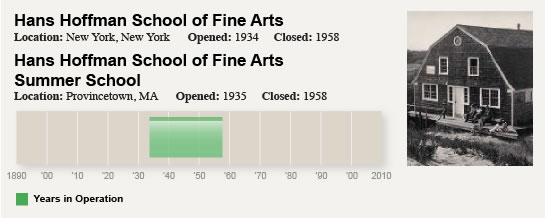 Summary of Hans Hofmann School of Fine Arts
The Hans Hofmann School of Fine Arts was first and foremost a place for young artists to learn and master the practice of working in the studio. It was not for undeveloped artists to attend, but rather an environment for educated and seasoned young artists to patiently and methodically learn the history of a particular artistic media, hone their technical skills, and temporarily escape the busy streets of New York City. As a teacher,

Hans Hofmann

refused to stress any style or artistic approach over another. To learn from Hofmann was to acquire formal training through meticulous repetition; only then, he taught, could one venture out into the world and create something truly original.
Founding Principles
Hofmann instilled in his students the importance of studio work and the Hofmann School was a place for students to master the trade of working from still lifes and models, essential skills for the development of any artist. Like Greenberg and Rosenberg, Hofmann believed that all great artwork began and ended in the studio. The singularity of studio practice was a crucial element in any artist's education, and the only way to achieve proficiency in any medium.
The Hofmann School taught the basic principles of "push/pull," which stressed the importance of applying and combining opposing forces in one's art, whether these were color vs. shade or hard, geometric shapes vs. fluid, biomorphic abstractions.
Hofmann adopted a liberal approach to media and stylistic choice; whether representational or completely abstract, Hofmann wanted each of his students to perfect their individual craft through an understanding of its ancestry, and as a teacher, never expressed explicit preference for either representation or abstraction.
Origins of the Hofmann School
As early as 1915, artist Hans Hofmann opened his own school of fine arts, the Schule fur Bildenes Kunst, in Munich, Germany. This school opened when Hofmann was 35 years old, this was his first attempt at teaching art.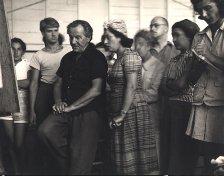 Hofmann had begun traveling to the U.S. in 1930, when he was invited by a former student, Worth Ryder, to teach a summer art course at the University of California, Berkeley, where Ryder was a professor. In the spring of the following year, Hofmann taught at the Chouinard School in Los Angeles, and returned to Berkeley to teach another summer session.
In 1932, while working abroad once again in the U.S., his wife Miz advised Hofmann not to return to Munich because of growing political hostility and the rise of the Nazi Party. Hofmann settled in New York City and through a friend was able to get work teaching at The Art Students League of New York. In the fall of 1933 Hofmann opened a small school at 444 Madison Ave, but soon afterward, Hofmann's visa expired and he was forced to leave the U.S.
After living in Bermuda for several months, awaiting his visa renewal, Hofmann returned to New York in 1934 and re-opened his school, this time at 137 East 57th Street, and officially named it the Hans Hofmann School of Fine Arts.
The School's Early Years
Hofmann was already renowned among American artists and art students, and highly regarded as a formidable Modernist in the vein of Picasso, Matisse, Braque and Delaunay, all of whom Hofmann had befriended in his youth. New York City now had one of the European "masters" to call their own. Hofmann's school was considered a favorable alternative to the already-established Art Students League, which many students had come to find dull and repetitive in its pedagogical approach. Artist and former Hofmann student Joe Stefanelli once remarked, "In my stage of development and having had my share of art schools I was tired of art schools and art teachers and Hofmann's fit a need we all required - that one step or stage before completely working on our own."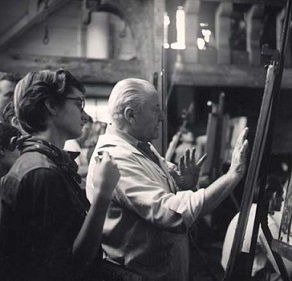 In 1935 Hofmann opened a studio is Provincetown, MA, where his school held annual summer sessions for students. Provincetown was already a small colony for the avant-garde arts, and was an ideal setting for artists to remove themselves from the urban environment of New York during the summer months to focus solely on their studio work.
In 1936 Hofmann moved his school to 52 West 9th St. In 1938 the Hofmann School moved for a second time, into its permanent home at 52 West 8th Street in Greenwich Village. That winter, Hofmann's lecture series was attended by Arshile Gorky and Clement Greenberg. Greenberg, in particular, would later cite Hofmann as a major influence in his writings. In addition, Greenberg was himself a staunch admirer of Hofmann, but was admittedly wary of Hofmann's "variety of manners and even of styles."
Hofmann School vs. Black Mountain College
By the 1940s, Hans Hofmann and his school had emerged as the philosophical opponent of Josef Albers, the Bauhaus-trained artist who was heading the arts curriculum at Black Mountain College in North Carolina. While Black Mountain stressed the importance of learning and mastering a variety of techniques (easel painting, sculpture, choreography, architecture, etc.), Hofmann's curriculum was far more rigid. His students learned to become proficient in their studio work and focus on a single artistic medium, which for most of Hofmann's students was easel painting.
While Black Mountain offered a range of different instructors and artistic experiences, Hofmann preferred a narrower approach. As the school's sole teacher, he worked with each of his students individually to ensure they received an education in the fundamentals and history of their particular medium.
As a temporary artists' colony, Black Mountain offered its students an exciting world of social networking in a rural environment - a sort of displaced slice of New York City life in the North Carolina woods. Hofmann designed his school as a complete escape from the urban bustle, believing students should completely immerse themselves in the studio. Larry Rivers once recalled that the Hofmann School was removed from "any notion of Art school relaxed bohemia with its sex and good times abounding." The Hofmann School was a formal and stringent environment for artists; once students had mastered their craft, they were free to go out into the world and do as they pleased.
Hofmann Leaves Teaching
In 1958, after 58 consecutive years as a teacher, Hofmann decided to leave teaching for good and focus his all of his efforts on painting. Both his New York and Provincetown schools were converted into studio spaces.
Legacy
The Hofmann School of Fine Arts, both in New York and Provincetown, were places for young artists to receive formal training on ways to break from formality. The diversity of styles represented among Hofmann's students was symptomatic of Hofmann's core philosophy; no matter what the artistic style, an artist must thoroughly learn the craft in the studio - its history, techniques and applications - so that they may eventually defy their formal training and be able to express something original in their work. While Hofmann himself never received any formal training as a painter, he was unquestionably an expert technician and artistic visionary and a fan of great art regardless of style or medium. His school's greatest legacy lies with the impressive list of artists who attended his lessons and subsequently created their own art.
Students:
Nell Blaine, Wolf Kahn, Richard Stankiewicz, Robert De Niro, Sr., Lee Krasner, Mercedes Matter, Red Grooms, Joan Mitchell, Helen Frankenthaler, Allan Kaprow, Jan Muller and Larry Rivers.
Quotes
"The concepts of my school are fundamental. But a true artist could violate them all."
- Hans Hofmann
"The importance of Hofmann, it seems to me, drives not only from the teaching of freedom, of spontaneity, of automatism, but the two great things he taught were the respect for the two dimensionality of the canvas, and the idea of color as form."
- Samuel Kootz
THIS PAGE IS OLD
The Art Story Foundation continues to improve the content on this website. This page was written over 4 years ago, when we didn't have the more stringent/detailed editorial process that we do now. Please stay tuned as we continue to update existing pages (and build new ones). Thank you for your patronage!
Works of Art by Former Hofmann Students: