Artists
Nikolai Astrup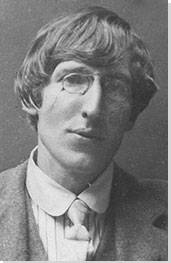 Nikolai Astrup
Norwegian Landscape Painter
Movement: Expressionism
Born: August 30, 1880 - Bremanger, Norway
Died: January 21, 1928 - Førde, Norway

"Memory, landscape, everyday activity imbued with mysticism."
Summary of Nikolai Astrup
Frequently referred to as Norway's "other" great Expressionist (next to Edvard Munch, whose work he actually deplored) Nikolai Astrup is best known for his ingenious and unnerving paintings and woodcuts of the western Norwegian landscape and the people who worked it. It is true that Astrup detested color theory and the conventions governing optical perspective, yet his landscapes amounted to much more than a child's-eye reductionism. Rather, his work, which sits between an academic landscape tradition and a form of early-modernist abstraction, is celebrated for its clarity and the intense love and honesty with which he depicted his rural surroundings.

Thematically, his work is engaged with mankind's lifelong relationship with the land and it is steeped in a paganism and ancient folklore that challenged the oppressive Christian community into which he was born, and against which he rebelled. Though the mystical themes in his work sat firmly within a neo-romantic orthodoxy, his art, which remained throughout, quintessentially Norwegian, came to prominence at a time when Norway was promoting a new sense of national pride following its liberation from Swedish rule.
Key Ideas
Though he was well travelled throughout Europe, Astrup art remained true to his roots and his art was dedicated to the land and pagan customs of Norway (and the Jølster region specifically).
Astrup imbued his joyous and desolate landscapes with a sense of mysterious spirituality that could evoke emotions ranging through wonder to disquiet (and sometimes all at once). Whereas Expressionists (such as Munch) tended to use art to explore (and expunge) their innermost forebodings and anxieties, Astrup introduced a childlike innocence to his work. This skill lent his intense landscapes a peculiar still and harmony that was unique amongst modern landscapists.
Astrup (much like Munch) was instrumental in introducing the woodcut technique to Norwegian art. However, Astrup's woodcut reliefs tended to be lighter in color and mood than his compatriot's (who was, incidentally, an early admirer and collector of Astrup's woodcuts).
Mythical spirits hold a strong place in Norwegian mythology, and a motif in Astrup's work was that of the Troll. The figure of the Troll featured in hand-carved totems in Norwegian gardens and Astrup pruned his own trees, which he subsequently painted, to resemble Trolls.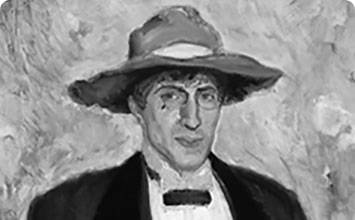 Pastor's son Nikolai Johannes Astrup was the eldest of fourteen children. His father Christian Astrup, was a parish priest at the Lutheran Ålhus Church in Jølster; his mother, Petra Konstanse, was the daughter of Peder Mørch Lodtz, a glove manufacturer from Bergen. Astrup was born in Bremanger in Sogn og Fjordane, Norway, but spent his formative years in nearby Ålhus. It is well known that Astrup rebelled against his father's strict Christian morality.
Important Art by Nikolai Astrup

The below artworks are the most important by Nikolai Astrup - that both overview the major creative periods, and highlight the greatest achievements by the artist.

Kjerringa med Lykta (Old Woman with a Lantern) (1895-1899)

Artwork description & Analysis: This is one of three paintings that Astrup created in his youth by painting upon fabric from used trousers, in all likelihood because he was struggling financially and unable to afford canvas (a seam from the trouser leg can be seen at the upper edge of the image).

In the painting, a slightly hunched woman, dressed head-to-toe in black, and carrying a glowing yellow-orange lantern, is seen walking between two dark brown log cabins. The scene is set in winter during heavy snowfall. Long icicles hang from the roof of the right-hand cabin. The space between the two cabins is filled with snow, and large flecks of white snow descends on the cabins and on the woman. Astrup described the painting in his Blandede Motiver ("Mixed Motifs") notebook as follow:

"Early winter morning (fantasy) Snowdrifts. Grey on grey, white and blue, light grey sky with dark grey flakes. The only element not fitting into this grey scheme is a lantern carried by a dark grey figure. The pinkish light cast against the snow fuses with the lantern's form. A vague suggestion of daylight [is] the only [thing] showing itself over the rounded snow shapes on a rooftop [...] The grey probably contains some colors, but these are so subtle, they are not noticed, and nowhere is one stronger than another, to the extent that it sticks out!"

This painting serves as an example of the way that neo-romantic painters used landscape and weather conditions as a way to convey strong memories and emotions as evoked through the forces of nature. In Astrup's early works snow is depicted as a natural adversary to be endured and overcome. In later works, however, snow often appears merely in the background, typically adorning mountaintops. Here it dominates the scene, obliterating the landscape and threatening to envelop the figure driving the picture's narrative. This work also serves as an example of the darker, more ominous quality that characterized much of Astrup's earlier works. It is frequently speculated upon that Astrup's work took on a lighter, more vibrant and joyous, tone following his marriage to Engel in 1907.

Oil on trouser fabric - The Savings Bank Foundation DNB / KODE

Fjøsfrieri (Cowshed Courting) (1904)

Artwork description & Analysis: In Cowshed Courting, we are given a deep-focus view down the corridor of a wooden barn that houses several cows. Occupying the left of the foreground is a young couple shown in a romantic clinch. The man, dressed in all black - boots, trousers, jacket, and hat, with a bottle of liquor poking out his jacket pocket (maybe it has given him Dutch-courage) - has both his arms wrapped around the girl who is barefoot and wears a green shirt, red dress, and a headscarf. The girl's right arm hang down by her side, but her left arm, draped round her suitor's shoulders, and her deep red blushing cheek, confirm her amorous emotions. At the upper center-right, a male figure laying in the hayloft is seen spying on the kissing couple. Through a window at the back of the barn, a peak can be seen and, beyond that, a glimpse of vibrant green foliage and clear blue skies.

Here then, Astrup combines the theme of romantic love with the formal codes of Romanticism. The theme of passionate romance is obvious to us while the glimpse we are given of the outside world (through the barn window) shows a springtime landscape that belongs to the traditions of Romanticism. These features complement one another and rather foreshadow Astrup's own romantic fate, having fallen in love with a farm girl of his own (Engel) two years later.

Oil on Canvas - The Savings Bank Foundation / KODE

Klar Juninatt (Clear June Night) (1905-1907)

Artwork description & Analysis: This painting depicts a lush green landscape at the foot of a mountain. In the foreground, a small pond is speckled with waterlilies, and surrounded by vibrant green grass. Beyond this we see a field of yellow buttercups. Further back, a small cluster of log buildings indicates the presence of human life within this idyllic setting. In the background, mountains loom over the scene. Streams and waterfalls (Kleberfossen) can be seen on the nearer mountains, while the more distant, taller peaks are capped with snow.

Astrup frequently re-used certain geographic locations as subjects in his works. For instance, this image depicts Ålhustunet in Jølster, and in fact the cluster of buildings (klyngetunet) shown here was perched just above the Ålhus vicarage where Astrup resided for a time. Several of his other works depict the same location. Astrup would modify the landscape by populating it with different figures, and by representing it under the effect of different weather conditions. He once said of a variation on this image "this picture I can almost not remember. One 'goes in circles' when painting so many variations of the same motif, even though one varies it each time and always returns to study nature."

The buttercups in this twilight scene play an important role here since they do not close at sunset. They serve rather as points of light in the shadowy landscape. In fact, Astrup had to travel elsewhere to study buttercups as the marsh at Ålhustunet had been drained some years prior and thus the marsh-loving flowers had long since died out.

The human figures in Astrup's landscape paintings were sometimes positioned in the distance and/or off to the side of the picture plane, as we see here with the two figures to the left of the cluster of buildings in this painting. They do not dominate or detract from the real protagonist of the image, the natural landscape. However, this painting includes a curious feature in the lower left quadrant: what seem to be vague shadows on the landscape reveal themselves to be silhouetted human forms. These forms are generally understood by historians to be a reference to Lørdagsfrieri (Saturday Night Courting) (1893) by Norwegian painter Halfdan Egedius, a painting in which two men walk through a misty field on a summer evening. Egedius and Astrup had both been schooled by Harriet Backer, who's Landskap fra Ulvin (Landscape from Ulvin) (1889), is itself quite similar in form to her pupils' work.

Oil on Canvas - The Savings Bank Foundation DNB / KODE
More Nikolai Astrup Artwork and Analysis:
Influences and Connections
Influences on Artist
Artists, Friends, Movements
Influenced by Artist
Artists, Friends, Movements

Interactive chart with Nikolai Astrup's main influences, and the people and ideas that the artist influenced in turn.
View Influences Chart


Influences on Artist

Nikolai Astrup
Years Worked: 1895 - 1928
Influenced by Artist

Artists

Personal Contacts

Movements

| | |
| --- | --- |
| | Neo-Romanticism |
| | Landscape painting |
If you see an error or typo, please:
tell us
Cite this page

Content compiled and written by Alexandra Duncan
Edited and published by The Art Story Contributors
" Artist Overview and Analysis". [Internet]. . TheArtStory.org
Content compiled and written by Alexandra Duncan
Edited and published by The Art Story Contributors
Available from:
First published on 25 Mar 2019. Updated and modified regularly.


[Accessed ]