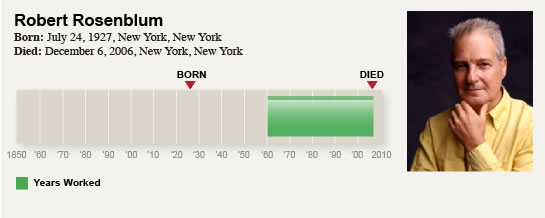 Summary of Robert Rosenblum
Robert Rosenblum's career as a critic, teacher and curator was defined by his insistence on challenging accepted norms of Modern art and its history. He began his writing career in
Art News, Art International
, and other similar publications. Rosenblum believed that Modernism had a much longer history than people assumed, and in offering this perspective, he significantly reordered the way in which most people studied art movements. Instead of examining and judging works of art within time-specific frameworks, Rosenblum tended to critique art regardless of its associated movement or place in history.
Key Ideas
Rosenblum identified the history of Modern art as dating back to the French, German and Danish painters (who worked mostly in the Neo-Classical style) of the late 18th-century
Rosenblum considered "postmodernism" as an era in which people loved and consumed art on a scale never seen before in the U.S., yet appreciated it more as a luxury or trivial entertainment, rather than as something socially and culturally significant.
According to Rosenblum, the foundation of Abstract Expressionism was based on a mythology of total and apocalyptic devastation, which encouraged many artists to search for meaning in art and basic symbolism. Given this mythology that so heavily informed the AbEx movement, Rosenblum believed that contemporary artists were unable to achieve an equally poignant, personal sense of abstraction in their work.
Childhood and Education
Robert Rosenblum was born in New York City to Abraham H. Rosenblum, a dentist, and Lily M. Lipkin. After serving in the United States Army from 1945-1946, immediately following the end of World War II, Rosenblum returned home and enrolled in Queens College. He later earned his Master's degree in Art History from Yale University in 1950, and his Ph.D. in Art History from New York University, where he wrote his dissertation on the German art historian Walter Friedlander [Friedlaender].
Professorial Career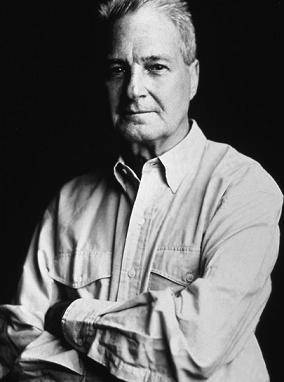 Rosenblum held several teaching positions after receiving his Ph.D., first at the University of Michigan, followed by Princeton, where he taught until 1966. The following year he was appointed to Professor of Fine Arts at NYU (his graduate alma mater), where he remained for the duration of his career.
"The Abstract Sublime"
In February 1961, Rosenblum caused a stir in the art world when he coined the term "The Abstract Sublime," (also the title of an article he wrote for
Art News
). The term was used to characterize the feelings and emotions evoked by the works of artists like Rothko, Pollock, Still and Newman. The article was a response in many ways not only to Newman's 1950-51 painting, Vir Heroicus Sublimis, but also to an article Newman had written in 1948 for Tiger's Eye entitled, "The Sublime is Now."
Of
Vir Heroicus Sublimis
, Rosenblum wrote, "[it] achieves a simplicity and as heroic and sublime as the protagonist of its title. Yet again, as with Still, Rothko and Pollock, such a rudimentary vocabulary creates bafflingly complex results .. Like the other three Masters of the Abstract Sublime, Newman bravely abandons the securities of familiar pictorial geometries in favor of the risks of untested pictorial institutions; and like them, he produces awesomely simple mysteries that evoke the primeval movement of creation." These "Masters," as Rosenblum referred to them, have created a new painterly language, a new "geometric vocabulary" as he phrased it, in which they deconstructed Cubism and essentially spread all the pieces across and throughout their canvases.
In 1967 Rosenblum revisited his dissertation and published an expanded version entitled
Transformations in Late Eighteenth-Century Art
. This book confirmed Rosenblum's place as a preeminent scholar of art history, but the work was by no means a formal study of European artistic styles. Instead, Rosenblum argued that the history of Modern art was older and more inclusive than what the academy of art history supposed.
Historian and Curator
In 1996 Rosenblum was appointed curator of 20th-Century Art at the Solomon R. Guggenheim Museum. It was there that Rosenblum undertook some of his most groundbreaking work as an art historian.
The 1900: Art at the Crossroads Exhibition
In 2000 Rosenblum curated the exhibition,
1900: Art at the Crossroads
. This show contained nearly 150 paintings from Japan, Africa, Australia, Western Europe and the Americas, and included works by the Modern "masters" Cézanne, Picasso and Kandinsky. Never had such a seemingly random hodgepodge of turn-of-the-century styles been displayed side by side. Rosenblum was quoted as saying, "I wanted to reshuffle the deck and re-examine our image of the period." Although the exhibition received a tepid response from critics, and some even accused Rosenblum of showboating, the non-linear and non-geographical grouping of artworks was perceived as a postmodern curatorial effort.
The Norman Rockwell Exhibition
The following year, Rosenblum surpassed his previously daring act by curating, seemingly incomprehensibly, an exhibition of Norman Rockwell paintings and drawings at the Guggenheim. Kenneth Silver, the chairman of undergraduate studies at NYU, commented that, "Getting Rockwell into the Guggenheim was almost a Dada act, the crowning achievement of Rosenblumian contrariness - dare I call it perversity?" The Rockwell show was in many ways the encapsulation of Rosenblum's opinions about Modern art. While he was undoubtedly a fan of the Abstract Expressionists and subsequent movements, he firmly believed that the AbEx style and approach to art as a whole was too ideologically rigid, and had caused many critics, scholars and even artists to ignore what was occurring (and had occurred) outside the New York School. By placing Rockwell's work in the Guggenheim, Rosenblum was validating the artist and his style as having a firm place in the canon of twentieth century modern art, who was just as deserving of consideration as the Abstract Expressionists who had previously monopolized so much critical attention.
Later Years and Death
Rosenblum received a Distinguished Teaching Award from NYU in 2005. He continued to teach, write reviews, and curate exhibitions on both sides of the Atlantic, and throughout the U.S. right up until his death from colon cancer in 2006.
Legacy
Despite having studied art history at Yale (their curriculum is renowned for favoring strict theoretical rules and genre-based study), and taught at Princeton (one of the last schools to formally recognize Modern art as a scholarly field), Rosenblum became a critic and historian who broke from tradition in nearly every way. He curated exhibitions in which works by the French Impressionists and Post-Impressionists were displayed next to works by traditional Salon artists; he challenged the established formal notion that Modernism began at the turn of the 20th century; he took works by Rockwell (what Greenberg famously referred to as "kitsch") and placed them on the walls of the Guggenheim. Rosenblum constantly confronted formal ideas of Modernism and even art history itself, and challenged those in the art world (from the average museum-goer to the trained historian) to view Modern art as a vast well of ideas rather than a teleological timeline. In this sense, Rosenblum was a model postmodern critic.
THEORY:
Overview of Robert Rosenblum's Theories
Rosenblum offered an alternative viewpoint to the origins of Modernism, and concluded that Modern art itself did not begin with the Impressionists and Post-Impressionists, as had been previously assumed by historians (and still is to a considerable degree), but with 18th-century French artists. It was during this era, Rosenblum argued, that visual culture underwent a monumental shift, where artists working in the Rococo and Neoclassical style experimented with perspective and representation in an unprecedented manner. (Later in life Rosenblum altered this perspective to include late 18th-century German and Danish painters in the unofficial birth of Modernism as well.)
Rosenblum was the quintessential anti-formalist. Although many critics and fellow academics of his day considered him a staunch radical, Rosenblum did not necessarily favor radical new forms of art over classic styles. His love of all art, from Neo-Classical to Abstract, from kitsch and commercial art to high art, resulted in his prevailing theory that the history of Modern art was more than just one endlessly renewing movement after the other. Modern art history, in Rosenblum's view, was as his NYU colleague Kenneth Silver once said, "a smorgasbord" of styles, philosophies and viewpoints that should include the works of Norman Rockwell just as easily it does works by Picasso, Kandinsky or Pollock.
ARTISTIC INFLUENCES
Below are Rosenblum's major influences, and the people and ideas that he influenced in turn.
ARTISTS

Paul Cézanne

Pablo Picasso

Wassily Kandinsky

Mark Rothko

Barnett Newman
CRITICS/FRIENDS

Herbert Read

Barnett Newman

Harold Rosenberg

Barbara Rose
MOVEMENTS

Baroque

Impressionism

Expressionism

Cubism

Abstract Expressionism


Years Worked: 1960 - 2006

ARTISTS

Mike Bidlo

Julian Schnabel

Sol LeWitt
CRITICS/FRIENDS

Dore Ashton

John Russell
MOVEMENTS

Postmodernism

Neo-Expressionism

Photorealism
Quotes
"We're in what might be called, in the phrase of the day, a Postmodernist situation, and the feeling that Modern art can be heroic, that it makes a difference to the world, all this seems sort of quaint and nostalgic rather than a part of living reality."
"It's fascinating that today in the 1980s artists are so aware of history. Instead of trying to obliterate it in the way the Rothko-Pollock generation did, they are using it as a kind of touchstone of nostalgia, sentiment, to look back and to reconstruct the 20th century."
"Although it was very nice to say that Van Gogh or Picasso, Kline or Pollock, were starving to death at a certain point in their lives, I don't see why this is good. I don't see any reason why artists shouldn't make money the way other people do."
"The future of the world seems to be so blank. Nobody any longer, I think, believes in progress, and I think the 21st century is almost inconceivable."
THIS PAGE IS OLD
The Art Story Foundation continues to improve the content on this website. This page was written over 4 years ago, when we didn't have the more stringent/detailed editorial process that we do now. Please stay tuned as we continue to update existing pages (and build new ones). Thank you for your patronage!
IMPORTANT ARTWORKS: