"I am interested in a political art, that is to say an art of ambiguity, contradiction, uncompleted gestures an uncertain ending - an art (and a politics) in which optimism is kept in check, and nihilism at bay."
"To say that one needs art, or politics, that incorporate ambiguity and contradiction is not to say that one then stops recognizing and condemning things as evil. However, it might stop one being so utterly convinced of the certainty of one's own solutions. There needs to be a strong understanding of fallibility and how the very act of certainty or authoritativeness can bring disasters."
"When I went to art school, the idea was that if you were going to be an artist, you had to paint with oil paints on canvas. I discovered I was very bad at that, so it was an enormous relief to discover that there already existed a strong tradition of drawing as a primary medium of art-making."
"I am only an artist, my job is to make drawings not to make sense."
"The absurd, with its rupture of rationality - of conventional ways of seeing the world - is in fact an accurate and a productive way of understanding the world."
"It's always been in between the things I thought I was doing that the real work has happened."
"Forgetting is natural, remembering is the effort one makes."
"To say that making art is a conversation between the maker and the paper is to oversimplify - it is a series of attractions and repulsions that may begin with intention and end with analysis but the real meaning (the truth of the work) I arrived at in the processes and moments of making."
"The drawings don't start with 'a beautiful mark.' It has to be a mark of something out there in the world. It doesn't have to be an accurate drawing, but it has to stand for an observation, not something that is abstract, like an emotion."
"The theme and the image come together, where the world meets the act of drawing halfway."
"The studio is filled with possibilities and objects waiting to come into being. One could think of the studio in that sense as a kind of enlarged head, in the same way you have an idea sparking from one synapse to the next."
"There's a nostalgia built into the way the world works now. Technology has become more and more invisible. We are now more than ever before connected by lines of communication. They are all invisible."
"The work is an invitation to the visitor to see if they can find points of connection that overlap between their memory, their experiences and desires, and what they see on the screen and hear. It's not as if the piece is an emotional journey plotted for an audience. That requires a cynicism in thinking on behalf of other people. And a knowledge of knowing who other people are. Neither of those things I would claim."
"I started using old newspapers and books as scrap paper because it is cheaper, you don't have to take care whether I spoil it or not and these papers have already a wonderful texture, I don't have to prepare the surface. The machines are also a transformation of the drawings in my films and collage work. It all has to do with transformation and metamorphosis."
"Most children draw. I just forgot to stop."
"I have a strategy for never writing a script nor a storyboard or a proposal. The piece comes out of the physical process. If you've got too clear a mind, there's no space for peripheral thinking."
"There is a desperation in all certainty. The category of political uncertainty, philosophical uncertainty, uncertainty of images is much closer to how the world is."
"One can always write ones biography in the terms of the failures which have saved you."
Summary of William Kentridge
William Kentridge stands assured as an exciting visual artist, a profound philosopher, and a subtle symbol for peace. He always wears a crisp white shirt and quotes the angelic Reverend Desmond Tutu - a person with compassionate awareness of human fallibility from the self outwards - as one of his greatest influences. Born, raised, and still living today at the heart of Johannesburg, South Africa, Kentridge's identity is intrinsically bound within the complex history and injustices of his homeland. To say that he is primarily a political artist however is in many ways a misleading starting point from which to consider Kentridge's practice. As a human who cares deeply and one who is connected to his surroundings, current and contemporary happenings do appear in the artist's work and these can include incidents of violence, racial prejudice, and traces of the apartheid system.

Overall, Kentridge's tendencies towards poetic, philosophical, and theatrical ways of thinking are all stronger than any specific political mindset. Recurrent themes are timeless and universal; these include an interest in self, in relationships, in time, and in the cycle of life. Indeed Kentridge is so determined to mimic the "real" experience of being human that he moves fluidly between, and combines many different genres, of art. He uses drawing, printmaking, film, and performance and collages these different fragments of media together looking to achieve a more honest depiction of human experience than any sort of singular, linear, and tightly framed version of art. People are presented as uncertain, divided and chaotic, living in a world with much the same characteristics. Kentridge consistently well illustrates that any overarching view of life is likely non-sensical and impossible to follow, but interesting to consider all the same.
Accomplishments
As a characteristically philosophical artist, Kentridge constantly reflects on the unanswerable question of what it means to be human. Starting with rigorous personal interrogation - often in the form of self-portraits - he successfully gives insight to a shared human story and recognises the importance of returning to one's origins in order to do so. As such the artist uses basic charcoal as his primary medium and always holds onto the childhood impulse to draw.
Typically sombre and relatively dark in mood, Kentridge's work is rooted in the Expressionist tradition and recalls images by the likes of Käthe Kollwitz and Francis Bacon. For Kentridge however, the tragedy of the human condition, inevitably parading towards death, is often balanced by some aspect of humour. Indeed more and more in recent stage works, slapstick comedy becomes an important part of the artist's practice, comparable to the likes of Charlie Chaplin and Buster Keaton.
Kentridge quotes that he learnt more from his time studying mimic and mime in a Paris theatre school than he ever did at art school. He thus reveals his influence base to be extremely varied: moving between actors, artists, philosophers, writers, scientists, and spiritual teachers. He successfully combines all of these inspirations to reveal that he is interested in getting to the bare nuts and bolts of an idea, by whichever multi-media technique necessary.
Although highly intelligent, Kentridge is adamant that it is his body that leads his practice. He says that he always encourages "the hand to lead the brain", and that overall his work is a physical undertaking. Again this corresponds to the artist's love for theatre and movement on stage, but also to his lifelong interest in Dada, the group of German and French artists who successfully combined works on paper with dance and comedic action. Kentridge even sees his own studio as a sort of extension of his own body, comparing a walk across one part of the room to another as a similar journey from one synapse in the brain to another.
Important Art by William Kentridge
Progression of Art
Biography of William Kentridge
Childhood
William Kentridge was born in Johannesburg, South Africa in 1955. His wealthy Jewish parents, Sir Sydney Kentridge and Felicia Geffen, were both anti-apartheid lawyers and civil-rights activists, a political backdrop and family lineage important for Kentridge's future career as an artist. His father achieved international status after defending Nelson Mandela in the "Treason Trials" of 1956-61 and also for representing the family of Steve Biko, founder of the "Black Consciousness Movement", who died in police custody in 1977.
In the large, leafy suburban house where he grew up, and still lives today, Kentridge was surrounded by reproductions of masterpieces by Cezanne, Matisse, Miro, and Modigliani. These images provided him with an early art education, as did regular family visits to the Johannesburg Art Gallery, "the gallery of my childhood." He recalls being particularly attracted to expressive forms, saying, "there are questions of ambiguity of mark and transformations of paint into the world ...that I remember being intrigued by - not knowing whether the streak of paint is a person or a ditch." In his vibrant, lively household his parents often entertained artist friends, as Kentridge remembers, "There were always family friends who were artists, so the idea of working in an artist's studio, as a real activity that people did, was not foreign."
Throughout his childhood Kentridge soaked up the political turmoil around him; he regularly witnessed "indignation and rage at the dinner table", while in one jarring incident he stumbled across a mysterious box which he thought was full of sweets, only to discover a series of harrowing police photographs documenting brutalised bodies to be used as legal evidence. These events remained with him, adding material to the collage of his art practice that he would emerge himself in decades later. In the following years as a growing boy, Kentridge was well educated at the King Edward VII School in Houghton, Johannesburg.
Early Training and Work
Kentridge earned a Bachelor of Arts degree in Politics and African studies at the University of the Witwatersrand, before changing course to study Fine Arts at the Johannesburg Art Foundation, yet the fascination with African history and politics remained with him. At art school he struggled with the traditions of oil on canvas, particularly when painting with color, choosing instead to focus on drawing with charcoal, even though it was generally considered an "ancillary" to painting. After taking an evening class in etching he found a small spark of new hope, remembering, "It felt fantastic. It let me think, okay, there is a way of being an artist in which color doesn't have to be the starting point."
By 1981 Kentridge had changed course again, leaving South Africa to study theatre in Paris with the hope of becoming an actor. His teacher, Jaques Lecoq, taught him an intuitive approach to directing, and how to harness, "meaning before words, everything else that makes meaning." After a year in Paris, Kentridge discovered he "wasn't any better at acting than painting," yet his fascination with time, movement, and characters remained, along with a desire to work collaboratively. He returned to South Africa with visions of becoming a filmmaker, working as a props assistant on a television series, yet again he found himself against a brick wall, recalling, "The film industry was so awful that I looked for any way of not being there."
After going through this process of "early failures", Kentridge found himself once again looking for a way to be an artist. Reflecting back, he recalls this period of searching as pivotal to the development of his career, discovering, "There's a sense of annihilation and not just disappointment. In the end, the work that emerges is who you are." He is now a strong advocate for failure as a vital element of the creative process, saying, "One can always write one's biography in the terms of the failures which have saved you." Throughout this time Kentridge had discovered a natural blend of interests in drawing, film, and performance, which would become the defining, hallmark characteristics of his mature work. Having previously been told that it was important to specialise, that he must decide either to act or to draw, or would otherwise become an amateur, he realised that quite to the contrary it was in a space of cross-fertilisation of genres where he in fact felt at home and could flourish.
Mature Period
Kentridge began producing and exhibiting black and white charcoal drawings which demonstrated his ongoing dissatisfaction with the South African apartheid regime in the 1980s, yet he soon felt stifled and frustrated by the material limitations he had set himself. As a way out, he developed a non-traditional animation technique to bring his drawings to life, saying, "...the first animated films I made were done on the basis of trying to get away from a program in which I could see my life heading out ahead of me (thirteen more solo exhibitions of charcoal drawings!)."
Instead of creating traditional animations by producing sequential drawings on separate sheets of paper, he began using a single sheet of paper, erasing and redrawing movements in charcoal and photographing the changes before bringing them together as a sequence on screen. Kentridge referred to this process as "poor man's animation", or "stone-age animation." Evidence of the erased changes were left behind on the page, a process he initially tried to remove, before realising it could add a visceral, tactile sensibility to his work, and he even began exhibiting the palimpsest-like drawings left behind alongside his films. Through such working methods Kentridge discovered a way of integrating his various interests in history, politics, filmmaking and drawing together into one, writing, "In the process of making, a meaning will emerge." The first full-animated film he made was Johannesburg, 2nd Greatest City after Paris (1989). At around this time Kentridge met and married Dr Anne Stanwix and the pair would go on to have three children together.
Forging collaborative partnerships with filmmakers, theatrical companies, and musicians over the years that have followed has allowed Kentridge to expand the breadth and ambition of his films. He frequently enlists the help of Catherine Meyburgh, South African TV and film director, who has assisted his work since the early 1990s. Kentridge also began collaborating on various projects with the Handspring Puppet Company at this time, creating a series of stage performances including Woyzeck on the Highveld (1992), in which both puppets and their manipulators are seen on stage. Kentridge's career as an artist gradually gained momentum over the following decade as he maintained a multimedia practice, combining elements of drawing, film, and theatre. Much of his work continued to contain political elements, but there is always a more abstract and philosophical approach that works in parallel.
In his animated films, some of his fictional characters appear repeatedly, most commonly Soho Eckstein, a hard-nosed capitalist in a pinstriped suit, and his nemesis, the artist and dreamer Felix Teitelbaum, two opposing characters representing the divided fields of apartheid, and also the contradictory forces even at odds within one individual. Kentridge says that both characters came to him in a dream, as he recalls, "I was keeping a dream diary. 'Soho Eckstein photographed with 120 artists and photographers who had been recoding Johannesburg, the second greatest city after Paris', was the phrase that I woke up with. The other one was the phrase, 'Felix Teitelbaum's anxiety flooded half of Central Park.' They're both kind of nonsense, bizarre phrases." Felix always appears naked, and is loosely a self-portrait of Kentridge, who admitted he was too embarrassed to ask anyone else to model for him.
Late Period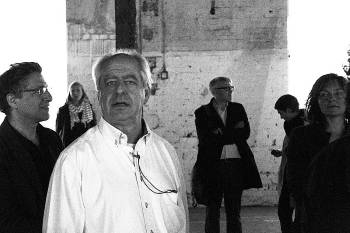 In 1997, Kentridge showed two films featuring Soho and Felix at Documenta, as at once haunting portrayals of the terrors in apartheid, as well as an examination of identity and the divided forces within the self then reflected outwards. Subsequently, Kentridge was quickly taken up by Marian Goodman Gallery (New York, London, Paris). Goodman remembers, "He was very much in demand. We had so many institutions dying to show his work, and he had this full flowering. He was getting one invitation after another."
In 2005 Kentridge extended his oeuvre to include opera, producing an alternate version of Mozart's The Magic Flute as seen through a contemporary lens for Brussels' La Monnaie, followed five years later by the production of Dmitri Shostakovich's satirical stage show, The Nose, inspired by Nikolai Gogol's surreal misadventures of a bureaucratic protagonist who goes in search of his missing nose, for New York City's Metropolitan Opera. His projects became bigger, even more muti-layered, and involved more collaborators.
Since 2006, Kentridge has been recognised as South Africa's best-known contemporary artist, with major showcases across the world from the Museum of Modern Art in New York to the Jeu de Paume in Paris and The National Museum of Modern Art in Tokyo. Today, he continues to live and work at his family home in Johannesburg with his wife.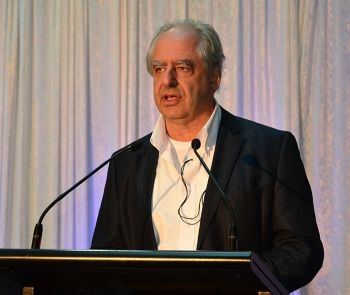 In 2016, Kentridge founded the Center for the Less Good Idea in Johannesburg, a center dedicated to support aspiring South African artists and creatives, encouraging them to be bold and take greater risks with their art forms. In defence of its unusual title Kentridge explains, "...good ideas have been so calamitous, all over the world, all the great utopian ideas of the last century, that our hope must now be with the less good idea - from smaller interventions from the margins."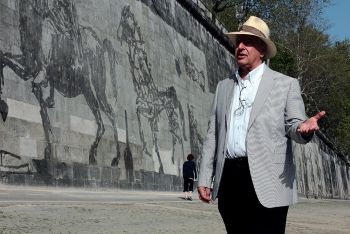 In 2018, Kentridge was commissioned by 14-18 NOW, a UK based programme for the First World War's centenary, to produce The Head & the Load, a multi-media performance celebrating the millions of African porters and carriers involved in the First World War. The resulting piece was first staged in the Tate Modern's Turbine Hall and awarded great critical acclaim.
The Legacy of William Kentridge
The rich variety of art forms Kentridge has explored throughout his career set him apart from many of his contemporaries, making him stand out as a leader in various fields, as a fascinating, yet difficult to define artist. This slippery oeuvre makes his act a tough one to follow, as Pierre Audi, artistic director of the Armory writes, "...(he) is not very easy to imitate." He advocates in many ways that the only person we can be is ourselves and encourages the use of the tools that we have been given, not to aspire to that which we are not. He is also a great example of an artist who is also an intellectual. Dispelling the myth that because artists are intuitive and sometimes refuse analysis of their work that they must therefore not be thinkers, Kentridge shows to the contrary that the sensual and the esoteric are umbilically linked. This is a model of art making, holistic and all inclusive, that looks back to the likes of Leonardo da Vinci and is becoming interestingly much more common in the practice of many contemporary artists.
In Cinematic Drawing in a Digital Age, Ed Krčma argues that both Kentridge and British artist Tacita Dean, "...dramatise (the) work of erasure, the insistent visibility of which announces their shared attachment to the temporality, materiality, and bodily investments made newly visible in 'analogue' drawing by the arrival of the digital." Kentridge's tactile, material approach to filmmaking, that clashes together old and new technology, has influenced a generation of filmmakers and artists who, in a Post-internet age, have sought ways of re-introducing elements of humanity, physicality, and sensuality back into their digital art; these include animator Katy Dove and filmmaker Luke Fowler. The at times overtly political language of Kentridge's art as a powerful means of communicating societal unrest has also continued to feed into the work of various artists, working both in South Africa and further afield, including multimedia artist Wayne Barker and the photography duo Hasan and Husain Essop.
Influences and Connections
Influences on Artist

Influenced by Artist
Friends & Personal Connections
Catherine Meyburgh

Phillip Miller

Motsumi Makhene
Artists
Tacita Dean

Katy Dove

Luke Fowler
Friends & Personal Connections
Wayne Barker

Hasan and Husain Essop
Movements & Ideas
Contemporary Art
Useful Resources on William Kentridge
Similar Art