Artists
William Kentridge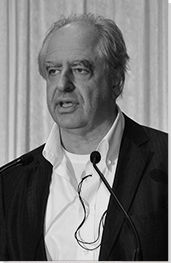 William Kentridge
South African Animator, Theatre Designer, Performance Artist, & Sculptor
Movements and Styles: Video Art, Postmodernism
Born: April 1955 - Johannesburg, South Africa

"I am interested in a political art, that is to say an art of ambiguity, contradiction, uncompleted gestures an uncertain ending - an art (and a politics) in which optimism is kept in check, and nihilism at bay."
Summary of William Kentridge
William Kentridge stands assured as an exciting visual artist, a profound philosopher, and a subtle symbol for peace. He always wears a crisp white shirt and quotes the angelic Reverend Desmond Tutu - a person with compassionate awareness of human fallibility from the self outwards - as one of his greatest influences. Born, raised, and still living today at the heart of Johannesburg, South Africa, Kentridge's identity is intrinsically bound within the complex history and injustices of his homeland. To say that he is primarily a political artist however is in many ways a misleading starting point from which to consider Kentridge's practice. As a human who cares deeply and one who is connected to his surroundings, current and contemporary happenings do appear in the artist's work and these can include incidents of violence, racial prejudice, and traces of the apartheid system.

Overall, Kentridge's tendencies towards poetic, philosophical, and theatrical ways of thinking are all stronger than any specific political mindset. Recurrent themes are timeless and universal; these include an interest in self, in relationships, in time, and in the cycle of life. Indeed Kentridge is so determined to mimic the "real" experience of being human that he moves fluidly between, and combines many different genres, of art. He uses drawing, printmaking, film, and performance and collages these different fragments of media together looking to achieve a more honest depiction of human experience than any sort of singular, linear, and tightly framed version of art. People are presented as uncertain, divided and chaotic, living in a world with much the same characteristics. Kentridge consistently well illustrates that any overarching view of life is likely non-sensical and impossible to follow, but interesting to consider all the same.
Key Ideas
As a characteristically philosophical artist, Kentridge constantly reflects on the unanswerable question of what it means to be human. Starting with rigorous personal interrogation - often in the form of self-portraits - he successfully gives insight to a shared human story and recognises the importance of returning to one's origins in order to do so. As such the artist uses basic charcoal as his primary medium and always holds onto the childhood impulse to draw.
Typically sombre and relatively dark in mood, Kentridge's work is rooted in the
Expressionist
tradition and recalls images by the likes of
Käthe Kollwitz
and
Francis Bacon
. For Kentridge however, the tragedy of the human condition, inevitably parading towards death, is often balanced by some aspect of humour. Indeed more and more in recent stage works, slapstick comedy becomes an important part of the artist's practice, comparable to the likes of Charlie Chaplin and Buster Keaton.
Kentridge quotes that he learnt more from his time studying mimic and mime in a Paris theatre school than he ever did at art school. He thus reveals his influence base to be extremely varied: moving between actors, artists, philosophers, writers, scientists, and spiritual teachers. He successfully combines all of these inspirations to reveal that he is interested in getting to the bare nuts and bolts of an idea, by whichever multi-media technique necessary.
Although highly intelligent, Kentridge is adamant that it is his body that leads his practice. He says that he always encourages "the hand to lead the brain", and that overall his work is a physical undertaking. Again this corresponds to the artist's love for theatre and movement on stage, but also to his lifelong interest in
Dada
, the group of German and French artists who successfully combined works on paper with dance and comedic action. Kentridge even sees his own studio as a sort of extension of his own body, comparing a walk across one part of the room to another as a similar journey from one synapse in the brain to another.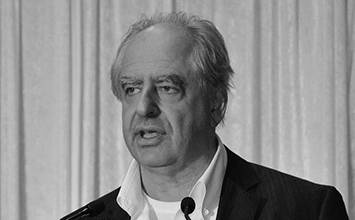 In a way, Kentridge transcends his own time. As art critic Jonathan Jones once said: "His melancholy carnival of an exhibition is the most convincing attempt I have seen by an artist of this century to meditate on the history of the last."
| | | |
| --- | --- | --- |
| William Kentridge's childhood, life, career, and various anecdotes | | Read William Kentridge's Biography |
Important Art by William Kentridge

The below artworks are the most important by William Kentridge - that both overview the major creative periods, and highlight the greatest achievements by the artist.


Artwork Images

Arc/Procession: Develop, Catch Up, Even Surpass (1990)

Artwork description & Analysis: A motley crew of mysterious figures move backwards from right to left across Kentridge's large, drawn arch. Various characters can be seen, including South African miners wearing head torches, a wounded man on a crutch and a suited man shouting into a large megaphone. In the center, a man in a suit exposes his bare chest with outstretched arms as if offering himself up for sacrifice. There is likely a reference here to Goya's The Third of May 1808 (1814) painting, and one wonders if this is the figure of the artist, of Kentridge himself. At his feet a hyena prowls below, mirroring the young hyena strapped to the man's back behind him. Though mostly monochrome, small touches of blue bleed through as though sprinkles of water falling from showers overhead. Overall, there is a sense that Kentridge reveals art historical influences here - Goya, Dürer, and Picasso - whilst at the same time, using an arch of paper, makes an interesting early link to the roll of film.

Kentridge made this drawing before his work was particularly well known, as one of many charcoal drawings in a series that explore the political unrest in his home of South Africa under apartheid rule. In excerpts of hidden text, underlying political content slowly reveals itself - the words "Develop", "Catch up" and "Even Surpass" run from left to right. These words were lifted from a text on the downfall of anti-colonial leader Haile Selassi, former emperor of Ethiopia; as he struggled to maintain power, Selassi's staff called for Ethiopia to "develop, catch up, even surpass" Western, capitalist society.

Interestingly though, Kentridge criticises the damaging effects of trying to impose a supposedly superior, colonial culture onto South Africa. The idealistic slogans run from left to right, in opposition to the figures, who seem to be going culturally backwards from right to left, towards a barren wasteland, rather than progressing forward as hoped. The drawing has a sardonic quality akin to the acerbic social commentaries produced by William Hogarth and later George Grosz, both important early influences for Kentridge. The work also satirises the form of the classical triumphal arch, built to commemorate the material achievements of Roman armies acquired by violent victories. Writer Michael Rothberg reflects on Kentridge's subversion: "Kentridge's cryptic and decidedly non-triumphalist procession nonetheless involves not imperial booty, but rather the detritus of the dispossessed."

Charcoal and Pastel on Paper - Tate Collection


Artwork Images

Felix in Exile (1994)

Artwork description & Analysis: This film still is taken from a short animated film, made from 40 drawings by Kentridge, featuring music by Kentridge's long-term collaborators Phillip Miller and Motsumi Makhene. The central two characters, seen here, are Felix Teitelbaum, an artist, and Nandi, an African woman who documents the violence and massacres happening around her in South Africa with various art forms. As the film progresses, Felix emerges as a humanitarian character lamenting the evidence presented by Nandi's documentation in a lonely hotel room. The two characters observe one another, in a two-way mirror, and then through a double-ended telescope, seen in this image, before Nandi is shot and falls away from view, as an epic, Biblical flood of blue water drowns Felix's hotel room.

Kentridge says, "Felix in Exile was made at the time just before the first general election in South Africa, and questioned the way in which the people who had died on the journey to this new dispensation would be remembered." In drawing attention to the character of Nandi, Kentridge highlights the importance of preservation, facing up to the realities of racist colonial rule as an attempt to prevent such future occurrences, arguing, "There's a question of people disappearing, of memory disappearing, and how do we hang on to things that we should feel so strongly, but which get weaker and weaker with time?" Kentridge highlights the important role his film also plays in this process, revealing the factual information included: "This film uses a lot of images, which are really forensic photographs of people who died ... in the run up to the election." The flood which consumes and concludes the film could be read as a mass tears shed in collective pain and grief, yet there is also a shred of hope, with the Biblical flood offering up the chance to begin again.

35mm Film - Tate Collection


Artwork Images

Sleeper - Red (1997)

Artwork description & Analysis: Amongst a searing sea of blood red, a naked man stretches out before us, slumped onto a hard, wooden bench. The figure's body is serene and relaxed, as if blissfully unaware of the drama around him. In many of his drawings, etchings and animated films Kentridge explores the emblem of the recumbent sleeping male figure. As action rages outside, there is always the sense that there is a private and hidden theatre unfolding in the mind of the individual.

Central to Kentridge's practice are ideas around remembrance, particularly in relation to difficult, painful experiences from the past. The sleeping male figure is a powerful symbol for our latent human desire to forget; in Kentridge's world, if a figure is sleeping, they could be in a state of ignorance and denial. More specifically, in linking the concepts of sleep and denial, Kentridge may be addressing the latent guilt prevalent in white South African society over their horrific abuse and exploitation of African people. As Kentridge often points out in his films however, a moment of awakening must occur eventually, however challenging, in order for society to move forward and progress towards acceptance and peace. Furthermore, there is also the possibility that Kentridge associates the mode of sleeping as the time in-between consciousness and unconsciousness when the artist may receive good ideas. Far from a negative state, sleep could be equated with the "open field" that Kentridge highlights as important, the moment in life when there is no clear plan and ideas can really grow and develop.

The figure seen here is remarkably similar to another character who appears in some of Kentridge's films called Ubu, a symbol for apartheid, who appeared in the film Ubu Tells the Truth, (1997) and a suite of etchings of the same title. The painting also makes clear reference to Kentridge's early interest and love for the work of British painter, Francis Bacon. Kentridge's roots as an artist are here revealed as developed from the linage of highly charged expressionist works, starting with the likes of Francisco Goya, and moving through to the brilliant and challenging smeared and writhing scenes of George Grosz and Francis Bacon.

Etching, Aquatint and Drypoint on Paper - Tate Collection
More William Kentridge Artwork and Analysis:
Influences and Connections
Influences on Artist
Artists, Friends, Movements
Influenced by Artist
Artists, Friends, Movements

Interactive chart with William Kentridge's main influences, and the people and ideas that the artist influenced in turn.
View Influences Chart

Artists

Personal Contacts

| | |
| --- | --- |
| | Catherine Meyburgh |
| | Phillip Miller |
| | Motsumi Makhene |

Movements

Influences on Artist

William Kentridge
Years Worked: 1979 - present
Influenced by Artist

Artists

| | |
| --- | --- |
| | Tacita Dean |
| | Katy Dove |
| | Luke Fowler |

Personal Contacts

| | |
| --- | --- |
| | Wayne Barker |
| | Hasan and Husain Essop |

Movements
If you see an error or typo, please:
tell us
Cite this page

Content compiled and written by Rosie Lesso
Edited and revised, with Synopsis and Key Ideas added by Rebecca Baillie
" Artist Overview and Analysis". [Internet]. . TheArtStory.org
Content compiled and written by Rosie Lesso
Edited and revised, with Synopsis and Key Ideas added by Rebecca Baillie
Available from:
First published on 22 Jul 2019. Updated and modified regularly.


[Accessed ]