Artists
William Hogarth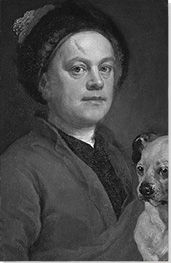 William Hogarth
English Engraver, Satirist and Painter
Movement: The Rococo
Born: November 10, 1697 - Smithfield, London
Died: October 25, 1764 - Chiswick, Essex

"I have endeavored to treat my subjects as a dramatic writer; my picture is my stage, and men and women my players, who by means of certain actions and gestures, are to exhibit a dumb show."
Summary of William Hogarth
Best remembered for his intricate and satirical prints, Hogarth was a varied and prolific artist who mastered a range of styles and genres ranging from conversation pieces and realistic portraiture to grotesque caricature. He was the most significant artist of his generation and the first English-born artist to attract attention abroad. Hogarth invented the idea of a narrative series of prints, which told a story through a number of images, and he produced a significant number on "modern moral subjects" from prostitution to politics. In doing so he provided a visceral social commentary, highlighting and lampooning corruption and presenting images of the seedy underbelly of London, which had rarely been portrayed before. It was these unique prints that brought him wealth and fame in his own lifetime and beyond, as well as influencing the work of 18th century novelists in their subject matter and focus on individual narratives. The prints can also be seen as the forerunner of cartoons and comic strips.
Key Ideas
Hogarth drew readily on the scenes of everyday life that he had witnessed growing up in relative poverty as a child. His engravings often depict those trying to survive on the fringes of society and his prints are characterized by an incredible eye for detail (including many subtle puns and references), an often bawdy and ribald humor, and an ability to render striking and individual faces.
After witnessing the widescale plagiarism of his first series of prints, A Harlot's Progress (1732) by competing engravers who produced cheap and inferior copies, Hogarth lobbied for the introduction of copyright protection for engravers. This was enacted in 1735, and became known as Hogarth's Law - it was one of the first of its kind in the world.
Hogarth is viewed as the founding member of The English School, the dominant school of painting in the UK throughout the late 18th and early 19th centuries and the first distinctly native style that the country produced. His paintings drew on the French Rococo aesthetic but Hogarth added a layer of realism to his work which was innovative. This coupled with his ambition, popularity, and storytelling ability went on to influence the works of Reynolds and Gainsborough amongst others.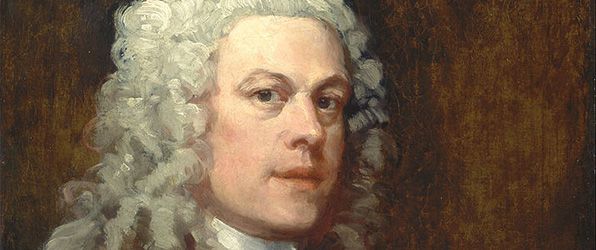 William Hogarth was born on November 10th, 1697 in London. His father, Richard, was a classical scholar, but although well-educated, was not wealthy, making a precarious living as a schoolmaster, from writing Latin and Greek textbooks and, later, as a coffee house proprietor. The Hogarth family moved a number of times during Hogarth's early years, but always remained within the bustling East End of the city, near to Smithfield Market.
Important Art by William Hogarth

The below artworks are the most important by William Hogarth - that both overview the major creative periods, and highlight the greatest achievements by the artist.

A Harlot's Progress - Plate III (1732)

Artwork description & Analysis: This plate was the third in a series of six engravings (based on paintings of the same name) that charts young Moll Hackabout's life in London. The fictional character came to the capital from the country in the hope of finding work in service. Instead she is taken advantage of and becomes a high-class prostitute, before falling on the hard times depicted in plate III. By plate IV she is dying, toothless and pockmarked by venereal disease, while the final plate shows her funeral wake with her young illegitimate son sitting by her coffin.

In this composition, Hogarth mimics the very common religious depiction of the Annunciation, to satirically highlight the fall of the young woman. Moll is in shabby room in Drury Lane, getting out of bed after a leisurely lie-in. The witch's hat and switch on the wall communicate to the viewer that her current position necessitate her to indulge in flagellation and black magic. Above her bed is a box belonging to the famous highwayman James Dalton, suggesting that he is now her principal lover. She is less well dressed than in the previous plate and she dangles a watch from her fingers, no doubt obtained illegally from the previous night's customer. The piece is full of pictorial puns and detailed references including the domestic cat at Moll's feet which hints at her profession.

Moll's ultimate downfall is foreshadowed by the serving woman at her side, who has lost part of her nose to syphilis, and has a sore on her face. While Moll looks smiling and suggestively at the viewer, behind her a magistrate and officers enter to arrest her. As writer Susan Elizabeth Benenson writes: "Like his great predecessor, the 16th-century Flemish painter Pieter Bruegel the Elder, Hogarth wanted to extract entertaining and instructive incidents from life. In telling the story of a young country girl's corruption in London and her consequent miseries, he not only ridiculed the viciousness and follies of society but painted an obvious moral."

This work was instrumental in securing Hogarth's reputation as the great moral and satirical artist of his time. The use of multiple scenes in his work allowed him a more complex narrative, and led to his reception as a "literary artist". 18th century essayist and poet Charles Lamb wrote: "His graphic representations are indeed books: they have the teeming, fruitful, suggestive meaning of words. Other pictures we look at - his prints, we read." The original paintings were destroyed in a fire in 1755. In 2006 the works were taken as inspiration for the film A Harlot's Progress, directed by Justin Hardy.

Etching and engraving - Andrew Edmunds, London

A Rake's Progress (1734)

Artwork description & Analysis: The Tavern Scene, plate III of the Rake's Progress Series, shows a debauched and lively evening of drinking at the heart of which is Tom Rakewell, the anti-hero of the work. Another fictional character, Tom, like Moll, came to the city to build a life, only to succumb to its temptations. The previous two plates show Tom returning from University to learn his wealthy father has died, leaving him everything. He immediately shuns his pregnant girlfriend, and by plate III we find him drunk in the early hours at a brothel. At his side is a prostitute with a face pock-marked by venereal disease, reaching under his shirt, probably to rob him. Surrounding him are other fallen characters; a stripper undresses in the foreground, a tradesman to the rear fondles a prostitute, and two women prepare for a spitting contest.

Before he produced engravings of the series of paintings, Hogarth exhibited the oils in his home, as a preview. They acted as an advert for the prints which he later sold on subscription. In the work we see Hogarth's expertise in creating a claustrophobic intimacy that forces us to look at the subjects, and therefore our own experience, as they gamble, cheat, and ultimately fail. The rake in this case ends up being arrested and ends his days in Bedlam, a London asylum.

As Christine Riding explains: "Hogarth in a masterly way presented each scene with a realism and intimacy that established his artistic identity as the roving satirist who observes with an unflinching eye the seedier side of London life." Ultimately, it was his skill in doing this, his eye for detail, and his ability to create comedy and caricature, that made him famous.

Oil on canvas - Sir John Soane's Museum, London

Marriage à la Mode: I The Marriage Settlement (c. 1743)

Artwork description & Analysis: Another of Hogarth's series, Marriage à la Mode tells the story of a disastrous union of convenience, between a profligate aristocrat's son and the daughter of an aspiring middle-class merchant - the sole purpose of which is the exchange of wealth for social status. This first scene The Marriage Settlement sets the stage, making it clear that this is a business arrangement, rather than a union of love. This is echoed in the dark and somber room in which the couple themselves have been pushed to the side of the canvas. The bride, dressed in white is almost doubled over in sadness as she grips at her handkerchief, indicating tears shed. She faces away from her foppish betrothed who, caught in his own reverie as he stares at his reflection, is completely oblivious to the business dealings going on around them.

The groom's father can be seen on the right of the canvas, gesturing to himself proudly while he rests his gout-ridden and bandaged foot on a stool. With his other hand he points to a family tree, indicating an unlikely lineage that goes back to the Normans. The message is clear; he is selling his son for cash. Meanwhile, the rich merchant on the other end of the transaction is flanked by his lawyer. The house framed in the window encapsulates the symbolism of the work; it is all for show, like the marriage.

The work has its origins in Dutch and French group portraiture, but in Hogarth's conversation piece, he uses satire to take it to another level. Historian Professor Amanda Vickery described the work as a "vicious depiction of aristocratic culture and marriage as barter and sale. The fact that this will be utterly loveless marriage is signified by two chained dogs - it will be a prison." This series was one of Hogarth's most popular and both the original paintings and the later engravings exemplify his skill in composition and in rendering individual characters. The work inspired James McNeil Whistler when he saw it exhibited at the National Gallery.

Oil on canvas - The National Gallery
More William Hogarth Artwork and Analysis:
Influences and Connections
Influences on Artist
Artists, Friends, Movements
Influenced by Artist
Artists, Friends, Movements

Interactive chart with William Hogarth's main influences, and the people and ideas that the artist influenced in turn.
View Influences Chart

Artists

Personal Contacts

| | |
| --- | --- |
| | Sir James Thornhill |
| | John Vanderbank |

Movements

Influences on Artist

William Hogarth
Years Worked: 1713 - 1764
Influenced by Artist

Artists

| | |
| --- | --- |
| | James Whistler |
| | Walter Sickert |
| | James Gillray |
| | Ford Madox Brown |
| | William Powell Frith |

Personal Contacts

Movements
If you see an error or typo, please:
tell us
Cite this page

Content compiled and written by Sarah Ingram
Edited and revised, with Synopsis and Key Ideas added by Kate Stephenson
" Artist Overview and Analysis". [Internet]. . TheArtStory.org
Content compiled and written by Sarah Ingram
Edited and revised, with Synopsis and Key Ideas added by Kate Stephenson
Available from:
First published on 14 Jan 2020. Updated and modified regularly.


[Accessed ]