Artists
Martin Kippenberger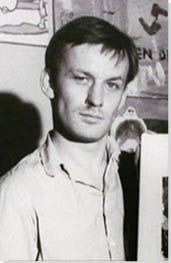 Martin Kippenberger
German Painter, Sculptor, Photographer, Installation Artist
Movements and Styles: Neo-Dada, Neo Pop Art
Born: February 25, 1953 - Dortmund, West Germany
Died: March 7, 1997 - Vienna, Austria

"You really can't bring about anything new with art. I knew that already as a child. One can try to change the world for oneself, but exhibitions are, actually, quite superfluous."
Summary of Martin Kippenberger
Though unpopular with the German art establishment, Martin Kippenberger was regarded by many of his contemporaries to be the most vigorous and audacious of the post-post-war generation of German artists. During his short life, the combustible, irreverent and prolific artist worked across many mediums including painting, drawing, photography, sculpture, performance art, installation art, and music experimentation. Though he claimed he "didn't have a style," Kippenberger is generally recognized for his penchant for appropriation, his use of found and/or sundry objects, and his insistence that art should connect in some way with the everyday world. His art is often said to recall the impudent, and at times aggressive, spirit of early Dadaism, and at times the ironic playfulness of Pop Art; or what became known from the eighties as Neo-Pop Art.
Key Ideas
The post-war generation of German artists, proudly represented on the international stage by the likes of
Anselm Kiefer
and
Joseph Beuys
, were using art to help process their country's catastrophic recent history. Kippenberger thought that, some thirty years forward, German art needed to become more 'alive'. For him, no subject was too sacred, nor too trivial, and his work drew on any point of reference - cultural, historical, personal - to deliver ironic statements on the art world and its history. He can then be grouped with the provocative
Neo-Pop Art movement
- which brings together the likes of
Jeff Koons
,
Damien Hirst
, Katharina Fritsch, Cady Noland,
Keith Haring
- that used consumer culture and everyday readymades as a way to critique Western culture and its values.
Kippenberger had not been swayed by the latest maxim that "painting was dead" and, though he worked across most mediums, he was happy to explore the future possibilities for painting by producing crude and impudent canvases that became known as his Bad Paintings. Bad Painting is associated with artistic movement beginning in the late 1970s and gained recognition as a movement following the 1978 "Bad Painting" exhibition at the New Museum of Contemporary Art of New York. The exhibition's curator, the art critic Marcia Tucker, had been interested in bringing together a provocative, spontaneous art that challenged the idea of artistic "good taste" through its crude aesthetic and technical application (Kippenberger did not feature in the exhibition).
Kippenberger was insistent that art should be part of the everyday world and he railed against institutionalized highbrow art such as
Neo-Expressionism
. For Kippenberger, art was about ideas and concepts over skilful execution and he drew inspiration, not so much from political and social history, but more from inconsequential cultural events and objects. His aim was to poke fun at pompous artistic orthodoxies (hence the label
Bad Paintings
).
Kippenberger was a nomadic individual who travelled to locations including Florence, Madrid, Vienna, Los Angeles and Syros. His restlessness tallied with the image of an errant son - an iconoclast - whose "attitude" brought added interest to his art. He was alert to the importance of publicity (and self-publicity) and he embraced his notoriety to full effect. Kippenberger knew that if he was to "seize the moment", then the personality of the artist - or the artist's
legend
- must do the job of announcing his art to the biggest public. His self-styled "rebellious swagger" had an especially profound impact on the
Young British Artists (YBAs)
group who followed his example in exploiting their own celebrity - or rather their infamy - to inform on readings of their art works.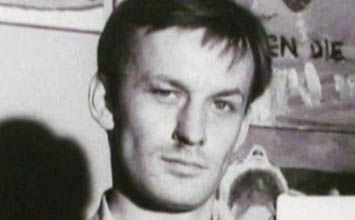 The third child of five (a brother to four sisters), Martin Kippenberger was born, in 1953, in Dortmund, Germany to upper-middle-class parents. His father, Gerd, ran a colliery while his mother, Helena, worked in the field of dermatology. Gerd, a true force for parental good by all accounts, was both a gregarious socialite and a passionate art collector. It became apparent from an early age that Kippenberger would become heir to his father's passion, his elder sister Susanne recalling for instance how almost "as soon as he could hold a pencil, he drew and painted, glued and stapled." Soon he was copying paintings from his father's collection by the likes of Picasso, Klee, Chagall and Kokoschka and all the while receiving enthusiastic praise from his father for his "beautiful drawings".
Important Art by Martin Kippenberger

The below artworks are the most important by Martin Kippenberger - that both overview the major creative periods, and highlight the greatest achievements by the artist.


Artwork Images

Uno di voi, un tedesco en Firenze (One of you, a German in Florence) (1976)

Artwork description & Analysis: Kippenberger painted Uno di voi at the very start of his career while living in Florence. It documents his experiences as a foreigner lost in the streets of an unknown city. Uno di voi features a montage of black and white paintings depicting a range of seemingly disconnected subjects - including portraits of a local milkman, a wanted criminal, a stuffed pig, a copy of a Botticelli painting from the Uffizi and a dead pigeon - drawn from souvenir postcards and his own street photography. Kippenberger had originally intended to produce enough paintings to make a stack at a height of the artist himself, but this goal proved impracticable.

Each image is painted to the same-size and detail, and though Kippenberger's subject matter is more eclectic and more autobiographical, it still invites comparisons with the work of Gerhard Richter, and especially his 48 Portraits of Important Men (1972). Kippenberger had indeed acknowledged the influence of Richter, but he was part of a new generation of post-modern artists who wanted to move away from what was an overtly political Post-war German art. Taking their lead rather from the Swiss Dadaists and the Pop artists, he wanted to invest art with a new feel for humor and irony, something he believed was lacking in the earnest work of the German Neo-Expressionists. Kippenberger achieves this here by allowing everyday street scenes to take their 'rightful' place along-side canonical works of art. The artist favored a layered, ahistorical approach to producing art and his predilection for the absurd, quite evident in Uno di voi's incredulous juxtapositions, would characterize his whole career.

Oil on canvas


Artwork Images

Untitled from the series Lieber maler male mir (Dear painter, paint for me) (1981)

Artwork description & Analysis: Two men walk arm in arm away from us towards a Düsseldorf bar on a busy day. The taller of the two is Kippenberger, he is gripping a friend's arm for support. Despite their relatively formal attire, both men have a dishevelled look about them, suggestive of a certain fragility. One would be forgiven for thinking that the friends were headed to the bar (in daytime) in order to drown their sorrows. The painting is one of an early career series of twelve for which Kippenberger commissioned a well-known film poster painter - known only as "Mr. Werner" - to paint the image. The images were copied meticulously from Kippenberger's own photographs of ordinary street scenes and he hired a 'technical' painter to render the work for ideological reasons. Kippenberger was influenced by Andy Warhol's factory-like approach to making art whereby employees would assist heavily in art production. He supported the principle that the idea driving the artwork - the concept - was more important than the skill in the artistic execution: "I'm rather like a travelling salesman" he said "I deal in ideas. I am far more to people than someone who paints pictures." Dear Painter, Paint Me, was then a deliberate affront to the dominant trend of German Neo-Expressionism which promoted a style of earnest socio-political enquiry over such frivolous conceptual play.

Oil on canvas


Artwork Images

Dialogue with the Youth of Today (1981)

Artwork description & Analysis: In this somewhat graphic self-portrait, Kippenberger is shown beaten, bruised and bandaged. His eyes, nose and upper lip are swollen and covered in yellow bruises. The portrait was made while Kippenberger was manager at the notorious Berlin punk club S.O.36. He had been attacked one night by a gang led by a punk known as "Ratten-Jenny" (earning that prefix on account of the rat she always carried on her shoulder). The gang had felt aggrieved when Kippenberger raised the club's beer prices and had taken a special dislike to Kippenberger's formal, preppy way of dressing. Gallerist Bruno Brunnet added that his attackers were probably more "mad at Martin for having bought his way into SO36" (their club).

On arrival at hospital, Kippenberger called up a number of his friends with the aim of documenting his ordeal in photographs. It would be Jutta Henglein who provided him with source material for what would become a trilogy of paintings. Following the attack, Kippenberger was left with a crooked nose and several facial scars. But he seized on the opportunity to create a strong autobiographical statement in a trilogy of photoreal paintings called Berlin by Night (one of which was Dialogue with the Youth Today). As with many of his self-portraits, Kippenberger presents himself as a broken down, fragile figure. Indeed, beneath the witty, ironic title there is a latent sense of personal failure in this painting; an undercurrent which ran through much of his work. Kippenberger was of course unafraid to address the difficult subjects and situations he encountered in his life. It was an attitude that would enamour him to so many of his contemporaries.

Oil on canvas
More Martin Kippenberger Artwork and Analysis:
Influences and Connections
Influences on Artist
Artists, Friends, Movements
Influenced by Artist
Artists, Friends, Movements

Interactive chart with Martin Kippenberger's main influences, and the people and ideas that the artist influenced in turn.
View Influences Chart


Influences on Artist

Martin Kippenberger
Years Worked: 1976 - 97
Influenced by Artist

If you see an error or typo, please:
tell us
Cite this page

Content compiled and written by Rosie Lesso
Edited and published by The Art Story Contributors
" Artist Overview and Analysis". [Internet]. . TheArtStory.org
Content compiled and written by Rosie Lesso
Edited and published by The Art Story Contributors
Available from:
First published on 12 Nov 2018. Updated and modified regularly.


[Accessed ]