Artists
Maurizio Cattelan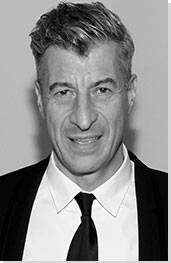 Maurizio Cattelan
Italian Sculptor and Conceptual Artist
Movement: Conceptual Art
Born: September 21, 1960 - Padua, Italy

"Laughter is a Trojan horse to enter into direct contact with the unconscious, strike the imagination and trigger visceral reactions."

Summary of Maurizio Cattelan
In the grand kingdom of the art world, Maurizio Cattelan has established himself as its court jester. With a fool's irreverence and the freedom of a Conceptual artist unbound to singular voice or traditional medium, he seeks to jostle the status quo. Whether he guides us toward interrogating socially ingrained norms, or pinpoints our darker human struggles and uncomfortable emotions, he does it all with a misfit's mischievous sense of humor. Whether the joke is on us, or flipped back upon him, his work pokes fun at, and helps connect us to, our common human foibles.
Key Ideas
Although the title fits, Cattelan has always refused being called an artist-provocateur. Instead, he claims that he is merely holding a mirror up to society, and in fact, considers himself more of an "art worker" than artist. In fact, many times he doesn't make his own work and often his work is contrived of nothing but temporary actions or statements.
The concepts of failure and mortality appear often in Cattelan's work. His investigations into these heavier themes of the human condition, though, are fraught with a morbid sense of comedy that allows for an overall lightening of the load.
Cattelan often works in contradiction or double meaning, making work that points out one perspective, yet simultaneously leads us to reflect upon its opposite. In this regard, he tricks us into experiencing dual roles of our common humanity; judge and accused.
Although his work can be seen as post-
Duchampian
, Cattelan evolves the ready-made, or the concept of art as absurdity, by layering it with intentional messages of underlying cynical or social implication.
Cattelan often works with taxidermy animals and hyperrealist sculpture to stage his visual jokes. Both lend themselves well to his niche of constructing realistic settings that upon closer inspection become quite uncanny.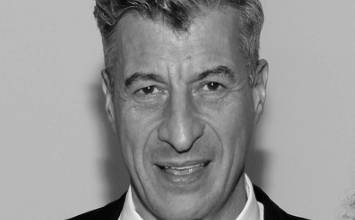 Maurizio Cattelan grew up in the northern Italian town of Padua. His father was a truck driver, his mother a maid, and the family struggled financially. Always a misfit, he disliked school, received poor grades, and constantly found himself in trouble. Art Historian Sarah Thornton explains that Maurizio's mother was ill for most of his childhood and died when he was in his early twenties. The artist feels that she blamed him for her illness, perhaps sparking his early conflicts with the concepts of failure and mortality that would later pepper his artwork. After dropping out of high school, he worked a series of unfulfilling jobs in post offices, mortuaries, and kitchens in order to support his family. Through all of these early experiences, he learned to mistrust authority and to abhor the monotony of manual labor.
| | | |
| --- | --- | --- |
| Maurizio Cattelan's childhood, life, career, and various anecdotes | | Read Maurizio Cattelan's Biography |
Important Art by Maurizio Cattelan

The below artworks are the most important by Maurizio Cattelan - that both overview the major creative periods, and highlight the greatest achievements by the artist.


Artwork Images

Southern Suppliers FC (1991)

Artwork description & Analysis: For this work, Cattelan assembled a real soccer team of North African immigrants, who were then dispatched to play local matches across Italy (all of which they lost). In classic Cattelan tongue-in-cheek style, he made up a fictional sponsor for the team, which was emblazoned on the men's shirts. RAUSS is the German word for "get out," as in the phrase "Ausländer raus," or "foreigners get out." When considered in light of the artwork's name, Southern Suppliers FC, we find the artist referencing both the controversial use of cheap immigrant labor and the irony in hiring foreign sportsmen to play on Italian teams. The work draws a contrast between two types of imported labor at different ends of the economic spectrum: celebrity vs. working-class.

In her 2012 book of the same name, Claire Bishop wrote about Southern Suppliers FC as an example of "delegated performance.". According to her, delegated performance refers to "the act of hiring nonprofessionals or specialists in other fields to undertake the job of being present and performing at a particular time and a particular place on behalf of the artist, and following his or her instructions." She also notes that quite often, people are hired "to perform their own socioeconomic category, be this on the basis of gender, class, ethnicity, age, disability,

or (more rarely) profession." She explains that "through this work, Cattelan fulfills the male dream of owning a football club, and apparently insults the players by dressing them in shirts emblazoned RAUSS. At the same time, he nevertheless produces a confusing image: the word RAUSS, when combined with the startling photograph of an all-black Italian football team, has an ambiguous, provocative potency, especially when it circulates in the media, since it seems to blurt out the unspoken E.U. fear of being deluged by immigrants from outside 'fortress Europe.' Southern Suppliers FC is a social sculpture as cynical performance, inserted into the real-time social system of a soccer league." Cattelan succeeds, through the co-opting of the players, to participate in the same practice his work intends to highlight and mock.


Artwork Images

Bidibidobidiboo (1996)

Artwork description & Analysis: In this work, a taxidermy squirrel lays slumped over a miniature kitchen table with two miniature chairs. At its feet lies a miniature revolver, and on the back wall of the diorama are a kitchen sink and water heater. The suicidal squirrel represents an alter ego based on a replication of the artist's childhood kitchen. Cattelan has confessed of being terrorized by the concept of failure, implied here by the squirrel's demise. It is a key element in both this work and a recurring theme in his oeuvre. He has also stated, "Sometimes it's not easy being yourself."

Interestingly, Cattelan's sister Giada also feels a connection to the work, recalling that shortly before its creation, she had been going through a challenging time in her life, and instead of offering comfort, her brother asked if she had considered suicide. A little while later, when she first saw the piece, she says that it freed her of that idea, made her smile, and allowed her to move on. Being that both siblings were raised in a lower-middle-class home rife with financial struggle, and that their mother passed at an early age, it can also be said that this piece might weave insight into Cattelan's feelings of failure from his own childhood.

The irony of the squirrel's situation is enhanced by the title Bidibidobidiboo, the magical words that a fairy tale Cinderella spoke to summon her fairy godmother while yearning to transform her life. However, no magical words, nor mystical creatures, nor collaborative social efforts were able to change this squirrel's fate.

Cattelan's early works frequently employed taxidermy, which, according to Nancy Spector, Deputy Director of the Guggenheim, "presents a state of apparent life premised on actual death."

Many, like Tom Eccles, former Director of the Public Art Fund, find Cattelan's work particularly effective because of the use of humor to explore dark issues. Some of his other works that deal with death and mortality include Now (2004), which places a deceased John F. Kennedy in a coffin, All (2007), which is comprised of nine sculptures made of white Carerra marble that appear to be supine humans shrouded in sheets, and Untitled (2009), which features a taxidermy horse, dead on the ground with a wooden sign staked in its flank bearing the Latin inscription that appeared on Jesus' cross, "INRI." By presenting such lifelike visions of death, Cattelan forces viewers to consider their own mortality, and to question the flimsy line between life and death.

Taxidermy squirrel, ceramic, formica, wood, paint, steel - Galerie Emmanuel Perrotin


Artwork Images

If a Tree Falls in the Forest and There is No One Around It, Does It Make a Sound (1998)

Artwork description & Analysis: This work is a farce on the biblical Christian holiday, Palm Sunday; the day when Jesus triumphantly entered Jerusalem, riding on the back of a donkey as worshippers celebrated his arrival by laying cloaks and palm fronds in his path. The donkey was a symbol of peace, an alternative to the horse, which was more associated with war. In Cattelan's work, however, Christ has been replaced by a television, allowing the artist to employ a familiar tactic of manipulating something familiar into something absurd in order to make a social point.

Cattelan's substitution of the television speaks directly toward society's numbed veneration of mass media and Spectacle Culture, a concept laid out by Guy Debord in his 1967 book, The Society of the Spectacle. According to Debord, the advent of mass media and advertising around the 1920s, caused people to become more transfixed by commodities and their representation, "images detached from every aspect of life," as a distraction, or substitute for, real life.

Conceptually, Cattelan's work recalls earlier pieces by Korean artist Nam June Paik, who often juxtaposed mainstream technological devices with religious or spiritual imagery in order to also critique the worship of mass media, as in TV Buddha (1976). Cattelan's work was later referenced by contemporary Spanish artist Pilar Albarracín in Fabulations (2010), wherein she placed a taxidermy donkey atop a pile of books to represent the modern human, inundated and overwhelmed with information and media.

Taxidermy donkey, television, bridles, cotton cloth, cord - Galerie Emmanuel Perrotin
More Maurizio Cattelan Artwork and Analysis:
Influences and Connections
Influences on Artist
Artists, Friends, Movements
Influenced by Artist
Artists, Friends, Movements

Interactive chart with Maurizio Cattelan's main influences, and the people and ideas that the artist influenced in turn.
View Influences Chart


Influences on Artist

Maurizio Cattelan
Years Worked: 1989 - present
Influenced by Artist

Artists

Personal Contacts

| | |
| --- | --- |
| | Dominique Gonzalez Foerster |
| | Paola Manfrin |
| | Ali Subotnick |
| | Massimiliano Gioni |

Movements
If you see an error or typo, please:
tell us
Cite this page

Content compiled and written by Alexandra Duncan
Edited and revised, with Synopsis and Key Ideas added by Kimberly Nichols
" Artist Overview and Analysis". [Internet]. . TheArtStory.org
Content compiled and written by Alexandra Duncan
Edited and revised, with Synopsis and Key Ideas added by Kimberly Nichols
Available from:
First published on 23 Apr 2018. Updated and modified regularly.


[Accessed ]