Artists
Gabriel Orozco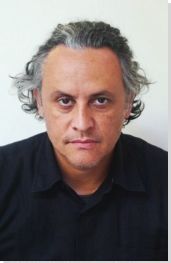 Born: April 27, 1962 - Jalapa, Mexico

"I try always to intimate with the world... with everything I can, to feel love for it, or interest in it. To be intimate you have to open yourself, to be fearless, to trust what is around you, animate and inanimate. Then you start to change the scale of things, of the public and private."

Summary of Gabriel Orozco
Gabriel Orozco is a contemporary artist who refuses to stay in one place. Preferring to work and live in various cities around the world, Orozco's art reflects his nomadic experience, choosing to make use of found materials and everyday life while rejecting the isolated studio practice. Pushing the limits of the readymade object, Orozco forces viewers to imagine both unseen and overlooked features of the urban and natural environments around them. At the same time, he pushes the limits of traditional artistic media - such as sculpture, painting, and photography - testing the traditional rules and techniques that artists have adhered to throughout previous generations, questioning their relevance for today's rapidly changing social realities.
Key Ideas
Games are some of the most recurring elements in Orozco's diverse body of art work. From the rules and procedures to the active participation of various players, the main aspects of games provide Orozco with myriad opportunities to challenge the notion that art comes from the divine inspiration or intellectual prowess of a single artist. Using the standards of games and the behaviors of game pieces (chess is a particular favorite) as methods for creative production, Orozco lets these rules be as important as his own creative ideas in the making of his art. In turn, viewers are often implicated in these games, recognizing the familiar qualities within an unfamiliar setting and perhaps even playing along in the redefined context.
Working outside of the traditional art studio is an integral feature of Orozco's work. Orozco embraces the surrounding environment: assembling sculptures from found materials in urban settings or photographing the interactions of people, objects, and natural environments. Orozco compels viewers to reconsider the values we place on the objects and spaces around us, as well as our own expectations about what merits the label of art. His nomadic tendencies fuel his curiosity in the stories that surrounding places and things tell, a curiosity he encourages his audience to share by illustrating new ways to see and comprehend both natural and manmade elements in our collective experience.
Orozco's art clearly builds off of earlier experiments with the
readymade
- a real-world object transformed by its placement within a fine art context. Whereas earlier artists like
Marcel Duchamp
or
Jeff Koons
made minimal alterations to readymades, Orozco makes more dramatic, visible changes to the objects themselves. Orozco's additions of intricately drawn patterns onto skeletal remains, for instance, question the definitions and boundaries of the readymade object in sculptural works, as components of previously living beings are now the basis for creative experimentation and design.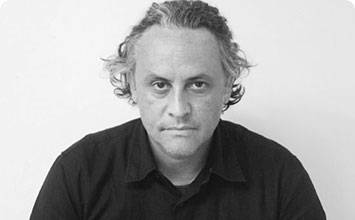 Orozco had a dynamic childhood where dialogue surrounding art and politics dominated conversations in his household. Born in 1962 in the state of Veracruz, Mexico, to the classical pianist Cristina Felix Romandia and the muralist Mario Orozco Rivera, Gabriel was first exposed to modern art in Mexico through his father's art and his work as a professor of art at the Universidad Veracruzana.
Important Art by Gabriel Orozco

The below artworks are the most important by Gabriel Orozco - that both overview the major creative periods, and highlight the greatest achievements by the artist.


Artwork Images

Dos Parejas (Two Couples) (C.1990-91)

Artwork description & Analysis: In this photograph, manmade objects are positioned in two pairs in the foreground, demonstrating the playful quality in Orozco's work when he first experimented with photography. Referring to these pairs of objects as couples, Orozco anthropomorphizes them, leaning them towards one another as if in intimate conversation or contact. Orozco does not hide the materials (wood) and other physical features of these objects, which suggest their use within a construction site or other industrial environment. When confronted with both the title and the image, viewers can at once recognize the inanimate, fabricated essence of the objects in the picture and also imagine more human traits expressed by them too. Viewers are invited to project emotional readings onto the objects, which are usually devoid of such aspects, allowing these photographic subjects to evoke thoughts and feelings without denying their authentic material components.

As curator Ann Temkin suggests, "there is no way to identify a work by Orozco in terms of physical product. Instead it must be discerned through leitmotifs and strategies that constantly recur, but in always mutating forms and configurations." With photography, Orozco used the camera to study his surroundings in a more attentive manner, finding surprising ways to portray commonplace spaces and everyday objects that give them unexpected lives and stories. This investigative strategy carries through much of his early photographs, as does his insistence on the ability of the flat, photographic image to convey an impression of physical weight and volume just as much as a work of sculpture. For Orozco, the photograph is not a document of something else, or a picture of an object, but rather is a complete composition in its own right that can encourage new discoveries and meanings every time it is viewed. Depicting banal items in ways that suggest personal histories or narratives forces the viewer to rethink the documentary role of photography and the lives of ordinary objects at the same time.

Silver dye bleach print - Solomon R. Guggenheim Museum


Artwork Images

La D.S. (C. 1993)

Artwork description & Analysis: One of Orozco's more paradoxical works, La DS (pronounced to sound like "la déesse," meaning "goddess" in French) is a Citröen automobile that has been dissected and then reassembled. Indulging a childhood belief that a thinner car would be faster, Orozco systematically removed the middle third of the car over the course of a month in Paris with his artist friend and assistant, Philippe Picoli. The outer thirds were reattached to each other, achieving a cartoonish appearance that provoked both fascination and anxiety. Though sleek, the car lacked an engine, making it impossible to use or control as a traditional car. And though it still contained places for two people to sit inside, the seats were now arranged one behind the other, making for a very cramped, potentially claustrophobic, experience.

The DS model had been a celebrated product of post war France, symbolizing innovation and hope for the future. Exhibiting in Paris, Orozco assumed his audience would recall the popular history of the car, enhancing the effect of his alteration to a recognizable cultural icon. As in much of his sculptural output, Orozco's La DS questions the traditional identity of an object, deactivating its original use and place in society while inviting completely new experiences of it. Viewers were encouraged to touch and explore the sculpture, treating the gallery space as if it were a showroom to facilitate a sale. Orozco teases his viewers by maintaining the essential visual qualities of the car, obscuring any evidence of his personal manipulation of it, but ultimately he forces viewers to understand the impotence of the object in front of them.

Altered Citroen DS - Fonds National d'Art Contemporain, Paris


Artwork Images

Horses Running Endlessly (C. 1995)

Artwork description & Analysis: In this reimagined chessboard, Orozco prompts the viewer to examine the game of chess - its rules, regulations, and patterns - by altering the basic elements of the game's objects and platform in subtle yet significant ways. As Orozco presents it, the board contains 256 squares, four times the amount in a standard chessboard, and includes four different colors of squares instead of the regular two. In addition, the artist has replaced all of the game pieces (knights, pawns, castles, bishops, kings, and queens) with only knights, also known as horses, which are the only pieces that can "jump" over other objects as they move across the board. Orozco not only highlights their unique abilities by removing other types of actors from the chess board, but he also forces viewers to imagine movements that are not visually rendered, effectively asking viewers to engage in completing the art work in their own minds. Though these imaginary movements may be more generally understood through wide familiarly with the game, they are nevertheless intimately personalized as each viewer pictures something different.

Orozco's intervention in the classic game is both physical and psychological: the physical modifications are easily apparent, and the busy arrangement of horses facing all directions within their individual squares offers a humorous and carefree scene. Though the horses are still contained within the little squares and the larger board, they demonstrate a distinct rejection of the traditional constraints they are expected to obey in the context of the game. Orozco here questions the usefulness of traditional situations, subverting certain strict expectations in favor of exploiting particular, inherent features in order to push the limits of what is possible with given skills, talents, and parameters. He challenges viewers to consider whether they are satisfied with the rules and spaces they have become accustomed to, or whether they can imagine new possibilities, using familiar symbols of intellectual acumen to suggest the absurdity of our inherited habits and confines.

Wood board and pawns - The Museum of Modern Art, New York
More Gabriel Orozco Artwork and Analysis:
Influences and Connections
Influences on Artist
Artists, Friends, Movements
Influenced by Artist
Artists, Friends, Movements

Interactive chart with Gabriel Orozco's main influences, and the people and ideas that the artist influenced in turn.
View Influences Chart


Influences on Artist

Gabriel Orozco
Years Worked: 1983 - Present
Influenced by Artist

Artists

Personal Contacts

| | |
| --- | --- |
| | Damian Ortega |
| | Alberto Kalach |
| | Philippe Picoli |

Movements
If you see an error or typo, please:
tell us
Cite this page

Content compiled and written by Kate Beaver
Edited and revised, with Synopsis and Key Ideas added by Meggie Morris
" Artist Overview and Analysis". [Internet]. . TheArtStory.org
Content compiled and written by Kate Beaver
Edited and revised, with Synopsis and Key Ideas added by Meggie Morris
Available from:
First published on 13 Mar 2018. Updated and modified regularly.


[Accessed ]